The BGN News Archive
January 20, 2014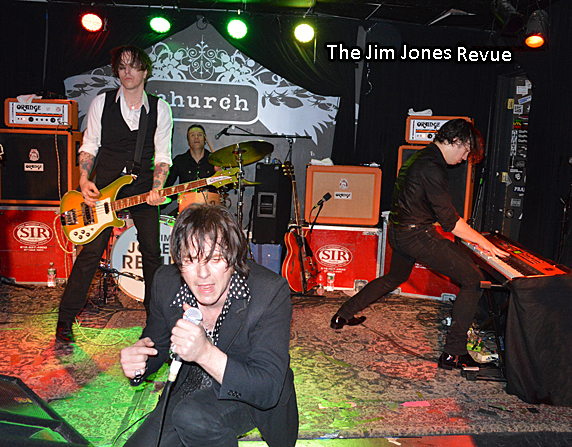 I think the lesson we learned this week is when someone tells you to check out a group - do it.

The recreation of the White Light/ White Heat LP at Cantab by The Count Viglione and Kenne Highland was canceled and the night was snowy anyway, so we gave Saturday a pass. Michele Meadows emails that she has a reliable recommendation that this group at Church on Sunday is fantastic. Looking at the videos we're not impressed but wanting to go out we decide to give The Jim Jones Revue a try.

The city was mournfully restful after the big Patriot loss and the parking lot was empty and inviting. So far so good. The club is half empty/full as we see Paul Armstrong of 1.4.5. who came across the group by chance in England and loved them. Then we see John Blout from Watts and soon afterwards Eric Law, both of them saw the group at the Brighton Music Hall a couple years ago and they rave about them too. And we get more people raving about them as we talk to Paul Robinson and then Sam Macafee who has seen them multiple times. Now we figure they have to be good and sure enough just seconds of slamming sound convert us to fans too.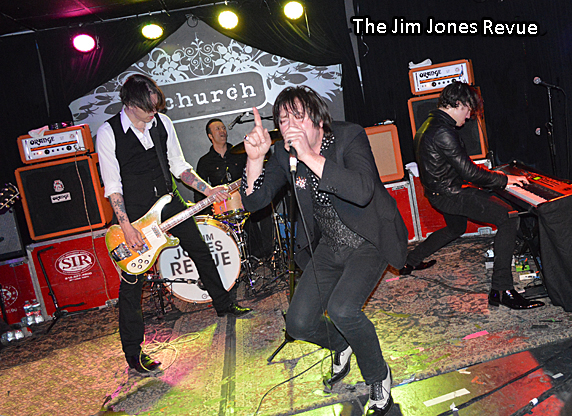 The sound and showmanship of The Jim Jones Revue are a musical blitzkrieg designed to crush you into submission. Sometimes they sound like The Sweet fronted by Steve Marriot with Jerry Lee Lewis playing piano; sometimes it's Little Richard backed by the Dolls. It's a cranking cocktail of pre-punk influences with strong glam and 50's rock streaks. The boogie woogie piano playing goes further back than that. What's not included is anything after 1975. Somehow they make the combination fresh.

The music is half the story, what happens on stage is the other side. They pour out the energy, obviously loving every note of the music. You feel like you are getting fully assaulted by all 5 band members; there's no weak link in the lineup. The lead singer commands attention and loves it. He's a natural born showman and lucky for him has a husky voice that is perfect for rock and roll. I swear no one can scream louder and longer! He has funny stage patter and makes the audience sing along a lot. I usually don't go for that but I was singing along and loving it. An absolute convert!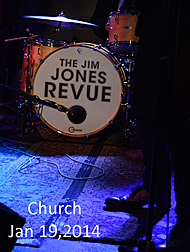 Videos

We have two videos from the night. The first is a short minute long but you see some of the sing along efforts and the dynamics as they go from almost nothing and rev up.
Jim Jones Revue Church

This longer clip shows you the boogie woogie sound and Little Richard style song structure.
Jim Jones Revue Church
Twice they put down the guitars and used just the piano and voices for a song which gave a needed variety to the set. I would never advocate putting the guitars down at any gig but they made even these interludes work.
It was a jaw dropping, fun loving, sing along set. What's not to love. What a night. I can't believe I didn't know anything about these guys and that they aren't more popular. It's possible the recordings aren't up to snuff and studio videos definitely didn't show what they could really do live. If you turn this up really loud and go full screen this MAY be almost as good as they are live...viddy from heir David Letterman appearance 2006. Unfortunately this was the last show in their North American tour but hopefully they'll be back soon!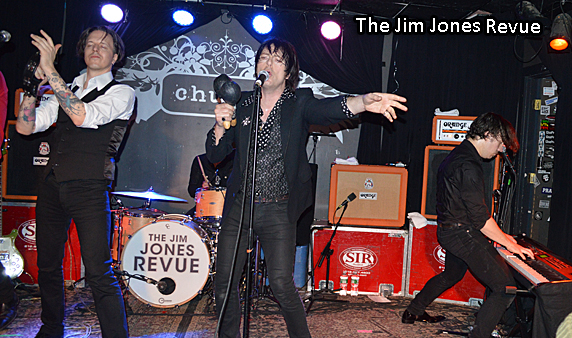 Now we have news....and this first part is some sad stuff.....We sadly report the passing of one incredible drummer and super nice guy Thundertrain's Bobby Edwards this past Wednesday Jan 15. He was surrounded by his family including Thundertrain's Provost Brothers and Steven Silva at the time....RIP Bobby, I remember you so fondly from the Holliston, MA days and beyond!! Tuesday January 21st from 6-8PM there will be a Bobby Edwards Tribute Show on the podcast IndieSceneRadio on the Gerg Show (just click and listen in!)
Also on a sad note but with hope we want to tell you that Kip (Martin) Korea, who played bass for Lou Miami and did two tunes on one of our flexi-discs back in the day, is very sick. He's in need of a liver transplant and has been posting on FB about it and we are wishing him strength and health!!! Send some positive thoughts his way OK??? Much appreciated!! Here's an FB page for his Benefit coming up (In Maryland) on Jan 26th Find out how to contribute and post a note of best wishes as well!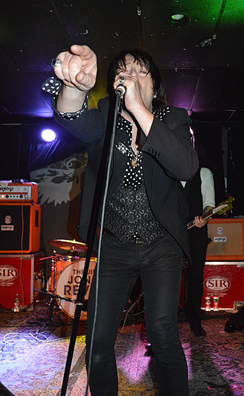 Another Boston musician has been struck with disease - Sam Davis; "has been teaching guitar for 25+ years to all ages and levels. An unconventional pro who makes technique, style and theory fun. Sam has played with many bands over the years including The Funky White Honkies and Agachiko. He even takes credit for inventing "The Jazz Brunch" at Johnny D's. Oh, and he loves cows." His pals have set up a "Give Forward" site for him to help defray the healthcare costs. Please check it out and think about contributing!! Best of luck to you too Sam!
On a lighter note we have other news... Kenne Highland has been out and about this past week. he talks about radio shows, movies and music in his most recent Kenne Highland At Large column and covers everything from going to Church to remembering the Plasmatics gig in 1978!! Scroll down to just under the news for a link to his current column.
The Unnatural Axe LP Unnatural Axe is Gonna Kick Your Ass is now available on iTunes. And on the Richie Parsons front there's a lot going on: his LP Salaria with The Chord Rockers (which also includes Alex Vargiu (Dissuaders), and Astrid Dante (Miss Chains & The Broken Heels, Naties), is out. It's a foreign release but he has some copies. You can also get it on the Surfin' Ki site; they have a great selection of stuff! And you can hear a cut off Salaria on You Tube
Meanwhile Richie is also advancing with his pop oriented material. He has announced a Kickstarter campaign to raise money and he has some great perks for the fundraising. One is a 10 inch acetate of an Axe record which is the only one in existence. He has Posies Ken Stringfellow lined up to produce the album. Ken is going to be involved with the whole album and actually do three of the songs along with Richie which will involve Richie going to his studio in Paris, like in France; long way from Dorchester Bay. We saw this new material when we saw The 10 Song Set. You can catch The Ten Song Set again at a Store 54 gig on March 8. This time Frank Dehler will be on bass. It's a whole set of new tunes with a new direction. It's another example of how our long time Boston rockers are still brimming with creativity at this date. Save some time from pining for the "old days" and get out and hear the great new stuff.
There's never been a time when we noticed the New England Archivists organization but this year they have Ian MacKaye (Minor Threat and Fugazi) as a speaker. They say, "Currently he is working to personally preserve recordings of all of Fugazi's 1,000+ shows. He is also trying to preserve the cassette recordings of his grandmother who wrote a marriage counseling column for Ladies Home Journal."
MacKaye talks about his archiving work here. The talk happens Friday March 21 in the Harborside Hotel in Portsmouth, NH.
Joanie Lindstrom had a mini-celebration on the Late Risers Club for her 28th year on the air. The show had some cool tunes. The show is archived - Joanie's LRC 28yr Show. Whew!! Congratulations and a huge THANK YOU to Joanie and everything she has done for this scene of ours here in Boston!!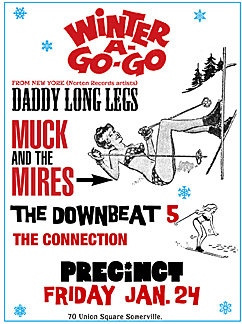 Jonathan Richman is back to the Middle East Up for THREE nights on March 19, 20 & 21. Tickets available now my friends!! (I can't believe he's playing the Middle East UP(instead of Down) but that seems to be the trend these days for our kinda stuff)
Tim Armstrong of Rancid is having an art show at Subliminal Projects a gallery in L.A. Check out the guitar images used for material.
Here's a gallery of photos of the new concert stage in Allston ARCH/Studio 52. It looks clean and ready for everyone to mess up.
And for a cool flashback to the good ole days ....Oct 13 1977 the Jam played the Rat. Here's is In the City from that show...
True Age Media just came up with a most awesome idea!! Andy's new project is a book based on the Let's Go To The Rat film!! He's got a funding project to help fund it....Here's what Andy says about the book:
"We want to create an expanded version of the story of the famous Boston nightclub. This will be a Book that includes more stories and more photos than the movie. A great coffee table book. It will bring back memories for those who experienced The Rat."
"Includes stories by Willie Alexander, Dave Minehan, Paul Lovell ("Blowfish"), Miss Lyn, Liz Borden, Eric Van & Bob Colby (of Frenzy), Jamie Shaler and more...Photos are by Wayne Valdez, Jody Moore, Jim Major, Richie Parsons and more...You'll be proud you helped make this historic book a reality." cheers, Andrew Szava-Kovats (Lowell, 2014) - heck out the funding page and get funding folks!! and will be soon launching the women in the scene film again in another fundraiser...you know that.
IMPORTANT: Bob Colby is putting together a Benefit for Mary Lou Lord in March, from the Facebook page for the event:
"Few people have done more over the years to support the local music scene than my dear friend MARY LOU LORD. As you may be aware, Mary Lou had a bad fall a few months ago and broke numerous bones. Due to a month's stay in a top-notch rehabilitation facility and follow-up therapy, she is back on her feet physically, but not financially. Luckily, most of this was covered (or else nothing we could do would make much of a dent, as anyone who has seen a hospital bill in recent years can attest), but she can definitely still use our help!
So, I am glad to announce that there will be a benefit show for Mary Lou at Midway Cafe on SAT, MAR 8. The lineup will consist of both long-time friends of Mary Lou, plus newer acts that she has been championing. The show will go from 9:00 PM till 1:30 AM. We will be doing short sets (20-25 min), so expect a number of acts in addition to this first list:
My Own Worst Enemy (it's also Sue's birthday!)
Kingdom of Love (featuring Linda Viens and Rich Lamphear)
Hilken Macini (acoustic)
Love Love (featuring Chris Toppin and Jefferson Davis)
So Sol (Latin/Americana)
Matt Minigell (brilliant young singer/songwriter)
At Mary Lou's request, the cover has been set low ($5) so everyone who wants to help can afford to come. However, we will have a donation bucket as well, and we encourage you to contribute as much as you can if you are able to do so. More details as they are worked out."
OK here's some gigs coming up: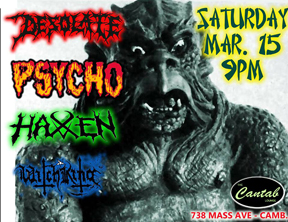 Friday January 24th at Precinct it's a Winter A-Go-Go!! With Daddy Long Legs, Muck & The Mires and The Downbeat 5!!
Sat Jan 25th there's a cool punk rock show at The Midway, it's an early show (4PM-8:30PM) with The Bad Movies, The Pity Whores, Fast Times and Trip
But you also have Litehouse (Matt Burns on drums) (9pm), Fireking(10), MOTO (11) and Trusty Sidekick (12) at Club Bohemia at The Cantab on Sat Jan 25th.
Sunday Jan 26th (6-9PM) there's a special event: Craig Lewis will read from his book Punk Rock Mental Illness and Recovery for more info check out his Facebook Event page .....In our scene we have known a few folks who sadly have suffered with these problems and it's good to know there may be a way out.
Thursday Jan 26th punk rock show at TT's with The Racket, The Ungraded, The F.U.'s and Order 66
On Friday Jan 31st at The Middle East Down Indie Rock Ranger Presents: (an eclectic mix) Mellow Bravo, Sidewalk Driver, Goddamn Draculas, The Silks and Watts...this show was originally scheduled for ARCH/Studio 52 but has been moved to the Middle East
Friday Jan 31st...great gig at The Midway with Classic Ruins, Greg Allen's Fringe Religion, The Skeleton Beats and Love Love....
On Feb 7 (Friday) The Kenne Highland Clan (on at 9:15) is at Copperfields with a bunch of other bands I've never heard of Red Oblivion (gee if only it could be Red Invasion!!), A Modern Armada and Dirty Paxton
And there a Valentine's Day Bash and right on Feb 14th with The Petty Morals, White Dynomite and Lord Classic at O'Brien's in Allston.
Boston Sci Fi Fest is coming up in Feb (7-17) at the Somerville Theater in Davis Square
At the Middle East UP there's a excellent Tuesday show on Feb 18 with Richie Ramone, The Connection and The Gobshites
March 1st - another awesome Nervous Eaters Real Kids show also on the bill Pop Gun - this one is in Salem and anyone who didn't see the 12/28 show (and even those who did!) should definitely go- it'll be great!! It's all happening at The Spotlight Tavern
Put this event in your calendar now folks - Monday March 3rd...Gail C. and Babysitting Calamity Booking present Pop Punk Madness and Bake Sale with The Sheckies, The Pity Whores, Jimmy Jacked, The Labor Pains at the MIDDLE EAST....not only is it a great bill but Gail C will be having one of her fabulous bake sales so arrive hungry, see a great show and leave with a wicked sugar high!!
Mary Lou Lord Benefit, Saturday March 8th at the Midway Café
March 8th is also the Richie Parsons performance at Store 54.
Jonathan Richman is back to the Middle East Up on March 19, 20 & 21 with Tommy Larkin on drums.
EMAIL US AT.......misslynbgn@yahoo.com