The BGN News Archive
September 23, 2013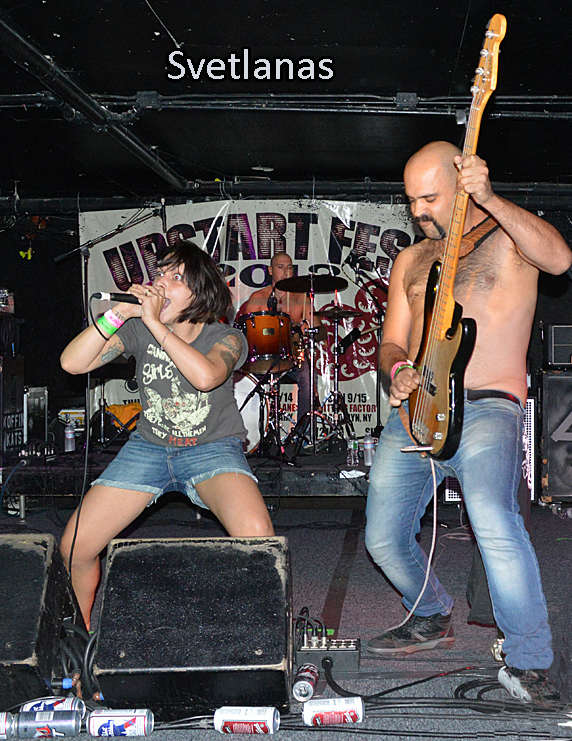 Before we get in to telling you what we did this past weekend...we wanted to talk about a rather wild storm that's brewing over the Live at The Rat CD....whew!! folks something seems to have gone very wrong in the making of the CD jacket...we got a note from Johnny Angel who is understandably quite upset....Here's what he has to say:
As some of you may know, I volunteered to write the liner notes for the reissue of "Live At The Rat'', the collection of first wave Rat (Boston punk club) bands from 1976. A very fine set of discs remastered lovingly by Dave Westner.
The disc came out maybe 6 weeks ago and the copy I got had a broken CD in it and was tossed before I got a chance to look at the liners I thought I had written. (LA-based publicist) Josh Mills complemented the liners and so I thought I might take a look at them in the replacement disc I got.
Good god almighty.
What appears on the CD jacket and what I sent out bear no resemblance to each other at all. In fact, they don't even have anything in common and couldn't even have been edited out of what I'd scribed. Which wouldn't have been a big deal at all, except that my name is at the bottom of the notes, implying authorship.
I didn't write a word of what is attributed to me. I have no idea who wrote "Johnny Angel's liners", but believe me, that is not me.
Baffled and mystified by this one. Sent the gent that put the CD out a query, we'll see what he says. But this is astonishing.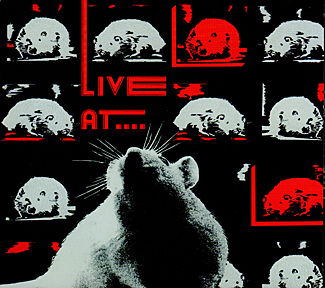 Here's what Johnny DID write:
LIVE AT THE RAT--Looking back with love
"You should have been there" may be the most overused and trite cliche in the universe of location description but when it comes to the Rat--528 Comm. Ave to be exact in the heart of what was ground zero for Boston's night-life (don't get me started on what exists there now), well, you did have to be there. A grimy, gritty basement bunker whose carpeting stuck to your shoes like freshly chewed Bazooka, whose smoky atmosphere was other worldly in its fetid blue haze and whose house brew was only potable by the most hardy alkies in Greater new England, it was home like the Cavern or CB's or the Fillmore was home. A lived in safe haven for Boston's weirdo's, of which I am proud to say, I will always be myself.
Way back when Gerry Ford was still the boss in 1976, the intuitive owner of this joint, Mr. Jim Harold decided to do what his Bowery buddy Hilly Kristol did in New York and immortalize Boston's finest at the time. Unlike Kristol whose best bands were already drawing label scrutiny, Jim's finest were more than happy to get what they had on tape and quick. And so "Live At The Rat" was born--this wild hodge-podge of styles and sounds accurately reflected that tiny subculture in the room, because in reality, Boston 1976 was still cover bands of the rock and disco ilk, Cali-Country smarm and the still thriving blues revival bands that took up 95% of the club space. The Rat was an oasis and this is what played there.
From the opening invocation by Oedipus (who would go on to become perhaps the greatest radio programmer of his generation) into the Danny and the Juniors parody/tribute sung by scene ringmaster Willie "Loco" Alexander, this is a strangely mixed bag of goodies. From the smart rock and instrumental savvy of the Infliktors and Marc Thor to the Buddah-bubblegum through mega stacks of the Boize to the flamingly groovy power pop of the heart on the sleeve Real Kids to the sonic blitz of the mighty DMZ, plus the ferocious hard rock of Sass, Susan and Boston's answer to Slade, Thundertrain and the Lou R-isms of Third Rail, this one-time double disc was a snapshot in time. That of music in transition from traditional into the new era, but with much respect to rock and roll roots, long buried in the ground by the Bicentennial.
I love this record and these people as they made and shaped me as much as any institution ever tried to. When I slap on Willie's demented Lord Buckley over power chord "Pup Tune", my heart soars, just like it does for the snotty kiss off of John Felice's "Who Needs You" and the slamming slap of DMZ's "Ball Me Out"--hell, I covered that band's "Boy From Nowhere" myself in 1994 in LA and when asked what that was, I replied with pride that it was a little something from home.
Once again, it was home. A little corner of a world which doesn't much appreciate misfits and oddballs and which is now part of history. But this music lives. Throw it on, it ain't nostalgia. It's an anthem. Our anthems. Be proud, mofos.
Johnny Angel
Now to complicate things further...the liner notes that DO appear on CD are taken from a review of the disc written by "The Count" Joe Viglione for the website AllMusic.com...without anyone consulting him about it. What the hell happened????? We did email the folks who put out the CD to get their story but alas have not heard from them as yet......more to come on this we are SURE....we hope it gets straightened out.
UPDATE...UPDATE...UPDATE...UPDATE
That's what we knew on Sunday...now Monday Peter Rinning who put out the Rat CD posted on the Kickstarter page for the CD this.......
Hi everyone. We just found this out over the weekend. The liner notes that are attributed to Johnny Angel were not written by him. They were written by Joe Viglione. I am truly sorry about the mix up. (not going to spew on and on how that happened but it did - unfortunetly). I would love it if everyone who did the kickstarter downloaded (or copy and paste) Johnny's liner notes and put it in as an insert into the CD. This is what we are going to be doing going forward. (we are also putting a sticker on the CD's over Johnny's name under Joe's liner notes to give Joe proper credit and make sure the liner notes are not credited to Johnny)
Johnny spent a lot of time thinking about the liner noters and it would be greatly appreciated to have these included with your CD's that you already have.
I already spoke to Joe this morning and will be speaking to Johnny this afternoon.
Joe would like to use these for a credit on the liner notes that appear: Text by Joe Viglione ©2013 AllMusic, a division of All Media Network, LLC. All Rights Reserved
OK...this past weekend we went to the Upstart Fest at the Middle East:
It's hard being a punk fan in the good weather. Despite the perfect day Saturday we worked our way to the Middle East. The Upstart Fest advertised its show as the "Biggest and Best Punk Rock Party" but it came up a bit short.
One problem being the partygoers were a bit sparse. The Middle East had lots of empty floor space up till 10:30 at least. And it never got all that full. Also some of the music was punk-ish but didn't quite fly the punk flag all the way. The audience was different than we usually see as well...younger and funniest of all they had an organized and almost considerate and certainly not violent mosh pit thing happening- and one out of four people in it were female. That is a different dynamic and that's a good thing.
We came in on New Red Square and they were playing hard, not solid hardcore but they had some of the earmarks. They put their own spin on things and that's alright. Song structures were more complicated than usual and the lyrics as far as I could ascertain were well done. Fun enough. They had some low key slamming going on.
American Pinup came on without much delay. They have a small woman singer with a powerful voice that was refreshing to hear. She uses her voice very melodically with some blues affectations. They definitely were trying to get some catchy songs going but it didn't make it with me.....but close. And this was a case of not punky enough in a gig that promoting itself that way. They even apologetically explained that they thought of themselves as punk even though they weren't totally so.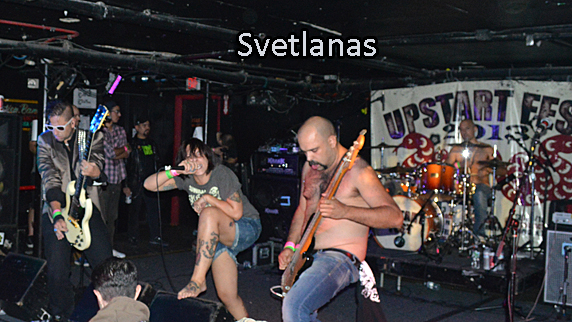 Not punk enough was not a problem for The Svetlanas. Just before they came on Joanie Lindstrom came by on a multi-bar swing. She heard that they were supposed to come from the USSR but really come from Italy and she showed a web page on the iPhone giving their address as Italy. On the Upstart Fest page they have a whole crazy USSR backstory. They charge on stage and unleash some hardcore as the female lead singer spews out some nasty sounding Russian lyrics. She's barefoot and plants her legs wide apart ala early Henry Rollins and she's got a funky eye that reminds me a little of Staffy from the Marvels. She's got the delivery and the voice that rivals any man's. At one point she was singing, "I want to -Russian word- you. I want to -Russian word- you." What was she saying? Pretty funny stuff. She was at top volume the entire set with no sign of letting up. All the time she was scowling and the delivery even in Russian made you think she was just pissed every minute.
It seemed cartoonish and had to be a put on but it was good enough that you kept wondering...real or not? This was a very entertaining set. It made the night for us.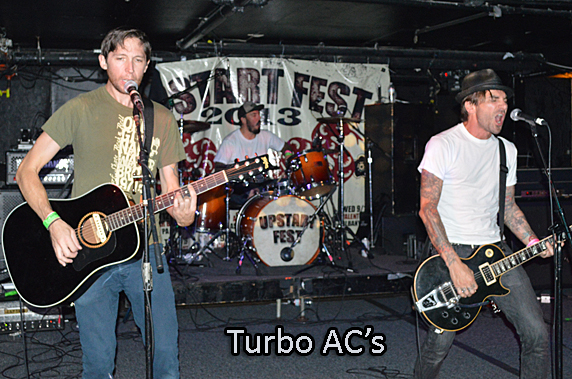 After that we just saw a little Turbo ACs who came out with an acoustic guitar in the lineup and that seemed like a mistake and called it a night.
OK folks here's some good stuff coming up ....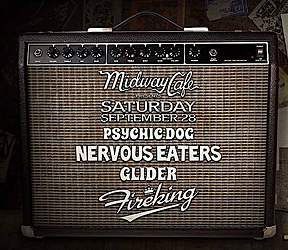 Saturday September 28th Cal Cali brings us The Nervous Eaters (YAY!!) along with the his new band The Gliders at the Midway
There's a special show on Tuesday October 1st at The Beachcomber in Quincy with Richie Parson doing a special solo gig!! And talk about a super group!! He's got not only Brother Cleve on guitar - but Carl Biancucci on bass!! Also special guest that night are and Kepi Ghoulie and all the way from Italy: Miss Chain and The Broken Heels...Richie says he has loads of new material they'll be performing!
11th Annual Ponderosa Stomp is this October 3, 5 and 5 at The Rock n Bowl in New Orleans check out their site for a list of performers etc....
Terry Brenner has put together a great show up in Salem on Saturday Nov 23...The Smithereens (!!!) with Pop Gun and Gyro Lula at the Old Town Hall in Salem Tix are 35 buckaroos my friends...and its an early show with doors at 6PM.
Friday October 11 there's what promises to be an excellent show at The Midway with Hambone Skinny (Ex Coffin Lids etc) Midnight Creeps (who are always fantastic!!) Classic Ruins (always great too!) and MOTO...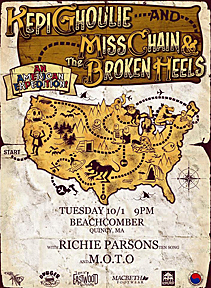 October 12th -WAS going to be Cal Cali's Rat Reunion - but he's moving it because of Spit Reunion #2!!! On October 12th At Bill's Bar on Landsowne St....DJs will include Tony V, Paul V and Steven Strick and music so far will be by EPIC BOSTON BAND: ADVENTURE SET, KEN SCALES (PASTICHE),MARK POTHIER (MINISTRY),RARE APPEARANCE BY:DEBORA IYALL/ROMEO VOID..get info timeline and buy tix at their website
Also on October 12th is The Boston Boozehounds Reunion Show at the Middle East Up along with Reno Divorce and Loser's Circle
October 25th - Friday- Thalia Zedek 's band is at The Midway
And October goes out with a bang at O'Brien's!! Thursday Oct 31 they've got The Sprained Ankles, Squallie and The Chaotix , The Radicals and The Pity Whores
Then the next night Friday November 1st is Penis Flytrap, Kermit's Finger and Padded Hell
November 8th is Baker boys night at Radio down with The Kurt Baker Band and Tom Baker and The Snakes...
And really far in advance we're letting you know about John Surette's punk opera Tomorrow The World will be performed live at the Middle East, Saturday Dec 14.
EMAIL US AT.......misslynbgn@yahoo.com
Past postings of this news page are in the BGN ARCHIVES