The BGN News Archive
September 27, 2010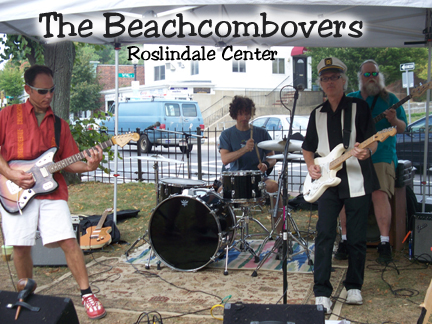 OK folks I am back from my vacation in Paris, it was pretty amazing, no music though... but I'll be posting a bunch of pics on Facebook soon...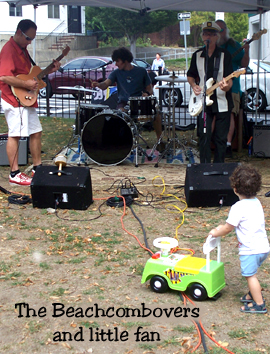 Well after Paris what can you do??? Some of the BGN staff headed over to the Roslindale Farmers Market to check out The Beachcombovers play there. it was fun!! And guess hwat? we got some dmamned good Farmers markets here too! Capt'n Tommy White was in great form playing some excellent lead surf guitar. Beachcombovers are mostly intrumental but they did dso a cover of The Axes Big Noise...surf style. They also did the Batman theme with some cute youg girls singing background vocals for the chorus and the Hawaii 5-O theme...some great fun was had by all...even the little bebes (as they say in France) as you can see by the little guy with his cart, he was in AWE I tell you!! The Beachcombovers were fun and people were dancing and smiling and you gotta check 'em out at their next gig, we'll keep you informed and make sure yopu know when they are playing in town...but you CAN head over to the Roslindale Farmers Market in Roslindale Village to check 'em out there too. They are playing every other weekend this fall.
This Friday Oct 1 Slim Jim & The Mad Cows are at the Plough along with The Jinx Brothers
A little more on the LAST RAT CD Release by the Hoods live at the Rat in 1992; the show is at the Paradise on October 24. And per the 'Hoods : "10/24 is the 18th anniversary of the actual LAST RAT show and our first headlining set in Boston since 2008. Expect a lengthy set and some possible surprise guests. Hoods set time is 10:30ish. Also on the bill are the Crocodiles, Golden Triangle and Dirty Beaches." You can get the CD at New Bury Comics N.E. locations as well as The Last Rat site and tickets for the CD Release are available at the Paradise site...
In the arena of the old days and a comeback reunion of sorts is The Dead Kennedys on Oct 13th at The Paradise but I hear it is without Jello Biafra, sorry but he WAS The Dead Kennedys...I can't imagine why you'd wanna see the band without him in front.....
Blowie's right, Gigs of interest at the Church have been spotty but this is a winner...Steve Wynn performs The Dream Syndicate's Medicine Show LP on October 15...time to drag the vinyl out and listen to that again. ......
Nice to see Triple Thick's new CD getting good play on WMBR... ..... and their next gig is October 2 down in Pawtucket RI at the News Café at a benefit for Alex McKinnon, who was in an accident.
Also on Friday the 2nd,. Port Charles Quintet is at the Cantab..one of their favorite places to play....
John Hovorka is having a book reading party at the Plough and Stars on Saturday October 9th at 4pm. The Story of Johnny Wylde is a fictional story of making rock in the 80's, he writes what he knows. He's going to have different people reading sections...that could be interesting........
And start thinking about your costume for Halloween my friends coz it'll be here before you know it....Nancy Neon is having her annual ultra spooky Halloween Bash at the Cantab with Spitzz , Coffins Lids and The Varmints on Saturday October 30th.....
contact us via email here click click click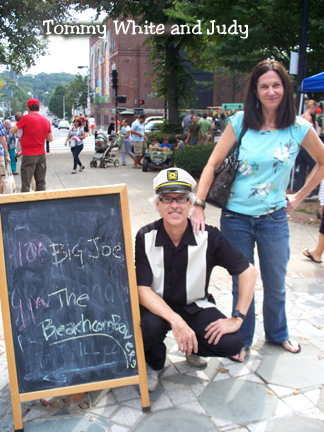 home | interviews | photos | features |BGN issue list | reviews
links | contact us
Copyright © 2010 Paul Lovell. All rights reserved.