The BGN News Archive
October 11, 2010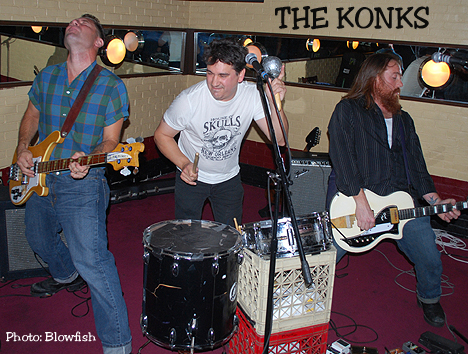 Friday night we went out to the Rosebud to check out Wicked Whiskey, The Secret Hearts & The Konks. Well it was good and it was bad. Wicked Whiskey were excellent Rockabilly, slicked-back tatted-up guys, it was a cool retro look and sound. These guys did nothing crazy, the rhythm section layed down their foundation with finesse. The quitarist had the appropriate Gretch semi-hollow body and picked pure toned lead lines and tremoloed triad splashes. There were no outstanding songs but the set was very listenable.
Victoria from Spittz fronts the Secret Hearts, but in this band she's on guitar. They were fun to watch but they really can't play...and they don't live up to the CD they've put out but somehow they were still a fun set. I was excited to see a tiny drum set much like the one Jeff Wilkinson used to have but this drummer just LOOOOOOOVES her symbols and she played the cymbal like it was a gotdamned drum, it was driving me crazy! SO I HOPE she got inspired from Kurt of the Konks when he got up there to pound the daylights out of his cheap-ass taped-up "two lousy drums" and NO cymbals !!! Because he did a magnificent job on them and the band played on the THE best sets I have ever seen, really I was blown away....It s too bad they only have one more gig, yes damn it they are breaking up , there last show is sometime in January. That is one show I will not miss!!!
Saturday we went to The Plough for John Hovorka's Reading of his newly published novel The Story of Johnny Wylde. It was a really great time! John got up and talked about the book and read a couple pages, then he introduced guest readers....Wayne Viens got up and read a section, yeah it was a tough section about a crazy wild Hollywood party Johnny W. attended.....Wayne's accent and droney voice lent a lot of fun to the reading!...Next up was Rolfe Anderson, the original bass players for the Modern Lovers...he read a section about a coke addled evening....he practiced well for his part this night, he was extremely entertaining!...next up was pixie Julie Rae...she read a part about another Hollywood party , this one posh with record execs and did some good dialogic action!! All in all it was an awesome concept and it was fun to hang out and talk with Mr. Hovorka as well!! The book seems like a great read...and you can get it here...at Lulu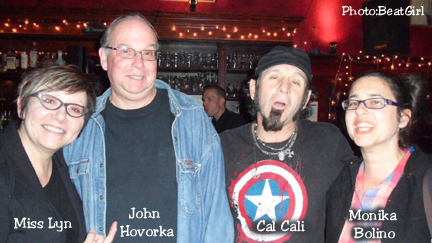 So if you do want more of Kurt - this looks like an interesting evening: at The Plough, this Wednesday Oct 13th Elias, guitarist for 66 Breakout and Triple Thick playing a couple sets with Kurt from The Konks- starts at 10:30.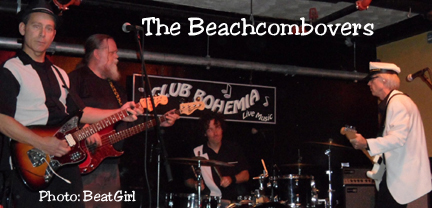 don't forget: LAST RAT CD Release by the Hoods live at the Rat in 1992; the show is at the Paradise on October 24. And per the 'Hoods : "10/24 is the 18th anniversary of the actual LAST RAT show and our first headlining set in Boston since 2008. Expect a lengthy set and some possible surprise guests. Hoods set time is 10:30ish. Also on the bill are the Crocodiles, Golden Triangle and Dirty Beaches." You can get the CD at New Bury Comics N.E. locations as well as The Last Rat site and tickets for the CD Release are available at the Paradise site...
.Steve Wynn performs The Dream Syndicate's Medicine Show LP on October 15 at Church.....also on the bill will be Muck & The Mires and Eric Martin & The Illyrians...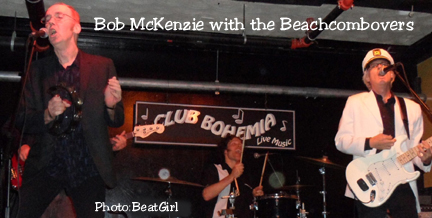 We hear that one day after we saw the KONKS at the Rosebud they installed a stage! They needed one, if you were back in the crowd and the band had short musicians - you missed the visuals. Check out the stage with this cool line up.....The Downbeat 5, Triple Thick, The Furiosity, and Jay Allen solo this Saturday, October 16 at 9:00pm in Davis Square -(parking as usual on a first come frist serve basis). I like that band name - THE FURIOSITY!!.
On October 28th Hugh Cornwall, lead singer for The Stranglers is at Church to poerform the Stranglers 1st lp from 1977 Rattus Norvegicus, also on the bill The Gobshites! Excellent!!
October 29th check out Jerry LeHane's new band Sourpuss, now also featuring Jack Hickey they are at The Plough along with Eric Martin & The Illyrians
And start thinking about your costume for Halloween my friends coz it'll be here before you know it.....Nancy Neon is having her annual ultra spooky Halloween Bash at the Cantab with Spitzz , Coffins Lids and The Varmints on Saturday October 30th.....
In November on the 13th actually there are two big time shows....The Grindermen, Nick Cave's new band is playing at that hellhole The House of Bleck I mean Blues....I want to see Nick bad but not that bad....and as luck would have it Roky Erikson is at The Royale the same night so I'm goin' to see Roky YAY!!
and on a sad note..another unfortunate passing in our community: Mark Sheehan, the singer and main songwriter in the long-running hardcore band Out Cold died unexpectedly on Friday, October 1. He was also a member of Bad Chopper, with CJ Ward (a/k/a CJ Ramone). Mark was planning to record Classic Ruins at his home studio in late 2010 or early 2011. RIP Mark.....
contact us via email here click click click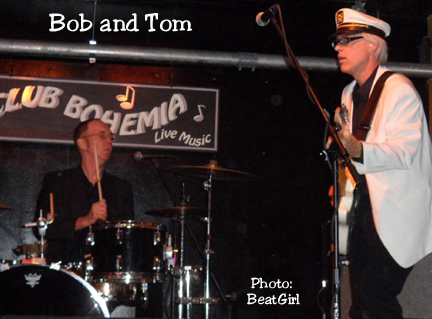 home | interviews | photos | features |BGN issue list | reviews
links | contact us
Copyright © 2010 Paul Lovell. All rights reserved.