The BGN News Archive
October 17, 2011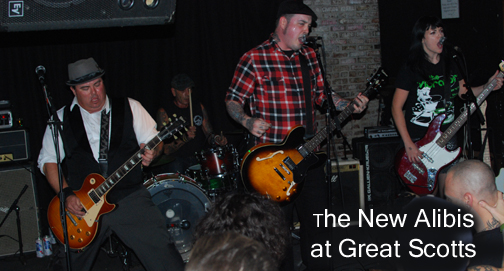 The New Alibis always seemed to me to have a short life. They came they put out a superior CD and soon broke up. I don't know why they split up but this last Saturday they had a reunion show at Great Scotts.
The main attraction for the BGN was always Jesse Meyer. You would not go wrong with just seeing gigs where Jesse is drumming. He's one the best. Saturday they played like they never stopped. They sounded full, rock steady and well rehearsed: every note was nailed in place.
They did all the memorable songs from their CD. They covered Kiss Off by the Violent Femmes. Where the Femmes' version has a cavalier beat and a casual manor the Alibis make a rock solid beat and have a bitter serious tone. The song was louder than all their own and was a stand out. It shows how they had even more to give if they stayed around longer.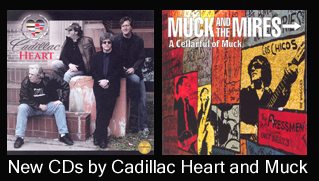 Well, Rayboy is somewhere near Cincinnati and he dragged his studio equipment with him. He got some good recordings out of there and his own group's Cadillac Heart CD is one of them. The CD is just out and it has some tasty stuff. Review of Cadillac Heart here.
Muck and the Mires also have a new CD called Cellar Full of Muck. At this point just saying the name 'Muck and the Mires' makes me smile. When you see them live and they start a song you always think, "I love this one!" and you say that about 10 times during the set. Well now you can do it at home with the CD because it's the same experience. Review of Cellar Full of Muck. .
See ya this Thursday at the 35th Anniversary Damned show at The Middle East oh yeah!!
this weekend the Stretchers are having a record (cd) release party on Saturday Oct 22 at O'Brien's with The Welsh Boys!!...
And Halloween is just around the corner my friends......if you are into costumes this'll be especially fun... but besides the costumes there excellent bands playing: Friday 10/28-Nancy Neon's Halloween Costume Ball With prizes for (1) The Scariest, (2) The Sexiest, & (3) The Most Creative Costumes. Featured entertainment: The Happy Little Clouds; The Port Charles Quintet; Sticky Business - A Bubblegum Tribute, Sourpuss, and, special added attraction, The Kenne Highland Clan opens the evening!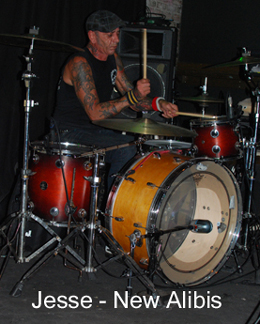 There is a new club called Radio in Somerville's Union Square at 379 Somerville Ave down the street from PA's Lounge. That will be a great bar hop. This Friday they list... Polk Records Halloween Spooktacular with Biographers as the Violent Femmes, Night Fruit as the Cure, Daniel Harris as Karate, School 4 Robots as Ween, Radio Astronomer as The Cars...and Polk Records is, as they say on their website, " a Boston-based label whose mission is to build community among artists and those that appreciate art."
The on Saturday 10/29 - the Rosebud has The Lyres, Jetset and Satin Kittens and The Plough has The Coffin Lids.....
And for you folks on the North Shore there's a Halloween Party at Bella Mia Restaurant with Corolla DeVille and cash prizes for best costume & best mask!!
Jon Macey, Rich Lamphear, Linda Viens and Lynn Shipley plaly in a group called adam and eve on Saturday at Right Turn in Arlington at 9pm 299 Broadway, Arlington Center with Randy Black opening at 8pm
Watts gets to open for Ace Frehley at the Junkyard Nightclub in Nashua this Sunday! Who did they kiss to get that?
And mark your calendars for Saturday November 5 when The Magic Room has James Straight and The Wide Stance along with Ken Scales and the new Adventure Set!!!
The adorable Reverend Joe Fagan says they'll be doing some one time only songs especially for the show!
Also at the Magic Room on November 19th is the Abel Harris Jr. Scholarship FUNdraiser. They were able to get Shake The Faith and 5-Point. There are a lot of people waiting for that Shake the Faith reunion.
Celebrate with My Own Worst Enemy at Precinct in Union Square on November 11th when they have their CD Release Party along with The Vivs, Apple Betty and Varsity Drag....
The mark the next Saturday too! November 12th...cause there is a KILLER show at Church : The Neighborhoods, Unnatural Axe and The Sleazies...oh yeah!!
Then on Friday the 18th at TT's is Muck & The Mires and The Dents!!
And here's a great KickStart project to support: The Gobshites are going to Dublin in November to record a new CD and these guys don't kid around this time...they have Richie Ramone (of the Ramones) playing drums and Cait O'Riordan (of the Pogues) playing bass on this CD called The Whistles before the Snap...so go to Kickstart and help these guys OUT!!
Email us with your latest news, opinions and all that kinda stuff....misslynbgn@yahoo.com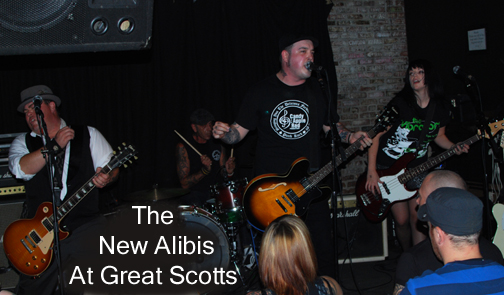 home | interviews | photos | features |BGN issue list | reviews
links | contact us
Copyright © 2010 Paul Lovell. All rights reserved.