The BGN News Archive
January 12, 2015
After a lack of gigs because of the holidays this last week saw the clubs busy again. The extreme cold slowed us down a bit but we had to come out of the cave for the first show at the Greek American Club in Union Sq.
People were wanting a replacement for the much missed Radio, The Greek American Social Club is right down the street from Radio. Walking toward it I heard it before I saw it. It's funny, when you walk in you are right onstage with the band just like it was at Radio. The club is small and clean.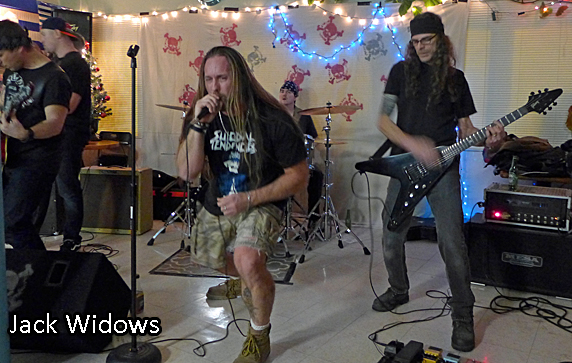 The Jack Widows were what I was hearing when I walked up to the club. They had a brutal driving song called The Grind that they should record soon. They are hard rock and metal. I welcomed the dose of loudness after a week without. They just formed in 2014 but all the members have been in bands for years.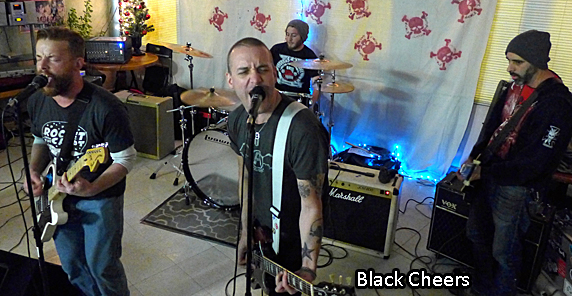 Next up is Black Cheers who we've seen and liked. Dan O'Halloran sings upfront and Chris from Duck and Cover is on guitar. This was the punk I really wanted; Dan rasping out the vocals and three guitars to take care of business. The bass player was giving strong backup vocals that perked up a few songs. Another funny thing: The drums were moving forward so this older guy there put a crate of water bottles in front, when it still moved he sat on the bottles for a few songs. How's that for audience participation?
I look around and counted about 35 people. That is pretty good for the minimal outreach for the gig. It was a nice feeling show and place; we have to hope it keeps going.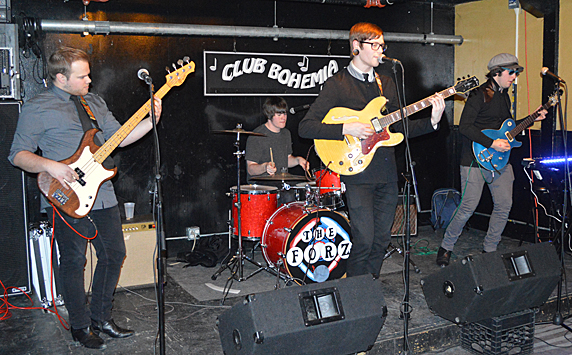 I then club jumped to the Cantab to see The Forz. I had heard them on Crash Course for the Ravers a while back. They come from the South Shore and play English Invasion style rock. They dress a little in the 60's fashion (boots, pegged pants) but don't make it a big thing. There second song was Psychotic Reaction by Count Five. I'm always amazed that more people haven't covered this song through the years. I was glad to see it done at last. They did a good job on it, adding a harmonica for just this song. The main attraction is their own material written like a Cavern era group. A few songs absolutely capture it. One song is a minor seventh chord being pushed around in an unusual way. In one way it shouldn't work but it does and it sounds like some early Zombies song. It's not all 100% there but this is a young group and if they keep going it could be one cool thing. There's no power like Muck and the Mires but Forz keeps the fun in the mix. The drummer is so 60's sounding it makes you realize how drumming stylyes have changed. He's heavy on the rolls and accents. The only other person doing this is Linda from Muck. The Forz have done so much right I hope they continue because they will get better with experience.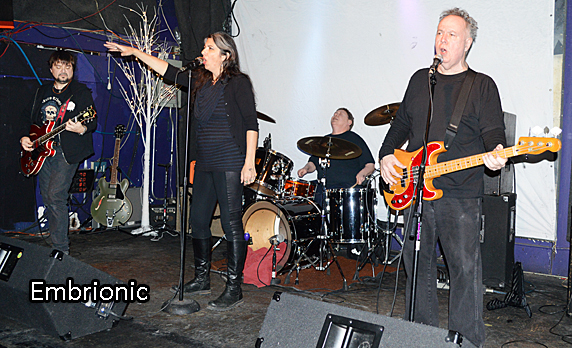 We love the early gigs and TT's had a 6 pm show with Randy Black and the Heathcroppers. My ears and mind were still frozen when I walked in on Embrionic but their last song got my attention with Siobhan Mcauley's mighty voice. This night they had Danny Lee as a special guest on drums which made it all the better.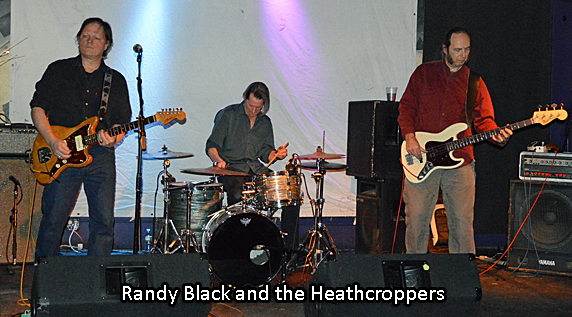 It's no secret we love Randy Black the Heathcroppers. (We've raved about them before) They are subtle, sophisticated and they satisfy the mind as well as the ears. On this cold night they are like a warm fire for the soul. There seem to be new songs in the set and they switch around the old ones just to keep things fresh. I don't think in rock you can see communication between players better than in these three musicians. On the softer numbers I could see Larry on drums scrapping the symbol for an effect. Randy puts his guitar down and lets the drums and bass do the work during an amazing and soulful cover of Don't Let Me Be Misunderstood. I would love to see Matt's bass work on that transcribed in Bass Player Magazine. He was playing a series of triads and pedals, and then sliding notes while holding another one at the same time. All the while he used open strings to keep a fuller and even sound. It was a bass showcase.
They ended with our fave - Sadness Comes in Waves. That song just gets to us. Randy shouted from the stage that every time they do "waves" they get a ton of shit from everyone. But they did it anyway and got a very loud round of astonished applause, it's really an amazing song.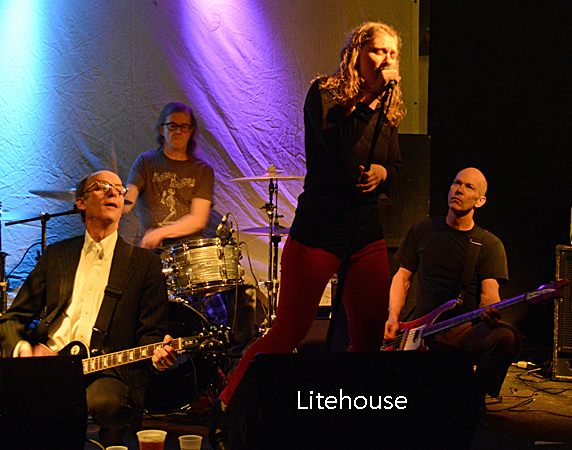 Next up was Litehouse with the legendary Matt Burns. Matt's played with a lot of people through the years as a full band member and as an oft used fill in but I don't think he's ever played better than with Litehouse. They don't take any time getting up to speed and exuding the up tempo energy and positive spirit which is their thing. Clara Wellons stakes out center stage and not only sings with a world class voice but also dances and jumps around like an embodiment of the music's liveliness. The second song is using the word 'flowing' in the lyrics and Clara's singing style and movements also seem to flow. That was a nice trick.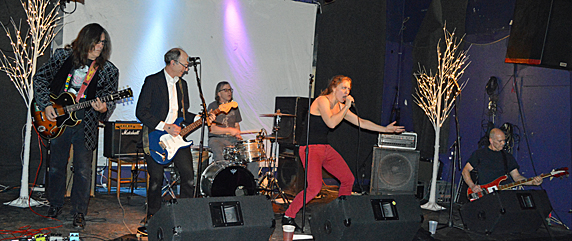 Their originals are all upbeat and straight ahead rockers. The guitarist George Perkins seems to spend an inordinate amount of time on the ground and the others crouch down with him too - just an odd thing. He was out of tune for a while. People, use those tuners!! I was surprised to see Tony Kaczynski in the club (even though he sits in with Litehouse. ) because I knew he had gig next door at the Middle East Up but he came before his show and sat in on a few numbers. One was The Buzzcocks Ever Fallen in Love and that was an undeniable blast of fun. This was a nice three band line up for an early gig. There were only about 30 people there at the most.
This week for some excellent shows ......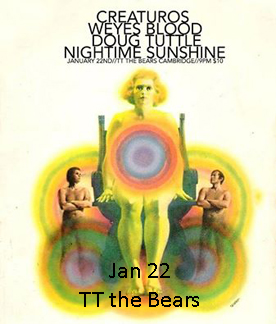 January 12 (Monday) Punk Rock Burlesque at The Midway!!! and on this very night it's their Second Anniversary so there's a special party goin' on!!
January 14 (Wednesday) Black Helicopter, Bedtime Magic and Fire for Cavemen are at Great Scotts.
January 15 (Thursday) Powerslut, Fur Purse, Hammer and Snake and Axemunkee at O'Brien's
January 15 (Thursday) Kyle Neeson's Moving to California Rager! Kyle Neeson is the lead singer of Cocked and Loaded, now he's moving to California. Here's the bill: Quiggs (at 9PM) I Am Become Death (9:45) and Phantom Glue (10:30) (others TBA) Starting the night off and spinning between sets will be DJ Mark Francis of WMBR Late Risers Club
January 16 (Friday) The Memphis Rockabilly Band is at Johnny D's in Davis Square. (This is an early show!! Doors at 5:30 show is at 7:30. It's pre-Bim Skala Bim ) Hey Carl Perkins called them "the best rockabilly band I have ever seen."!!! And they include Billy Coover on lead guitar, sax and vocals, Roy Sludge on lead vocals, guitar, and keys, PJ Justice on upright bass and vocals and Judd Williams on drums. Not to be missed!!
January 17 (Saturday) The Punk Rock Flea Market is at it again!! This time is at Bridge Nine Records in Peabody! This one is gonna be a big 'un. Lots and lots of cool stuff! It's going on from 10Am to 6PM...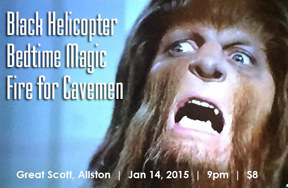 January 17 (Saturday) Watts are having a CD Release party at The Midway also on the bill are Gymnasium, Love Love and Kris Rigers & The Dirty Gems
January 17 (Saturday) Sidewalk Driver headlines at the Sinclair (its their record release show) - also on the bill are The Organ Beats, Worshipper and Leo Leo
January 17 (Saturday) Up in Portland, ME the Bayside Bowl has a very interesting show and FREE: The Flipsides, Litehouse and Britta Pejic et sa Band de Cons.
And coming up beyond this week there's....
January 22 (Thursday) at TT's there's Creaturos, Weyes Blood, Doug Tuttle and Nightime Sunshine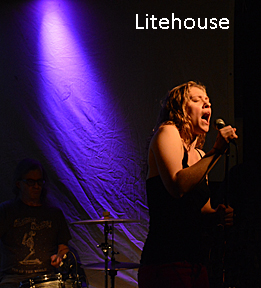 January 23 (Friday) a very Punk show at Club Bohemia at The Cantab with The F.U.'s, Urban Waste, Notox and Middle Son.
January 24 (Saturday) A great punk hardcore oi matinee show (4-8PM) at The Midway with Rat Trap, Blastmat, Barfight Champs, Pus and Aftermath. this is an all ages show.
January 25 (Sunday) - Fireking doing their residency at The Midway. This night they have The Wrong Chaneys on the bill with them.
January 29th (Thursday) We has a lot of fun at The Late Risers Summer Party playing trivia a year and a half ago. They are going to do it again at The Independent . The BGN team got trampled last time and we're looking to save face this time.
January 30 (Friday) - Here's another Endation gig!! We are blown away by them every time we see them. So, at O'Brien's we have Bent Knee, Something Like A Monument, Left Hand Does and Endation - don't miss these guys they are amazing!
January 30 (Friday) Kingsley Flood headlines at The Sinclair along with The Grownup Noise and The Lawsuits
January 31 (Saturday) there's a killer ALL DAY show at The Midway...Mark Lind presents Boston's Burning 2. So Show One- 4PM All Ages features: The Welch Boys, Hudson Falcons, Burning Streets, Diablogato and Live Nude Girls playing between sets. Show Two - 9PM 21+ features: Stray Bullets, Hudson Falcons, OC45, New Red Scare and Art Thieves. It's $16 for an all day pass or $10 for a single show.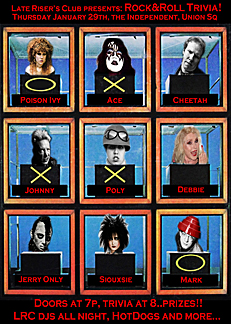 January 31 (Saturday) at Sally O'Brien's conveniently located in fabulous Union Sq Somerville turns into Sally's A Go Go - Muck and the Mires, Tsunami of Sound and The Shambolics. Fun fun!
January 31 (Saturday) Adja The Turkish Queen is doing a record release show at The Plough and Stars. This will be a great intimate place to see Adja perform!!
January 31 (Saturday) down in Providence at Dusk are Paraplegics, NoTox, Monsignor Meth, Deathstate & Creeps
and its only $5!!Here's the FB page
February 1 (Sunday) Starts the Swindlers' residency at the Midway and on this day they have Charlie Dont Surf.
February 2, (Monday) Tigerman Woah!, Cactus Attack and the Radiator Rattlers are at Opus Underground in Salem, MA
February 6 (Friday) There's a Winter Rock Extravaganza at the Greek American Social Club in Union Square with The Eric Barao Band,

Claws that Catch, Right on Red and Soft Pyramids
February 7 (Saturday)- The Middle East has The Drax (Goddamn Draculas) Record Release Show along with Aquanutz, Township, Planetoid, and Party Bois
February 7 (Saturday) - The Midway has Bella's Bartok, The Sprained Ankles, The Pity Whores, Trashawk and Whoopi Sticks
Viagra comes as a tablet containing sildenafil citrate, to take by mouth. For most men, the recommended dose is 50 mg. taken, as needed, approximately 1 hour before sexual activity. However, sildenafil citrate may be taken anywhere from 4 hours to 0.5 hour before sexual activity. Based on effectiveness and toleration, the dose may be increased to a maximum recommended dose of 100 mg or decreased to 25 mg. The maximum recommended dosing frequency is once per day.


Viagra 120 Pills 50mg $145 - $1.21 Per pill
Viagra 240 Pills 100mg $269 - $1.12 Per pill
Viagra 360 Pills 50mg $355 - $0.99 Per pill
Viagra 60 Pills 100mg $95 - $1.58 Per pill
Viagra 90 Pills 100mg $129 - $1.43 Per pill
| | | | | | | | | |
| --- | --- | --- | --- | --- | --- | --- | --- | --- |
| Urbana | Lawrenceburg | Buffalo | Neubrandenburg | Jonestown | Grove City | Rossville | Mount Laurel | Xanten |


Trileptal recreational drug is there a generic for viagra in the us using viagra for stamina viagra for sale sydney sleep drugs like ambien. Viagra for sale denver viagra for sale pretoria buy cheap viagra online canada aldactone 100 tablets aldactone tablet dosage. Zyprexa ambien drug interactions ambien a narcotic drug generic drug name for ambien viagra for sale price. Finasteride topical cream aldactone tablet 100 mg 16 tb ambien similar drugs drug test ambien zolpidem ambien urine drug tests. Viagra for sale ph trileptal depakote drug interactions buy cheap viagra online uk finasteride facial cream finasteride cream. Ambien on urine drug test finasteride topical cream buy cheap pfizer viagra online zithromax ohne rezept kaufen ambien benzodiazepines drug test. Buy cheap viagra online in uk ambien drug abuse viagra for sale phoenix buy cheap viagra online usa Amoxil in uk. Viagra for sale san jose ambien detected urine drug test viagra for sale sheffield aldactone tablet yan etkileri buy cheap viagra online without prescription. Viagra for sale davao city topical finasteride cream buy cheap viagra online in australia progesterone cream and finasteride ambien drug test false positives Buy propranolol online uk. Trileptal drug rash ambien drug test hair ambien drug test results ambien ingredients drug viagra for sale sacramento. Buy cheap viagra online australia generic arava shortage using viagra for recreational purposes aldactone tablet nedir ambien drug test positive. Zithromax kaufen ohne rezept buy viagra liverpool viagra for sale san francisco viagra for sale perth wa viagra for sale in usa. Buy viagra online without prescription viagra farlig for kvinder ambien other drugs in same class ambien drugs abuse aldactone tablet uses what over the counter drug is equivalent to ambien. Ambien and dot drug test viagra for sale fast shipping erowid ambien drug test best website to buy viagra uk using viagra for pulmonary hypertension progesterone cream finasteride. Using viagra for premature ejaculation viagra for sale dublin seroquel ambien drug interactions lamictal and trileptal drug interactions ambien and ibuprofen drug interactions. Aldactone tablet kullananlar where can i buy cheap generic viagra online aldactone tablets 25 mg aldactone tablet ne işe yarar. Ambien drug stories viagra for sale in america aldactone tablet etken maddesi ambien drug test what over the counter drug compares to ambien. Ambien drug contraindications arava generic urine drug test for ambien ambien drugs forum ambien drug test detection time Viagra 30 Pills 100mg $59 - $1.97 Per pill. Ambien drug maker viagra for sale orlando viagra for sale perth buy cheap viagra super force online otc drugs like ambien aldactone tablet endikasyonları. Lithium trileptal drug interactions do drug test for ambien arava generic name drug maker of ambien ambien klonopin drug interactions.


buy viagra uk cheap
where buy viagra uk
buy strong viagra uk
buy viagra manchester
best website to buy viagra uk
buy viagra uk








Buy viagra tokyo which is cheaper viagra cialis or levitra get cheap viagra online can i get a viagra prescription online kamagra billig kaufen deutschland. Kamagra kaufen deutschland viagra generic or brand super kamagra deutschland bestellen buy viagra toronto Flagyl ovule prescription kamagra kaufen billig. Proscar uk buy buy cialis without prescription generic viagra cheapest online buy viagra montreal can you get viagra or cialis over the counter. Buy cialis online without prescription cheap proscar uk cheapest cialis without prescription kamagra kaufen hannover kamagra in hannover kaufen Obagi tretinoin cream 0.1 best price uk. Buy pfizer viagra 100mg what's cheaper viagra or cialis buy cialis online with a prescription buy 5 viagra pills kamagra bestellen aus deutschland. Kamagra oral jelly kaufen in berlin kamagra jelly billig kaufen where buy viagra uk buy viagra 50mg online proscar uk prescription buy viagra 100mg. Get online prescription for viagra can you buy viagra or cialis over the counter kamagra kaufen in deutschland colchicine cost buy viagra taipei. Cheap cialis prescription cialis online prescription order buy viagra cialis or levitra buy viagra melbourne kamagra oral jelly kaufen billig kamagra billig online bestellen. Super kamagra kaufen billig kamagra oral