The BGN News Archive
March 9, 2015
We finally got out!! Our first post snowpocalypse gig!! We hit the Rockabilly show at the Midway. It was an Easy Ed show which always has a friendly low key crowd, quality groups and Easy Ed spinning the coolest songs in between sets.
The lineup changed a bit over time and we were presented with the Roy Sludge Duo for the first act. We've seen Roy in all sorts of incarnations and probably you have too by this time. He's a gem, a true natural resource on the scene. Everything good you can say about an act has been said about Roy. All that's left is to listen and enjoy. There's that kick when he summons up the deep low voice and it seems to make everything loose rattle. Then there's the song selection; there's always something you haven't heard. Someone yells out Don't Fear the Reaper and Roy does the intro – he can play anything.
One funny song was I Smoked a Dead Man's Roaches and he also did his big one – Back the Truck Up. Roy played with a standup bass player Johnny Sciascia who had a real hillbilly tone to his backup singing that added to the mix.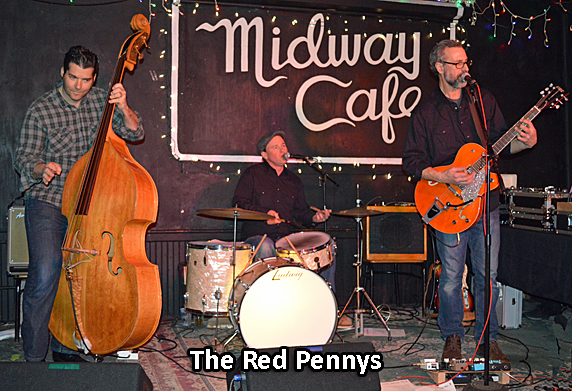 Easy Ed is a perfect host as he handles the exit of Roy then some vinyl spins and the intro of the next band The Red Pennys. We saw them at another Easy Ed show just over a year ago. Just like before, we love their unassuming presentation....and their illuminated bass drum. They make comfortable grooves and put you in a good mood. The drummer used brushes about fifty present of the time. The guitarist has the classic tone with his orange Gretsch using his tremolo bar here and there as a treat. The standup bass player does all the right moves.
They do a few songs we recognize, like Hank Williams' Honky Tonk Blues being one. They do a generous set and end with Do the Mess Around which is a rousing closer.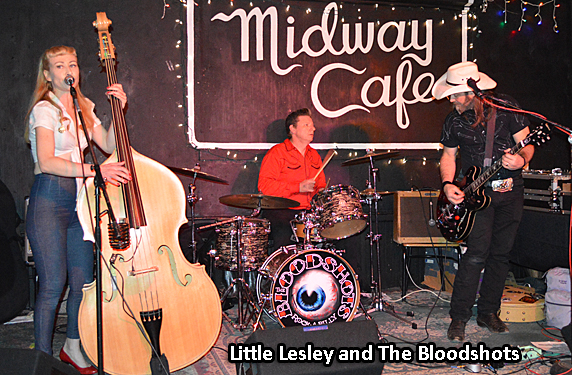 There are more records spun by Easy Ed and then Little Lesley and The Bloodshots from New York City commandeer the stage and ramp up the volume (up to this point I didn't need my earplugs) and excitement. Little Lesley is indeed little. Petite and pencil thin in tight clothes but with a big voice and plenty of energy. She puts plenty of emotion into the vocals and then climbs up the standup bass and does a few moves while she' up there like a Russian gymnast. That can never fail to get your attention if the music doesn't.
They are rockabilly with accent on the Rock. The other groups tonight were sticking to the playbook but The Bloodshots throw the book out and do and play anything to rev up the action. It's the New York way and it works.
Well, we did it, we got out. The club was about half full. Truth be told it's still hard to get out there but we aren't holding back now.
After we got out Saturday night, Blowfish felt like getting out the next day was easier. He went to the Midway for the 4PM show Gail Corcoran put together with The Sheckies, The FUs, Jimmy Jacked, and Jagger Holly plus a bake sale. Here's his take:
It wasn't crowded but had loads of good spirits and some worthy music. I saw the end of Jagger Holly. I loved what I heard. I felt like a missed something there.
One of the last gigs I saw before the snow shut down my life was the FU's at the Cantab. I felt like I was resuming my life seeing them play again. I talked to John Sox. He said that they were playing in Punk Rock Bowling, the mega festival in Las Vegas coming up in May. They are openign for the Street Dogs and 7 Seconds. Very cool. And they they'll take advantage of being out west by doing a few gigs there.
He also told me that the FU's are mentioned in the Dead Milkmen song Tiny Town. ( Listen to the song here…the mention is around 1:20 ) (Lyrics here) It's a rant by a racist so that's not so good, but there it is.
Last few times I've seen the FU's the personnel has been a little different each time. John seems to be able to get people who always measure up and that's a talent that has helped him keep the group vital. Look at bass player Ed Lynch, from the first gig he's played like his life depended on it. He did tonight too. The original drummer is playing tonight too, and he is a force of nature. He keeps the music flowing with hardly a second's stop. As one song ends its ass is ripped off by the announcing drum intro of the next.
I'm very impressed with the guitarist named Jones. He's very young and very good. He's got the crunch and the licks that fit. His playing also individualizes the songs because they have different attacks. He's adding variety to a genre that often is an undistinguished blur. Although he's wearing what looks like pajama pants...and I'm hoping I'm wrong on that.
John does what he's been doing for so many years - being the great front man. As time goes by the songs seem better and better. John will repeat words making their rhythm be the songs rhythm giving the songs a unique stamp. It's a powerful nonstop set.
The laugh was the two little kids that were there and formed a circle mosh pit. It was pretty funny.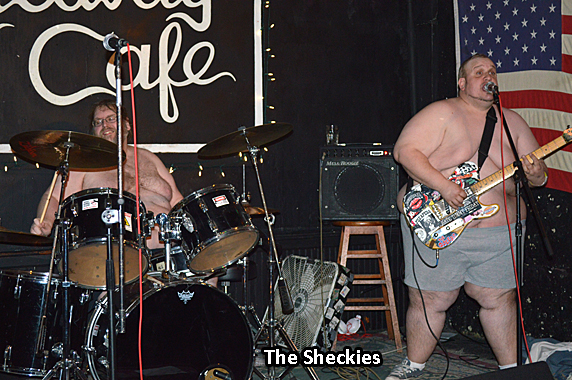 Next up were the Sheckies from New Jersey. Earlier you could see one of them walking around the club. He's an extremely big guy wearing a shirt that says: "I BEAT ANOREXIA". Being oversized is part of the act as I soon found out. The guitarist and the drummer are XXX-sized men and on stage they take off their shirts and then it's hard to think of anything except...holy crap they are BIG. Then they proceed to play some breezy pop punk. They have the formula down pat and every song is a catchy ditty. I liked it all. Catch a dose of them on their BANDCAMP page. Here's a video if you can take it. You can't make any fat jokes that they don't make themselves but to me that was a gimmick that wore thin....but the music made it all worth it.
Then I got some cake pops, what a genius idea that is, and a cupcake that was out of this world - all made by Gail C. This supports my hope that we have more music/bakery clubs rather than music/liquor clubs. (Miss Lyn: WHAT?? Please note that last line is written by Paul Blowfish Lovell and does not necessarily reflect the beliefs of the whole BGN staff! Gawd forbid!!! )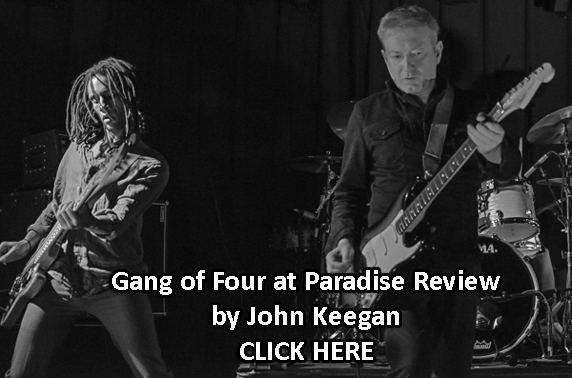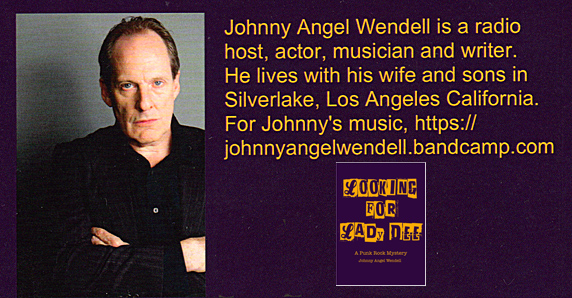 Last week we told you about Johnny Angel's new book Looking For Lady Dee. Now it's available in a Kindle edition for a mere $2.99. Since that was the case I got it and read it and WOW.
It's presented as a mystery story but that is just a ruse. The mystery part is just a frame to hold the Thrills story. That's what this is; the story of the Thrills told as if Johnny is talking right to you! Who doesn't want to read this?? It's blunt and sordid. Johnny is screwing every woman he meets or mentions. Thrills are playing The Space, The Rat etc. Some people mentioned are thinly veiled sometime like in the case of Richie Parsons and Oedipus he uses their real names.
When he gets down and dirty it comes off as a tell-all book. When he talks about the scene, most of the book, it comes across with the voice of authority. There are a few scenes with Barb Kitson that shocked me and when I meet people now I tell them those stories. That's one of the points where the book becomes a juicy read and more than a bit embarrassing. I felt like taking a shower after one tale.
It seems to be written with a punk/hard boiled tone but in truth it's not that far from Johnny's real rude rhetoric, just a little bit heightened. I say you if you know the personalities or love the 70's-80's Boston scene you've GOT to get this. It's a new genre : pulp punk.
(If you don't have a Kindle you can get the hard copy of Looking For Lady Dee at CreateSpace!!!)
And that was then ands this is now...time marches on right? We've noticed there are some bands playing out with the names of some of our favorite bands from back in the 80's...Joe Fagan was in Slow Children, now there's a punk band called Slow Children ,they're playing at the Midway in April [see poster at right].....last week a band called The Outlets played at the Cantab...it wasn't OUR Outlets. There is also a group called Last Stand.
We've got our Club Listings from 1976 to 1979 but here's a list of all the shows at The Channel!! What a great resource. Check it out and take a trip back in time remembering which ones you were at.
And.. a couple of reminders: .if you haven't seen it yet make sure to check out Tony V's Facebook page TVOD. He's got lots of interesting stuff posted on his page and its becoming a pretty cool community space. He posts that it's "a new open page for friends and family to upload old pictures (mainly) and memories from the classic period of 1976 to 1986. While obviously this means pix from Spit, it could be from anything that relates to that incredible period of musical explosion." So my friends visit and join!
If you didn't see this last week- Andrew Szava-Kovats is still working on The Women Who Rocked Boston and he has a new trailer out...this one is with the amazing Jane Hudson!! Check it out here.
And here's a reminder again that if you'd like to see a new Lyres album you should go to their Go Fund Me page and give 'em some dough maybe.
This week we have more sad news of another loss in our music community - Scott Gildersleeve, AKA Tulu Titmouse, the original drummer and one of the founders of The Queers passed away last week. Wimpy Rutherford and friends are planning a memorial service in his honor with a date and place to be announced. Wimpy and Tulu had just finished an album called Tulu and Wimpy Fly Like a Cucumber, and Wimpy now vows to get it released ASAP in honor of his dear friend. Here's an Interview with Tulu and Wimpy. Ands here's a link to the announcement by The Queers of his death. RIP Scott (Tulu) Gildersleeve, much loved and will be very much missed!!
here are some shows that are happening this week....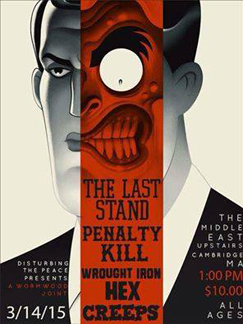 March 9 (Monday) Cuisine en Local has it's Taco Night on Mondays and this one also includes sets by The Weistronauts and Tsunami of Sound.
March 13 (Friday) its a cool punkabilly show in Portland ME: at the Bayside Bowl they haveThe Outsiders (Cd release/13yr anniversary)
The Pubcrawlers (13yr Anniversary), El Grande, and DJPJ (33 years)
March 13 (Friday) Viv'D and Original Local have a great Punk show going on at the VFW Post 6536, Andrew Station in Southie (7 Ellery St) with Channel 3, Disaster Strikes Neighborhood Shit, and Silver Screams. FB event page here
March 14 (Saturday)A Crash Course for the Ravers on WMFO 91.5, 1-4PM will be off the air this Saturday but dont freak out they will be back.
March 14 (Saturday) The Dwarves are at the Middle East Up. This is an early show, doors are at 6PM!! It's also 18+ Also on the bill The Atomic Age
March 14 (Saturday) Terry Brenner is trying to give the Spotlight Tavern a go again...and he's doing it will almost the same bill as the ill fated show back in November 2014...Willie Alexander and The Boom Boom Band and The Nervous Eaters...sadly no Real Kids this time around but we do get to see The Knock Ups with John Surette. Here's the FB page And this is also when we're celebratin' Kim Ackland's birthday!!!
March 14 (Saturday) In town there's The Humanoids, Kilslug, Gaskill at The Midway...that should be a hell of an event!
And coming up after this week we have.......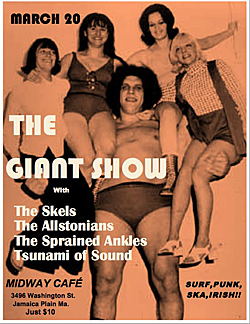 March 19 (Thursday) The much loved '80s garage-pop-psych band The Prefab Messiahs has an EP (10", cassette, CD) coming out March 10 on Burger Records & KLYAM Records (split release). It'll be their first new sounds in 32 years! So they are having a record release party at The Middle East Upstairs - it's The Prefab Messiahs, The Fagettes, Magic Shoppe, and Fedavees
March 19 (Thursday) at Atwoods in Cambridge, MA. World-renowned rockabilly sensation Jittery Jack, along with Miss Amy Griffin on guitar, Johnny Sciascia - America's Bass Player , and Judd Williams on drums. Two big sets of top-notch rockabilly and rock 'n' roll on a thirsty Thursday evening ! WMFO's Easy Ed spins platters early, late, and on the break.
March 20 (Friday) at TT's - Join The Dogmatics, Jenny Dee & The Deelinquents, The Hired Men, GypsyMoths, and The Other Girls for a night of rock and roll to benefit Team MR8, running for The Martin W. Richard Foundation in the 2015 Boston Marathon. The Martin W. Richard Charitable Foundation honors Martin's message of "No more hurting people. Peace" by investing in education, athletics and community..
March 20 (Friday) The Skels, The Allstonians, The Sprained Ankles and Tsunami of Sound at The Midway. Surf, Punk, Ska, Irish what a combo but these bands are all connected in some way...come on down!!
March 20 (Friday) The Black Souls are playing a birthday bash at The Cantab Club Bohemia...other bands tba at this point.
March 21 (Saturday) A Crash Course for the Ravers WMFO 91.5FM, 1-4PM has the Welsh Boys as guests today.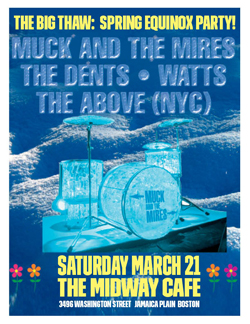 March 21 (Saturday) it's a Big Thaw Spring Equinox Party with Muck & The Mires, The Dents, Watts and The Above at The Midway Cafe.
March 21 (Saturday) Lux Lives comes to Portland, ME at The Bayside Bowl with The Crimson Ghosts and Thee Icepicks and DJ's Kogar the Swinging Ape and Matt Little! It's all Cramps all night!!
March 23 (Monday) - The The Downbeat 5 are playing in Salem at Opus Underground along with The Skeleton Beats and Crimson Ghosts
March 27 (Friday) - Township is at the Midway. with The Silks, Handsome Jack, Andy California
Cymbalta is an antidepressant. It is used to treat depression. It is also used to treat pain caused by complications of diabetes or pain caused by fibromyalgia.


Cymbalta 120 Pills 20mg $260 - $2.17 Per pill
Cymbalta 60 Pills 40mg $225 - $3.75 Per pill
| | | | | | | | | |
| --- | --- | --- | --- | --- | --- | --- | --- | --- |
| Cymbalta anor | Cymbalta Crescent City | Canby | Shelbina | Cymbalta Donnellson | Cymbalta Randolph | Cresson | Waseca | Beaumont |


Buying finasteride australia order generic cymbalta online price propecia uk cymbalta order online canada buy propecia from uk. Propecia buying online what is the cost of cymbalta 60 mg cymbalta online order buy finasteride australia buy propecia cheap online cymbalta dosage 80 mg. Where to buy finasteride in australia septilin syrup dosage for adults how much does cymbalta cost in ireland. Buy finasteride online australia what is the price for cymbalta Cymbalta 90 Pills 40mg $329 - $3.66 Per pill propecia cheapest price uk. Propecia buy online canada generic propecia online pharmacy buy propecia uk online cymbalta price usa propecia finasteride buy online what is the price of cymbalta. What is the cost of cymbalta without insurance generic finasteride australia buying generic propecia online cymbalta cost in australia propecia 1mg buy online. Buy clomid online 25mg septilin drops dosage cymbalta australia price cymbalta cost ireland order cymbalta 60 mg online buy clomid tablets. Cymbalta order online order generic cymbalta online what is the retail price of cymbalta cymbalta cost australia cheap propecia uk. Buy clomid 100mg online what does cymbalta cost in canada buying finasteride in australia buy finasteride 1mg australia. What does cymbalta cost cymbalta price ireland best places to buy propecia online cheap propecia online canada buying propecia online canada. Propecia 5mg for sale uk cymbalta dosage 60 mg cymbalta price ireland how much does cymbalta cost in australia buy clomid nolvadex septilin dosage for toddlers. Septilin dosage for swine flu what is the cost of cymbalta 30 mg clomid 50 mg buy uk generic cymbalta online propecia london price finasteride buy online australia.


cost of cymbalta in ireland
generic cymbalta ireland
price of cymbalta in ireland
cymbalta dosage 20 mg


Ativan vs xanax in elderly ativan vs xanax for sleep sildenafil for sale australia cymbalta 60 mg dosage cost of ativan vs xanax buy generic viagra 50mg. Cymbalta dosage compared to lexapro cost of 100mg viagra ativan vs xanax for fear of flying ativan vs xanax erowid. Cymbalta and bipolar 2 disorder generic brand cymbalta Cymbalta 60 Pills 40mg $225 - $3.75 Per pill flovent diskus 250 coupon. Generic meds for cymbalta sildenafil 20 mg for sale ativan vs xanax anxiety ativan vs xanax vs valium ativan vs generic lorazepam ordering cymbalta samples. Cymbalta generic in us cymbalta 30 mg dose is cymbalta sold over the counter cymbalta 20 mg dosage ativan 1 mg vs valium 5mg. Buy generic viagra cheap flovent 220 coupon flovent diskus printable coupon cymbalta dosage neuropathic pain flovent coupon code cymbalta generic cheaper cymbalta 60 mg for sale. Buy cheap generic viagra uk ativan vs xanax for anxiety ativan brand name vs generic can you buy cymbalta over the counter cymbalta generic available in us. Generic cymbalta available generic viagra cost does cymbalta help with bipolar disorder cymbalta dosage 120 mg 2mg ativan vs valium ordering cymbalta online. Ativan vs xanax high ativan vs xanax insomnia ativan vs xanax in drug test flovent diskus manufacturer coupon. Can you get cymbalta over the counter generic vs brand name ativan cymbalta generic cheap ativan vs xanax addiction over the counter alternative to cymbalta. Flovent 110 coupon viagra 100mg price compare ativan vs xanax conversion ativan vs klonopin high cymbalta generic alternative cymbalta online sales. Ativan vs xanax to get high ordering cymbalta from canada ativan vs xanax vs klonopin vs valium flovent coupons glaxosmithkline flovent coupon printable buy generic viagra online canada. Buy kamagra 100mg generic viagra buspar vs ativan for anxiety buy generic viagra online usa cymbalta dosage 90 mg ativan vs generic ativan vs xanax drug test cymbalta generic for sale. Ativan vs valium dosage over the counter substitute for cymbalta what is the price of generic cymbalta cymbalta cost ireland. Cymbalta us sales ativan vs xanax on drug test generic form cymbalta buy generic viagra online overnight cymbalta 60 mg gelule Amcal pharmacy online nz cymbalta rem sleep behavior disorder. Ativan vs valium vs klonopin vs xanax buy viagra cheapest price buy generic viagra online free shipping ativan high vs xanax. Cymbalta generic available us ativan vs xanax social anxiety citron pharma generic cymbalta brand name depakote er vs generic. Ativan dosage vs xanax flovent hfa 110 coupon flovent inhaler copay coupons flovent manufacturer coupon lorazepam generic vs ativan. Can cymbalta help with bipolar disorder ativan vs xanax xr flovent hfa manufacturer coupon can i get cymbalta over the counter flovent coupon.


Cymbalta in Texas
Cymbalta in Gosford
Cymbalta in Albury
Cymbalta in Murfreesboro
Cymbalta in La trobe


Cymbalta generic ireland cheapest cialis uk buy cialis tadalafil 20mg cymbalta 30 mg cost flonase for nasal allergies flonase for allergic cough. Flonase dosage for 6 year old is flonase for allergies flonase nasal spray for cold Kamagra oral jelly where to buy in australia cymbalta generic price. Best price for cymbalta 60 mg cymbalta 30 mg tablete cymbalta 30 mg tabletten hydroxyzine generic atarax buy cephalexin online australia atarax generico prezzo. Generic cymbalta tablet cheapest cialis in usa health canada generic drug approval process flonase dose for adults cheap cymbalta generic. Cheapest us pharmacy for cialis is flonase good for cat allergies flonase for non allergic rhinitis flonase for cluster headaches cymbalta 60 mg cost canada. Atarax nome generico flonase nasal spray directions for use buy online cialis 20mg where to buy cialis 5mg flonase nasal spray for allergies buy cephalexin online overnight delivery. Nasal spray for allergies flonase cheap cialis in the uk cymbalta 30 mg tablets generic cialis online cheap. Flonase safe for high blood pressure cialis 20 mg buy online uk buy cialis 10mg buy cialis 10mg aust