The BGN News Archive
February 4, 2012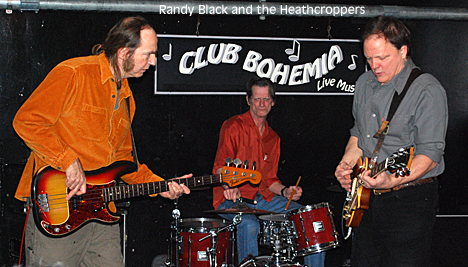 There were lots of things to go to in a notable busy winter weekend. We were so taken in by Randy Black at the Rosebud that we were drawn into seeing him again at Club Bohemia at The Cantab... but first we hit the Middle East Up to check part of a show with Mark Lind, Cradle To The Grave and The 360's.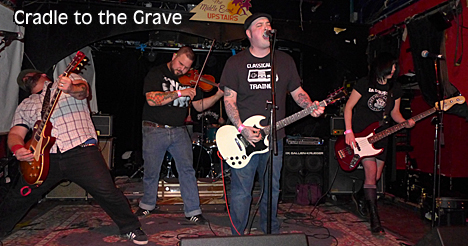 On stage setting up was Cradle To The Grave who've I've seen before but this time I kept staring at the big, respectably tatted...violinist Joe Wyatt. Say what? This was going to be interesting. They have had a violinist in the past but I never heard about it and it turns out he fits in just fine. Sometimes he's way in the background and you barely notice it and other times he did add another timbre to the sound. I thought it would never work - wrong again. Cradle To the Grave are nice and loud but always tuneful. They flirt with pop but always stop a distance away just using a few elements to aid the ear. They all are good players and have friendly stage personalities. All in all we felt lucky to catch the set and would love to see them again.
We were now thinking of heading to see Randy Black and The Heathcroppers at the Cantab so we just caught two songs by The 360's, not enough to give a critical review but they did have some videos showing as they played their brand of slightly psychedelic songs.
Now down at the Cantab it turned out Randy didn't go on till later so we saw The Jeremy Wallace Trio. He has a gravelly voice like Captain Beefheart or Tom Waits. The music however is a bit different. It's blues/county somehow. He has a very distinctive sound using his unusual (to me) model Dobro. Dobro being a guitar with a metal resonator that gives the sound a sort of metallic rattle. My mind was oriented toward rock but Wallace won me over. The music was moody and a little hypnotic in its repetitions. Matt Gruenberg the bass player for Randy also is a sympathetic sideman that knows just what to do and the drummer, Tom Costagliola was INTO IT. He was the most interesting drummer to watch - leaning over the snare to play a conga drum, using a variety of odd drumsticks and various percussion instruments and making interesting faces!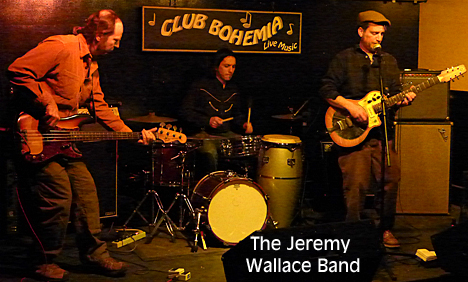 Finally to Randy and the Heathcroppers. We're standing by everything we said about Randy last time. He's got an amazing set of songs. Very few out there are writing at this level. There are places were the words interlock with the music that is achieved only through inspired moments of creativity. The words tell stories or mental landscapes. The song Sadness Comes In Waves was again an emotional Everest. At one point Randy lowered to the floor and I wanted to sit on the floor too...that song just gets to you. All the way through the set are highlights of turns of phrase or memorable musical turns. This is very rewarding music. Matt on bass was a real star tonight first with Jeremy Wallace and again with Randy as he adjusts to every mood and plays complimentary fills that are always on target. His playing on Sadness Comes in Waves helped to make that the epic that it was.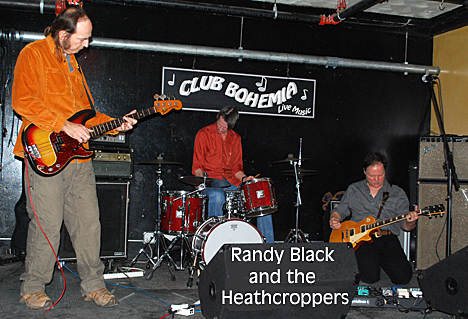 Hey make asure to take in Rick Coraccio's ongoing tail of being a Lyre Retyred. It's in part 2 now with more parts to come.....The Lyres Chronicles: A Lyre Retyre
This Friday Feb 8 at 7PM ...Peter Hook, Joy Division's bass player will be doing a book sign and reading at Porter Sqwuare Books - that should be a pretty cool way to start out the night!
Damn, have you heard the latest about The Rosebud? It's has been sold...the sale will be final in March. Of all people its been sold to the guy that own the Vinny Testa's chain. Ugh, that can not be a good thing!! In the interviews I've read he says "We're gonna to a big upgrade." He plans to completely redo the inside and does say he will put in a new stage. But I don't' have a good feeling about this folks....damn The Rosebud is such a great place! We were talking about it a month or so ago...how comfortable and homey it is. Well people get your fill of the Rosebud in the next two months...sad news.
So gearing up for the 14th there's a Valentine's Day Bash at O'Brien's this Friday the 8th with Al Polk, Guillermo Sexo, The Fagettes and the I Want You. And to spice things up and get all sexy for the occasion Amy Macabre will be doing burlesque as well! And Miss Fonda Feeling will also be doing a "special" performance too! Ryan the former guitarist for Red Invasion started The Faguettes a couple years ago....remember Red Invasion??? What ever hap