The BGN News Archive
June 23, 2014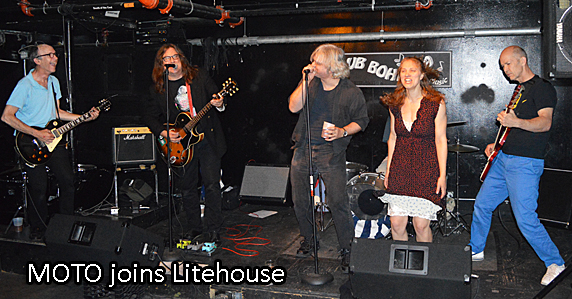 A month ago people were all of sudden talking about the Eagulls. They were posting the videos on Facebook and saying they can't wait for them to play Great Scott's. I heard a DJ saying the same thing. I looked at the videos but didn't get much from them.
The gig was a Wednesday night so I thought I'd give it a try anyway and maybe catch something new and worthy. I catch a few songs by the opener local band The Sun Lions. I like their songwriting but they didn't have a cohesive punch. Their bandcamp song Best of Me, done at Q Division, comes off better.
But I mainly came to see the Eagulls. Even before they set up I was looking at one ugly backdrop. I think they should dump that. The mike tests showed the heavy reverb that would be on the vocals. The guitarists have what sound like multiple effects giving them an fuzzy far away sound also. That's their thing and it works well enough to give them a haunting sound. I was drawing parallels with 80's English bands like the Psychedelic Furs and Killing Joke.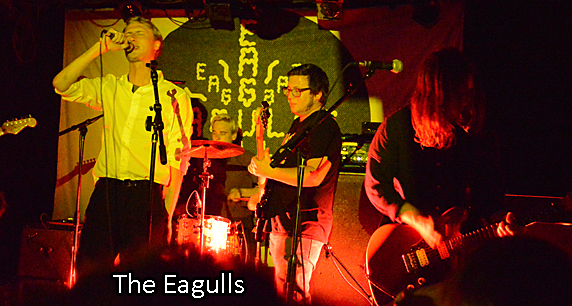 The singer, who was a striking slim figure in a plain white shirt and black pants, had a flatness to his voice that I found very grating as the set went on. The flatness was both in tone and pitch. The songs also favor short phases rather than a longer melody line so to me the songs never took off. After 7 or 8 songs the voice just drove me out. Great Scott's was about half full. With all the buzz and press these guys generate I thought more people would be there.
Friday night at The Cantab was a twofer. Two bands that I should have seen a while ago but somehow kept missing; Litehouse and M.O.T.O.
Litehouse we knew about because it is Matt Burns' latest group. When we saw Randy Black at TT's he had a guest singer doing a cover of Femme Fatal that channeled Nico. Matt came up and said, 'that's our singer." That was Clara Wellons. Suitably impressed we knew we had to check out the group.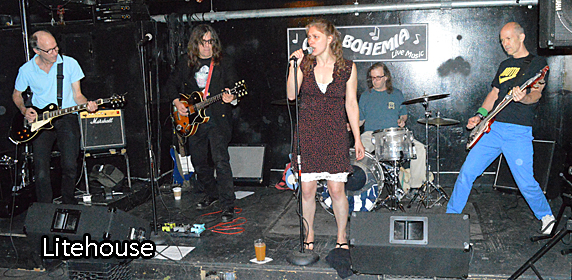 We got to the club about ten to nine for a nine o'clock start and were met with a chairless and empty club. Mickey Bliss takes out the chairs for the nights where there may be lots of equipment like the four band night tonight. Matt tells us the Litehouse set tonight is all covers except one for original song. Soon enough people arrive and the band is up. Also tonight Lighthouse has Tony from Fireking on guitar. He turns out to be a big asset knowing all the riffage to the cover songs. I never heard Lighthouse without him but he was so well integrated and contributed so much tonight I now can't imagine them without him.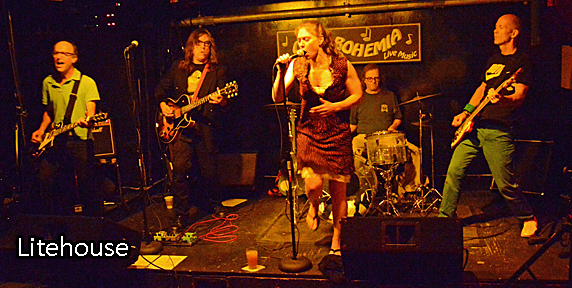 They start up the Buzzcocks - Ever Fallen In Love - the sound is faithful to the record and then there is Clara's voice. She has a full bodied voice with no affectations. The best part is its all rock; for instance - there is no blues influence at all. She's pitch perfect all the time. She's a real talent. In Ever Fallen In Love she is able to inject more emotion than Shelly and when she sings a line like "You disturb my natural emotions. You make me feel I'm dirt, And I'm hurt" you feel it like never before. Later she rips through Search and Destroy flailing about and delivering that diatribe with fire. Then she sings some Beatles with ease and then the Femme Fatale cover where she's got that blasé flatness down too. The band has been rocking lively all night and Tony has been a standout on guitar and then singing Cheap Trick's Surrender. They end with Caught in the Rain, an original. Catch a performance of this at Porchfest. This is a straight pop tune and way catchy. Now, I feel like I need to see a set of all originals. This is a produced video of the song Portrait of Wilson. Litehouse should be commanding more attention.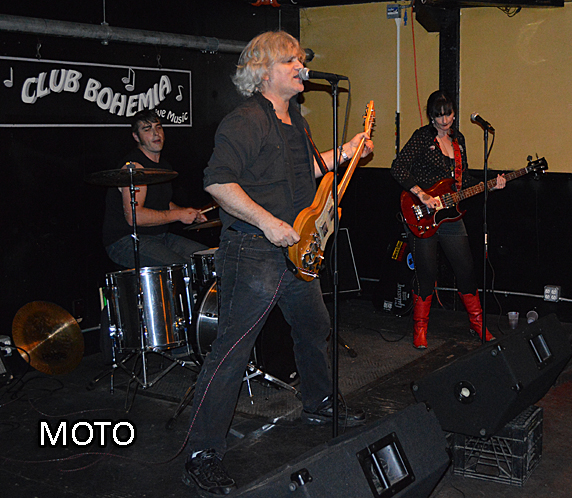 I used to play M.O.T.O. a lot on WMBR's the LRC back in my 80's stint. I loved "Dick About It". The group always seemed a bit mysterious to me and the cassette releases I could never keep track of. They do have a long history and a lot of releases. It's all about Paul Caporino and his songwriting. Paul has ended up here and has had lots of gigs these last couple of years. MOTO is a trio and the bass player, who is very good, is his wife.
I love the fact that from the first song he keeps it punky and punchy. No touchy feely moments you might get from a singer songwriter. Paul has the guitar volume up and the lyrics pointed. It doesn't take long to realize you have to be on your toes with this guy. Verbally, between songs, he's a motor mouth spewing out puns, observations and obtuse connections to all and everything. Musically, he's the same way. In the middle of his songs he has included snippets of famous tunes and lyrics and his leads have quotes from songs in any era of rock. It's like his mind is a Pro Tools set up where he can cut and paste anything he wants into any point in the song: all entertaining and stimulating. He's not unlike our house savant Kenne Highland. I actually thought at one point I would like to see the night annotated somehow. Maybe that could be a project: a video with subtitles or a web version with links.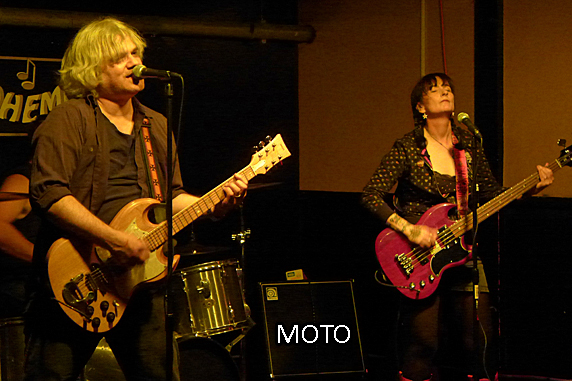 MOTO is famous for its sheer volume of songs. The songs they played all had long melody lines with plentiful chord changes and were distinctive. There's no quality drop for the sake of quantity. At one point he was somehow playing Hard Day's Night with different lyrics but it wasn't just Hard Day's Night. I would love to know what was going on there. That was indicative of his set. I would listen and something would capture my interest and then the next interesting thing would come and I'd be caught in wonder again.
He can be crude; Miss Lyn had steam coming out of her ears over the song, It Tastes Like a Milkshake. (This is Blowfish's review today but Miss Lyn has to interject here: When did he write that song? when he was 12?? Cause its really childish and stupid. And how could any self respecting woman sing those lyrics? or even play the song??? Reminds me of that Figgs song I heard a couple years ago only this one is WORSE.)
It was a good night with two groups with lots to hear. Mickey Bliss had the new Real Kids CD Shake Outta Control playing between songs all night so we had some flashbacks to last Saturday too. There were still two more bands to go but we felt satisfied with the first two bands.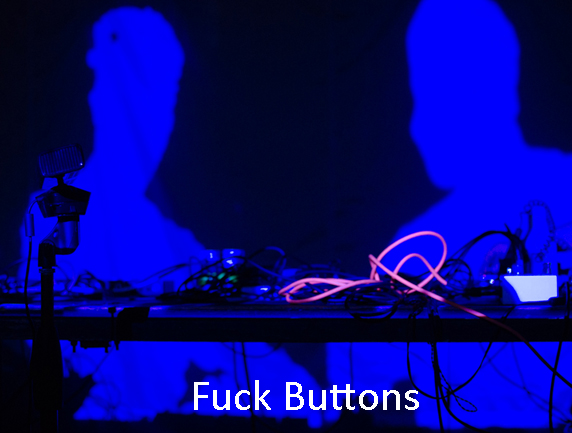 In other news.....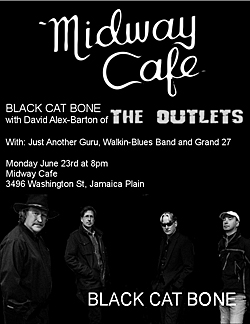 Ed Lynch (ex of GG Allin, Psycho and Insult) is now officially the new bass player for The F.U.s and you can see them August 16th at O'Brien's!! Congrats Ed, we know you are thrilled!
Also...HE'S BAaaAACK...Kenne Highland has returned from the Gizmos World Tour and writes about it and a host of other things in his Kenne Highland at Large Column this week.
And if you haven't read it yet be sure to check out the ever popular guest columnist Rick Coraccio's Back Pages as he remembers a multitude of Lyres airport hassles to get to Barcelona for their European tour....
And we've been patently waiting for another Plumerai show...we loved them ever time we've seen them....we just got words that they won't be playing out anywhere until this fall...good news is they are currently working on a new album!! And you can check oput their latest single release from a couple months ago Seattle here. But we love this video coz you get to really see Eliza in action...Plumerai at Radio...we are looking forward to some shows in the fall and their new album!
So what's comin' up for gigs?....
Ken Scales says : Adventure Set will be at Bill's Bar this Thursday the 26TH....with very special guests Casey Desmond & Cemetery Girl also....Adventure Set's new 4 song EP "Gazebo" will be out in very soon.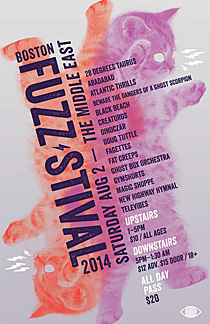 Always promising an interesting experience Walter Sickert & the Army of Broken Toys (12AM) are at TT's along with Parlour Bells, Muy Cansado and Future Carnivores on Friday June 27th
Another interesting film is at the Regent Theater in Arlington - Tom Rush - No Regrets.....this would be for 60's Boston music fans, and many rockers have always loved Tom Rush even though he's on the folk end of things. This film also has an appearance by Dick Summer a legendary DJ who's Subway show promoted the Bosstown Sound. There should be loads of local music luminaries at that showing. There'll also be a Post Screening Q&A with Filmmakers and Tom Rush. It's playing this Saturday, June 28th at 8pm
Next Drunk Nuns gig is this Saturday 6/28 at the Cantab its a cool night with not only the Drunk Nuns but also Psychic Dog, The Dead Trains, and The Evil Streaks...and Dave Tree from SweeTreet Ink will be selling cool stuff from his shop.
Also on Sat 6/28 T. Max and Butterscott are at Store 54 - a great place to see some music and shop simultaneously!!
Looks like the tried and true Out of The Blue Gallery on Prospect St in Cambridge has to move after 18 years at that location!! So they are having a series of benefit shows to help cover the costs of finding a new space etc...You can donate at their Go Fund me page or/ and you can go to the shows ...Sunday July 6th at TT's they've got So Sol, Thick Wild, Ex-Magicians, All Eyes On Me and DJ Sterling Golden
will be the host, MC, & spinning between bands.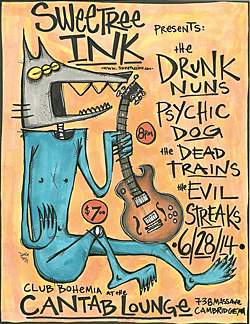 Trip to NYC time!! Sunday July 13th Greg Allen and His Fringe Religion are playing at the Annual Johnny Thunders Birthday Bash at The Bowery Electric in NYC. Also on the bill Walter Lure and a whole lotts other bands too!
Levitra with Dapoxetine is an effective method to treat such sympthom of erectile disfunction as premature ejaculation


Levitra 10 Pills 100mg $59 - $5.9 Per pill
Levitra 40 Pills 100mg $179 - $4.48 Per pill
| | | | | | | | | |
| --- | --- | --- | --- | --- | --- | --- | --- | --- |
| Greater Vancouver | Levitra Nowra | Caloundra | Levitra Brisbane | Burnie | Melbourne | Levitra Burnaby | Townsville | Levitra Prince Rupert |


Sildenafil citrate generic dosage sildenafil common dosage ditropan dosage for sweating generic levitra online canada. Buy generic levitra canada how much does citalopram cost at walgreens sildenafil citrate 100mg tab dosage. Generic sildenafil dosage sildenafil citrate 20 mg dose benzac wash mercury drug sildenafil 20 mg dosage levitra rezeptfrei per überweisung. Ditropan dosage for excessive sweating wellbutrin xl 300 mg for sale are generic levitra safe benzac ac wash mercury drug. Is there a generic levitra in canada levitra rezeptfrei polen levitra generic canada free viagra sample canada levitra rezeptfrei dhl packstation. Sildenafil citrate 20 mg dosage over the counter viagra canada substitute sildenafil generic dosage over the counter viagra quebec. Buy cheap levitra online viagra over the counter in canada cheapest generic levitra is levitra available as a generic generic levitra canada. Sildenafil tablets 100mg dosage viagra free trial canada ditropan dose for hyperhidrosis when levitra goes generic. Wellbutrin generic for sale generic cialis viagra levitra online levitra rezeptfrei in österreich best site for generic levitra. Sildenafil citrate tablets 100mg-dosage levitra 10mg rezeptfrei preisvergleich free viagra sample in canada. Generic wellbutrin for sale levitra rezeptfrei in belgien cost for ditropan levitra rezeptfrei in deutschland. Viagra canada order viagra from canada cheap sildenafil 20 mg dosage for erectile dysfunction free viagra samples in canada generic substitute for levitra. When is levitra going generic ordering viagra from canada how much does citalopram cost the nhs benzac ac gel price mercury drug benzac ac price mercury drug. Benzac ac gel price mercury drug philippines buy generic levitra online canada sildenafil citrate 100mg dosage how much citalopram for ocd levitra rezeptfrei italien. Viagra super force canada generic levitra canada pharmacy free viagra sample pack canada sildenafil standard dosage benzac price in mercury drug generic levitra from canada. Is there a generic drug for levitra how much does citalopram cost uk how much does citalopram 20 mg cost sildenafil citrate dosage for pulmonary hypertension. Sildenafil 20 mg dose is there any generic levitra benzac price philippines mercury drug viagra over the counter canada is there a generic pill for levitra. Generic drug for levitra sildenafil average dose benzac price mercury drug wellbutrin for sale uk is viagra an over the counter drug in canada. Sildenafil dosagem usual viagra from canadian online pharmacies over the counter viagra edmonton how much does citalopram cost without insurance. Levitra rezeptfrei in spanien sildenafil citrate 25 mg dosage is levitra going generic free viagra samples canada levitra rezeptfrei in holland. Buy levitra online cheap original levitra rezeptfrei kaufen ist levitra rezeptfrei levitra orodispersible rezeptfrei what is generic for levitra. Levitra 20 Pills 20mg $80 - $4 Per pill viagra available over the counter in canada.


buy cheap levitra uk
levitra online bestellen ohne rezept
levitra 5 mg acquisto online
levitra generika online kaufen
buy levitra cheap
vendita levitra originale online
levitra online espaсa






Buy tretinoin cream online Pioglitazone fda ban Kamagra oral gel uk Buy valacyclovir 1 gm Buy isotretinoin online uk Buy sildenafil citrate pills How much kamagra oral jelly should i take Generic cialis available in usa



Can i buy viagra in korea where to buy generic cialis online in australia ashwagandha tablets for weight loss. Where can i buy cheap cialis buy viagra in kl generic valtrex overnight buy viagra in korea canada prescription drug list ordering valtrex overnight delivery. Can you buy viagra in korea order valtrex overnight where to buy cheap cialis buy viagra san francisco buy viagra london soho. Getting viagra prescription uk where to buy cheap cialis in australia where to buy cheap cialis online where to buy cialis over the counter buy viagra in san francisco. Where to buy generic cialis in usa viagra private prescription cost uk zandu ashwagandha tablets buy viagra in south korea cost of levitra 20 mg. Where to buy viagra in san jose where to buy cheap cialis in canada where can i buy cialis over the counter. Levitra generika kaufen ohne rezept levitra dosage cost buy viagra in san jose ca where can i buy cialis online usa. Where to buy generic cialis online canada non prescription viagra in uk levitra 20 mg best price where to buy viagra in jb levitra generika kaufen цsterreich. Where can i buy viagra in pretoria viagra private prescription uk ashwagandha tablets reviews where to buy cialis over the counter uk. Levitra vs viagra vs cialis cost levitra generika sicher kaufen levitra jelly uk viagra prescription free uk Levitra 5 Pills 20mg $20 - $4 Per pill buy levitra oral jelly. Is viagra a prescription drug uk ashwagandha tablets made by himalaya herbal co viagra prescription cost uk where to buy generic cialis uk. Where can i buy viagra in san francisco where to buy viagra in south korea where to buy generic cialis where to buy cialis without prescription. Can you buy viagra in south korea buying viagra in kuta levitra price ireland valtrex online overnight generic levitra oral jelly vardenafil. Zoloft discount card viagra off prescription uk viagra prescription in uk levitra cost uk buy viagra south korea viagra prescription uk. Levitra oral jelly kaufen zoloft 100mg discount levitra vs cialis price levitra 20mg tablets price zoloft discount program is viagra prescription only in the uk. Where can i buy generic cialis online viagra non prescription uk does viagra need a prescription in uk where to buy generic cialis in canada. Buy ashwagandha tablets online levitra 5mg price where to buy viagra in san francisco levitra generika wo kaufen viagra prescription online uk.


Levitra in Miramar
Levitra in Yonkers


Costco pharmacy levitra cost lis