Reddy Teddy Reunion
July 14th 2004 Paradise Rock Club, Boston
July 14th, 2004 was the much-awaited Reddy Teddy Reunion gig "Return To Kilsyth Manor". The three bands, all very noteworthy in their own right were Thundertrain, Jon Macey & The Score and Reddy Teddy (sans Matthew Mackenzie of course, Matts Ma we ALL miss you!!).
Yes my friends, this was a super blast from the past type of night!! Some one in the course of the evening said "Anyone here under 30 is probably the son or daughter of someone on stage tonight!!" But you know it is great to see that we all can still ROCK!!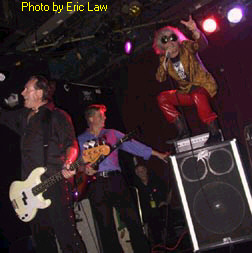 The show opened with Thundertrain…what a way to wake everyone up after a tough day at work!! They performed a stinging, high-energy set of TT classics!! Mach Bell was in rare form, screaming & yelling, climbing on amps and leading his disco sucks cheer with fervor and conviction. Dressed in red pleather pants a gold brocade jacket and signature bug-eye goggles Mach was being the entertainer extraordinaire of the evening.
Cool Gene and Rick Provost were over to the side rockin' away together and holdin' down the fort with a strong rhythm guitar and bone rattlin' bass. I walked up to Rick after the show and the first thing he said, with a huge smile on his face, was "I LOVE playing in this band!!" and it really shows when he's on stage! And Cool Gene certainly a handsome devil these days! Of course Steven Silva, with brand new flame tattoo on his wrist looked fabulous, as always….oh yeah, he played fabulously too….in fact his guitar playing was even MORE spot-on that last year's tour. "Yup, I go right for the spine." he said when I got to talk to him backstage after the show. And of course we can't forget Bobby Edwards, original TT drummer, wow!!! No wonder the band sounded so awesome this time around!!! He really made it THUNDERTRAIN!!!!
Three pics from Eric Law...ONE ...TWO ...THREE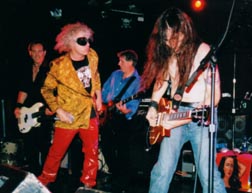 Here's what Mach had to say about the evening:
"Return To Kilsyth Manor was the best night of the summer. It was a night for the Boston rock'n'roll survivors to get together and celebrate the melodious legacy of Reddy Teddy's late great Matthew Mackenzie . An unforgettable guitarist/songwriter/singer/personality who sparked the early fires of underground Boston rock that are still smokin' today. Matthew was the real teddy boy alright. I think his name and his music deserve to be enshrined right up there with the Boston legends Jonathan Richman, Ric Ocasek, Peter Wolf, Freddie Cannon and Steven Tyler... Matthew Mackenzie was as influential and certainly just as talented as the best of 'em. Thundertrain last performed with Reddy Teddy's, here at the Paradise, in 1978 (soon after the club first debuted).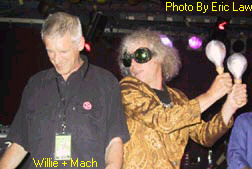 Going further back to '73 I remember all my pals going to watch Reddy Teddy's opening for Aerosmith at Caesar's Monticello on route 9 in Framingham. A couple years later, in 1975, Matthew and Reddy Teddy's lead singer John Morse came out to see an early Thundertrain rave up at the Stadium Motor Inn in Wrentham. Then both our bands played the riotous 1977 New Year's Eve Party at the Rat along with Willie Loco and the Boom Boom Band.
It was during those years that I got to know my way around Reddy Teddy's Kilsyth Manor in Brookline. The greatest bandhouse of all times, with numerous musicians rehearsing downstairs, a nonstop party raging on the main floor and all kinds of funny stuff going on upstairs at all hours - every night. Yup - I was really psyched to be back here with all my friends at the Paradise in Boston on July 14 , 2004. Together once again, decades later, all squeezed into the skinny Paradise dressing room. A real rock'n'roll time machine.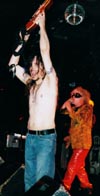 Laughing, talking and tuning up along with all 5 original Thundertrain members were John, Scott, Joe and Ted (Reddy Teddy) joined by Jeff Locke (The Atlantics) and Willie Loco Alexander. Jon Macey, Michael Roy and Johnny Jules ( all of the original Fox Pass), added greatly to the bizarre scene. Frankly, I don't remember too much about our set. I was in a happy daze. I know that we played some of our hits like Cindy Is A Sleeper ('75) and I Gotta Rock ('76). I probably yelled something like "disco sucks". We closed with Steven Silva's signature Thundertrain song Hot For Teacher! and Willie Alexander dashed up on the stage and pounded on his piano while I danced with my shakers.
After Thundertrain got off I started drinking and talking to everybody and doing a lot of merch and drinking and signing and merching and drinking - so I can't really review the Jon Macey and Reddy Teddy sets...but I did buy the new Reddy Teddy retrospective cd set that night. It is incredible. You must get it! Ooh Wow!"
Thanks Mach!!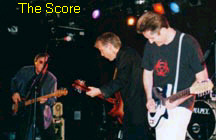 Jon Macey & The Score were up next…a very different feel to their set, they provided a sort of..pop reprieve. Jon has got to be one of the best songwriters to ever come out of Boston!! His tunes are so well crafted and the band is made up of great musicians that have played with him for years.
Macey continues to surprise. His last CD was a supurlative songwriting and recording effort. His gigs have reflected that and on this night he played two new songs that were pop heaven. Sometime Saturday Girl, one of the new ones was played with two 12 strings quitars. It has a great hook and, well...kill me now because that's all I want. Child's Play was the another new winner. The new songs are the beginning of his next CD he's writing now.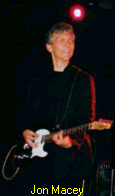 They also played Tom Dickie and the Desires's Downtown Girl . The hit. Then a real treat a Fox Pass song Amtrak which saw them kick it up a notch. It was louder with a more bare bones song structure than the rest of the set. It did make you realize a set of Fox Pass would be something to hear.
Jon inspires with his no bull, no excuse drive. Always forward with talent and focus.
Here's what Jon had to say about this memorable evening: "Great to see so many old faces. plus it was a blast hearing the other bands. Too bad it wasn't a weekend night so more people would have come, although I was very pleased with the attendance. I would like to be involved in more of these type of events. This night proved that we can keep rocking as we get older. there is no age limit!"
You said it Jon!!We can show 'em how to rock!!
Finally Reddy Teddy took the stage and there was a huge crowd there to see them!! Actually before they began they had Matthew's brother - Click for Picture come up to say a few words..so it was very nice and he was thrilled about the evening. I could see Matthew in him, the family resemblance..and it was a little strange…and saddening.
John Morse -Click for Picture was amazing, I must say!! He looks awesome, pretty much just the same as I remember him from the Kilsyth days only now his hair is short and gray. Girls, he still looks awesome! His voice sounds exactly the same as well!! It was pretty astounding!! What's more amazing was his wonderful personality and how nice and down-to-earth he was up there!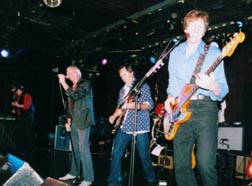 Scott Baerenwald on bass was in top form. He has never stopped playing. His playing is fluid and melodic, part and parcel of the Reddy Teddy sound. I can't imagine they could have pulled this off without him. Add his stage presence and background vocals and count him as everything a bass player should be.
The version of RT I knew was the John, Matthew, Scott and Bugwit version but it was no matter here …this was true Reddy Teddy! Joe Marino, the original drummer, was great. As RT had said in our interview w