Past episodes ...Click Here
The Kirkland - Somerville
February 17, 2007
All photos by Susan Aprill
---
Ever since I moved to New York, this has been my once a month routine: Drive to Boston! I always leave about 10:00 Saturday morning and drive to my friend Richie Johnson's house in Burlington for a Boize rehearsal at 2:00 p.m. After that, Susan and I check into the motel and find some place to eat (this month it was Friendly's). Then we drive into town for the fabulous Nancy Neon Night Rock and Roll series! So far it has worked out pretty good and the weather has been very cooperative.
7:45 p.m. The Kirkland Lounge, Sommerville, Ma.
I can't believe my eyes! A parking space right in front! Aw man! Sweet! This has never ever happened, but then again, it is 45 minutes before the club officially opens. Susan grabbed both my basses (a solid body Gretch for the Boize and my trusty Epiphone for the Lyres) and I hauled her 100 watt Ampeg bass amp out of the back seat and took two (count 'em, one, two) steps to the front stoop and pushed the heavy wooden door open. Omigod! The place is packed! At 8:00 there are more people in the Kirkland Lounge than I have seen in a very long time. It's too bad the door man won't be here for another half hour. All these people got in for free. In fact, the club is still in its sports bar disguise. Yes! The Kirkland is not just a rock club. It has a sports/ yuppie-ish pub thing going on every day with waitresses, hot food and everything.

| | | |
| --- | --- | --- |
| Billy Connors and daughter Alison | Richie Johnson and his lovely date Lena from Sweden | The Constable |
8:30 p.m.
It is time for the first band to start seriously thinking about making a move toward the stage. That first band would be The Boize. One of my bands, but I am having so much fun hanging out, drinking and people watching that the impending set seems like an afterthought. With a wave of my arms I get Ms. Neon's attention from across the room, and touching my watch and shrugging my shoulders, I give her the universal "how much time before we gotta play" signal . She shrugs "I dunno" and flashes all her fingers twice "twenty minutes maybe?" Just about enough time to take a leak, hit the bar (I'm drinking Budweiser tonight) and give my honey Susan a kiss for luck.
8:45 p.m. Dancing is back!
Me and my Boize are arranging ourselves onstage. I just can't get used to playing stage right after spending some 35 years on the opposite side. The original Boize featured only me and Billy Connors on bass and guitar respectively. It was so much more symmetrical. These days I share stage right with lead guitarist John Leblanc. In the 70's John came in after I left the band to join those brash young whippersnappers DMZ, making him an original member. I really like how Mr. Leblanc fills out the sound; it is reminiscent of when we used to employ Reddy Teddy's guitarist Matt Makenzie (R.I.P.) for pretty much the same reason.
As soon as we started playing, there was a lot of hoofin' going on. It was just one of those feel good sets. I felt great! The room responded, and everybody danced! I was way loving it. We ended with "Slow Down" and the dance floor was full. Even the Constable sent to serve me a frivolous summons was grooving!
| | |
| --- | --- |
| John Leblanc at the Boize practice space | Dancers - Nancy, Diana Kelly and Erna Connors |
10:00 ish
The Classic Ruins scrambled up on stage. They sounded pretty good but after a few songs the crowd was noticeably thinner. There is a perfectly reasonable explanation for this. The Boize were always a Somerville band (three of the Boize were born and raised here in Somerville.) The place was loaded with Somervillians and ex-Somervillians who had come to see their native sons. Hey, I like the Ruins as much as the next guy, but the hard driving, two guitar attack of Rowe and Crane are not really congruent with the three part harmonies and the jangly sappy love songs of Coraccio and Connors. Besides, it was way past bedtime! Be that as it may, there were still a lot of rockers lurking about the Kirkland and the night was still young.
11:00 or so.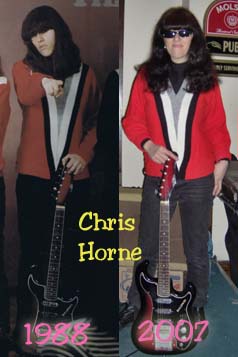 Lady Kensington and the Beat Lords are from Portland, Maine, not Portland, Oregon as reported on the Boston Groupie News web page. They feature the amazing Chis Horne. I have had a wicked crush on her since the early punk rock days when her band The Brood played with my band The Lyres at CBGB's in New York City. They all played in bare feet! She still looks very much the same and in fact is dressed in the very same outfit that she wore on the cover of their 1988 LP "In Spite Of It All." Her trademark Baldwin six string is still with her and she knows her way around that thing. E