The BGN News Archive
March 28,2016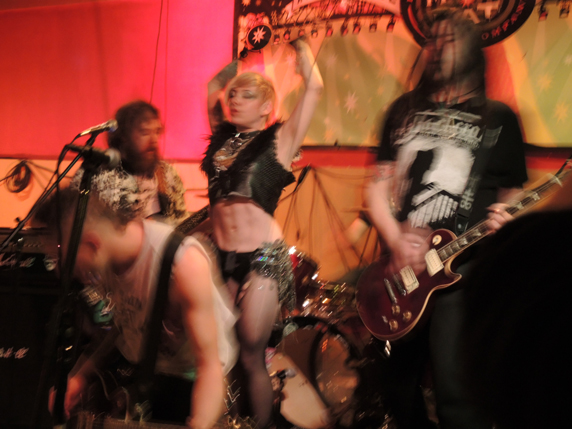 Gash
Photo: Arthur Freedman
It was a slow non-rockin' week for the BGN folks...but our friend Arthur Freedman went to PA's Lounge to see the Gash, Disipline, Syphlloids show. He reports that Gash was GREAT and "Indeed the bastard children of the Plasmatics Alive INSIDE!!!" and he's got the pics to prove it. Gash's lead singer Tibbie X is also the bass player for the current version of Reagan Youth.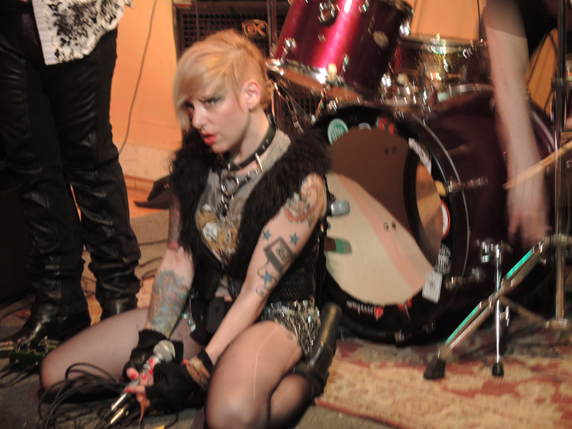 Gash
Photo: Arthur Freedman
In other news.....
The Boston Hassle people were interviewed on The Late Risers Club with Mully and revealed that they will be opening a space for music at some point. They wouldn't nail the place exactly but said it would be along Mass Ave. Central Square maybe???.... but Mass Ave is a long stretch....we'll let you know when we find out.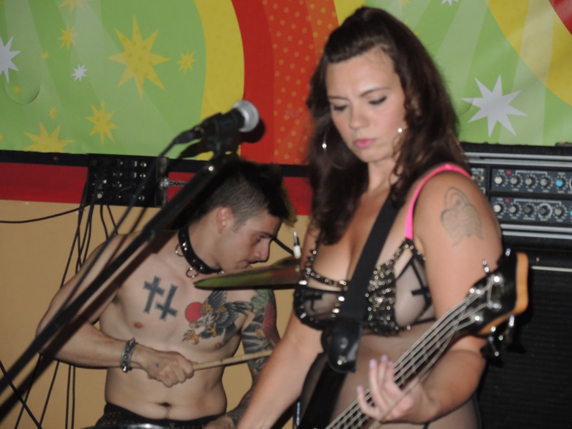 Disipline
Photo: Arthur Freedman
Here's some good shows coming up this week.....
March 28 (Monday) The Goddamn Gallows, King Sickabilly Trio, and Outlaw Ritual are at The Middle East Up.
March 31 (Thursday) Hambone Skinny and Andy California are at The Plough and Star. Great bill!!
April 1 (Friday) "Drop Ya Mic and pick up yer paint brush" is a show of Musicians' art work at Once Lounge...check out the FB page..the list is looooonnnnggg. Providing music for the event will be The Old Edison, Tom Baker and the Snakes, Stars Like Ours and Ringtail. $9 cover with free apps, art at 6PM music about 8:30.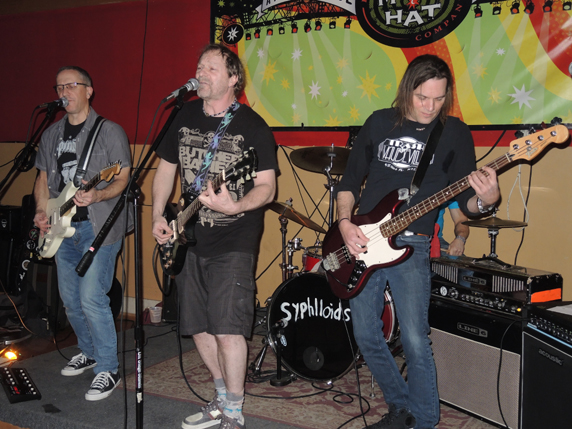 Syphlloids
Photo: Arthur Freedman
April 1 (Friday) Kenne Highland 60th birthday party at The Cantab Club Bohemia - Alice Highland has canceled but Sour Cream will be playing Cream covers in their place. Club Linehan A Go Go and Classic Ruins are also on the bill. FB page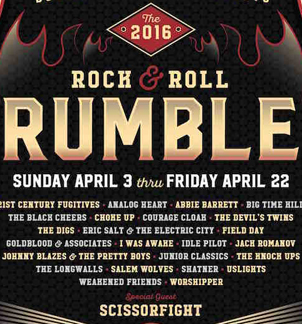 April 2 (Saturday) Kenne Highland 60th birthday bash at the midway (this is his actual birthday!) An afternoon 4PM show with The Korps, Moose & The Mudbugs, Jiblantos, HIXX
April 2 (Friday) the night show at The Midway is Wussy and The Thalia Zedek band.
April 3- 22 (Friday) Rock n Roll Rumble at Once Lounge
And further out past this week....
April 5 (Tuesday) The Legendary Shack Shakers, The Pine Hill Haints and Diablogato are at Great Scott
April 7, 8 & 9 (Thurs-Sat) Rock'n'Roll Rumble at Once
April 7 (Thursday) Gail Corcoran is putting on a show at Koto in Salem with Andysocial and The Antidotes, Jagger Holly (members of the Hollywood Blondes and The Spastic Hearts), Mongorellis and Jimmy Jacked
April 8 (Friday) Woooo yeah this is gonna be a GREAT show: Little Steven's Underground Garage presents Soraia , The Connection, The Black Souls, Kris Rodgers & The Dirty Gems at The Midway!!
April 9 (Saturday) The 6th Annual Hardcore Cotillion is at The Midway 4-8PM with The FUs, Iron Chin, The McGunks and The Struggle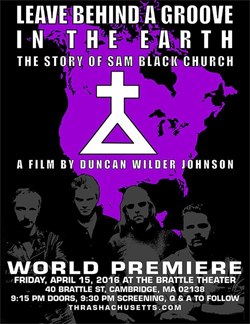 April 9 (Saturday) Bastards, The Worried, Greg Allen's Fringe Religion and The Sugar Cones at FH13 (That's Firehouse 13 in Provi, RI
April 10 (Sunday) keepin' on the TTs ritual of a Rockin' Flea Market & Bloody Mary Bash - Once will host this one- 11Am- 4PM -"Tons of vendors selling vintage, vinyl, collectibles, clothing, plants, jewelry, art prints, musical items, basically ALL the cool shit you can't live without" PLus a DJ spinning music all day and much more!! FB page
April 10 (Sunday) There's a killer matinee show at Firehouse 13 in Provi with The Freeze, The Nervous Eaters, Neutral Nation, Bad Motherfucker, The Scrapes Starts at 2PM Here's the FB page
April 10 (Sunday) Hey Ho Let's Go- the Ramones and the Birth of Punk - retrospective opens at the Queens Museum in New York! (it runs thru July 31)
April 15 (Friday) The Sam Black Church doc Leave Behind a Groove in the Earth has its world premier at The Brattle tonight, doors at 9:15PM. (Tickets)
April 16 (Saturday) 11AM- 6PM Store 54 Store wide Clearance Sale!!! Bid a fond adieu to the lovely place today! Check out the FB page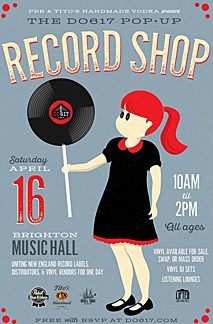 April 16 (Saturday) 2nd Annual Pop-Up Record Shop is being held at Brighton Music Hall: "Presented by PBR and Tito's Handmade Vodka and with special support from Small Town Brewery, the Pop-Up Record Shop was started by Do617 to highlight independent New England record labels who deal primarily in vinyl. With many of the larger record stores around Boston focusing on larger exclusive releases this time of year, local record labels tend to get shut out of the process. We have invited some of New England's best labels, small record stores, and vinyl distributors to display their wares in the center of one of Boston's creative hubs. THIS EVENT IS FREE WITH YOUR RSVP!" RSVP here It's 10AM - 2PM all ages!
April 15 & 16 (Fri & Sat) Rock'n'Roll Rumble Semi's at Once
April 16 & 17 (Saturday & Sunday) Store 54 Yard Sale and Clearance Sale
April 17 (Sunday) The Freeze, The F.U.s, Silver Screams, Destroi!, Profit Margin are at Koto in Salem. (Here's the FB page) This is Night 1 of TWO nights of the Freeze.
April 17 (Sunday) The Freeze, Psycho, Antibodies, The Egos, and Psychic Weight at Koto. (FB page)
April 21 (Thursday ) This should be FUN!: Wok And Roll Karaoke! at Koto in Salem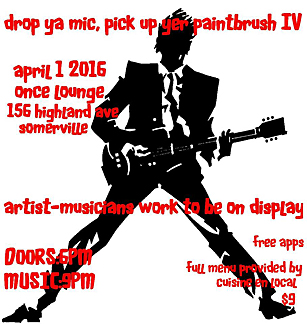 April 22 (Friday) Rock'n'Roll Rumble Final Show at Once
April 23 (Saturday) The Real Kids with Stop Calling Me Frank and The Knock Ups at the Midway
April 24 (Sunday) There's the "Generic Punk Show" at the Spotlight Tavern in Beverly with Fishhead, Rockin' Bob Punk Band, Barroom Heroes, Sliver Screams, Mongorellis, Screw Cart, Profit Margins and The Off Whites. This is an afternoon s and all ages show- it starts at 3PM
April 28 (Thursday) The Abbey Lounge Reunion!! at Sally O'Brien's Night 1 -Red Zone Cuba 7:40, Classic Ruins 8:20, Triple Thick 9:00, The Charms 9:40, The Decals 10:20, Heavy Stud 11:00, The Drags (NobleR