Boby Bear Remembers Matthew Mackenzie
of Reddy Teddy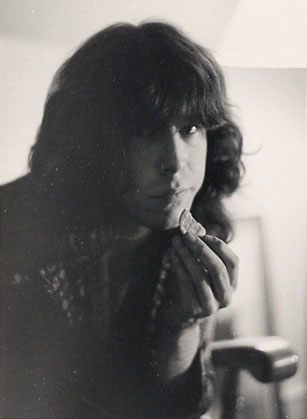 I remember it as if it were yesterday. The first time I saw him was in the beginning of 1976, at a show Reddy Teddy was doing at Tufts University. I was in the company of four other lads, and we called ourselves The Atlantics. We were quite simply, going to conquer the world, starting with Boston: That is until we saw "The Teddys"….(and God help us, we hadn't even seen The Boom Boom Band yet, but that's another story).
I recall being positioned, almost magnetically, in front of what could only be described as a larger-than-life elf. He was covered with several pins, most of them huge, and upon his head he banged, from time to time, a battle-worn Gibson SG, partially held together with duct tape and band-aids! This guy was the bastard-son of Jimmy Page and Pete Townsend and I swear, on some nights, he could have humbled even them.
My buddies and I left the show that night analyzing the band and acting cocky as usual, knowing well inside that we had lots of work to do; what a schooling we just had!!!
The winter became the spring and by the summer we had become friendly with the members of Reddy Teddy. I have long since forgotten how many times we played The Rat together, but in my opinion, no two bands were better suited to share a stage. During my brief time with them, and certainly beyond, The Atlantics, as great as they were, would never achieve the excellence of Reddy Teddy. No one ever has. I doubt in this day and age anyone ever will.
None of us who were around during the truly Golden Days of local rock'n'roll will ever forget Reddy Teddy's amazing vocal harmonies and epic pop masterpieces. These were the creation of Matthew Mackenzie, a true genius, and now, a beloved Boston legend.
I had very little contact with Matthew between the years of '78 and '81. Reddy Teddy had broken up and he became involved in such projects as The Richard Lloyd Band and The Nervous Eaters. I know very little about why these projects didn't work out for him. My guess though, is that these bands already had leaders in place and Matthew was a leader as well…it's anybody's guess.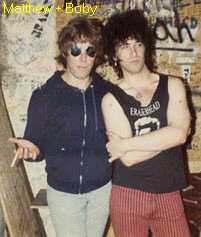 After the "white knuckle ride" of ups and downs, which included a brief stay in NYC, Matthew was back in Boston and in the company of his long lost friend and mentor, Willie Alexander. Together they did an album, a successful tour of France (which produced an excellent live album) and in the summer of '82 I received a call to play drums for some shows with Willie Alexander and The Confessions. They had parted ways with their original drummer and the fact that they called me left me dumbfounded…I could hardly believe that I'd be playing with not just one but two musicians I greatly admired!
Willie being the easy-going person he is was contented as Matthew warmed right up to me and showed me all the songs. My heart aches as I remember the way he'd quickly take his hands off his guitar to motion for a drum fill in a given part of a song. He was my teacher at rehearsal and my 'Seeing Eye dog' on stage. I can't explain the joy I felt playing again after so long and thanks to Willie, Matthew and I were back in touch once again. Unfortunately, my time with The Confessions was short lived, I had let my sticks lay for far too long and I was grossly out of shape. I didn't hit my stride until what was to be my last show with them. By then the necessary changes were under way. I was gone, the music still ringing in my ears.
I was gone but, as it turns out, far from forgotten. One evening I bumped into Matthew at a party and he said, "I'm putting my own thing together very soon and will be calling you." That very same evening he and I were leaving the bash with three girls (you know who you are ladies!) when one of them got into a shouting match with some drunken jocks. The more we tried to cool this songbird down, the louder and crazier she got! As we walked to the car Matthew and I knew we were going to be forced in to playing the gallant heroes. Consigning myself to this I gripped my keys so that they jutted out between my fingers. I, by chance, glanced down at Matthew's hand and discovered that even though he was raised in a very civilized part of town, he too knew the law of the street. Lo and behold, there were his keys, ready also, to do what was necessary! Fortunately nothing happened.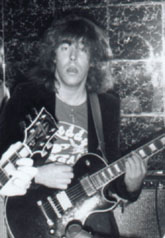 We retained our baby-faced looks and within months he kept his word and we started our band. In the spring of 1984, Matthew, bassist Chris Hull and I began rehearsing in a garage at Hirsch Gardener's house somewhere out in suburbia. The material was, of course, clever and well crafted and our thre