The BGN News Archive
August 5, 2013
Wednesday this past week was a great night with the Late Risers Club Annual Party at Middlesex and the Classic Ruins and Sonny Vincent at Radio down. Check out our feature page on the night. The LRC Party had a fun Punk Rock Trivia Game with Joanie Lindstrom doling out questions. Not surprisingly Eric Law's group the 11:15s won. Lots of LRC listeners and DJs were there. It was a really good night and very social with lots of opportunity to talk to people. As the night wore on though we knew we had to get over to Radio for the Classic Ruins/Sonny Vincent gig.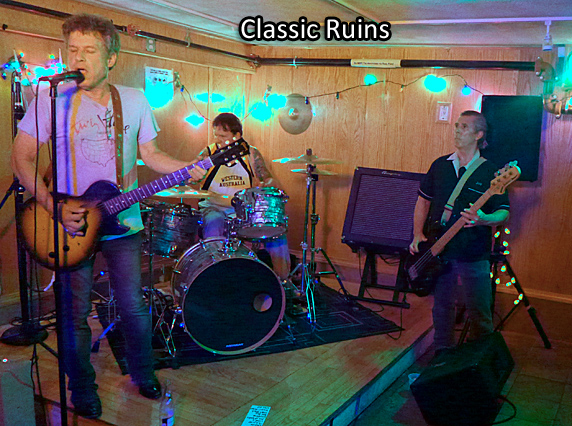 We arrive to Classic Ruins mid-set. It's always a pleasure to see these guys and they were in great form tonight. Frank was playing his old pal Les Paul Junior. It was hot and steamy in Radio Down....but it was worth it. There was a bit of lag time between sets as Sonny was nowhere to be found. I asked the Luis drummer where he was and he said Sonny has to sit by himself and go over the set in his mind first before he can get on stage....so he was sitting in a car somewhere doing some mental musical exercising I guess. The wait was worth it too coz Sonny showed up, they got on stage immediately and came down with a full bore assault of nonstop hard driven old school punk!!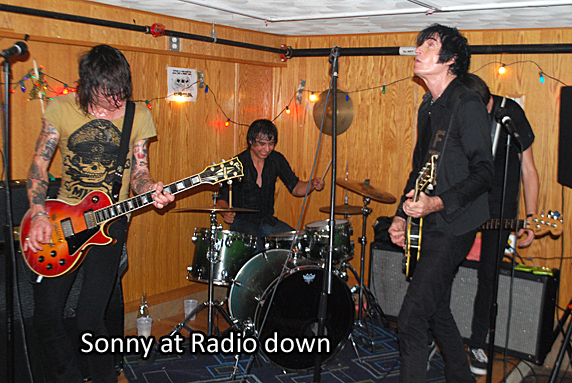 People all remember the drummer from the Sonny Vincent show at PA's last year. His name is Luis Herrera, and he is nothing short of amazing. He's a smashing basher with endless energy. He seems like he doesn't want to stop when the song does. It's as if the songs can't contain him. And that's the way with the whole band; they put out maximum energy and enthusiasm. Matt Gabs of The Biters slices out a razor sharp sound on his guitar and TV's Daniel from Bad Sports on bass keeps everything driven to the max! Many times these three guys seem to lurch forward in sync driving the tune home with drama. Great stuff.
In the front of all this is Sonny. He's a striking figure in his black on black ensemble and so tall his head is almost touching the ceiling in this place.
What a band! Sonny sure knows how to pick 'em. And he should he's played with the best - Glen Matlock, Rat Scabies, Captain Sensible, Scott Asheton, Cheetah Chrome, Wayne Kramer, Lou Reed, John Cale....the list goes on and on. THAT alone gives you a sense of why you gotta see him next time he's in town!!
Friday I just had to see Plumerai and be sure that they were as good as I thought they were last time I saw them at PA's when they played with other simpatico bands. Again they found three other likeminded bands for this gig called A Midsummers Night's Dream.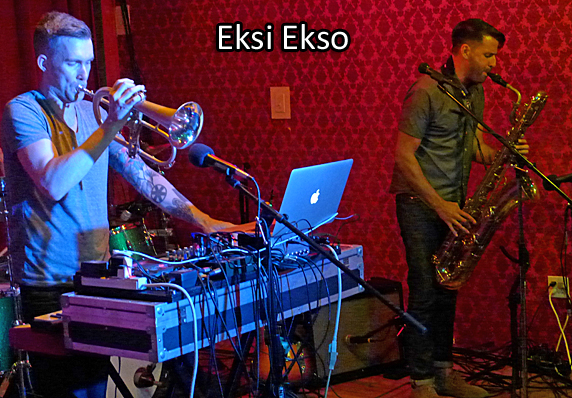 Openers Eksi Ekso have been around for a while but I've never caught them. They are a trio with keyboards, drums and guitar and now and again the guys will pick up some horns. Not just a trumpet but one looked like a flugelhorn and the other a baritone sax.
Like their horn choices they do everything a little different. The drummer did everything except keep obvious time and I thought he did a successful job keeping things interesting and surprising. The keyboardist had lots of knobs and knew how to get varying textures. The guitarist played every chord in the book. I liked it. My only complaint was that there was no song that stuck in my head.
During the gig on top of the usual merch of CD's and T's there was art work on sale. Two different artists (James Neville and Cliodhna Martin) were showing and selling and one was painting during the show. Unraveled, a clothing store, was showing off their goods. There were also cup cakes given out. How could you not love that?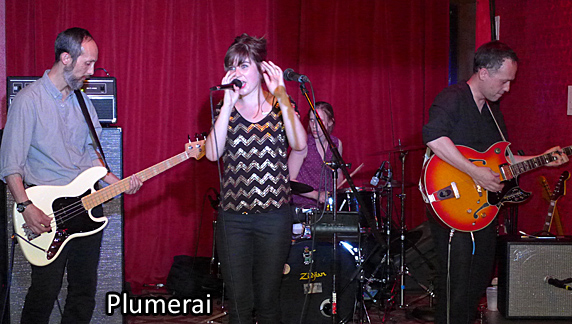 Plumerai opened with a song that immediately reinforced every thought I had of them from last time and more so. It was positively transporting. Eliza's voice contains magic. It lifts you and takes you to....Plumerai land or somewhere.
You have her amazing voice; her stage moves, the moody songs and the atmospheric backing group all combining to give you a unique and captivating show.
The guitarist Martin Newman, uses a lot of effects to create atmosphere. The last song had bass player James Newman using a phase shifter or flanger to add a dramatic other worldly whooshing sound.
They seem so ready for something big. It seems like some talent scout or manager would scoop up this readymade phenomenon.
They are not the usual punk rock that we focus on but good is good. I can only tell you to check them out while you can. Bob Colby who knows a good thing when he hears it was there and said that they are thinking of moving to NYC. That's too bad for us here in Boston! Catch them while you can!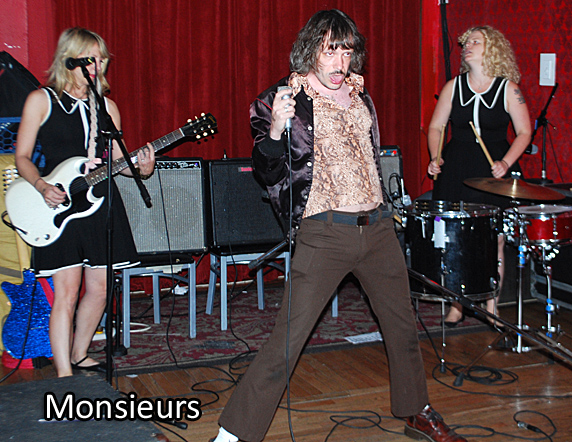 We heard a lot of talk about the Monsieurs and thought we would check them out Saturday at Radio even though this would be the third day out this week. It was a fantastic line up at Radio for Frank Strom's birthday party. The Monsieurs were going on first. There definitely is a buzz out on this act which consists of singer Andy MacBain (Tunnel of Love) Hilken Mancini (Sheperdess) on guitar and Erin King of Where My Beat At on drums. The usual line up of in-the-know people were there early to catch them.
A sudden blast of ragged sound rudely startled us into quiet submission. That was the beginning of the Monsieurs aggressive performance. Hilken and Erin wear rather prim matching black dresses with white trim. Erin uses two drums, one a bass drum facing up ala Mo Tucker. She pounds 'em very hard and it works. Mancini is turned way up and gets feedback here and there as she plays raw and unruly.
Singer Andy MacBain is quite a sight. He's got that '70's look down to a T! He sports a porn star moustache and wears a polyester snake skin shirt, brown flared pants that are just the right amount of too short with dessert boots and white socks. He yells a lot with a pissed off manner. He throws the mike stand into the dance floor with disgust - several times. He shakes the mike stand in front of his face to punctuate his anger like an angry savage. He walks up to us in the audience and sings in our face. All and all very confrontational and very captivating to us jaded club goers.
They play something in an early punk style with little craft and few chords.....I think that's what it is, but what I DO know is that the performance was like a wild punk circus act that got a intense raw nerve response. Much like Tunnel of Love you have to wonder just what is going on in MacBain's head. Is it real or a put on? Like an Andy Kaufman act, who knows? You want something to shake up your night? Catch the Monsieurs. You won't forget them.
Hey here's an official reminder that Tuesday are PUNK at the Ramrod with Punks Not Dead Long Live Punk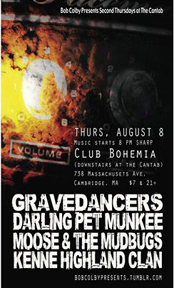 We have Bob Colby's Second Thursday coming up this week (August 8th) at the Cantab, the focus is on garage and old-school Boston rock, four bands for $7 (cheap!) : The Grave Dancers, My Darling Pet Munkee, Moose & The Mudbugs and Kenne Highland and his Clan
Friday August 9th is another fun and crazy Nicole Tammaro event at Radio - it's the Johnny Cash Corned Beef Hash Cook Off yup you read it right my friends...get there at 8PM to sample some fine corned beef hash and cast your vote for the best one...she's got 10 cooks a cookin'....then you can listen to the following perform excellent Johnny Cash songs for the rest of the night: Jay Allen and the Archcriminals, Rick Walker, The Civil Warblers, Dave Wells, Ian & Smokey from Spectrehawk and Josh & Jenna from Spit Shiner
Hey this Saturday (8/10) tune into A Crash Course for the Ravers featuring Steev Riccardo of the Twisted Rico empire and The Beachcombovers!!! And remember its 1-4PM WMFO 91.5 FM
This Tuesday the Punks Not Dead folks are having a party to celebrate the First Issue of a new hard-copy print (as in actual paper like the old days) fanzine called Life is Poser, at Machine
Thursday August 15th is your chance to catch The Upper Crust along with Devil on Horseback at Precinct....remember that place?...another nice club that barely ever has any good gigs nowadays.
And the good gigs just keep coming with Gurlzzz night (with a couple of guys thrown in for good measure) at TT's Friday August 16th - on the roster you got Petty Morals, The Charms and B.L.O.W.W.

Saturday August 17th DJ Easy Ed presents a very special night with Roy Sludge's Roots Rock Spectacular!!! Starring Leah and her J-Walkers, the Roy Sludge Trio with Jim Hagerty and Judd Williams!!!, The Barley Hoppers with special guest Frankie Blandino on steel!!! And Easy Ed's Record Hop

Watts are supporting Cheap Trick at the Hampton Beach Casino Ballroom on August 25th.

Weds Aug 28th is a Benefit Show for the Lets Go To The Rat movie.....at Johnny D's ....show starts at 7:30

Friday August 30th The Queers are at Church (with The Dwarves)
and there's a great show at Radio UP with Ragged Old Flag, The Scars and Radiator Rattlers....

Oh yes Mark the calendars folks coz James Straight & The Wide Stance are on A Crash Course for The Ravers (WMFO 91.5 FM) from 1-4PM on Saturday August 31st .....and as The Reverand Joe Fagan says: "This is web streamed folks so you can tune in on your smarty pants phone from where ever you are!"

Richie Parsons is getting visited by his friends in Italy again and luck for us they also are in great bands and play gigs in town when they are here....Sunday Sept 1 at Radio Giuda will be headlining also on the bill The Kurt Baker Band and The Legendary Rockin' Prophets and Dan Garrison....we hear the Axe will be playing too.....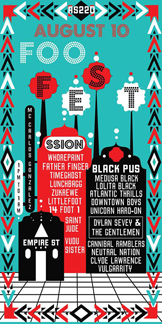 Pere Ubu is at Brighton Music Hall Saturday, September 4th!!!
Sept 7th Saturday at Club Bohemia at the Cantab down - The FU's, Psycho, Insult & Oblivion...
Awesome show alert!!:9/21 Upstart Fest 2013 - The Northeast's Biggest and Best Punk Rock Party will be at the Middle East Down with Koffin Kats, Hudson Falcons, Turbo AC's, Two Fisted Law, American Pinup, New Red Scare, Svetlanas (U.S.S.R.), Cry Havoc, The Old Edison and OC45 - DOORS AT 5PM!!!
If you are not in Boston don't despair....this show is touring and may be coming to a city near you check out their website!
It's Official!! The Rat Reunion Beach Party
9/14 & 15 At The Red Parrot , Nantasket Beach in Hull September 14th (Saturday noon to 6 pm) -- Rat Musicians Cookout/Small Jam!, September 14th (Saturday 6 pm to close) -- Red Parrot (Beach Bar) Rat Jam! , Sunday, September 15th (noon to close) -- The Main Event -- Rat Veteran Bands in All Rooms of The Red Parrot!
So far the band list is as follows Slow Children, The Beachcombovers, The Boize, The Derangers, Cindy Daley, formerly of Lovelace, Liz Borden, JetSet, The GraveDancers , State of The Union, The Workers (w/ Sev Grossman, David McClean!), The Kenne Highland Clan, FoxPass, Red House, Tsunami of Sound, Heavy Weddle & Sweet Release - and the list continues to grow!
There's a special show on Monday September 30th at Charlie's Kitchen with Unnatural Axe, Kepi Ghoulie and special guests all the way from Italy: Miss Chain and The Broken Heels.....Richie says he has loads of new material they'll be performing!
October 12th - Cal Cali's Rat Reunion - save the date....Master of Ceremonies: Oedipus!!
The Neighborhoods played at The Ocean Mist is RI and now there are a f ew songs from their set up on You Tube!! Check em out: Flavors Yeah You - with an E Law pick slide request at 1:23!!! Pure And Easy / Gold and Shake
EMAIL US AT.....misslynbgn@yahoo.com