The BGN News Archive
November 10, 2014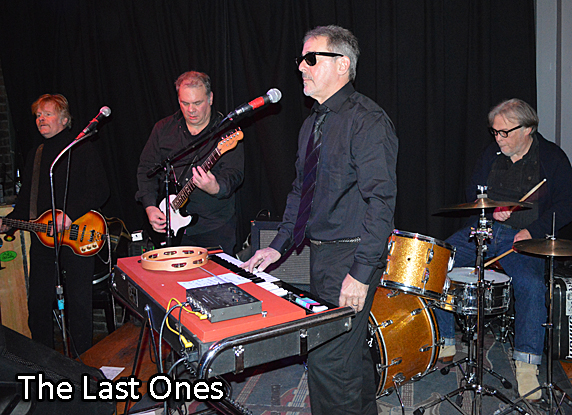 Not far from the old Radio (R.I.P.) in Somerville's Union Square is Sally O'Brien's not to be confused with O'Brien's in Allston. We were there on Friday to catch Cal Cali's latest showcase (and his last before leaving town to escape to the south for the winter). Opening was The Last Ones. We get all misty when these guys line up. We have Rick Corraccio, Richie Johnson and Danny McCormack whose combined Boston punk credentials are mammoth.
Rick has his pages with us in Rick Corraccio's Journal Entries and Richie has an interview on the site. To get to the beginning of this group you have to go back to the beginning of the Boston Punk scene. Rick was on LIVE AT THE RAT while he was in the Boize and fellow band member Billy Connors is in the audience tonight also. Rick's long history in the Lyres masked his songwriting talents. He has put out material along the way and it is excellent garage style rock not that far from the Lyres territory. That's what we get tonight. They play with confidence and deliver a wonderful set. It just feels so right.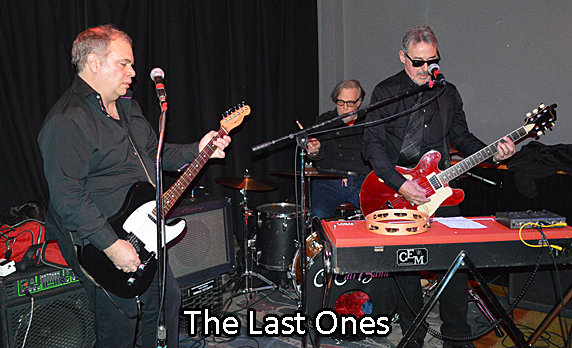 As punk was cooking up, one of its main ingredients was garage rock. The Last Ones short circuit the last 40 years and make you see what the early punks were doing musically before the Ramones, it's a real insight. Not to give the impression that it's all old covers; this is mostly newer songs by Rick. They do one cover of a Ike and Tina song It's Gonna Work Out Fine. One song was a Lou Reed sound-alike and that was an ear grabber and like most of the set was moody in a good way. Rick plays organ and guitar while Danny McCormack does the heavy lifting with gritty leads and rhythm. He has the knack for the short riff that sits in the chord structure just right. Richie is one of our favorite drummers since the Baby's Arm days. New to us was the bass player Kevin Mahoney who played bass lines that sounded like they came right out of the Nuggets compilations. He was such a perfect fit. This was an immensely enjoyable set.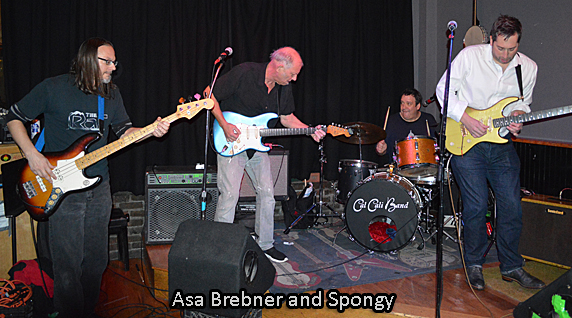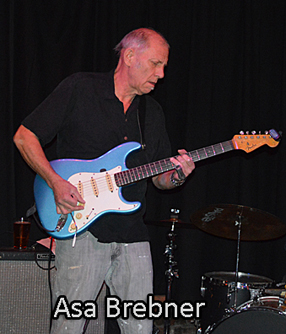 The sense of history goes on as Asa Brebner steps up to play with Spongy, as they call the group. I don't care what they call the group, if Asa is playing, it's a worthy take in. The bare outlines of Asa's career tell a story (as does his very interesting bio you can read here); from Mickey Clean and the Mezz (the first group to play the Rat) to his stint in Jonathan Richman and The Modern Lovers and Robin Lane and the Chartbusters. They do some of Asa's songs in the set. One is the hilarious and audience fave Babes in the Bar (watch it on YouTube here ). Miss Lyn thinks this song is sexist...coz it ain't just the babes in the bars that want to movie stars...you could change that to the boys in the bars and it would be right on the money too! That said the song sticks in your head for days. It is hit material.
A few of the songs feature Asa's fast talking the lyrics, a style all his own. Asa does some of his cutting leads that are always a highlight. He then dedicates a song to Phil Haynen of the Dawgs. Again we get in a mood thinking about that. Asa plays Jack's on Drugs one of Phil's songs. Like a lot of Asa's other material it takes some of life's big problems and shows the absurd side and it leaves you laughing. That's a lot to do.
Between just these two groups we have had an evening that touched us old punks emotionally as well as musically. But you can read more about the rest of the night and the bands we missed in this week's Kenne Highland at Large.
In other news:
The gig we all were waiting for: Willie Loco/Nervous Eaters and The Real Kids at the awful club that shall forever remain nameless here...was CANCELLED at the very last minute. I woke up to a frantic call from Kim Ackland at 8:45AM saturday "Did you hear??? The shows been cancelled!!" My immediate thought was 'someone' backed out of the show. But no the whole show was cancelled. I run to my computer and get on FB to see the exchanges. Poor Terry Brenner found out at the last minute that the owner/booker decide to cancel the show and have another band play the night instead.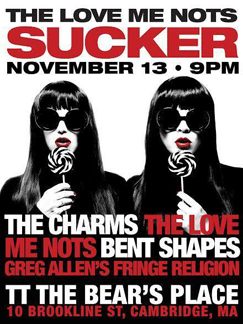 OK...#1 idiot! Do you realize how much $$ you could have made on this show that would have totally sold out with the cover and the bar take in??? DUH!
#2- Jerk!! The repercussions were far reaching damn it!! People were traveling from far and wide to see this show, had booked hotel rooms (and subsequently lost that money), the bands lost the money they would have been paid, Terry Brenner almost lost his mind and definitely lost his cool and told off the Spotlight idiot vowing never to work with him again. (And no one blames him for that reaction either!! You go Terry!)
A sad situation all around. I know I will never ever go to the Spotlight again and I know there's tons more who feel the same way. Besides everything mentioned above Miss Lyn had plans to celebrate her birthday there!! Oh well...change of plans....some of the disappointed club goers ended up at at the current "Groupie Towers" in hipster central Somerville for a pop up birthday party.
It was ironic that this group, which was victim of a screw up by a club owner, included Jimmy Harold the most famous club owner in Boston history! He was going to the gig too but ended up at Miss Lyn's instead...along with Rick Harte, who got hit by some dropped gig flack and had a few stories of telling band members (Real Kids) at the last minute that the gig was off. You should of heard that! He also brought a test pressing of the new vinyl version of Shake Outta Control that includes a few tweaks and a new mix of Tell Me that are different from the CD. He says he always continues to do incremental improvements even after the project is done because he knows (and we know) that people will be coming back to the Ace of Hearts material at a later date. It's all about posterity.
One of the big secrets that was withheld until the news of the cancellation was that Kim Ackland had procured an enormous cake large enough to feed everyone who would have been at the Spotlight!! And what a spectacular cake it was with the BGN cover logo artfully done up on top in frosting!! Thank you for the great work Whole Foods Bakery! (You can read more about the party and its attendees in this week's Kenne Highland at Large).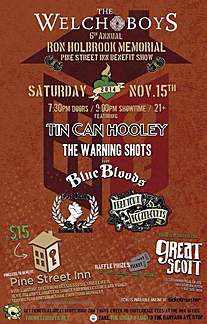 Last Thursday Miss Lyn and John Keegan went over to the Nave Gallery Annex in Davis Square (53 Chester St, Somerville) for the photo show called I've Been Everywhere, Man: Musicians on the Road. Its a pretty nice little show and it's very much worth checking out. Photos range from pics of bands like Boston (1977) and Aerosmith and the Small Faces to current local bands that have toured the states too. It's the concept that grabs you more than anything else. It brings home to us the viewers that being on the road is definitely not what its glorified to be. Its about loneliness, inconvenience and its often uncomfortable too. There's musicians stuffed into cars and vans, sleeping on floors and eating in tiny diners. The Nave Annex is a small little house set up as a gallery so its unusual and fun to wander the rooms to find the different offerings. The sow runs until November 22, Gallery hours are Wednesday-Friday, 6:00-8:00 pm and Saturday-Sunday, 2:00-6:00 pm
And here's some other news - Andrew Szava-Kovats's Let's Go to the Rat film makes it to the city! It's being shown next Sunday at The Brattle Theater in Harvard Square - that Sunday Nov 16 at 7 pm!! You can talk to the director and buy DVDs and T Shirts too! Here's the FB Event page
OK, now for awesome music coming up:
This very Monday November 10 th you can start preparing for the upcoming holiday at Punk Rockin' and Pastie Poppin' Vol. 23: "A Wanksgiving Slaughter Beyond Thunderdome" at The Midway - whew should be crazeeeee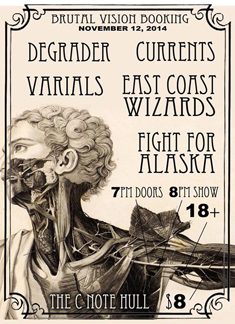 This Tuesday Nov. 11 Keep Safe Boston will release a digital compilation, to benefit Planned Parenthood League of Massachusetts. The 44 song compilation features some of the biggest names in New England music, from up-and-coming acts to tried-and-true hometown heroes. The compilation features a number of exclusive digital singles including 2014 Rock 'n' Roll Rumble finalists Petty Morals ("Just a Game"); Parlour Bells ("Wetware"), Blackbutton ("Hospital Stay"), Hallelujah The Hills ("Affectionate Darlings 4 Life"), The Rationales ("All The While"), and Apple Betty ("Skin Of My Teeth"). This is a pay-what-you -want release and you can go here to purchase it: KeepSafe website and here's a couple sneak previews for ya! Parlour Bells "Wetware" and Petty Morals "Just A Game"
Thursday Nov 13 - The Charms, The Love Me Nots, Bent Shapes, and Greg Allen's Fringe Religion are at TT's FB event page
Friday, Nov 14 - Cavestomp ! & King Yum Records Present: Lyres with Special Guests Cocktail Slippers, The Connection, TRiPLE THiCKat The Middle East - Up. This is one amazing line up!! We've been waitng fo this show!
Friday, Nov 14 over at The Midway you will find The Upper Crust ,The Weisstronauts, Tim Lee 3 and My Own Worst Enemy - that should be a great show!! And an interesting mix to say the least!
Saturday Nov 14th & 15th- In Portland, ME there's a swingin' time at The Bayside Bowl WILD WEEKEND PARTY PARTY
Friday Nov 14 its WILD WEEKEND PARTY-PARTY Night 1 has the cool & crazy rock sounds of The Love Me Nots- on tour out of Phoenix, AZ... Plus, tear it up with all-girl rockers, Tiger Bomb, and Portland's newest noise makers, The Seasonal Disorders!
Saturday Nov 15 is Night 2 with the cool pop & rock sounds of The Safes - on tour out of Chicago Illinois... plus Providence, RI garage-rock legends, Thee Itchies ... Kicking the night off are The Flipsides... Come join in on a night of great Music & Dancing... Sponsored by The Shipyard Brewing Company..!!FREE SHOW - NO COVER - FOOD - BOWLING - MUSIC - DRINK SPECIALS- I mean really how can you beat all that???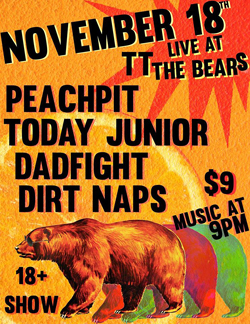 Saturday Nov. 15th listen to WMFO's A Crash Course For The Ravers 1-4PM. Brian Young will feature Walter Noons, The Tripping Souls & The Love Me Nots! Event page
Saturday Nov 15th there's a great show at Great Scott's . It 's the 6th Annual Pine St. Inn Benefit Show with a great line up: The Dot Rats,
The Welch Boys, The Blue Bloods, The Beantown Boozehounds, Mark Lind and The Warning Shots, Tin Can Hoooley, and Lenny Lashley
ALso on Nov 15th - The Handymen are at The Plough & Stars.
Saturday Nov 15th out in Watertown Lynnette and Easy Ed's Honky Tonk Dance Party #5--with The Barley Hoppers! at the Canadian-American Club - 202 Arlington St, Watertown, MA
November 16th (Sunday - Day Show) At The Midway - : The Humanoids, Mama Ladilla, The FUs, Chin Strap This is a matinee - it goes from 4- 8 PM and its all ages!! AND only $6 to get in!!!
There's 4 nights of IPO- International Pop Overthrow at O'Brien's this year and its their 12th year!! IPO Boston will feature 26 pop and rock bands from Boston and beyond starting on Weds Nov 19 and going through Saturday Nov 22. See the dates belwo
Wednesday, November 19- International Pop Oerthrow at O'Brien's has 7:30 Trick Wallace Trio, 8:15 Didn't Planet, 9:00 Drunken Logic, 9:45 The Eric Barao Band, 10:30 Modern Day Idols and 11:15 Wizard Farm Music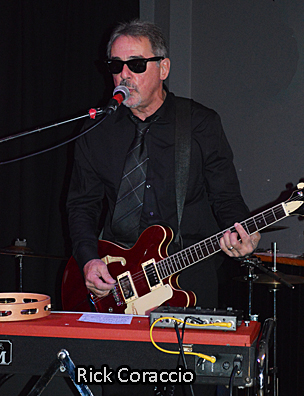 Thursday, November 20- The IPO at O'Brien's has 7:30 Dugway, 8:15 The Stanleys, 9:00 Brian Charles, 9:45 The Tripping Souls, 10:30 Powderhouse and 11:15 Zac Mac Band
Thursday November 20th there's a wild night at the Middle East down with All Cramped Up. Again. All Cramps. All night. All you need. w/ DJ Set by"Kogar the Swingin' Ape", Live Cramps Tribute set by The Egos, Burlesque performances by The Bloodstains, & Live original set from The Skeleton Beats - Here's the FB page
Friday, November 21- The IPO at O'Brien's has - 7:30 Corin Ashley, 8:15 Michael Oliver & The Sacred Band, 9:00 Richie Parsons, 9:45 Sinnet, 10:30 Bedford Davis, 11:15 The Pomps and 12:00 Dave Rave
Saturday, November 22- The IPO at O'Brien's 7:30 Arthur Nasson, 8:15 Lannie Flowers Band, 9:00 Fox Pass, 9:45 The Brigands, 10:30 John Powhida, 11:15 Fireking and 12:00 1.4.5.
Saturday December 6th - X _ X, The Major Stars, Corn Mo and the Gondoliers are at the Midway
Also Saturday December 6th Litehouse are at Club Bohemia at The Cantab. And they'll have special guests as in Kim Ackland and Cam Ackland. Also on the bill MOTO.
Weds., Dec 10th - A Keep Safe Boston event to will benefit Planned Parenthood League of Massachusetts and features 2014 Boston Music Award nominees Parlour Bells and The Color and Sound, Corin Ashley (of The Pills!), The Rationales,
Mark yr calendars for this one!!: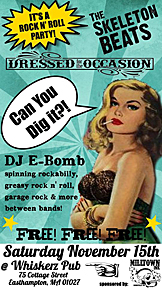 December 12th (Friday): The Real Kids , The Titanics, and The Nectarines (Rough Francis had to cancel) - at The Midway
Also on Dec 12th its Dial M for MUCK at Church - It's a Muck & The Mires Record Launch Party!! Also on the bill are Daddy Long Legs (Norton Records -NYC), The Dogmatics and Thee Itchies.
Dec 13 James Straight and the Wide Stance have a NYC gig at the Alternarock Festival - check it out here
December 19th (Friday) there's a exciting show at TT's first off SPiTZZ are playing their first show in 2.5 years!!!, also on the bill are the Blue Bloods, Duck & Cover (having their vinyl release celebration), Quiggs, and Silver Screams - this will be a great show folks!!
Yikles now we're into the new year here
Friday Feb 13th - Tim Catz' 50th Birthday Party featuring White Dynomite, The Humanoids, Muck And The Mires, Worshipper and DJ sets by DJ Slim Jim at Great Scott's
CONTACT US AT.......misslynbgn @ yahoo.con Send us your gig listings, your news and anything else ya got!!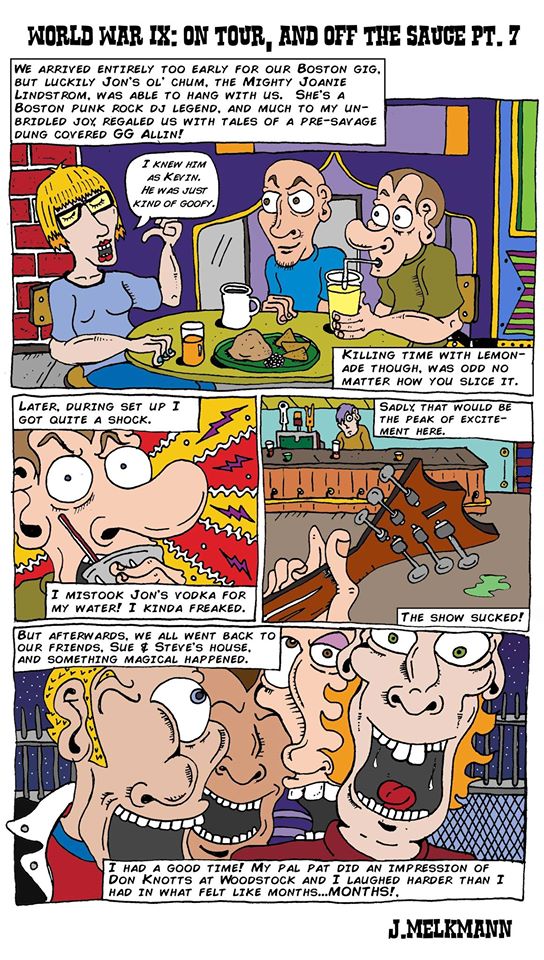 Joanie Lindstrom made the comics. The group World War IX does a running comic of their tour and personal problems on their Facebook page.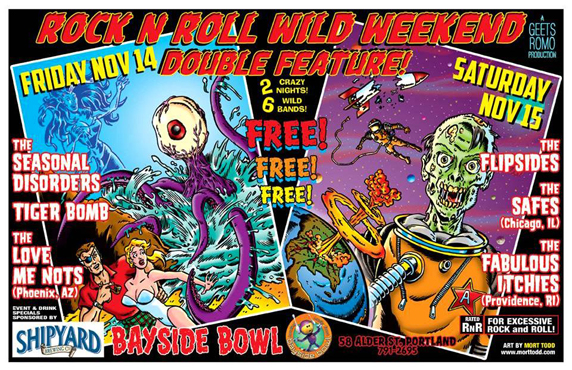 Copyright © 2014 Paul Lovell. All rights reserved.