BOSTON GROUPIE NEWS
home | interviews | photos | features |BGN issue list | reviews
links | contact us
Profile - Billy Borgioli
Our interview with Billy went so well, it was hard to edit. The full version well worth the read is HERE in a printer friendly format.

P-You're known for your 1958 Les Paul Jr.. Where'd you get it?
B-There's a good story behind this guitar. When we were livin' up on the North Shore, a friend of Alpo's was a trash collector and the guy found it in a trash can and he didn't know that much about guitars and wasn't that bright, I don't think. He saw "Gibson" on it so he knew it was worth some money and all he wanted was a guitar. He was gonna take this guitar and paint it white! The sunburst, I mean he wanted to paint the rosewood neck white too. I just said "AAARRGGHH! Alpo we have to save this guitar from this guy!" All he wanted was a guitar and unfortunately all I had at the time was an SG I was customizing for myself. Seeing how that was the only guitar I had, I had to trade him that to get the Les Paul JR. But it was worth it.
P - What about your tone on the Tone Controls on the guitar on stage?
B - I usually like to control the tone from my guitar. But I usually put the treble all the way up, bass just a little bit. I usually keep the volume way up and if I'm too loud I just control that here. If something's too bassy sounding or something I can control it right on stage.
The Beginnings
Billy's Eguipment

Guitars
Les Paul Jr - 1958
Les Paul
Epiphone

Amplifier
Fender Pro Reverb

Strings
ghs - 009 set

P- When say, the Beatles were big, were you playing?
B- I was about 10 when the Beatles were on Ed Sullivan. That's when I kind of started getting into playing. My father had a guitar around the house and me and my friends decided we were gonna join a band. Like every other kid in the world probably.

P- You're first group Dizzy Lizzy comes along at this time. What were some of the songs in Dizzy Lizzy?
B- Well, we played "Dizzy Lizzy". We did covers that we liked. Alpo was playing bass and we had a front man, a singer named Nestor Real. I have this picture of us playing and we're all in ripped jeans and scraggly hair and there's Nestor, he's got his white bell bottoms and satin shirt! What's wrong with this picture?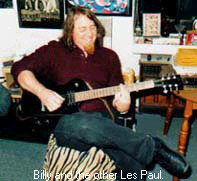 L- Was Alpo…angry..back then?
B- Alpo was just a wise ass. A Bart Simpson, you know?
P- Do you remember anything in particular he did?
B- How far back to you want me to start? He used to do stuff in front of bands we didn't like. Like when Glitter was popular. Big hair and all that shit and we didn't like any of that kind of look. We just liked ripped jeans and sneakers. Alpo, here he is, this little guy and he'd stand in front of the band giving them the finger with both hands. Just standing there and I'd be standing behind him kind of like his bodyguard. He knew I was there so he'd do it because if anyone wanted to fuck with him they'd have to go through me.
Real Talk About The Real Kids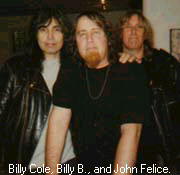 P- How did Felice and The Real Kids happen?
B- Neither Alpo nor myself were writing songs and the drummer from the Nervous Eaters, Jeff Wilkinson, was a friend of ours. He was from Beverly. He said he knew Jonathan Richman and Jonathan said "Oh you guys need some one to write songs? I know this guy who lives right across the street from me. John Felice." We said "OK, sure" and that's how the Real Kids started.

P- So John shows up and has a couple of songs and what did you think? Do you remember thinking "Wow, these are great songs!" or "It's just a song, let's play."?
B- Well, he had songs and we didn't and we all wanted to do original stuff. We didn't want to be a cover band. I remember thinking it was the same kind of rock'n'roll we liked and they were original. That was the main thing. It kind of worked out perfect for all of us.

Billy's TEN FAVE SONGS
1-Search And Destroy - The Stooges
2-Cretin Hop - The Ramones
3-Suzi Q Parts 1 & 2 - Credence Clearwater Revival
4-Merry Go Round - The Replacements
5-Born To Lose - The Heartbreakers
6-Pills - The New York Dolls
7-Rawhide - Link Wray
8-Highway 61 - Johnny Winter
9-Manic Depression - Jimi Hendrix
10-You Really Got Me - The Kinks

L- How does Howard Ferguson come into the picture?
B- We stole Howard from The Mezz. We were originally playing with Kevin Glasheen on drums. He was another friend of John's from Natick.

P- Where did you guys play? You had gigs later at The Club and Cantone's but before that where did you play?
B- There really wasn't any place to play except The Rat and The In Square Men's Bar. Actually it's Felice that can take credit for getting Cantone's started. He was living right around the corner and he was like "Here's this little bar that isn't doing anything. We could fill this place every weekend. We'll just play, our friends'll come in and drink their asses off and you can make tons of money."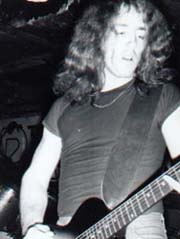 Just about every time we played the place would be fairly packed. It would always be the same people. It was kinda like we were having a party every time we played. I'd look out in to the crowd and everyone in the crowd I'd know. There'd be The Poolside Sharks, Roy Mental goin' "Go MENTAL!", all the girls would all be the same and it was basically a big party. It was a lot of fun. At the time I was just having a lot of fun. I don't know what every one else was thinking.
I remember I thought it was a big deal when we finally had that opportunity to make the 45 with Sponge. There was a time in the band when I think, right after we recorded the first Red Star record, the band had everything that it needed. You know what I mean? Howard was a great drummer. Alpo was a great bass player. I was just playing steady rhythm through the whole thing and Felice had original songs and his style of playing guitar and singing and I thought "This band has everything that it needs!" Then I got kicked out!!
P- You got KICKED OUT?
L-Why?
B- I don't know. You'll have to ask Felice. I think he wanted some one who had a different haircut or something. You should do an interview with Squanto, he was kicked out of the Real Kids too. That's Kevin Glasheen. He lived right across the street and he'd say "This is where all the guys that get thrown out of the Real Kids live!"
L- Gee, just like the Lyres, only they'd have a whole neighborhood!!

More info on The Real Kids at Joe Harvard's Site.
Post Kids
List of Billi's Bands
Dizzy Lizzy(w/ Alpo)
The Real Kids
The Classic Ruins
The Varmints
The Primitive Souls
John Felice And The Lowdowns
Screaming Young Nipple Heads
Stinkhorn

P-The next thing was The Classic Ruins.
B- Yeah, Frank Rowe, he's a very good guitar player. It was like Billy Cole and I shifted spots. He was in Baby's Arm, with Frank Rowe, then went with the Real Kids and I went with Frank. It was like swapping in a sports team or something. We were kind of like the left-overs…we were the classic ruins!

P- To some people The REAL Real Kids would only be when you were in the Real Kids, and in The Classic Ruins it's the same thing. I would ask.. "What are you bringing to The Classic Ruins and The Real Kids that are making them superlative while you're there?"
B-Just a strong rhythm guitar. It's not something you can be taught, it comes naturally. I'm not playing any fancy chords or incredible guitar leads or anything. It's just the timing and the rhythm.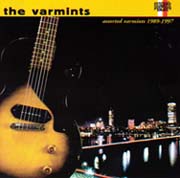 About The New Varmints CD
P- This new Varmints CD; it sounds fantastic! You should've printed the lyrics. The Hard Way; you don't want to go 'the hard way, not like Elvis'. It's funny and it's sad. So you're just saying you don't want to go out being atrocious, like Elvis?
B- When I was a kid and doing stuff for my father, like carrying a piece of wood or something, if I did it wrong he would say "You always have to do it the hard way, right?" So 'the hard way' basically means the wrong way.

P- "Ain't No Good" is a great song. It's like a great Felice song…that he never wrote.
B- It's my favorite. It kind of sums up life for me. You go out and get something that's supposedly good. You pay for it, you get it home and it sucks. It's like everything is like that.
P- What's happening in The Varmints now?
B- Our drummer Pete Taylor just moved to Maine. I was trying to get another line up of The Varmints together but most people are in two or three other bands. I'm trying to get people who aren't in other bands. It's kind of like having a girlfriend who's got three or four other boyfriends. It gets too complicated, you know?
P- Basically we've only ever been in the audience. We want to know what it's like to be on stage and it's a good night and the people in the audience are going crazy.
B- It's fun to be doing something you love and to see a bunch of people looking like they're having as much fun as you are.
P- So from since, say 1975, it seems that you're living the rock'n'roll life style. Would that be correct?
B- Yeah definitely.
TABS


Here are two short tabs to some of Billy's riffs on the Varmints CD to show his writing style. Also are MP3's to those riffs.
Tabs and MP3's
P- Do you regret doing any of this or does it look alright to you?
B- I don't regret it. I look down the road and wish I had taken a couple different turns…that's all.

P- Now you've had medical problems.
B- I have a seizure disorder. I have what they call Petite Mal Seizures. I kind of shut off, like going to sleep.

P- Is that genetic? What causes that?
B- I think basically I got it from alcohol abuse.
The Art Part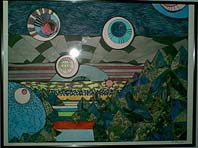 L- We're sitting here amidst walls covered with your artwork and you recently had a show at The Zeitgeist Gallery. When did you start doing artwork?
B- Ever since I can remember, as far back as preschool, I always liked drawing.

L- Why did you start? Was there any inner drive to do something?
B- It just came easy and naturally to me. And everyone said 'Oh! Your drawings are so good!

L- What inspires you to do it now?
B- I have so many ideas and I'd hate to have talent and not use it. I enjoy working on my art.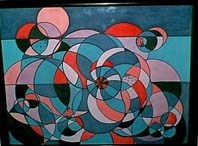 L- These look like …Dreamscapes or something…how do you start one of these? Do you see an image and draw what you see in your mind or is it based on what happens on the paper?
B- I just start a drawing and get ideas as I work.
L- They look pretty intricate, how long does it take to finish a piece?
B- On an average it takes a month to finish one piece. I don't rush it, I just work on it when I feel like it.
L- What kind of medium do you use?
B- I work in mixed media: watercolor, colored inks, colored and design paper and markers. This medium works best for me because I like drawing better than painting.
Here are some of Billy's paintings.....1....2....3....4....5....6.....7... 8.
Last Thoughts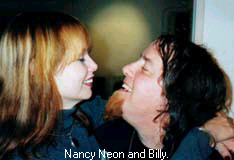 P- Which is better; to be the leader of the group or a member of the group?
B- It's definitely better to be the leader. That way if things screw up you have no one to blame but yourself.

P- What or who do you listen to musically?
B- I don't listen to anything really. If I'm not painting I'm writing. I feel more like a do-er than a spectator.

P- Is it just us or was that time…1975-1978 great or what? The scene was great, we were there and it all just happened!
B- It was our youth. It was our time.
NN- I tell Billy we were born at the perfect time. We were young enough to have seen the Beatles on Ed Sullivan but still young enough to appreciate the Sex Pistols. We really had the best of both worlds. We were really shaped by what happened in the 60s but we made our own thing happen too.

home | interviews | photos | features |BGN issue list | reviews
links | contact us

Copyright © 2003 Paul Lovell. All rights reserved.