The Billy Borgioli Tribute
Cuisine en Locale
August 9, 2015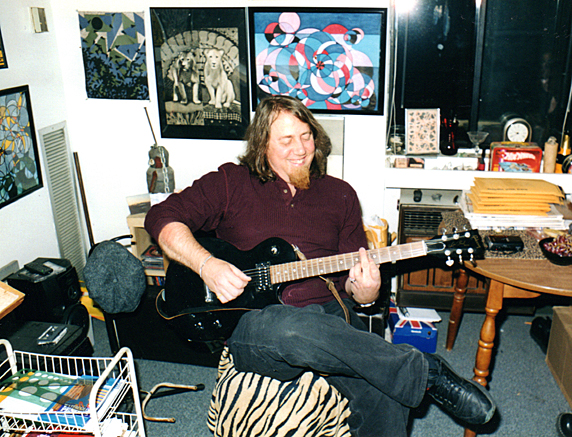 Billy Borgioli
The Tribute to Billy Borgioli at Cuisine en Locale was a big success. It was a gathering of people who knew and cared for Billy with performances that typified the music he loved and played. The people and the music seemed to be in perfect balance. It was a joy to be in a get together with such a warm feeling. Truth be told my attention was often diverted from the music a lot of the time by all the conversations, but it was that sort of time.
Oedipus and Amy. The photo on the official shirt of the night was taken by Oedipus.
It took a while for the crowd to get its peak. Maybe not surprising since the show was about 6 hours long. On top of that Highland Ave was blocked off for a street fair which caused a lot of inconvenience but none of it seeped into the hall.
Nancy Neon had set up a table with some of Billy's paintings and memorabilia. The paintings seem even more important now. They have their own character and seem attached to Billy's character too.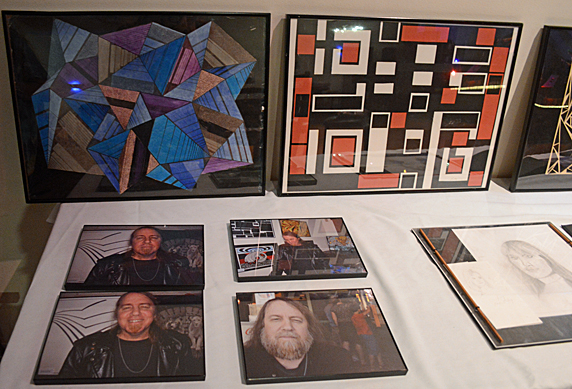 Table with Billy's artwork
We were able to see most of the Fox Pass set, they were the first up. Guitarist Michael Roy was stuck in traffic so the rest went on a trio. They did a few Fox Pass songs, one being a later poppy one dedicated to Nancy Neon. They did the Velvet's Sweet Jane starting it slow (like the Third Rail 45 version) then into regular speed. No one gets to the center of Lou Reed's songs like John Macey can do. It was a treat. The same thing goes for the cover of Roadrunner.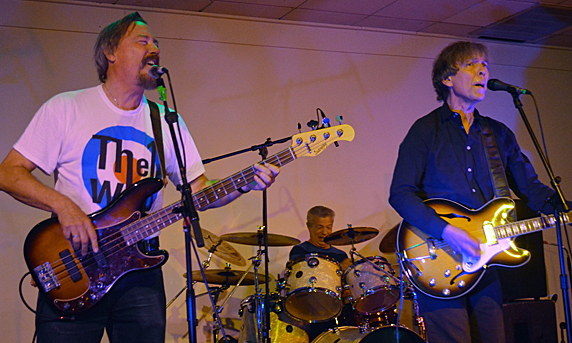 Fox Pass
Michael Roy eventually did get to the club...just after the Fox Pass set. We encourage people to check out his solo CD (Reviewed here). Macey is always cooking something up. Most recently he's concentrating on his group with several female singers and he says it's ultra-pop not unlike the Mama's and Papa's. He is going to release their first material as a 45 single. I think the last time he did that was back in 1976 with Fox Pass' Prized Possession - one of the first few Boston punk singles released ever.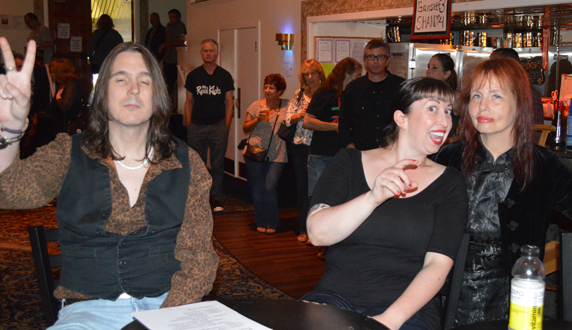 DJ and MC Brian Young, Morah and Nancy Neon
Brian Young got onstage to announce the line up. He did an excellent MC job all night. Cal Cali's Glider were second up, giving us the first listen to the new line up with Yuke Fujii on bass. They sounded very good. The highlight was the cover of Heart Full of Soul by the Yardbirds.
They also had Nancy Neon doing a Nico/Velvet song with Linda Viens helping out too.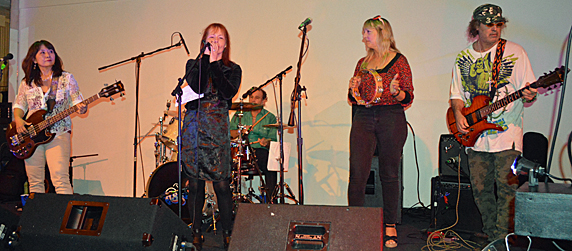 Glider with Nancy Neon and Linda Viens
The Nervous Eaters were up next, they were one of Billy's favorite groups according to Nancy Neon. And that's pretty much in line with everyone else who was around back in the day. The songs, the attitude and the balls out performances were always at the center of the Boston garage/punk scene.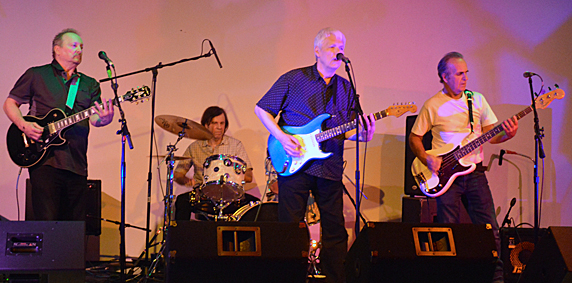 Nervous Eaters
One of kicks of the last few years has been the reappearance of Rob Skeen on bass. MIA for a while and fondly missed he now delivers the same pumping bass lines we heard back then. He recalled to us how before the Eaters he was in a band called The Psycho Punks that played the Rat. Members were Rob, Jeff Wilkinson on drums, Alpo singing and a guitarist. The guitarist committed suicide and sadly Wilkinson and Alpo have also passed on. Rob realized he was the only one still living in that group!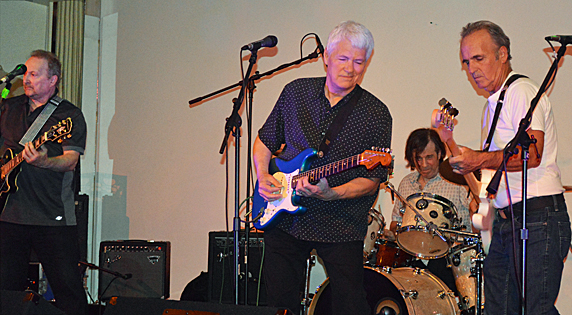 Nervous Eaters
The Eaters put in a satisfying set packed with so many of the songs that remain as vital as ever. You always want to hear these hook laden tunes, they never get old and the new ones are as good as the old ones and fit in side by side. The newer 528 about the Rat is a highlight.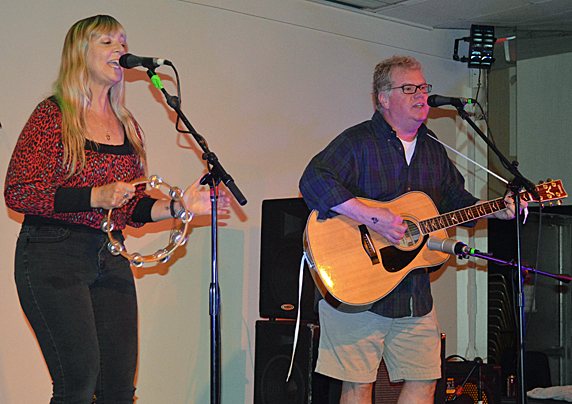 Linda Viens and Richie Parsons
Richie Parsons did a four song acoustic set aided by Linda Viens. Linda's clear toned vocals have made her the go to person for back up support. There is something about her overall personality too that is a reassuring presence in a clutch situation. Richie did some of his pop solo material that we now know from Honey & Tears and which we love. He ended with Love Letter which sticks in my head for days after hearing. I'm humming it now.
Richie has already written the material for his follow up to Honey & Tears. He showed us his email to Ken Stringfellow who made Honey sound so good. Ken said that he was ready to start the next one too. So, that's in the works.
During all the talking and music memories of Billy were always being touched on. There was never a time during the night when we didn't know why we were there.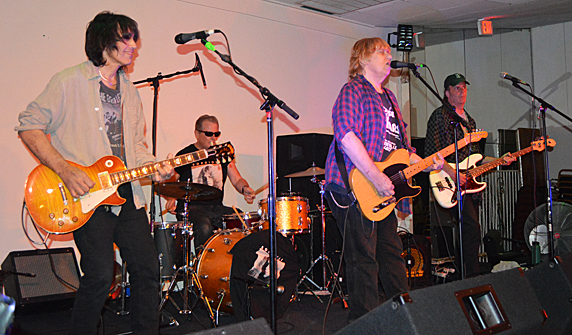 Real Kids
Now we get a little more emotional as the Real Kids hit the stage. Everyone in this club knows, and lived through, the Real Kids time. We can see Billy in our minds eye on stage playing with the Kids. The lineup tonight is Felice, Cole and Oakes the twist being Judd Williams on drums. They played mostly the material from the Shake Outta Contral CD and adding All Kindsa Girls and Reggae Reggae.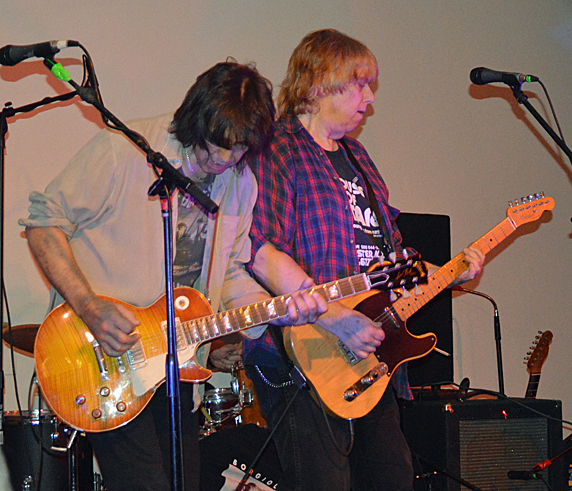 Billy Cole and John Felice
There was some trouble with the drums moving and some nasty stuff going on with the sound, like a loud buzz and then the mix going a bit bonkers. But they straightened it out after a few songs and we got our fix of Real Kids. We are looking forward to their upcoming Midway gig on September 12 now.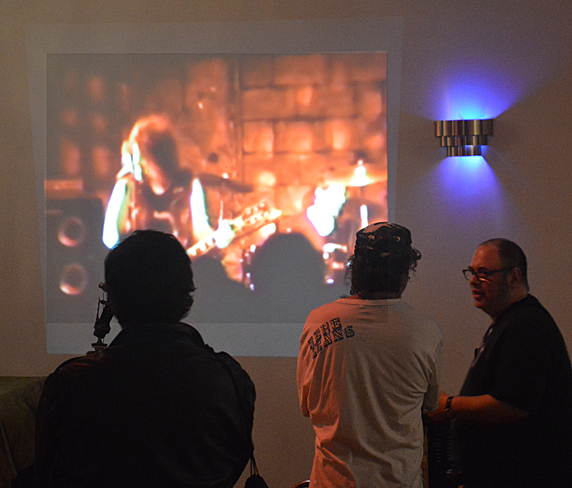 Showing Arthur Freedman's films
Next we were stopped in our tracks by Arthur Freedman's films. The power of images was brought home full force as the first sight of Billy on stage made you feel the loss anew. This is some of the material that Arthur now has housed at the Harvard Film Archives. Words fail next to the material on these films. As time goes by we will have more opportunities to access all these films as Harvard does its work. It's a window to a time that we can go back to see - almost magical.
Nancy Neon got on stage and read some messages from people who couldn't make it like Willie Loco (do check his video if you haven't). Brett Milano also gave some memories.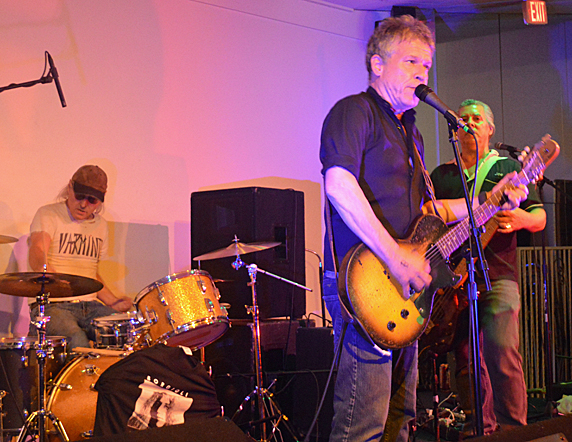 Classic Ruins
Again we can imagine Billy on stage as the Classic Ruins begin to play. They do The Hard Way a song Billy wrote for the Varmints. It's about what Billy's father used to say to him:"Billy, must you do everything the hard way?" The Varmints CD is full of loads of wonderful songs and performances. Billy's illnesses deprived us of the full measure of his later work. There should have been more gigs with the Varmints who were an excellent group.
We head out having been there for 5 hours. On the way out we talk to Joe Harvard who is in the last jam. There's a whole story to be had with Joe. He tells some of his own tales on his website (The Boston Rock Storybook).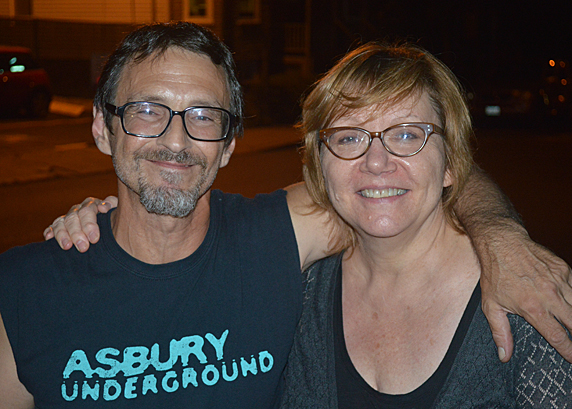 Joe Harvard and Miss Lyn
This was a heartwarming evening. It felt so right to have this night and the music to remember Billy. He lived his life for his music and his art, it mattered so much to him. It does to us too. That's what united the whole room of people.
When you listen to the Real Kids and Classic Ruins material that Billy is on, and then the material he's not on, you can hear what he brought to the music. He was at the center of it. He put in punch and drive - the force. He made it bigger and stronger. What group wouldn't want that? His Varmints material showed the song writer fully developed.
When you asked Billy a question he would cock is head to the side and give that squint, then wait a few beats before he answered. It made you think you were getting something thoughtful.and it usually was. RIP Billy Borgioli.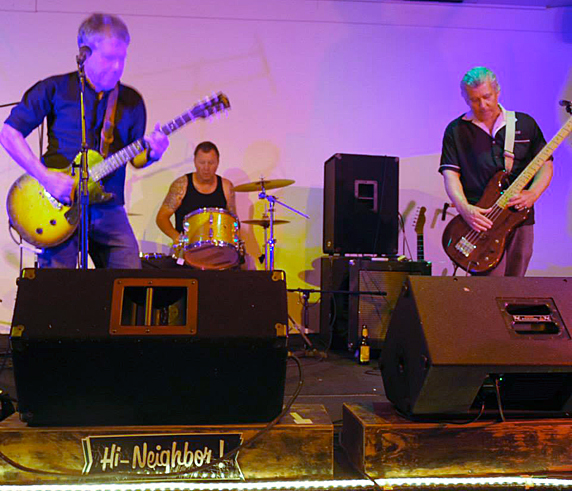 Classic Ruins
Photo: Sara Billingsley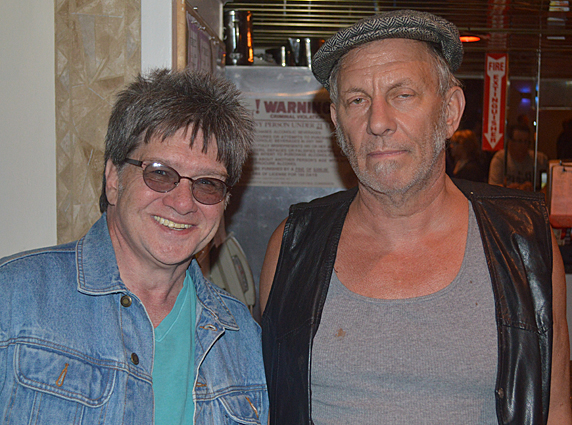 Billy Connors and Asa Brebner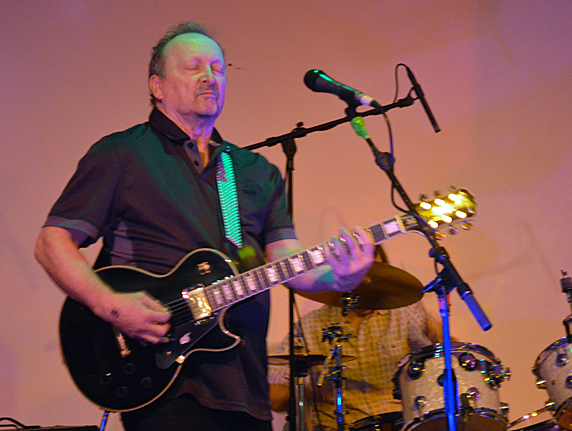 Allen Hebditch
Real Kids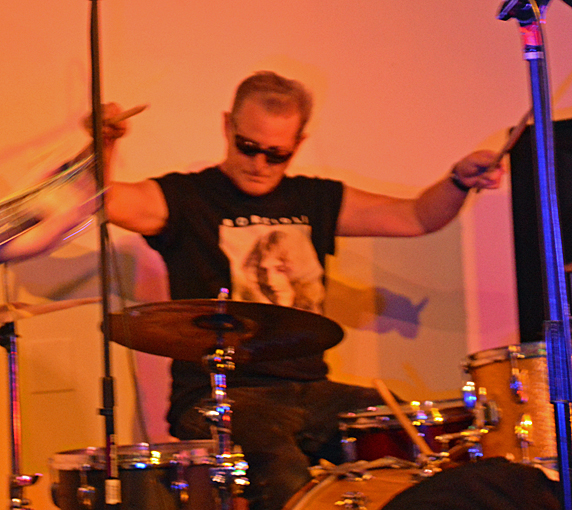 Judd Williams
Jon Macey, Amy, Oedipus and John Felice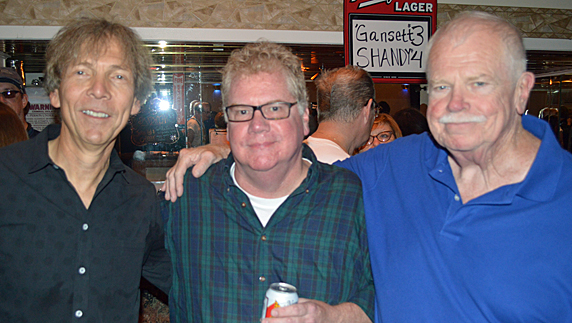 Jon Macey, Richie Parsons and Jimmy Harold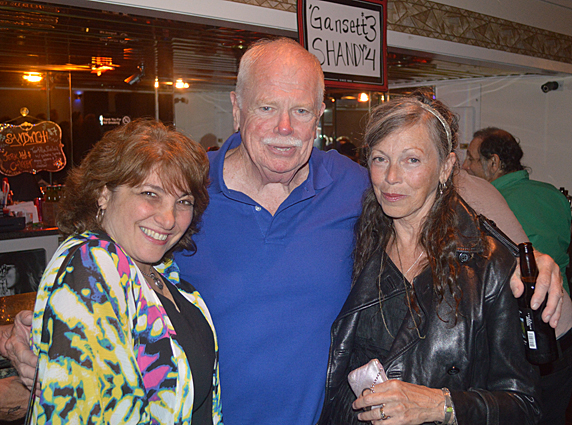 Erna Connors, Jimmy Harold and Jan Collins
Frank and Susan Rowe
Photo: Miss Lyn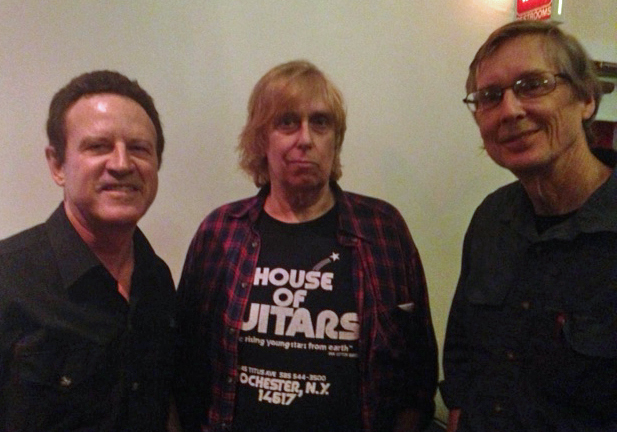 Oedipus, John Felice and Blowfish
Photo: Miss Lyn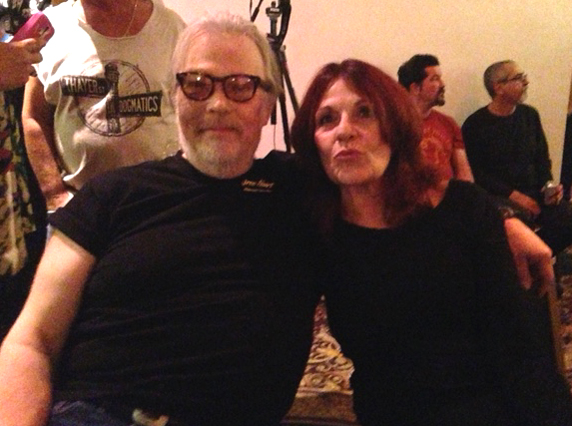 Richie Johnson and Helanie
Photo: Miss Lyn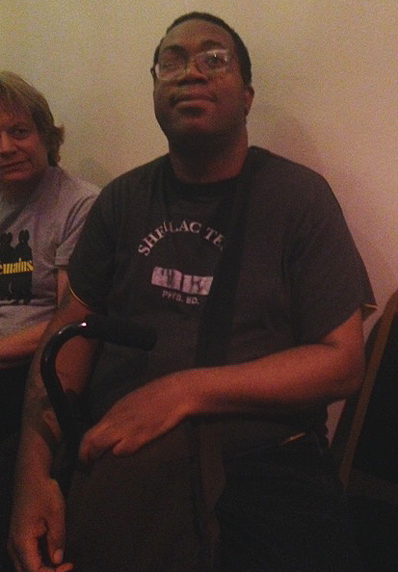 Sam MacAfee
Photo: Miss Lyn