Johnny Angel and the Blackjacks
Zuzu's, Doc Ryan's and The Abbey
Most pictures by Denise Donahue. Doc Ryans' photos by Miss Lyn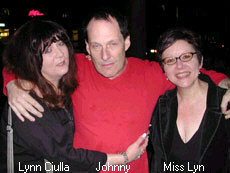 So it finally was upon us, June 7-12, 2004, Johnny Angel Week in Boston. Those of us who remembered John fondly were happy to see this week arrive and with it bring our old friend Mr. Angel.
Johnny was a well-known and much noted fixture in the punk scene since 1977. Known for his great bod (Johnny was into muscle building when punks could only think of one muscle worth pumpin'!)….his, um, acerbic wit and his awesome bands Thrills, City Thrills, The Swinging Erudites and of course, The Blackjacks. But in the mid-80's Johnny heeded the call of Hollywood and went west to put his Emerson College education to use in the field of acting and communications. He's been there ever since!!
The main focus of this week's return to Boston was to promote the new Blackjacks' CD with two nights of Blackjacks reunion gigs at The Abbey in Somerville. But I'm a Johnny Angel fan more than anything else so I went to every gig…. Monday June 7th at Zuzu's in Central Square, Thursday, June 10th at Doc Ryan's in Salem and Friday & Saturday, June 11th & 12th at the Abbey…….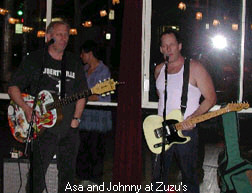 Monday, June 7th….well known Boston photographer Lynn Ciulla whisked by in her Cadillac to pick me up on the way to Johnny's first show of the week. At Zuzu's in Central Square, Cambridge he was performing with old friend Aca Brebner (who really needs no introduction but…of, among many other things, Mickey Clean and The Mezz, Robin Lane & The Chartbusters fame).
This is a great place to see some of Boston's best musicians by the way. They have stuff happening every night and if you see a name you like you should definitely check it out. It's informal, intimate and has a little bit of a hmm, I don't know…urban feel…all of Central Square and it's inhabitants share the stage with the performers since they set up right in front of the large windows that open onto the street.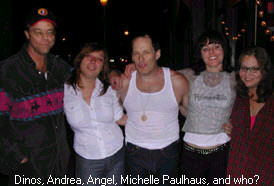 It's always "Miserable Mondays" at Zuzu's and Johnny and Aca did well by this night's theme performing songs about drugs, alcohol, failed romances, death and dying. Aca did old country tunes like "Tomorrow I'm Going to a Wake", together they did The Stones' "Little Suzy", The Velvets' "Waitin' For My Man" and Johnny solo'd on The Real Kids' "Common At Noon", John prefaced with the story that when his son was a newborn, 'bout 2 years ago, this was one of the songs he would sing to him to get him to sleep!
He also did Thunders' "You Can't Put Your Arms Around a Memory" and one of my favorites; Nick Cave's "Nobody's Baby Now".
For a guy who was up at 5AM took a 6 hour flight then finally performed starting at 10PM he did pretty damned well. It was a fun night and it was great for me to finally see Johnny after something like 20 years. We compared tattoos, (he's got a whole piece on his back) talked about exercise (why it's so important at our age) and tried to catch up on old times as much as possible in a short time.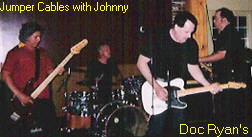 Thursday, June 10th….….off to Doc Ryan's in Salem for Johnny and The Jumper Cables and "The Cable-Jacks" (The Cables sans Highland backing up Angel).
Doc Ryan's is a cool place, you walk into a long bar and to the back is a nice big room with a really nice sound system. I talked to Carla that books the place and she's really into getting good bands in there. I was lucky enough to arrive early and have a tete-a-tete with Johnny for quite awhile before he remembered that one of his roles for the evening was soundman for The Cables. He had spent the week doing radio interviews all over the place; on WRKO with Scott O'Miller, with Carmelita on WAAF, with Joannie Lindstrom on WMBR's The Late Risers Club and was yet to get to Alex Pinandes' Coffee'n'Smokes on Saturday. John's no newcomer to radio, he is a well known talk radio personality out on LA LA Land. He's into basketball now and was overjoyed when a game showed up on the bar TV. (Of course his team IS The Celtics!)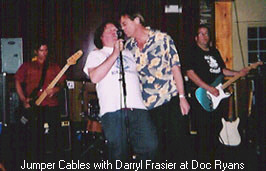 The Cables were pretty good. This is a band of such great musicians! Johnny Black is a really impressive guitarist, Carl Biancucci is one of the best bass players I have ever seen and Tom Bull is powerful drummer. Kenne Highland who's usually entertainer extraodinnaire was quiet this night, afraid of saying the wrong thing and getting in trouble, I suspect, he stayed pretty low-key. Kenne's newest phase, is soul, brought on by his recent acceptance into a Dorchester Gospel band as a guitarist. This new phase has him singing in a very soulful manner ..I'm not sure it's the best way to sing every rock'n'roll song on the set-list but he sure is inspired and his voice sounds very good!! Since Darryl Frasier was there, he and Kenne did a Gizmos duet on "That's Cool I Respect You More" . Otherwise they did some Rocky Erikson, Stooges and some heavy metal covers I care not to mention.
Next up: The Cable-Jacks. You could feel the energy level change as Johnny got on stage. There weren't many people in the audience that night (they are having a very hard time with Thursday's up there!) but they were ready to rock with Johnny!! They did Search & Destroy, All This & More, Chinese Rocks, TV Eye, Chatterbox, Strychnine, Pretty Vacant and That's Why I Always Dress In Black. Everyone was out of their seats and dancing and it was fun!
Which brings us to Friday and Saturday, June 11th & 12that The Abbey!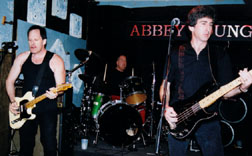 The Blackjacks Reunion and CD Release shows! Johnny reunited with the original Blackjacks line-up of Jeff Erna on drums and Whitey on bass.Packed both nights, it was a Boston Rock who's who of a weekend. Friday night started off with Jeff Erna, Blackjacks drummer, getting into a disagreement with the owner. Oops, wrong person to pick a fight with Jeff! In fact he wanted to kick Jeff out! It had to do with a mix-up regarding an order, at the bar, of a "diet coke" vs a "jack & coke". When the wrong item was delivered Jeff got pissed, spoke his mind a little too much, one thing lead to another…..finally, in stepped Johnny Angel to smooth things out and lead Jeff to the back stage area.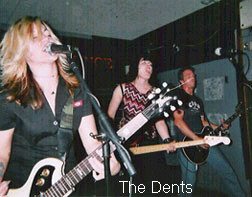 I caught The Dents' set and though bass player Michelle Paulhaus said they hadn't practiced since The 'BCN Rumble and were a little shaky, their energy level on stage was so high everyone was very impressed with the set. Johnny later mentioned he loved Jen & Michelle's harmonies and thought, at times, they sounded Arabic and exotic.
Friday The Blackjacks were good, maybe a little stiff, gee, it's only been, what, 18 years?? No wonder! But they were still great!! They did al the Blackjack hits like Dress In Black, Dreaming of Saturday Again, Junk Train, Generic NYC Woman, as well as a couple of new numbers most notably the tribute to freinds passed on; Last Ride written with Blackjacks ex-manager Charlie Mackenzie and friend and ex-Infliktor Gary Cooke in mind.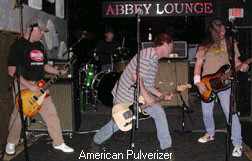 Saturday was THE night. Opening was the much talked about, and killer, American Pulverisor, Marky Mussel's new band. They have a wall of heavy-duty sound and a set of great songs!! Whew!!! Boston readers: GO SEE THEM, you will be duly impressed! Blackjacks definitely felt more at ease this night and pulled off an awesome set getting everyone crazy.
They did all the songs on the CD and a cover of La Peste's "Die in My Sleep Tonight". Rayboy Fernandez did a great job at the soundboard both nights...and the audience? Well here's a list of some of the attendees: people from The Konks, Sugabomb, The Marvels, and from the old scene people such as Bob Colby, Linda and Wayne Viens, Tommy Long,Springer, Oedipus, Sue Safton, Joannie Lindstrom, Allston's old Johnny D's Rick Paige, and old time Late Riser's Peter Gates, Tommy White, Kenny Kaiser, Carl Square, Denise Donahue, Frank Rowe, Mark Davis, The Infliktors' Kit Dennis and even Granny , the soundman from The Rat


Left to Right ;Mark Davis, Bob MacKenzie, Frank Rowe,
Rayboy, Kit Dennis, Johnny Angel, Joe,
Granny, Shel , Bret Milano.
!!!OK, folks I have to stop now, it was a great week of Johnny Angel, order The Blackjacks' CD from Retrospect Records! And here's a BGN exclusive: if you want to hear what you just read about go to Boston ButtaBeats, Rayboy F is making a CD from his work on the soundboard!
---
home | interviews | photos | features |BGN issue list | reviews
links | contact us
Copyright © 2004 Paul Lovell. All rights reserved.