The Punk Gourmet
Bukowski's in Inman Square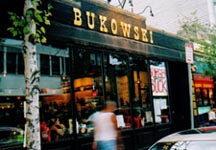 Since Miss Lyn was shut off at the Boston's original Bukowski's just near the end of her drinking days, we took great interest in the opening of a new Bukowski's in Inman Square, Cambridge.
Since we've also seen many a Boston rocker eating at the place we thought it perfect fodder for our first try at resurrecting The Punk Gourmet. In fact since it has opening Bukowski's has been lucky enough to serve the likes of The Coffin Lids drummer Kevin, The Spittz' Victoria and Tom, Jay from Red Zone Cuba, Twisted Rico and all of The Charms as well as Kenne Highland and his vast array of women and probably many others we just haven't happened to espy there. While we were there on one of our last visits Chilly Kurtz from Caged Heat stopped by the table and it turns out the band was there to eat while taking a break from recording!
So we hooked up with Jesse Meyer (Kenmores and Marvels) and his Photographer and Hot Rod bodywork specialist girlfriend Channin to check out the situation. Jesse let us know right off the bat what he thought: "It's big. It's dark. It's loud. It's too AC'd in here if you're skinny like me." Then a minute later "Oh my gawd! It's like a strip joint. They've got an ATM!!"
Our waitress Claire was very friendly, down to earth and experienced. Turns out she's worked at the House of Blues, The Other Side and Middle East. We perused the menu and Jesse thought out loud; "I don't see much of a connection between this place and punk.…OR Bukowski. From the menu I see Cambridge." Well, Jesse'sright there but it seems every place is a cleaned up "yuppie-fied" version of what used to be down and dirty, dive-y and fun and both Bukowski's are no exception! Though with such a name you'd think they would be dive-y.
This place pushes their "Burger for Buck" but we were there on a Saturday and when we asked about it we were told that deal is only available Monday through Friday until 8PM. Blowfish was disappointed; "I expected the dollar burger but everything else is a little pricey." We have, on a separate occasion, tried both the beef and the veggie versions and say it is pretty much an average burger on a big roll with lettuce, tomato and onion. Cheese or fries are another 90 cents. But for that price it's damn good if you're in need of a cheap and filling feed.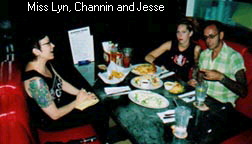 On the menu, prices start at $3.75 for a single dog (meat or soy) with fries. But most items are $6.75 and $7.25, except the fish and steak dinners, which are $9.95. There are many burgers to choose from; Barfly, Mexican, Bacon & Bleu, Reuben, Peanut Butter or Suzi Swiss with Pesto. All are available as either beef, or for $1 extra, turkey, veggie or salmon.
The great thing is there's lots of vegetarian stuff though as usual everything vegetarian has cheese piled on it…if you're a vegan you gotta ask 'em to hold the cheese. (where? Between their legs!) Our choices this evening were Gourmet Grilled Cheese Sandwich which Channin said was "High class white trash grilled cheese." At $6.75, even with fries….it's a little high priced for a cheese sandwich! We also got the Empanada de Valazquez, two beef an veggie turnovers with Caribean fruit salsa for $6.95 which Jessesaid were "good, but not enough to sustain anybody". In fact the waitress asked when this dish was delivered and Jesse just kinda stared at it; "Are you upset that your dinner is on a little buddy plate?"
Other choices were the Mac and Cheese, which was delicious but up there in price. $7.95 for a decent portion of Cavatappi (a wicked cool curly shape) pasta tossed in a warm four-cheese sauce with your choice of smoked chorizo or broccoli. We opted for the broccoli which Blowfish thought 'a perfect foil'. It was really, really good! We also had to try the $3.75 Soy dog on a bun and it was yummy….you know, it was a soy dog on a bun, with fries that were OK. We just had to order it for the thrill of actually eating a soy dog at a restaurant!! We also tried the Sweet Potato Fries but thought them too soggy and thin. We got the $6.25 Hummus Melt, which was 4 pieces of very soft bread topped with hummus, diced toms, fresh basil and cheddar cheese. This was nice and garlicky and served with a fiery hot and tasty cherry pepper relish.
Now, there's no dessert and we thought that odd since it's named after a raging alcoholic and raging alcoholics are notorious sugar lovers! But we were full and satisfied anyway.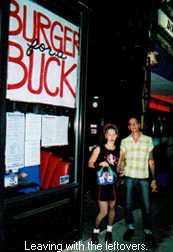 Now speaking of raging alcoholic…if you are one you are in HOG HEAVEN at this place! Especially if you like beer. They have a Beer MENU!! They have 106 beer choices and you can travel the world and never leave your seat, except to pee of course, which you'll need to do if you wanna make a dent in this menu! These beers ain't too cheap though but they got Lambics, Wheat Beers, Dunkelweizen, Belgian Wheat Beers. They got Ales and Bitters!!
They have this stuff called Saison a Belgian bottle-conditioned, unfiltered beer usually spiced to offset the intense fruitiness and tartness. Sounds particularly delicious!! But to continue…they haveLagers; Helles, Pilsner, Bock and more! THEN you get to a section on the menu called "SPECIALTY BEERS" ???? OK; Steam Beer, Smoked Beer, a Sake/Ale Hybrid, Unibroue, Fruit Beer, then your crap American stuff like Coors Light, Schlitz and Gennesse Cream Ale. Hey, I feel like I'm drunk just talking about it all!! Whew!!
This Bukowski's is set up more for eating than drinking and they've got some really good choices for both food and drink. We say it's well worth a visit or two. Try it you'll like it!!
---
home | interviews | photos | features |BGN issue list | reviews
links | contact us
Copyright © 2003 Paul Lovell. All rights reserved.