Past episodes ...Click Here
DMZ Upheaval
All photos by Susan Aprill
---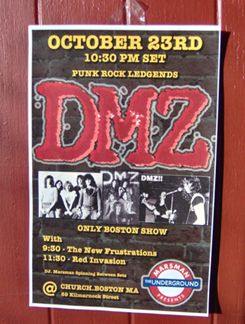 "You're gonna wake up one morning, as the sun greets the dawn. You're gonna wake up one morning, as the sun greets the dawn...."
There is a moment of semiconciousness, a split second perhaps, where dreams segue into reality. I am in bed. One eye half open, the music echoes in my brain. "I gave you the warning, but you never heeded it. How can you say you missed my loving, when you never needed it?" I am remembering a time when I had one simple dream: to support myself with Rock and Roll music. In 1978 every waking moment of my life was filled with the excitement of playing in a cutting edge Rock and Roll band with four other guys who felt the same way. Toss in a major label recording contract and there ya go. My dream was coming true. I was twenty four years old and everything I ever wanted in this world was riding on a band called DMZ.
6:15 pm, Monday October 20, 2008. Natick, MA. Rehearsal number one.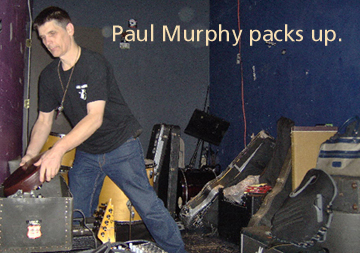 The plan was simple -- practice three nights in a row, play a gig in Boston and a gig in Hoboken, New Jersey.
I am waiting in my car in front of drummer Paul Murphy's house. DMZ rehearsed here in the late seventies so it is fitting that we will rehearse here again. In the cool Autumn dusk, under a yellow street light, three figures approach with bags and bottles in hand. I exit my car and shake the hand of a very fit looking Peter Greenberg. A guy I have not seen since 1993. "The liquor store is still there" he says as he pulls out a tall can of Japanese beer. J.J. Rassler chimes in, "A little more upscale though. They're having a wine tasting!" "Jeez J.J., you look pretty good for a corpse," I say. "I heard you were in the hospital and that you promised not to die before the gig!"
Lots to talk about as we loaded our stuff into the basement. We have a whole week to catch up on what is going on with each other's lives, but with only three rehearsals to learn 22 songs, we get right to work!
After three songs Murph is taping up bloody fingers with sports gauze. After five songs I'm developing a serious blister on the index finger of my right hand. After nine songs Peter is breaking out the Superglue to fix his split fingernail, and the high E string keeps slipping out of the nut of his cool custom-made solid body guitar. My little Ampeg Rocket Bass amp is maxed out and definitely not up to the task of competing with two Fender Hot Rod Deville guitar amps turned up to twelve. We all shake out cramped hands after rehearsing "Bad Attitude."
11:00 pm "You didn't realize, you didn't realize, you're gonna miss me baby."
I am driving home, my ears ringing, my fingers aching like a rookie, my throat hoarse. Rehearsal one went well.
6:30 pm Tuesday October 21. Natick, MA. Rehearsal number two.
Paul has purchased a pair of gloves to protect his hands. They look suitable for shucking oysters so they should do the job. Back in the day, after a DMZ set, Paul's drums would be covered in sweat and blood spatter with wood chips strewn all around the kit. It looked really brutal. I wish I had a picture. More Superglue for Peter's fingernail and his high E string keeps slipping out of the nut. There's talk of emergency guitar repair!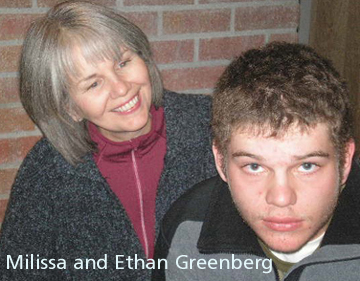 "Destroyer! In the hands of the enemy. Destroyer! In the hands of the enemy."
J.J. seems unscathed, having been working steadily in the hard rocking Downbeat 5 band. For me, every song seems too fast, too hard, and too loud. I LIKE IT!
11:55 pm. Wareham, Ma. After another late night drive I collapse onto bed. The music is inescapable.
"Your gonna wake up wonderin', find yourself alone, but what's gonna stop me baby, I'm not comin' home."
The playing of Rock and Roll is a young man's game. Don't get me wrong: us older guys can play it too! I love it and I consider myself lucky to still be playing it at the level that I do, but for the same reason the military usually drafts young men, major labels mostly sign young bands. Stamina! And cuteness.
"Don't you worry, don't you be there in a hurry little girl, pretty soon you'll lose your mind."
Naturally both the Red Sox and the Patriots are playing late games this week, and I miss the games. I left my house and my sweet wife at 6:15 a.m. to go to work. I am fucking tired and cranky. Day two is over. We have relearned 15 songs
Wed. Oct. 22 6:30 pm Natick, MA. Rehearsal number three.
Earlier in the day, I had to drive to New Jersey for work so I borrowed my wife's car, mainly because it's more comfortable and gets better gas mileage than my old Chevy V8. I had just picked up a rack of Red Stripe at the packey in Natick and as I was waiting to pull out into traffic, a very large pick up truck backed into the back of the little convertible. This car survived five years of New York City with nary a scratch. First trip to the little suburban town of Natick and WHAM!
"Sabotage the C.I.A., lyin' to the F.B.I., penetrate the Pentagon, Destroyer keeps movin' on."
Here I am again waiting in front of Paul's house. They show up more or less on time. The Three Musketeers; Rassler, Conolly, and Greenberg. This is the last chance to learn the 22 songs on the set list so we must be selective about details. There is a question about a certain changeup in the song "Bawl Me Out." After considerable discussion Jeff and Paul go upstairs to listen to the song on the "Live at the Rat" album and the matter is settled. Thankfully, most of the songs are fairly simple and we run through them without much nit picking.
11:30 p.m. After driving home my eyes feel like boiled onions. I need my beauty sleep but I think the rehearsals went well enough to pull off our two gigs with a respectable amount of confidence. The music invades my dreams.
"Don't jump me mother or you'll end up going under. Understand? Don't jump me mother or you'll wake up in the gutter. Understand?"
7:30 p.m. Thurs. October 23. The Church Nightclub, Boston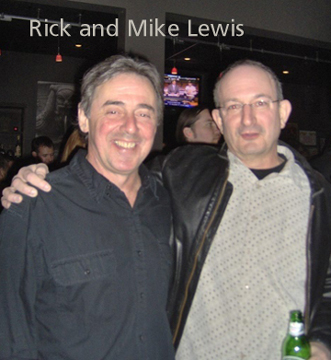 Gig day is special! If you are a working musician, you probably know what I am talking about. It's like live theater. Very exciting and dangerous to fragile egos. What if nobody shows up? What if they don't like us? Will my hair look alright? Sure, it's a big deal to me, but that does not guarantee a successful gig.
Anyway, here I am with my wife Susan, our dog Ginger and my ancient Fender Studio Bass amp determined to give it my best shot. Trying to stay reasonably sober enough to remember the notes, yet drunk enough not to care if I don't. In other words, business as usual. I actually show up in time for sound check! Normally I think they are a waste of time, but tonight it is one more chance to rehearse and we run over a few problem parts.
The joint is already crowded! Damn, there's a lot of grey hair in here!
After peeing and preening in the bathroom, I am absolutely convinced that the lighting in here brings out more grayish highlights than usual. I mentioned this to my wife and she assures me that I am indeed grey haired in any light. And then sweetly adds that she doesn't love me for my hair. "Can I buy ya a drink, sailor?" I ask and we head for the bar. I order a bourbon and soda for her and an Ensure Stinger for me. I rethink my "reasonably sober" theory.
I have played this venue many times but this is the first time I've been led downstairs to the VIP dressing room. They even feed us! Like real Rock Stars! I am enjoying this night immensely!
It's cool talking to Mike Lewis, the man who gave up his bassist job in DMZ to me. I understand it was an amiable split because Mike's M.I.T. education had to take priority. So one night in 1977 at a Boize gig at the Rat, a rail thin, friendly stranger boldly approached me. He introduced himself as J.J., and asked if I would consider playing bass for his band DMZ. Initially I wasn't inclined to do so having put so much effort and time into the Boize, and besides, I was having a great deal of fun. Nevertheless, J.J. was so sincere and convincing that I agreed to at least check them out.
I saw them at the Rat. I remember that I could hear Mike's rumbling bass when I stepped off the subway train at Kenmore. He was playing through two SVT's ramped up to ten. A barefoot, blonde lead singer in Coca-Cola pants was screaming and running the length of the stage to hit a triangle suspended over a Fender Rhodes piano, exactly on time. His hair stuck up on top, tied with an elastic band.
Supro amps, vintage guitars, silver jewelry, pandemonium, grit and grunge controlled by a very capable David Robinson on drums, the only guy I knew.
Who are these guys? Where did they come from? They broke into "Riot on Sunset Strip" and they had rigged up rotating lights and sirens just for that one song. The music pulsated loudly, raw and dirty. It was fuckin' INSANE! I made my decision in a nanosecond!
"I ain't from Detroit, and I ain't from Houston, an' I ain't from Ann Arbor, I'm the boy from nowhere"



Coca-Cola pants and a rail thin Stranger.




A Gretsch Electomatic guitar and
a Fender Studio Bass Amp and
Ginger.
9:30 pm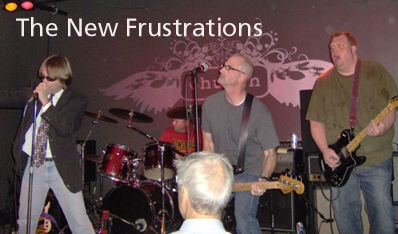 The New Frustrations are great! Marsman Tim on guitar. As they wind down their spirited set, butterflies invade my stomach because I realize I have to play soon. The DMZ stage setup has always been problematic for me because I set up the bass amp right next to the drummer yet I stand on the far right side of the stage, right in front of J.J.'s amp. Rarely can I hear anything but rhythm guitar.
After the first song Jeff looks at J.J. and says "Louder!" I think to myself, "Great, I can barely hear my bass or my drummer." I position myself between the drums and my amp to get a better sound mix and it works! When I see old pictures of DMZ I am standing exactly there, for the same reason I'm sure. Just something I haven't thought about for years! How do I keep myself from feeling like this is one of those reunion gigs from one of those old bands? You can't, you idiot! This is exactly what it is! So just embrace it and have fun.
I have so much music to remember. We have all heard about musicians with perfect pitch, guys with the ability to write songs and play instruments "in their sleep" and jam live onstage. I am not one of those guys. I have to work at it. Very hard. I need rehearsals. Many rehearsals. I forget Lyres songs that I have played for decades. I even forget my own songs. In my side band, the Last Ones, I relied heavily on guitarist Danny McCormack to cue me on my own chords! I eat fish on gig days hoping it will give me greater brain power. So far it hasn't worked but I will keep trying! My cheat notes are legendary! Forget about jamming. I can't jam! Thankfully DMZ plays basic music. Progressions and three chorders abound; the emphasis is on feeling, feeling and VOLUME. Holy shit, it's friggin' LOUD.Remember in the last paragraph when I told you about positioning myself between the amp and the drums? Well, that's also the reason why I have limited hearing in my right ear! Murph's crash cymbal!
Everyone seems to be enjoying the set. This pleases me. 11:20 pm I make it through the set but my set list gets stolen by Nancy Neon! She snatched right off the stage! I save my cheat notes though. We clear our stuff off the stage and the youngsters "Red Invasion" start moving their stuff on. These guys are young and hip, not unlike what we used to be. The hair and the clothes, The Look, is every bit as important as the music. And why the hell not? If you are young enough to have a Look, ya might as well employ it! After shots at the bar with my old friend Mac, we head home. The music reverberates in my head. Red tail lights glow in my field of view as Susan and I cruise down ol' route 24 and talk about the events of the night, just like we always do. It was a fun night for sure.
"Mighty Idy girl what a shape you're in. You're so beautiful where do I begin?"



Mr. Bob Colby.
At the Church show.




Dennis and Cam
from the Prime Movers.
At the Church show.
Sat. Oct. 25 on the way to New York
I like traveling with Susan. It's all quality listening time. Music and talk. The stereo in her car plays both cd's and cassettes so the four hour drive was enjoyable. We had picked the Best Western Hotel in Long Island City, Queens N.Y. because it's fairly inexpensive, included breakfast and just looked interesting. The place was a former girls school that Susan had driven by many times while she lived in NYC. We enter the clean lobby and are immediately immersed in the wonderful aroma of freshly baked chocolate chip cookies. A mound of them lay on a large white dinner plate at the check-in counter. How friendly is that? "I like this place" I say with a mouthful.



The Girls School Hotel.




Tim Warren and the
Crypt Records' Bathtub.
In our room we watch a cool Rock and Roll movie called "Almost Famous", attend the "Popcorn Social" in the hotel lobby, shower and dress, then head out to Tim Warren's record store "Crypt Records" in the East Williamsburg section of New York. The only royalties I have ever received, for anything I have ever been involved in musically, were from Tim Warren, and that was twenty some odd years ago when he put out those DMZ live records. He even gave me a box of records. That puts him in my top ten "honorable men " category!
In his store I almost buy a copy of "DMZ Relics" on yellow vinyl, but instead I take "The Real Kids, Foggy Notion" on the Norton label for ten bucks. It features me on bass guitar, and a picture on the sleeve that I had provided from my own private collection. Tim said it was only his second sale today.
It is time to head for Maxwells in Hoboken, N.J., some 25 minutes away. It's windy and raining pretty hard. Susan points the car towards Manhattan and the Holland Tunnel. Parking is always tough in Hoboken but we manage to find a space fairly close. It's so windy that a wire had fallen onto the street next to our car. The intense rain thankfully tapers off a bit as I roll the ol' Fender amp to the front door. As soon as we enter the club it starts pouring. I see J.J. loading his stuff in the front door during the downpour from hell. He's drenched!
"Down underwater you can feel the waves, down underwater you can feel the waves, dark undercurrents spell out your doom."
Maxwells is also a pretty good restaurant so Susan and I get a table for dinner. Joining us were a friend from Brooklyn named Lisa, and later on, Peter Greenberg's wife Millissa.
| | |
| --- | --- |
| Maxwells' flier. | On stage at Maxwells. |
Sometime after 11:00 pm.
Someone set up my amp onstage! Thank you whoever you are. I hate moving that beast. I push my way through the sizable crowd toward the stage. A special request from Miriam Linna of Norton Records-- Coat Roadie! "Yeah sure Miriam" I dutifully reply. "I'll put it next to me onstage" These days there is rarely anyplace to safely put your coat at nightclubs. Remember coat checks? The set is a blur. A few people right in front of me keep grabbing the backup vocal mic and singing way off-key. I give 'em two songs before I kick their beers all over them and about eight other unfortunate patrons! It looks really cool spraying through the stage lights and adds greatly to the anarchy. I really soaked them good! J.J. and I have our mic back! His backing vocal is very distinctive and absolutely key in the DMZ sound. We sing together but it is his voice that stands out. My decision to use my Gretsch Electromatic solid body bass guitar paid off. I could hear it much better than my bottom heavy Epiphone Rivoli hollow body.
Everyone is moving, laughing and drinking. I feel our impact on them. From my perch onstage, I witness this crowd of people enjoying the music that I helped to create.
| | |
| --- | --- |
| Backup vocals 1978. | Backup vocals 2008. |
| Greenberg's cool Custom guitar. | JJ's Gibson. |
My complaints about the interruption of my life and the upheaval of my normal routine for a week now seem trite. Early Sunday afternoon, as Susan and I unlock our front door, I realize it is over. I also realize that I was part of something very special, and despite my whining about lost sleep and missing my sports on TV, it was really fun, fun but bittersweet, because I know, except for the ringing in my ears, it will never be like it used to be.
RC
This episode's song is......
"Number One Again"
Written by Rick Coraccio
Click Here
---
home | interviews | photos | features |BGN issue list | reviews
links | contact us
Copyright © 2007 Rick Coraccio. All rights reserved.