Past episodes ...Click Here
Fourth of July
It started on the rocky coast of Southern Maine. The perfect vacation. A vacation that included boating, fireworks on the Esplanade, a cool chick and a rock and roll gig for my band 'The Last Ones' at the fabulous Kirkland Lounge and the Helanie Saad tribute therein.

7/3/04 8:00am. Wells Harbor ME.
It is a breathtaking morning. A rare beauty of a morning with a cloudless sky, flat seas and a warm gentle breeze from the South. My girlfiiend Mary Jo and I have been planning this boat trip for months. Too excited to eat breakfast we decided to get underway after just one cup of coffee. Working together we released 'Joanatella' from her moorings and motored down the fairway to the courtesy dock to fill the fresh water tanks. I remember the feeling of calm happiness as I pushed off the dock and hopped onto the aft deck. As if all my problems and worries were left behind on that dock. I was untouchable and inaccessible. Floating on my own little island impervious to all the land related maladies. I am living 'In the Moment'.

I pointed the bow southwest and throttled up. 'Joanatella's' big V8 responded proudly, as eager as we were to begin the journey. The craggy Maine coastline scrolled by to starboard. Bald Head Cliff, Nubble Light. York Beach. I spotted two whales in the deep waters off Cape Ann and excitedly called Mary Jo to come look. "WHALES!!! JO! I SEE WHALES!!!" She burst though the companionway with a huge smile on her face. "Over there, port bow, check it out!" I pointed. Two huge black backs as big as a trucks arching gracefully over the top of the water. "WOW"!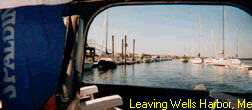 The visibility was so clear that we could see the Boston skyline from our position just east of Salem Sound a good 35 miles away! It was like a mirage, an apparition that we held in our eyesight for four hours.
Sat 7/8/04 7:00pm Boston Harbor
The boat traffic in Boston Harbor can sometimes be described as unorganized insanity. These guys are just all over the place criss-crossing my bow, cutting across my wake and way exceeding the 5 mph speed limit. It's all so very cavalier. The waves are whipped up to three sometimes four feet, easily the roughest water we've experienced so far. Mary Jo took a header diving for the TV which was falling off a shelf. She saved the TV and for her trouble earned a very large purple bruise on her right upper arm. The inflatable dinghy that we were towing behind us was almost capsized and Jo sweetly proclaimed: "The dinghy is not very happy". Jeez! The poor thing was just flailing about wildly in the chop. I tied it right up against the stern and it settled right down. "It just needed a hug" Mary Jo offered.

We entered the Richard Griddley Locks at sunset. It dumped us into the Charles River and we cruised under the Salt and Pepper Shaker Bridge. Easily three hundred vessels of all types were anchored before us. We dropped our anchor near the Hatch Shell and with stiff drinks firmly in hand we watched the sun set over the Cambridge sky. David Lee Roth was singing 'California Girls' at the Shell.
As the stars came out and surrendered to the night, it was just a feeling that washed over me like a wave. A wonderful feeling that everything is gonna be allright. Like everything that happens to us in our life was meant to be and gratefully beyond our control. We try to fight it in our heads but there is no place to run, nowhere to hide from this concept. It gets you every time. Our time here on Earth will pass just as surely as it has come. So might as well sit back and enjoy the ride. (Jeepers Rick! The profound-o-meter has just pinned into the red!)
July 4 2004 6:30 am
Waking up on a boat anchored off the Esplanade is something that is only allowed during the Fourth of July celebration.. We savored every second of it. (even while struggling to set the anchor in the soft, muddy bottom of the Charles) Boats are coming in in droves and the shoreline is already filled with happy people setting up blankets and even small tents.
12 noon 7/4/04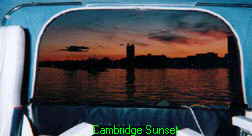 I cracked open a beer and said to myself; "No wonder the boat went so slow." The mid cabin berth was indeed well stocked with enough beer for six days (I hope). "Must be a couple of hundred pounds of the stuff. Oh well, I ain't driving anywhere so I might as well start lightening the load."
This is like a boater's party. The folks on shore are not allowed to even have alcohol on their possession but we folks on our boats are very much enjoying the privilege. A guy with a Scottish accent swam up to our swim platform and introduced himself. I forget his real name so we just called him Scottie. "Would ya like a drink Scottie?" I asked. "Sure I would" he answered and soon we were sharing drinks with him, his wife, and his brother Ian. Brother in law Ahmed was left behind on their vessel to mind their children.
9:00pm 7/4/04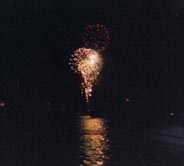 Maestro Keith Lockheart raised his baton and quickly whipped up his band into a cool set of patriotic tunes. Cannon fire echoed off the darkened buildings. An Air Force stealth bomber roared overhead at mach two leaving behind it a vapor trail as far as the eye could see. David Lee Roth roared onstage in an unsuccessful effort to match the testosterone fueled antics of his younger days with Van Halen. The 1812 Overture began and everyone cheered in anticipation. All we could do was sit there with our mouths wide open as the most glorious fireworks display filled the night sky before us. Ingeniously choreographed to the Pops performing at the Shell, the fiery vehemence was emanating from a floating barge a mere 100 yards away !
7/5/04 11:30 am driving rain, high winds, big waves with whitecaps, just awful.
We pulled up the anchor and got in the cue for the locks along with 20 other boats. Once inside the locks Mary Jo got drenched to the bone handling the bow lines as the Lockmaster raised us the four feet to match the ocean level at high tide. In the torrential rain and pounding seas we made our way to Long Wharf and the safety of a transient slip we had rented for two nights. I hailed The Boston Waterboat Marina on the VHF. Four dockhands came running out in bright red foul weather gear and secured the boat in about 10 seconds flat. Working as a team they hooked up a way cool spring line that went in two directions from the mid ship cleat. Safely tied up and comfy and dry in the cabin., Jo poured us a couple of shots to calm the nerves and celebrate the successful completion of a very harrowing one mile journey from the Charles River.
7/6/04 Long Wharf Boston ,MA 7:30 am 70 degrees F bright sunshine
This is a great marina. The Custom House Tower out the back door and Boston Harbor out the front. For a couple of ex-city rats like ourselves this was heaven. We roamed the city (especially the North End) like we were a couple of kids still living on The Hill. The outdoor bar on Long Wharf in front of the Marriot was irresistible.
7/704 7:10am 72 degrees, bright sunshine, flat seas


Jo did a load of clothes at the marina laundromat and we reluctantly untied 'Joanatella" from the dock.. The harbor was still and friendly. All through 'Presidents Roads' to the 'South Channel' we were alone at this early hour. Once clear of the Harbor Islands I set the GPS and pointed the compass due south toward Cape Cod.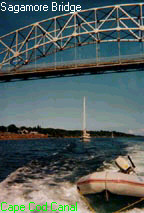 2:00pm Cape Cod Canal
The current in the Cape Cod Canal was strong and soon we had picked up several mph. Our dinghy appears to be smiling as we pass under the Sagamore Bridge. Mary Jo has named it "Two Ringey Dinghy". We crossed the always choppy Buzzards Bay, through the Woods Hole cut and into the Vineyard Sound.
9:00pm Nantucket Sound
With threatening clouds over Martha's Vineyard, the fuel gauge bouncing on empty and darkness approaching fast, we decided to try to find safe haven in the well lit, well marked West Bay Harbor, Osterville, a mere 2.5 miles from our borrowed mooring (and final destination) at East Bay. We tied up at a deserted fuel dock for the night. The trip odometer (that I zeroed at Wells Harbor ME.) reads 204 miles. As luck would have it there was a bar at the end of the dock. We just made last call. It was the best damn Black Russian I have ever had.
8:30pm 7/9/04 The Kirkland Lounge Somerville MA


I love The Mickey Bliss Combo. Mickey is seated at the helm of his gorgeous and ancient Hammond Porta-B organ. ( Later on, when I commented on it, he told me that he spent a lot of time and cash on that girl) Beside him resided this monstrous Leslie cabinet. It looks ancient as well. An absolute monument of pulsating vibrato. His head is swaying to the cool bluesy beat being laid down by three hip looking artists on bass, drums and guitar. Everyone is smiling. How could you not?
Our good friend Maria bought the first round , Mary Jo (looking radiant as ever) disappeared into the crowd so I struck up conversations with Bob Macenzie, (hey that's me on your tee shirt) John Macey, Mickey Clean, Eve, Johnny Jules, Paul Lovell, Artie Friedman, Nancy Neon, Bob Colby, Maria, Lynn Ciulla, Miss Lyn, Frank and Denise Rowe and countless others. It was like a typical night at The Rat many, many years ago.
I thought the Last Ones set went well enough. I used my Washburn acoustic electric guitar and mini Hammond but barely played, preferring instead to let the incredible Dan McCormack handle the bulk of the guitar stuff. (Leave it to the professionals I always say) People were dancing so I guess it worked out well.


We are all here to because of our good friend Helanie. Everybody in Boston knows Helanie and everybody has a story about her. My own story is documented in a past journal entry where she saved me from the clutches of Ed Hood, thus becoming a heroine of epic dimensions in my eyes. She has remained unchanged and wonderfully friendly throughout the years. A true Boston Rock and Roll Hall of Fame luminary. Do we have a Boston Rock Hall of Fame? If not, I say we start one because the rock and roll people in this town are absolutely great. Boston Rock is unique. Our best and favorite rockers often go unnoticed and ignored by most of the world. It's a tradition that dates back many years and we wear it proudly like a tatoo on our chest (kinda like the Red Sox.) Who cares about the rest of the world? We have this. We have experienced this and you haven't.
After a fun night like this I can honestly say that I am proud to be a part of, to have somehow contributed to, this cool little Rock scene that we have all created. I have said it before and I will say it again: Long live Boston Rock! RC



Jimmy Birmingham




Denise Donahue
Camera shy?




Janice and Nancy




Bob Colby




Artie with ever
present camera




Bob Mc Kenzie




Eve




Maria D'innocenzio




Mickey Clean
He's gorgeous!




Mrs and Mr Borgioli




Jon Macey




Moose mugging and
Blowfish blowing
---
home | interviews | photos | features |BGN issue list | reviews
links | contact us
Copyright © 2004 Rick Corracio. All rights reserved.