Past episodes ...Click Here
Entre bastidores con Lyres en Espania!
All photos by Rick Coraccio
---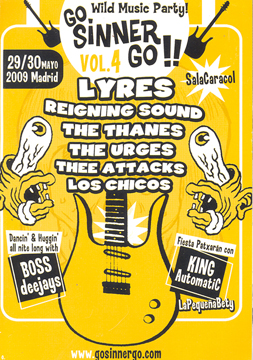 Flyer for Madrid show.
Thursday, May 28, 2009 Plymouth, Ma., 1:15 pm
I watch my wife's car disappear around a corner and I am all alone in a glass and steel bus stop kiosk. I tug the zipper on my light jacket all the way to the top. Outside it is chilly and grey with an uncomfortable breeze. I wonder if I have enough clothes. "It's too late now Rick. You have to go with what you stuffed into your shoulder bag, and besides, you always bring too much on these short trips." Soon the big blue and white bus comes into view. The round trip ticket in my hand proudly reads "The Plymouth and Brockton Street Railway Company." As the door hisses open, I pick up my bag, shoulder my guitar, and say out loud to nobody "Lets go to Spain!"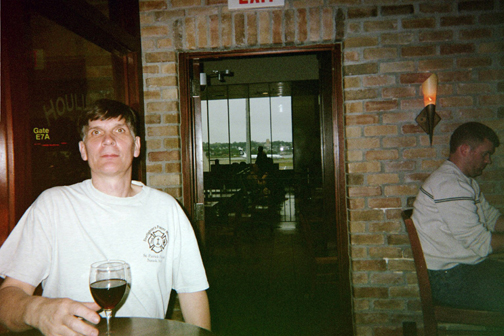 Paul and wine at Houlihans 5/28/2009
2:50 PM, Logan Airport, Boston, MA
Our flight is at 6:20PM so I am presently in "relax mode." No problems getting through security. The airport is almost deserted! Cool! And no problem finding an empty barstool at Houlihan's. The Red Sox are playing the Twins on the big screen TV, the Black Russians are treating me very well, and the guy next to me is not blabbing on his cell phone. So far so good! A tap on my shoulder. It's a smiling Paul Murphy, our drummer, with a glass of red wine in hand. "How long have you been here?" he asks. "Two drinks. You?" "Same! I've been over in that corner," he points. "Seen Jeff? I ask. "Oh yeah, over near the gate, with Peter."
Peter Greenberg played lead guitar in our old band DMZ. Why is he playing in the Lyres, you ask? It's because our regular guitarist Dan McCormack quit. So Peter graciously agreed to play these Spanish dates. In fact, he spent a lot of his own money to fly out to Boston from his home in Taos, NM. The band's integrity is intact, in case you were wondering, because on March 26, 1982, this very same line up played a set at the infamous Cantones club in Boston. None of us can quite recall how we ended up onstage together. A cassette tape of the event somehow survived and Peter had it professionally mixed onto a CD.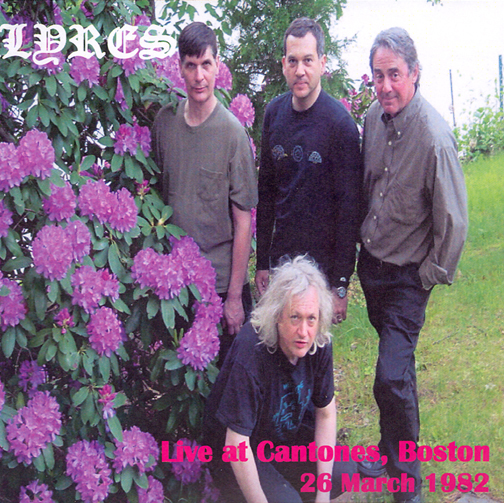 Photo by Stevie Conolly
11:50 PM, Somewhere over the Atlantic Ocean
This is the hardest part about flying. It's way past my bedtime and I just can't fall asleep. Not even the wicked lame movie "Last Chance Harvey" with Dustin Hoffman can lull me to sleep! I look over at Peter. Earplugs, black eye mask and a blanket pulled completely over his head. I'm fairly sure he is in dreamland.
It is early morning on the Iberian Peninsula and I set my watch ahead six hours. Outside on the horizon, the sun is just now rising, flooding the cabin with warming, wonderful light. The captain announces that we will be landing in Madrid soon. Gracias a Dios! I can't wait to stand up, stretch my cramped legs and get away from the monotonous din of the engines.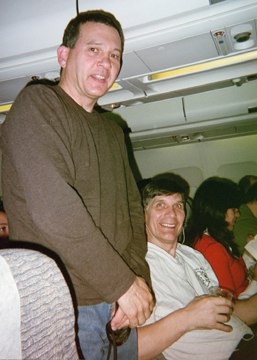 Peter Greenburg and Paul Muphy...somewhere over the Atlantic Ocean 5/28/2009
7:20 AM, 5/29/09 Barajas Airport, Madrid, Spain
It's so nice to be back in Spain. If you have ever been, you probably know what I mean. The people are friendly and respectful, and the food is wonderful. As is the wine and beer. Even the weather is pleasant. I guess the only downside is that it is sometimes hard to find someone who speaks English. Madrid is not unlike many large cities -- wide streets and sidewalks, traffic, lots of large buildings -- but outside of Madrid, agriculture abounds. The countryside is wonderfully green, hilly, and picturesque. Grapevines are everywhere.
We experience a tense moment at the baggage claim area. Peter's guitar hasn't appeared on the carousel. I joke that it's probably on EBay already! Peter is surprisingly calm about the whole deal and manages to find an English-speaking airport worker, who tells him about a special place for oversized bags, and sure enough there it is! Seta bien! We find our way to Customs and submit to the usual. In my case, only a quick look at my passport but Jeff is pulled aside for a random baggage search. An officer in a crisp tan uniform leads him behind a dark grey divider. The rest of us just move on because if they see ya hanging around, they may decide to search you as well. Not that we have anything to hide; it's just a pain in the ass.
I push open the security door to find our old friend and promoter, Pepe. Over the years this guy has brought the Lyres to Spain at least a dozen times and has always treated us well. Today he will accompany us on a flight to the Atlantic coast and a beach town called Portonovo. Another old friend we call Doctor Jimmie, will drive our backline and guitars in a small van. According to Pepe, the drive will take about six hours, more or less, "depending on how drunk he gets!" Our flight will take about an hour and a half.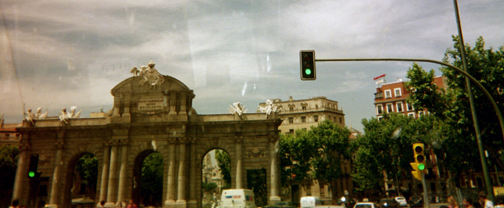 Central Madrid.
11:20 am
Even though I have been awake for more than 24 hours, I feel surprisingly perky! I never feel perky. I need a drink! We have an hour to kill before our flight to Portonovo, practically a blink of an eye in "Airport Time!" Pepe is buying breakfast so I have red wine and a cheese sandwich.
At a long Formica table, Jeff is putting together a couple of dozen CDs of the aforementioned "Lyres at Cantones 1982". With a black sharpie, he writes a serial number, the price of ten Euros and "limited edition" on each one. Pepe shakes his head. "It is too much money. Someone will buy one and make copies for everyone!" he says with a circling motion of his finger over his head. Unable to escape the logic, Jeff puts away the sharpie.
Finally we enter the small jet. Two pre-pubescent soccer teams board with us. One team wears identical green and yellow sweats, complete with matching sneakers. The other team is in black and bright red. All the adult coaches wear matching sweats as well. Pepe informs me that most Spaniards take soccer very seriously and children fly all over the country to compete! The boisterous flight ends with one of those scary bouncing landings that shakes up your brain. Both soccer teams applaud loudly. Hell! I feel like applauding myself. It would be really bad form to crash and burn before the first gig!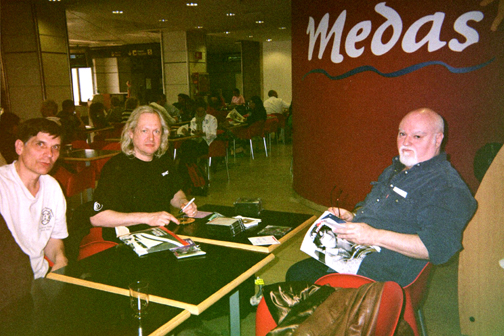 R to L: Pepe, Jeff and Paul, Madrid.
Jeff putting CD's together.
1:40 pm Santiago Airport, outside Portonovo
We all board a fancy Volkswagen van and soon the lush Spanish countryside is rolling by at 100 kpm.
After about an hour I start to see glimpses of blue ocean through the green hills. Palm trees and cactus are everywhere. That nice salty seacoast smell is in the air.
In the lobby of the Hotel Canelas, the driver ducks behind the bar and opens cold bottles of the local lager beer. Morale is high. The first leg of the trip has finally come to an end. I elect to room with Paul, Jeff and Peter will share another room. Pepe wants to tour the seacoast and invites us all. I would love to go with him but I just gotta try to get some sleep. Paul signs up for the tour. "I'm kinda wound up after the flight!" he says. I drag my ass up to the room, pull the dark curtains shut, pop a couple of Advil PM and crash into bed.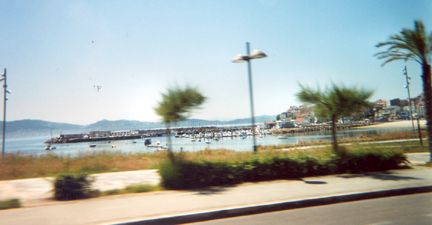 Glimpses of blue ocean.
5:00 PM
It's amazing how good a guy can feel after just three hours of sleep, a hot shower, and a shave.
Paul is back from his tour with Pepe so I decide to vacate the room and let him have some time alone to sleep or whatever. Fortunately, it's a very comfortable lobby and the nice lady at the front desk is letting me go behind the bar and grab cold beer out of the cooler! The hospitality is AWESOME!
I sit for about an hour doing crossword puzzles and drinking the local brew. The elevator door opens with a melodic ding and Peter emerges holding his right forearm. I peer at him over my glasses. "Everything all right, Pete?" "My arm hurts" he places some ice in a towel and holds it to the sore spot. "I'll be fine. It's just that I haven't played guitar in years" he confesses. "Let's get some fresh air."
As we walk down to the beach he explains that for many years he got caught up in the corporate world, even becoming the president of one company. He told me that climbing the ladder of success was no picnic but he was determined to see it through for his family, his pride, and I assume, the money. But the pressure eventually got to him. "It aged me" he says. The decision to pack up the wife and kids and move to the quiet little artist community of Taos New Mexico must have been quite a revelation. I am happy for him.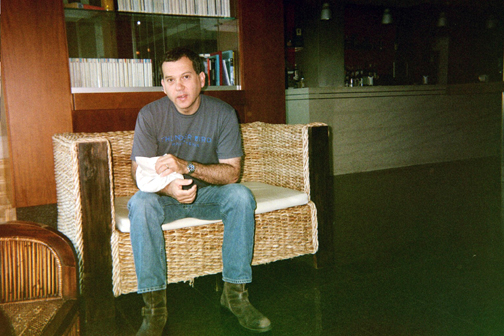 Peter 'iced up' in Porto Novo.
6:30 pm
Time for sound check/rehearsal. Did I mention that the club is next door? Yes! It is actually directly next door! How convenient is that!? While setting up our equipment, Doctor Jimmy tells me a story about how this nightclub used to be the biggest, most popular disco in the area. Thousands of people would attend and the owner was raking in grande Euros. Life was good. Then one day, the only other nightclub in town started letting all women drink free and that was it! The end of Discos Playa Canelas!
This place is actually three very large rooms, each with a large mirrored disco ball hanging from the ceiling, a long varnished bar, and a state of the art sound system. All gathering dust. Now they use one of the smaller side rooms for their heathen Rock and Roll shows. They do not even open up the fancy front door with it's expansive and elegant curved stairway. A small side doorway is used instead.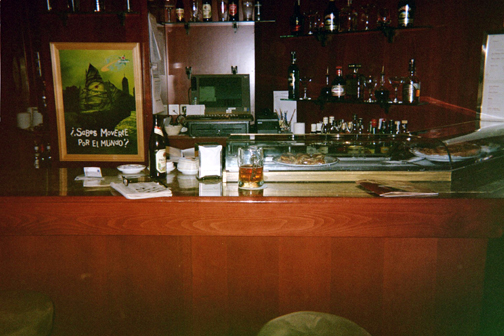 Hotel Bar.
About 8:00ish
Pepe is taking us out to eat. I love this part.
We drive to a very quaint part of town with narrow cobblestone streets and old stucco buildings. I also love Spanish restaurants because they really care. With a wave of Pepes hand, tables are being pushed together, chairs are being arranged, and wine is being poured. The napkins are cloth. There is fresh bread and green extra virgin olive oil, large olives and fruit, crispy rolls and real butter. Sitting at the head of the table, Pepe dons his glasses and looks over the menu which is written completely in Spanish.
The smiling owner comes over, obviously pleased at the table full of patrons enjoying themselves. Pepe orders for everyone and then points toward Paul and says what I assume is, "vegetarian. No Meat or eggs." Twenty minutes later the long table is overflowing with all kinds of food and wine and I am lustily devouring the most amazing pork dish.
After dinner we follow Doctor Jimmy down the street to a small bar filled with young bohemian people. This is obviously the hip bar in town. It has plenty of couches and big comfy chairs set up into little conversation areas. The bartender immediately recognizes us and slaps "Don't Give It Up Now" on the turntable.
Shots of whiskey are being poured for everybody. We seem to be the center of attention! Are these people old enough to drink?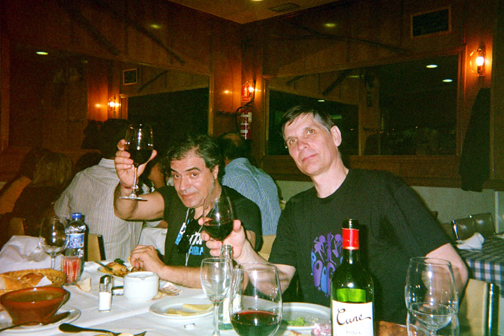 Dr. Jimmy and Paul Murphy
Dinner in Madrid.
5/30/09 12:00 midnight or so.
The show seems to be well attended but not packed. I'm guessing about 300 men and one or two women (including the barmaid) are here right now. A real sausage party! I just cannot imagine a lot of people coming way out here to the suburbs to see us. In Boston it would be like driving to the Hampton Beach Casino, or the Mill Hill Club in Yarmouth. Both aging venues that are way too large and way too far.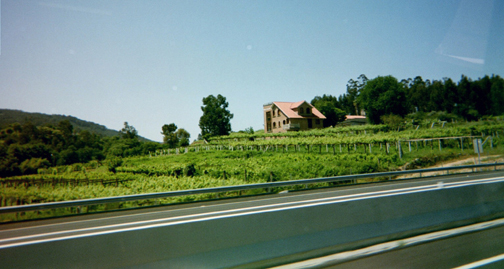 Spanish countyside.
2:00 am
A band called "Los Justicieros" is playing and I am watching them from the right side of this large theatrical stage. They are, like us, a four piece organ band with kind of a vintage garage rock sound. I like them and they obviously have some fans here.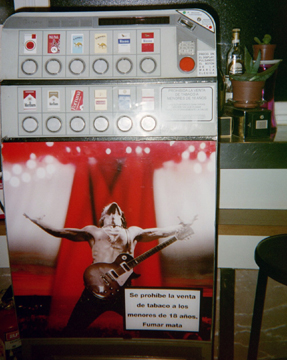 Rock Star Cig Machine
in greasy spoon, Madrid.
Be a Rock Star - Smoke Luckies.
4:00 AM Time to play! Yeah!
It is 4:00 in the fuckin' morning and we are just now going onto the stage to play our set. Unbelievably there is still lot of people here. I am so very tired but I give our set my best effort, but with only three hours of sleep, there is only so much I can do. I don't even use up all my drink tickets before I drag my tired butt out of there and up to my room.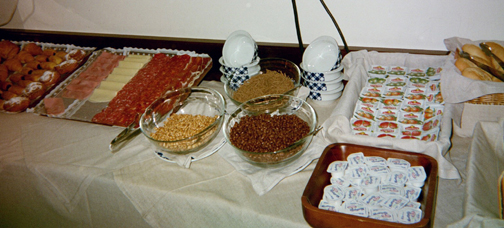 Cold Cuts and cheese.
Breakfast - Yum?
9:15 AM
I slowly emerge from a dream because the phone next to my bed is ringing. I pick up the receiver...dial tone. I slam my head back down on the pillow. A loud knock on the door... then a voice with a Spanish accent says " We are leaving now."
"Jeez! How 'bout a little notice!" I pull my clothes on, pack up my stuff and head downstairs to a cold cut and cheese breakfast. Yum?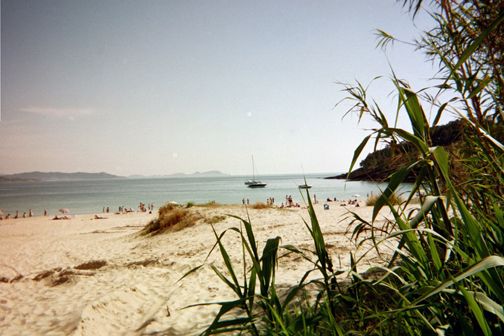 Porto Novo Beach.
12:10 pm Back in Madrid
We arrive at the hotel in central Madrid. Paul and I decide to try the hotel restaurant. The mushroom tortellini kicks ass! Over a nice bottle of Spanish Merlot we blab for about an hour, then order another bottle.
I confess that I am seriously thinking about quitting the Lyres. Ever since my buddy Danny quit, the band has kinda stood still and I am not happy.
We played a gig or two with our old guitarist Steve Aquino, and that was fine because he knows all the songs, but the prospect of breaking in a new guy makes me wanna puke! All the rehearsals, the late nights, the yelling, the personality clashes, the nit picking, all the crap that has become a standard Lyres rehearsal is just unthinkably horrible to me right now.
" Yeah, Jeff sucks all the fun out of it!" Paul says and we laugh aloud. "But we are really depending on you" His words echo in my brain.
It's been such a long road for Paul and I. We were just children when we took that first step on a journey that brought us all over the United States, Canada, and Europe, mostly with the Lyres but we were together in many other bands; The Children's Rock and Roll Band, DMZ, The Shambles, and The Last Ones. While our personal lives twisted and turned with its ups and downs, highs and lows, ins and outs, joys and sorrows; while we grew up into men, with wives, ex wives, houses and children and all the responsibilities of having such things, we had this music thing going on. It was like a backdrop to temper our feelings, a place to funnel our emotions and to forget about our problems.
Here it is, the year 2009 and we are still here, Rick and Paul Incorporated, established in 1971.
Deep down inside, something tells me that I will miss it. Hell, I'd have to be made out of stone not to.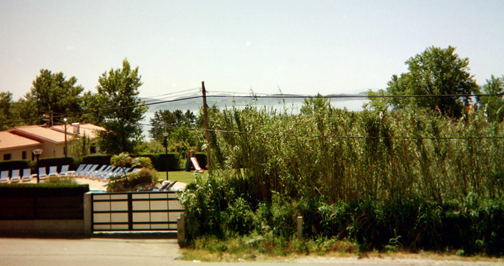 Porto Novo Spain.
3:00PM
Okay, enough of this sentimental drivel. I need a walk, and maybe some souvenirs for my honey. I soon realize that not much is open. It's Siesta! That nice Spanish tradition that closes many businesses for most of the afternoon.
A block and a half from the hotel I spy Peter across the street. He is holding his forearm and looking around like a lost tourist. I stick two fingers in my mouth and whistle sharply. That got 'im! "Yo! Wait up" I dart across the boulevard. "What's up?" " The guy at hotel said there is a pharmacy around here." "There is" I point to a small green neon cross that is attached to the side of a building. "C'mon, I'll go with ya."
The Pharmacia is not actually under the green neon sign but halfway down the nearest cross street. Peter grabs the doorknob and pushes. "It's locked" he said. "Siestaaaaa!" I sing in my best phony baloney Spanish accent. "Hey, try the doorbell" Sure enough a young blonde woman in a white lab coat appears and opens the door. Peter explains the problem via sign language. The pharmacist opens a drawer and produces a small bottle of Advil. "Do you have anything stronger?" He asks while making a fist and giving the muscle arm sign. From the drawer she fishes out a small white plastic bottle labeled with an unpronounceable ingredient. Peter Googles the 12 letter word on his Blackberry and the deal is done.
We leave and hit a Spanish greasy spoon for a sandwich and a cerveza.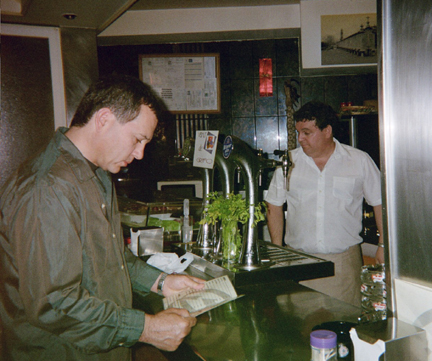 Greasy spoon - Madrid.
7:00pm Time for sound check.
We meet Doctor Jimmy in the hotel lobby and he announces that we will walk to the club. It's only four blocks up and four blocks over yet somehow we get lost! A Spinal Tap moment for sure! Jeff pulls out his map and eventually we accidentally find our way.
The club is nice! Not too big and nicely laid out in the classic rectangle with a tall stage at the far end. Jeff is abrasive to everyone during sound check. It's so boring!
He does not like the legs on the organ and he is having quite a screaming fit about it. If we were back home I would be seriously tempted to walk. I won't miss this crap.
After the sound check Pepe takes us all out to a cool little seafood restaurant nearby. Soon after we all sit down, Jeff gets pissed off at something, I'm not sure why, but he stands up and walks out. Pepe gets insulted, throws down a couple hundred Euro to pay the tab, and storms out saying he will never come see the Lyres ever again.
"Jeez! The same thing happened the last time we were in Madrid!"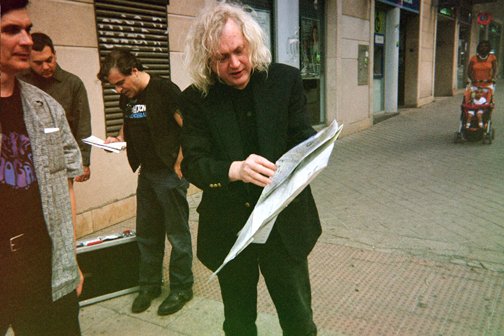 Spinal Tap Moment.
Paul, Peter, Dr Jimmy and Jeff.
10:30 pm
It is so uncomfortably crowded in the club that I don't see "The Reigning Sound" or "The Urges". Instead, I hang out with Paul and Peter. Sitting outside on a stone wall across the street, we talk and watch the drama.
On the sidewalk near the door, Pepe is talking with a group of people. As soon as he sees Jeff nearing, he quickly turns, crosses the street and disappears around the corner. It would be so sad if this is the last time I will see him.
11:15 PM. On stage.
I am tuned up and ready. I flick the switch on the beefy bass amp to 'ON' and it hums softly. In a few minutes the black velvet curtain will open and our set will be underway. I hope Peter will remember all the songs. I won't remember them all but I can fake it pretty good! Guitarist have to be spot on but us bassists have a lot of wiggle room. Finally the curtain opens. The surging energy in the room spikes and takes my breath away, almost like jumping into a cold swimming pool on a hot summer day, but with more adrenaline. The sound on stage is superb. I can hear everything and the audience is responding wonderfully.
Suddenly I am twenty two years old, onstage at the Rat, moving with the music, flushed with the excitement and wonder that fills a young man's head when he is thrust in front of a capacity crowd of passionate Rock and Rollers.
It is very liberating, almost spiritual. This is what every gig used to be like, and I realize how very much I have missed that feeling. My heart and soul are so into this moment that all the rehearsal and lost sleep, the many hours stuck on a plane, Jeff's bad behavior and all the other crap is somehow magically transformed into positive thoughts and I am moving with this crowd, feeling every chord and enjoying every second, so glad that I stuck it out and triumphed over my feelings of quitting, just so that I could be here, in Madrid Spain, to experience the best gig of my life.
RC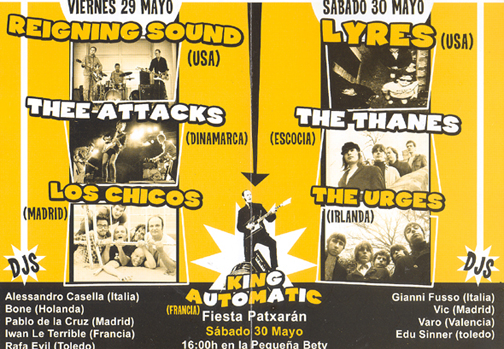 AD for show.
This episode's song is......
"Lost Beer Blues"
Written by Aprill/Coraccio
Click Here
---
home | interviews | photos | features |BGN issue list | reviews
links | contact us
Copyright © 2007 Rick Coraccio. All rights reserved.