Past episodes ...Click Here
Ralphs in Worcester - Kirkland Cafe
9:35pm 4/25/03 Friday night
I am screaming down the Mass Pike on a beautiful, mild, starlit Spring night. Puffing on my favorite cigar, a Honduran 'Apolonia Double Corona'. "Hey, don't fall off the end of that thing." the smiling toll booth guy remarked as I tossed him a buck sixty. Muck and the Mires on the CD player brought me right up to seventy in no time. I took the Route 9 exit off of 290, hung a right, then left into the familiar puddled and pothole strewn, back driveway of the fabulous Ralph's Diner in Worcester, Mass.
Splashing mud as I bounced over old railroad tracks, I backed my pickup into a space adjacent to the back door. Right on the edge of the humongous puddle, that has been in front of that back door for at least 25 years(as long as I have been coming here). ˜Lake Ralph" as I call it, is a real problem, even at low tide. Always has been. Always will be. Especially for the bands, who need to use that back door to move equipment. It's all part of the charm. There is something good about a place that hasn't changed much over the years, like Fenway Park.
10:26pm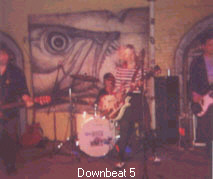 I entered the diner, and for the one hundredth time, I tripped on the raised threshold. The door guy caught me. I asked him how many people he has saved. Pretty much everyone who walks through that door. "I'm ready for it. It's a great way to meet girls. Five bucks cover tonight." he answered. HA!! A paltry five dollars to see The Real Kids and The Downbeat Five? "I'll tell ya what, I'll give you SIX!!" To put things in perspective, I paid NINE dollars at the Middle East, on a Tuesday night (to see a great band called Cheater Pint.)
The dining area was fairly crowded as usual, there are only two things on the menu: a burger and a bag of chips or a hot dog and a bag of chips. (I had 'em both and I proclaim them "Damn Good"). I took a right into the downstairs bar.
Scanning the room, I noticed two things:
1) There are a lot of tattoos in Worcester.
2) The Jaegermeister machine was still operational. I was caught in its "tractor beam", drifting weightlessly, uncontrollably, towards its shiny metal exterior, like a tethered astronaut on a space walk. A gorgeous "three bottle" device with lots of curly tubing, pilot lights and chromium valves that will chill the stuff down to about minus 10 degrees Kelvin.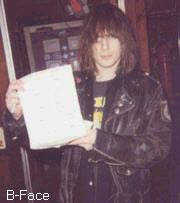 It was a damn good thing that my friends, Artie & Pattie Sneiderman, were sitting right in front of the darn thing. He caught me admiring it and reminded me that I will be driving home for an hour, alone, late at night, with lots of cops around. "Wipe the drool off your chin and let me buy you a beer." he said. "O.K. then, beer it is." I answered. While we were sitting there talking, Real Kids bassist Chriss Bernard, a.k.a. B-Face, walked by. Apparently he was on "Set List Duty" and he proudly displayed the result of an hours work.
Worcester is a great Rock and Roll town that used to have their own thriving local rock scene, I mean to say, it IS still there of course, but it is barely being kept alive.
I can remember having steady gigs in half a dozen great clubs, like Rick's and Sir Morgan's Cove. They are all gone now. But Ralph's has survived unscathed and unchanged (except there is no longer a Harley-Davidson panhead hardtail hanging from the ceiling).
Fortunately, 'we' are only about an hour away from 'them'. It's not really too far to drive for a night out. Consequently, we see a lot of 'worm town' guys, here in our clubs, and also in our bands, and vice versa.
A few examples; Worcester native Steve Aquino made the trip for 7 years, to rehearse and gig with The Lyres (therefore lasting longer than any other Lyres guitarist). He also played in a couple of bands with J.J. Rassler (The Odds, The Actions). Drummer Paul Murphy and myself would travel two nights a week to rehearse with a band called The Shambles, that also included Steve Aquino, as well as singer Artie Sniederman.
How many of you can remember when the Worcester guitar virtuoso Preston Wayne played in DMZ? (I can barely remember it myself!!!)
11:00 pm
It's time to make that familiar trip up the stairs to the band room. At the top of the stairs is a large full length mirror, so one can check their 'look' before entering. I'm surprised this mirror hasn't been smashed into oblivion, but, just like 'Lake Ralph' this mirror is still here. My book of "Guy Rules for Straight Men" strictly states that under no circumstances may a guy stop and adjust his hair or clothing in public(this may be done in the men's room, which also has a mirror.
Upon entering the upstairs room, I was perplexed by the Muck and The Mires banner festooning the drum kit yet it was obviously The Downbeat Five scrambling around the stage, setting things up. I sidled up to my friend Evan Shore. "What's going on?" I asked. "Linda (Khory) is filling in for Dan." he answered. Apparently, the guy had his tonsils taken out and, for obvious reasons, cannot play. WOW! This is going to be interesting.
11:25pm
The Downbeat Five played an absolutely wonderful set. Linda didn't miss a beat and caught every break flawlessly. She gave the band an lifting spark, and made it look EASY. She IS arguably the best drummer in Boston, sure, just MY humble opinion, but you will not find many who would disagree. Ralph's has an excellent P.A. system, owned and operated by Steve (I don't know his last name) The vocals always cut through even with a loud band like the DB5.
12:20am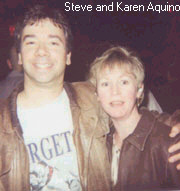 Alright!! The Real Kids!! I love these guys, and I'm feeling pretty good. My buddy, and ex-bandmate, Steve Aquino is here with his wife Karen. Steve kept buying me beers, God love him. He misses The Lyres but he had to get away from the madness. It was just too overwhelming balancing his job, school and his marriage(I miss you too Stevie).
There is an angry young heckler right up front, and right in John Felice's face. The guy has sunglasses and a hood over his head like the UNIBOMBER. He is requesting songs that The Real Kids would never play in a million years. At first John brushed him off by joking "Ask Criss, he knows all that stuff." The kid persisted and a few bars into "Bad to Worse" the guy grabbed John's set list and tore it into little pieces. John immediately stopped the set and announced "I want this punk out of here. We don't play another note until this asshole is kicked out." John's eyes were boring holes into the dude's skull.
The bartender/bouncer dutifully came over and grabbed this skinny idiot. One hand on the scruff of his neck and the other on his belt (just like in the movies) and literally heaved him out the door. "You guys aren't PUNK!" he screamed. (Dude, these guys were PUNK before Punk was invented!) There was a huge cheer and the rock and roll celebration continued. It seemed like everybody was dancing, not unusual for Worcester. Another reason why I love this place.

3:05 am
I am crawling into bed.

7:10 am sat.4/26/03
I hear the voice of Alex Piandes saying something about "music to clean the toilets by". It is not a nightmare. It's simply my alarm clock radio(tuned to WMFO 91.5)that has turned itself on at 6:00 am.
By now I know the drill; drag my Italian ass out of bed and turn on the computer across the room, a whole four feet away. I span the distance unscathed but winded.
I am fortunate enough to get the fabulous ˜Coffee'n Smokes" radio program over the airwaves. However, it sounds so much better on my computer using Winamp, plus it is really fun to use AOL instant messenger (wmforadio). If you 'I.M.' something funny while he is talking, he always cracks up right on the air, and comments about it. I can usually get him going pretty good. He also 'I.M.'s' back. Its all quite entertaining. All this and pissa music too!!!

6:45pm sat night 4/26/03 mild/ pouring rain
I offered to provide the bass amp for tonight's gig at the Kirkland Cafe featuring Muck and the Mires, The Downbeat Five, and The Lyres. I figured it would be easier to drop it off early because of the rain and the parking problem. I guess I didn't think anybody would be there but apparently the place is like an upscale joint during the day. I had to push my amp through a large party of young urban professionals. All sport jackets and dresses. I only mention this because I haven't showered or shaved yet, I looked like a drowned rat in sweatpants. These people were recoiling in horror.

9:45 pm
The streets were still shiny from the rain, only a light mist swirled around the headlamps. No such luck finding a parking space in front. I was fortunate to find a space two blocks away.
I could hear Muck and the Mires fairly loudly. Not because they are a loud band, they are most certainly NOT a loud band, but because the Kirkland sets up the stage right in front of a big window. The only thing that separates a full blown rock band from the outside world is a thin pane of glass and I can see the back of Linda's head as I walk by to the entrance. The neighbors must be bumming.

The door is close enough to the stage so as to make it uncomfortable for a shy guy like myself to enter. Especially when the band is playing. But hey, it's all part of the Kirkland experience. We all know each other anyway!!! Dodge Street promoter,Terry Brenner, Kirkland promoter Mickey Bliss, Real Kids bass guy Criss B-Face, Photographer Artie Freedman, the alluring and unobtainable Laura Markley, Boston Groupie News Editor Miss Lyn (looking really cute in a long gray skirt and black boots) along with BGN "Evil Webmaster" , Blowfish, WHRB deejay Dinos Mekios, good looking, super nice, Andrea Gillis (on loan from the Abbey Lounge), and of course all the band members (which, in itself, would be a cool party).
Muck and the Mires were sounding so friggin' good, Andrea kept jumping up out of her seat, yelling and dancing, arms in the air. It IS difficult to stay seated while these guys have the stage. The upbeat quotient for tonight's set is a perfect ten. They're having fun and it's infectious. Muck and the Mires are one of my personal favorites.

11:00 ish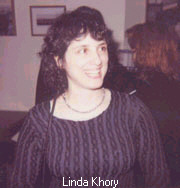 Once again, The Downbeat Five sounded great, still with Linda Khory filling in on drums. "How are you ever gonna go back to Dan?" I jokingly asked guitarist J.J. Rassler. "I don't know Rick," he answered, "it's like sleeping with a NUN one night and a $200 dollar hooker the next night!!!" I can always count on J.J. to come up with a good sexual analogy.
12:00am ish
I must admit to you that I am a little nervous and intimidated by these two great rock outfits that just played their hearts out. The Lyres haven't rehearsed since our last gig in Brooklyn. There is only one thing to do in a situation like this and I took immediate action; "Black Russian with Absolute," I told the bartender, "and a Bud!" I blurted out. Ya Ya Ya, I know its like 'liquid courage', but at this point I'll take it any way I can get it.
12:05am ish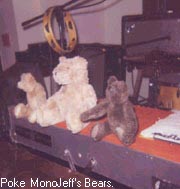 Jeff Conolly entered the club and sat three Teddy Bears on the borrowed Vox Jaguar organ. He had his 'Mothers Day haircut' (as he put it). It was shorter than usual for Jeff, but not TOO short and it looked pretty good, in a boyish kind of way, and he was in a good mood. He welcomed everyone to our "Kirkland Cafe Rehearsal" and counted off ' How Do You Know'. I made it through the set alright I guess, and I'm glad he decided not to play 'Nobody Does This Anymore' because I STILL can't play it after seven years, even with cheat notes, I just can't get the chord progression through my THICK SKULL. I just don't know what it is, the song just will not stick. Every time he counts it off in a set I just want to scream, "IS THERE A REAL MUSICIAN IN THE HOUSE?!" After each and every song Jeff felt compelled to walk over and have a discussion with our young guitarist, Jarred Garret. I think he was critiquing the previous song. It didn't help the flow of the set, but it did allow me plenty of time to drink both my Black Russian, and my beer.
I had forgotten my tuner, and even though I tuned to the organ, it seemed a little OFF, like I was "psychologically" out of tune. It occurred to me that the borrowed organ may not be in tune to the guitar. Oh well, it was a fun night at The Kirkland, and, as my friend Laura Markley once said, "It's Rock and Roll, it's not supposed to be perfect." RC
---
Home | Interviews | Photos | Features |BGN Issue List | Reviews
Links | Contact us
Copyright © 2003 Rick Corracio. All rights reserved.