Past episodes ...Click Here
From Wells, Me. to The Abbey.
An Email from Miss Lyn, dated sometime in July, started off with "Hey stranger, remember me?" "What's your name again?", I typed, and clicked on "send".
Ya, I guess I did kinda drop off the planet for awhile! And a few emails from my fellow Wednesday Night Club members, Jimmy Birmingham and Michelle Paulhus, also inquiring as to my whereabouts, (Michelle very sweetly adding, "We miss you.") got me missing the club scene here in Boston.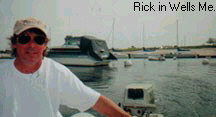 Well, what the hell, It IS Summer, and the lure of my beloved boat, floating in beautiful Wells Harbor Maine, is more than an old salt like me can resist. None of my bands; The Last Ones, The Lyres, or DMZ are gigging much this time of year, add in the excitement of NEW LOVE in my life, and there you have it, the "disappearing Rick trick".
I figured it was about time to show my face again, and the Thursday night bill at The Abbey Lounge, featuring the fabulous DENTS, was just the ticket.
The 10:00 pm start time (for The Dents) was especially attractive, because after all, it is a 'school night' for me. Not so for my wonderfully cute honey, Mary Jo Felice, who proudly sports a four day work week, (that I am wicked envious of.)
9:50pm 8/21/03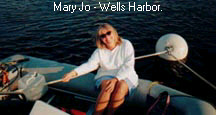 It is a warm, humid, steamer of a night here in Boston. The decision to take Mary Jo's air conditioned Camry, as opposed to my old, hot as hell, pickup truck, was pretty much a no brainer. The drive from Charlestown was cool. We listened to Steve Earle on the car stereo, and chatted about nothing, and everything. Inman Square seemed unusually quiet, but my favorite parking spot in front of The Abbey, was unfortunately occupied. I swung the aforementioned cool Camry into an open space about a block from the club, and being the 'old school gentleman' that I am, I walked around and opened Jo's door for her. She swung her pretty legs around in an attractive ladylike manner, hopped out of the car, threw her arms around my neck, and planted a big, warm, kiss, soundly on my lips. Through her scented blonde hair, I could see Mr. Kenne Highland, bopping down the street toward us, loudly singing a song to the buildings next to him. "Great echo right here, almost like reverb." he explained, as he passed on by, a wry smile on his face.
10:00pm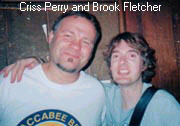 We entered the familiar ˜bar side" of the club, and ordered up. Barkeep Steve greeted me with a big smile, and a handshake. "What'll it be Rickster, High Life?". "And a Captain Morgan and Sprite." I added. Feeling eyes focused on my back, I turned to see my great friend, Criss Perry, sitting at a table with his attractive wife Esmay. "Where have YOU been Rick?" He asked. "Oh, I've been laying low." I replied as I reached across table to shake his hand, knocking down a half a dozen empty beer bottles in the process. "What's up with you, man?" I asked as I quickly turned away to retrieve my drinks from the bar. "I did the Wednesday Night Club four weeks in a row!" He proudly announced, and took a massive swig from his Budwieser longneck. "Well, that pretty much makes you an official member. There's no turning back now!" I joked.
10:10pm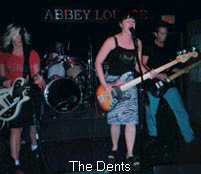 With drinks in hand, Mary Jo and I entered the band room just as The Dents were taking the stage. I tossed Andrea 12 bucks, and we presented our hands for the ritualistic stamping.
That being done, I found myself a nice little corner, not too far from the stage, and leaned my back into it, playfully pulling Mary Jo against me with my arms around her waist. She giggled girlishly. Suddenly, bassist Michelle Paulhus, kick started the band into an energetic, fast moving set, of extremely likeable, short tunes that got everybody in the room, including myself, moving to the beat. Two, of the four Miller High Life longnecks, that Michelle had lined up behind her, were empty by the fourth song , and lay on their sides like dead soldiers. The third one was frothing over onto the riser. Her lead vocals were gutsy, spirited and animated. Occasionally the lead would switch to the competent, and cute guitarist, Jen Rassler. These two female voices blend well together, and I thought the band sounded just great.
10:55pm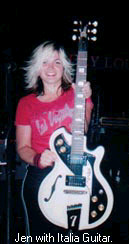 "That's a cool guitar Jen, what is it? May I take a picture of it for Boston Groupie News?" I asked as I approached the stage after The Dents set. "Sure Rick, it's an ITALIA." Jen beamed proudly as I snapped away. Meanwhile, Michelle emerged from backstage, and quickly halted Mary Jo from giving her a big bear hug. "Oh, you don't want to hug me right now. I'm absolutely soaked!" she explained. Indeed, her well coordinated outfit was simply dripping, but ya know, she still looked great. "Break any fingernails tonight ?" I asked. "Nope, I don't have any!"
11:05pm
"Time to split, Mary Jo?." "No, lets have another drink. I'm buying." was the not too unexpected answer from a woman who was already well into her weekend. (Jeez Rick, your becoming such a lightweight in your old age!!!. Remember when you used to close every bar, weeknight or not? Well, actually NO!! I don't remember.) Well, what the heck, let's have another drink. I really love this old bar, but the transition from the loud, crowded, smoke filled venue, to the cool, still, quiet, starlit night air, was nothing less than euphoric. My nostrils are transmitting oxygen to my bloodstream, clearing my thoughts. I am smiling, and so very happy. RC
---
home | interviews | photos | features |BGN issue list | reviews
links | contact us
Copyright © 2003 Rick Corracio. All rights reserved.