Past episodes ...Click Here
The Boston Groupie News Party
The Abbey - 6/20/03
Small, white, puffy clouds drift lazily by, against a backdrop of Mother Nature's finest, midsummer, late morning sky. The sun sparkles off tiny ripples, on the oh-so-greenish-blue, southern Maine coastal waters, in pleasing little flashes. The sailboat masts are gently swaying to a soothing symphony of waves lapping the sandy shore, and singing seagulls are circling slowly and serenely. A pouting, chestnut haired femme fatale, barely clad in a black string bikini, stretched out seductively next to me, on a blue towel, is gloriously decorating the aft deck of my boat. She reaches out to me with a bottle of Hawaiian Tropic in her impeccably manicured hand. "Be a dear and do my back, willya handsome?"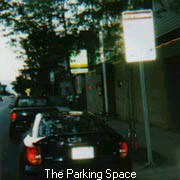 Suddenly my cellphone chirps loudly and I am rudely transported back to reality. Abruptly jerked out of a worldclass daydream. Only to find myself stuck in traffic on the Gillmore bridge, amidst a cacophony of loudly honking horns, carbon monoxide fumes, impatient tempers, and 'one finger salutes'. I am on my way to the fabulous Abbey Lounge and the Boston Groupie News We're Back Bash Party therein.
The caller I.D. reads 'Dan Mc'. "What's up brother?" I asked, as I lit up my last Apollonia Matador. "I regret to inform you that the prime parking space has been occupied." He announced with a chuckle.(Damn!, half the reason why I left my apartment so early, was to beat this guy out of that parking space.) "Hey, thanks for saving it for me.I'll be there in about five minutes." I replied. "Ha ha ha." was spoken in a typical Danny McCormack cynical manner.
8:05 pm Friday 6/20/03 Inman Square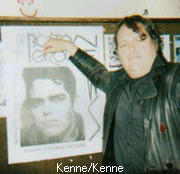 After finally breaking free of that excruciatingly long traffic light, in front of The S&S deli. I temporarily pulled into the bus stop tow zone, and unloaded my equipment, and as promised, there was Danny's sleek Toyota, parked in the only legal parking space in front of the Abbey Lounge, its grille and headlights mocking me with slanted Japanese eyes.
Upon entering the club, I immediately noticed that the band room was festively decorated with large posters of old Boston Groupie News covers. To my left stood Mister Kenne Highland, checking out his own likeness. Not being one to pass up a good photo opportunity, I asked him "Can I take your picture next to that poster?". "I gotta lose me some weight.", he muttered as I lined up my trusty Polaroid and snapped away. It is true that today he looks very different from that steely eyed soldier, on leave from the Marine Corp., depicted on that poster from 1978. But who among us, looks the same as we did in the seventies?
Not many!
9:15pm
Wow! This place is really starting to fill up. Already, there are enough bodies in here to make it tough to get a drink. I jammed myself between two patrons sitting on barstools and hung my face over the bar.
Barkeep Steve pointed at me from ten feet away and mouthed the words, "Black Russian?" (I love an intuitive bartender.) "With Absolute." I mouthed back. He acknowledged with a thumbs up signal and soon the magical potion was sitting patiently in front of me, beads of condensation rolling off the sides of the glass, onto the worn, brown, varnished bar. I reached out with a five and he showed me his palm, meaning; "This one's on me, Rick." I gave him a tilted nod, with raised eyebrows, meaning; "Thanks man, your cool." All done within 30 seconds, and without a word spoken!
9:30pm

The Other Girls arrive onstage wearing matching white ties. Coffin Lid, Skinny Mike Fuedale, is filling in on lead guitar for Jen Rassler. He's a great guitarist, but he's definitely not as pretty as the other Other Girls, Andrea, Melissa, Michelle, and Linda. What a great band!, Andrea's vocals are just so powerful and sexy. I just love the backing vocals provided by Michelle Paulhus, and sometimes Melissa Gibbs. Top it all off with the extremely competent percussionist, Linda Khory. Their cover of the Rolling Stones tune "Connection" really blew me away. I am a bit envious of Michelle's ability to operate the long scale Fender Bass. My small hands just do not have the reach. So I have always worked with short scale instruments.
10:00pm
This place has got to be near capacity, I have never seen The Abbey Lounge so crowded, though I have been told that it does occasionally sell out. Even the sultry and beautiful, Karen Dibiasse, singer/ songwriter from Girl on Top, has made a rare appearance. It was also nice to see the lovely and talented, Miss Rachel Lee. Two wonderful woman that I have a wicked crush on.
| | | |
| --- | --- | --- |
| | BOSTON GROUPIE NEWS | |
10:10pm
It's time for my band, The Last Ones, to get all our stuff situated onstage. I am so distracted by the stunning vision of Laura Markley, standing directly in front of me, flashing me that wonderful wry smile, that I could not get a proper tune on my guitar.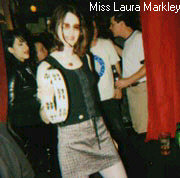 I strummed an E chord, and my guitarist Danny frowned and shook his head. "Everything is a half step sharp Rick! Willya forget about the chicks and get your shit together?" he chastised . (easier said than done!!) I swear my electronic tuner was telling me that I am right in tune! "Screw it." I said, "Gimme an E Dan." and we proceeded to tune the old fashion way. That being done, I quickly set up my Hammond, propped my Fender Deville amp up on the second tier, and flipped off the standby switch.
"Welcome to the fabulous Abbey Lounge, home of the best damn Black Russian in Boston!" I shouted into the mic, and took a heroic gulp of icy cold courage. We blasted through a short set of all my favorite tunes, starting with "In the Alley" and ending with our newest "I'm Bummed Out". Overall, I thought the set was pretty good. Not our tightest effort mind you, but it had a good feel, and girls were dancing. Nancy Neon, looking absolutely gorgeous in blonde hair and black, was shaking around right in front.
11:00pm
"Rick, can I borrow your tambourine?" "Sure, Laura, but only
if I can take your picture." I bargained. "Why do you need my tambourine?" I inquired, as I dug it out from the back of my amp. "Nancy and I are going onstage with Kenne." she sweetly answered with peppermint breath. Laura has my vote for the best dressed woman on the scene. Michelle Paulhus a close second. Sure, it helps that they're both drop dead gorgeous, but it's certainly not a requirement for that title. Cast your votes kids!
11:10pm
Kenne Highland and His Vatican Sex Kittens, tore into a very flamboyant set indeed. Laura Markley and Nancy Neon standing on the riser, dancing and shaking dueling tambourines. A visual treat! Later in the set, everybody's old friend, Mark Bell, front man for the timeless band Thundertrain, came up and performed with Kenne. They sounded great, and it was just a hell of a lot of fun.
| | | |
| --- | --- | --- |
| | BOSTON GROUPIE NEWS | |
12:15pmish
While I was blabbing with my bassist, Bruce Hammill, a very happy Miss Lyn, with a big smile on her face, proudly informed us, that the club had indeed sold out during The Last Ones set. I am very happy for her, because putting on this party, must have involved a sizable investment of her time. I'm quite sure she was apprehensive about the turnout.
The Prime Movers invaded the stage, and literally rocked the house silly. I am standing on the small stairway that leads to the sound booth, in the very back of the room, trying to see the band over the tall, imposing figures of D.J. Dinos Mekios, and writer Bret Milano, who have teamed up to form an unscaleable human wall, directly in front of me. It is literally the only square foot of unoccupied real estate left in this place.
Boston
Groupie
News
Boston
Groupie
News
1:00am
The house lights flash on and off, signifying 'last call' and all the band members, including myself, are busy going about the business of packing up equipment, and getting it out. I am thankful that I have found a parking space close enough to the front door, that I do not have to move my truck to load up my stuff. I do the job in two trips and head back inside to say my goodbyes to all the great friends and acquaintances that have congregated tonight, here at the fabulous Abbey Lounge, the church of Boston Rock, to celebrate the rebirth and anniversary, of a truly great Boston institution; The Boston Groupie News. RC
---
Home | Interviews | Photos | Features |BGN Issue List | Reviews
Links | Contact us
Copyright © 2003 Rick Corracio. All rights reserved.