Zeitgeist: All Kindsa Girls Preview
6/3/03
Past episodes ...Click Here
8:30 pm Tuesday June 2
I am so completely lost, I have been circling around this Somerville neighborhood forever. I am on my way to collect Miss Lyn. We are going to the Zeitgeist Gallery in Inman Square to check out the All Kindsa Girls Sneak Preview Party, featuring a preview of the movie directed by Cheryl Eagan-Donovan, as well as performances by The Real Kids and The Dents. (It sounds promising.)
After being funneled down a few one way streets, and after passing The Abbey Lounge for the fourth time, I finally break down and punch up Linda's number on my cell phone. "Can Linda come out and play?" I asked in my finest 'little boy voice'. "I don't know Ricky, let me ask my mommy." she joked. "Well, I'm quite lost. Could ya send up a signal flare or something?" I asked as I turned onto yet another dead end street. "I used up my last flare, the last time you tried to find my house. How 'bout I light the roof on fire, you could follow the fire trucks?"
8:55 pm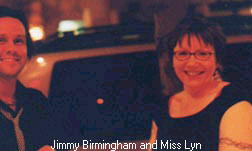 Ah, there it is! I swear that street wasn't there ten minutes ago! Miss Lyn is wearing a sleeveless top, and I noticed for the very first time, that she is quite well tattooed. It seems like everyone has them. I have often thought about getting one myself, but I could never think of a design good enough to spend the rest of my life looking at (kinda like women). So for now, I guess I'll just have to be different, and NOT get one(tattoos, not women.)
9:15 pm
Parking really sucks tonight. I finally squeeze into a space that couldn't have been more than two inches longer than my truck. Yup, did it in one try,(oh ya, I got skills.) Miss Lyn is impressed!
It is such an excellent night. Warm enough to leave my jacket at home. The air is so dry and refreshing that I just have to light up big stinky cigar.
Everyone is hanging out in front of The Zeitgeist and ducking in and out of The Druid, the bar next door, because The Zeitgeist does not serve alcohol. It is basically a art gallery, that has an occasional acoustic performance. Hey, 'go with the flow' I always say. So I duck into the bar, and run into my drummer and good friend, Richie Johnson, chatting with the legendary Helanie at a table in the corner. I order a beer and join them.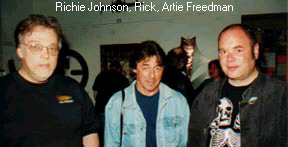 "Rick, I'd like you to meet my friend, Christina Agiulara." Richie said with a huge smile. Helanie was indeed decked out in a very Christine Agiulara fashion. Hair and everything. "Do you remember when I saved you from Ed Hood?" Helanie asked. "Jeezuz, just barely." I lied, as a flood of memories came rushing into my frontal lobe. (I guess that self-inflicted lobotomy didn't take.
Way, way back, in the stone age, when the rock band The Boize roamed the Earth, foraging for Budweisers. Ed Hood (R.I.P.) would show up at all our gigs. Mainly because we were cute and young, and he was old and gay.
One night after a gig, we all ended up at his Harvard Square apartment for drinks. I got so blasted that I failed to notice that everyone else had gone home! As luck would have it, dear Helanie, who happened to live in the same building, popped in and sized up the situation immediately. This leering old fart was attempting to get me, yours truly, so totally drunk, so utterly wasted, that he could have his way with me. I'm quite sure he wouldn't have succeeded, me being a heterosexual male and all. But I was just about passed out from drinking, and smoking the weed that Ed was continuously feeding me. Had I passed out, I know it would have been hard to get over the 'stigma' of staying over a gay man's apartment. My tough Somerville bandmates would never let me hear the end of it, and dear Helanie knew this.
After she deftly extricated me from Ed's apartment, I remember a very young, very inexperienced Rick, (that's me) nervously, but excitedly, following this attractive, experienced, older woman down the hall to her apartment. Helanie, this wonderful savior, effectively turned what could have been a haunting, lifelong nightmare, into one of the sweetest nights of my life. A memory I will never forget. She truly saved my life and my sanity that night, words cannot express my gratitude.
10:00 ish
The barroom door was open to the sidewalk. I watched as the amazingly gorgeous Bridget Murphy floated by. I immediately ran out the door after her and asked her to join us for a drink. We had a nice talk, finished up our drinks, and went next door.
The place was PACKED. Nearly everybody involved in the Boston music scene was there, as well as people I have not seen in decades. Ex-scenestress Eve was every bit as attractive and svelte as she was the last time I saw her at The Rat in the seventies. We talked for awhile and I do remember that wonderful smile of hers.
Surprisingly, John Felice's younger brother and sister, Jimmy and Katie showed up. I actually talked with Jimmy for ten minutes before I realized it was him, all the time thinking "I know I've seen this guy before, who is he?"

| | |
| --- | --- |
| Bridget Murphy | Eve |
On such a nice night, the sidewalk was preferable to a crowded room. There are a dozen people who feel the same way. Through the front window, I can see Cheryl Eagan-Donovan and Miss Lyn, laughing and commenting on the images displayed on the small monitor in front of them. "All Kindsa Girls" is being previewed to the crowd. HEY, It's ME! I'm so glad I didn't end up on the cutting room floor. They tell me I looked 'comfortable'. Well that may be true, but I definitely looked 27 pounds heavier. I could see it in my face. Since that 3 hour interview for the film, I have lost 27 pounds, on the patented, and popular 'Heartache Diet'. It works wonders, the pounds flew off in only one month. I can't say that I recommend it.

10:45 or so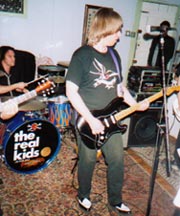 The Real Kids take to the stage. They are sitting on stools, but that is the only semblance to the 'acoustic' set that we were promised tonight. It sounded just great, but make no mistake, it was a full out, balls to the wall, loud rock and roll set. Drummer Jimmy Birmingham went through a dozen, pencil thin, 3b sticks. I can see the splintered pieces flying through the air. Finally he gave in, and reached for the big 5b's, and soon the owner was shutting the front door in a futile effort to contain the unstoppable sound of the fabulous Real Kids.
Alas, it was not to be, one complaint from a tired tenant upstairs, and the whole event was over for good. Soon there was a wave of humanity flowing down Beacon Street headed for, where else, but the great Abbey Lounge, a mere two blocks away. "Go with the flow, Rick."
12:01 The Abbey Lounge
I can't believe it's a weeknight. Everybody is hanging out like it was a weekend night. Don't these people have jobs? I haven't seen Miss Lyn lately, I assume she walked home (a three minute walk) I hope she's OK.
Considering all members were present, we unanimously decided to hold an emergency, early meeting of the 'Wednesday Night Club', (which is more or less, a good excuse for myself, Jimmy Birmingham, and Michele Paulhus to get together in the middle of the week for drinks and conversation.) The meeting went well, but was interrupted when fledgling member, and Real Kids guitarist, Billy Cole discovered he had a hole in his black jeans, and was having a hard time containing himself. A role of duct tape appeared on the ˜conference table˜, and the guy knew exactly what to do with it.
1:00 am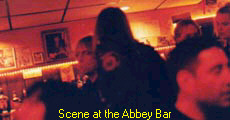 It's just about time for me to get the hell out of here. With a circle motion of his hand to the bartender, Jimmy orders another round, and I do not resist! There is a band playing in the other room, but tonight I never cross that short hallway to the other side.
I mean no disrespect to those fellow musicians who are playing their hearts out on a Tuesday night for short money. But there are so many good friends here, at The Abbey, that the time just slipped away and like everybody else here tonight, I too have a job that I will be doing in just a few hours from now. I said my goodbyes to everyone and stepped out onto the sidewalk. The cool night air washed over me and I felt good, almost euphoric.
As I walk the three or four blocks to my truck, I am wondering; "Does any other city in the world have what we have right here in Boston?" We are truly blessed with many great bands, and great clubs. But what makes the Boston music scene so special are the wonderful people involved in the aforementioned bands and clubs. I do feel blessed that I have been a part of it, for more than three decades!!! RC
---
Home | Interviews | Photos | Features |BGN Issue List | Reviews
Links | Contact us
Copyright © 2003 Rick Corracio. All rights reserved.