Past episodes ...Click Here
The Abbey 4/12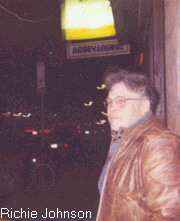 8:05 Sat 4/12/03 Abbey Lounge
Yes! The only legal parking space in front of the Abbey Lounge, is available and calling out to me,"Rick, please put your vehicle here! I have been waiting for you. Have a nice night." As soon as I turned off the ignition, I heard someone shout, "HEY, NICE SPACE." It was my guitarist, Dan McCormack, just pulling up. I felt somewhat victorious, having, for the very first time, beaten him out of the primo parking space, and only by a few seconds!
My band The Last Ones were due to go onstage at about 10:10 ABT (Abbey bar time; Most bars will set their clocks, anywhere from ten, to as much as twenty minutes fast. Presumably, to make sure all the patrons have left the club, at the end of the night, before the legal closing time. Abbey bar time is twelve minutes ahead of normal time).
I was there early, to meet my drummer, Richie Johnson, for dinner at the fabulous S+S Deli. Danny, on the other hand, was there early, specifically to snag the very same parking space, my pick-up truck now wallows in. Ha! Gotcha McCormack!!!
It was a beautiful night, and after two weeks of rainy, snowy, and cold weather, it felt great to be walking through Inman Square in just a light denim jacket.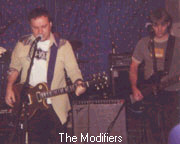 At the S&S, Richie practically knocked us both over, in order to snag a seat, that would afford him the best view of the two young ladies in the booth next to us. We had appetizers and beer, and headed back to the Abbey to catch The Modifiers set, which was slated for 9:30. Plenty of time for a cigar before going inside.
The club was filled with a young, 'U Mass' type crowd, as is usually the case, whenever we play with The Modifiers. ( Note to myself; Define "young" Rick. Someone who doesn't have an AARP card?)
I am impressed and envious of their loyal following, and after playing a few gigs with these guys, I am starting to know some of them.
It is a good thing, that the Modifiers' fans, seem to enjoy The Last Ones as well, even though we don't play quite the same kind of music. Conversely, The Last Ones, very much enjoy playing for these exuberant youngsters.
Singer/ songwriter/ guitarist, the head Modifier himself, ( and my very good friend ) Mr. Criss Perry, was taking money at the door. Tonight was a benefit near and dear to his heart. I was a bit surprised when he charged his good looking wife, Esmay, full price, and even checked her I.D.! She turned over seven dollars without a struggle, and thanked him with a kiss on the cheek for 'carding' her.
9:42pm Abbey bar time
The Modifiers took over the stage. Surprise! There is a new, fourth member of the band. His name is Rob Huntley. Why wasn't I informed? I didn't get the memo. Criss Perry, with his Budweiser fueled Rock Sonnets, fired up the Abby crowd like it was a basement frat party. Solid, modern rock with excellent lyrical content, sometimes emotional, sometimes sneering.
I noticed Criss likes to mention specific girls in his music. Apparently his wife Esmay is clued into this fact, and she noticeably steels herself against the onslaught. I can see her standing there, back straight, arms folded, foot tapping. Very cute! (Fear NOT young Esmay, for young Squire Perry doth love YOU.)
Brothers, Mike and Jason DeGeorge operate the bass and drums. How much tighter could a rythym section be?
Their new CD Secret Frequencies is a masterpiece, and one of my personal favorites.
10:15pm ABT
The Last Ones began the process of preparing the stage. We have only ten minutes to accomplish this. Not a problem, mainly because The Abbey has Ken Sullivan, one of the best sound guys in the biz. He's so good, that I swear we had three or four minutes to kill. I could actually hear every word of every song, from 'Lorrie Come Back' to '99'. Thank you Ken. I owe ya a cigar! It makes all the difference in the world if you can hear yourself sing.
I was happy to see WHRB deejay Dinos Mekios in the audience, and equally happy that that we played, what I would consider, a good set, for him to witness. The local deejays do have a certain amount of POWER within the Boston rock scene. There are so many great bands in Boston, but I can guarantee, that you will not hear any of them on mainstream radio. Even the once great 'alternative' radio station, WFNX, who would even play The Lyres, has become a monster network too grand to play even the most famous, premier Boston local bands. The only place to hear the REAL music of Boston over the airwaves, is on the radio shows of the devoted deejays like WHRB's Dinos Mekios, WZBC's PIP, and of course, WMFO's Alex Piandes. These guys are the heros of Boston rock and roll, volunteering their time, and sometimes spending their own money, to buy the music that they think makes a difference.
11:15pm EST
For the very first time in my life, I had an actual conversation with club manager, Andrea Gillis, and it confirmed my suspicions that she is a really nice person. I asked her if I could please take her picture. She asked me if she could please take MY picture. Fair enough. I discovered that talking to her was so pleasing, that when the next band started to play, I just wanted to shut the world out, and talk to Andrea all night. ( Hey!!! PIPE DOWN. I'm trying to talk here. What do you think this is, a ROCK CLUB or something!!!) We talked about her band Red Chord, cigars, and basketball.
Believe me, it was an HONOR to have the attention of such a pretty woman. You could have knocked me over with a feather, when, at the end of the night, as I was leaving, she surprised me by gently placing a kiss on my cheek. Naturally, I had to run right home and write a song about her. RC.
---
Home | Interviews | Photos | Features |BGN Issue List | Reviews
Links | Contact us
Copyright © 2003 Rick Corracio. All rights reserved.