Past episodes ...Click Here
Friday 4/4 to Sunday 4/6
Friday 4/4/03 8:00pm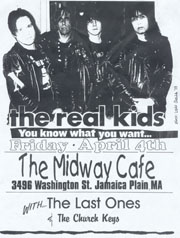 Winter storm warnings. Never a good thing, especially in April.
Yet I am still psyched because it is a 'gig day'. Ask any musician and they will tell you that there is something special about a ~gig day". Just knowing that I am gigging at night, has carried me through many a tough day at work or whatever. Boss giving you shit? Screw it,GIG DAY. Car broke down on the expressway? No Problem, GIG DAY. Wife cheating on you? Hey slick, worry about it tomorrow. It's a GIG DAY.
This is one of those 'special' weekends. I have two gigs; tonight, my THE LAST ONES band, is playing at the MIDWAY CAFE in Jamaica Plain with THE CHURCHKEYS from Brooklyn, NY, and our very own THE REAL KIDS. Tomorrow I will drive to Brooklyn NY, and play at THE LOCAL with my other band THE LYRES (yes, I said THE Lyres), along with Brooklynites PURPLE WIZARD, and a band from Atlantic City called THE IMPROBABLES. In between all this, I plan to make it over to the WMFO studios at Tufts University, at 6:00 (UGH!) in the morning, to hang with my favorite D.J. ALEX PIANDES, on his fabulous COFFEE and SMOKES radio program.
8:45pm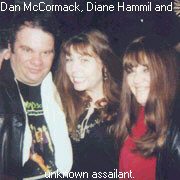 I pulled up to the Midway and there is Dan McCormick's Toyota right in front, once again, he has scored the primo parking space. I swear he must park the night before and take the bus home. He's got this little Ampeg amp that weighs about 4 ounces. It's just not fair. He should IMMEDIATELY turn over the best parking spot to ME. OK DAN?
I lugged my gear into the club. Everything seemed to going smoothly. I walked up to the bar, and without saying a word, co-owner Dave immediately started mixing me a Black Russian. "Shaken, not stirred." I quipped. "On the house agent 001." Dave shot back.
There was already a decent showing of friends in attendance. With drink in hand, I made the rounds. First order of business; SUSAN APRILL, Bassist for THE CHURCHKEYS. In a spasm of bad taste and bad judgment, she had, perhaps inadvertently (I don't know, the jury is still out) managed to insult and embarrass a friend of mine. I just needed to clear the air with her right away, in order to get on with the business of rock and roll. Her apology seemed sincere.
That being done, I needed to explain to photographer/ rock archivist ARTIE FREEDMAN, why I have been misspelling his last name for the past 20 years, and why I missed the opening of his show at Johnson Art Gallery (stupidity/babysitting).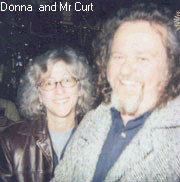 'MR CURT' NEHEIRSEY. Now here is a guy I haven't seen, or talked to, since JOHN FELICE threw me out of THE KIDS 28 years ago!! We used to be quite close. The Kids rehearsed like, every other night, and I remember we had to pick up Curt at his Jamaica Plain home, before we made our way out to Natick, to practice in a Presbyterian Church. Curt worked at a record store in Harvard Square. He turned me on to a lot of great music.
He is a really great guy, and it was so good to see him. Ironically, he and his longtime girlfriend, DONNA, would leave right before The Real Kids set. It wouldn't surprise me to find out there was some kind of rift between him and John Felice.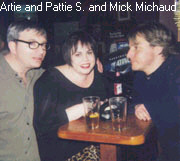 The Wormtown contingent arrived.
Singer/ songwriter for THE CRYBABIES and THE BELMONDOS, Artie Sneiderman, walked in with his lovely wife Pattie(the prettiest face in rock and roll) Sneiderman. Also, Belmondos keyboardist/ guitarist, Mikie Michaud.
My bass player Bruce Hammil brought his cute wife Diane Hammil as well as bunch of other friends. "Are you going to behave yourself tonight?" I asked Diane, jokingly referring to one night at the 608 Club about a year ago, when Diane was celebrating her birthday. The Lyres (yes, I said 'THE') were playing with The Last Ones. She caused quite a stir by innocently speaking her mind,(a very dangerous thing to do.) I recall introducing her to my ex-wife Joan, who likes to 'dress up' for gigs. Diane opened the conversation with, "I'd like to get together sometime and go out. We can BOTH dress like FLOOSIES." Later that night, she said something to Jeff Conolly that pissed him off bad enough to almost get her thrown out. He won't tell what it was, but he still talks about it.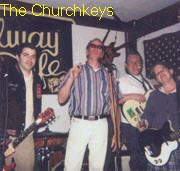 THE CHURCHKEYS were tuning up. The legendary JOHN CHALMERS had his beautiful late 50's SEARS SIVERTONE semi hollow- body six-string, plugged into his 50 watt, cardboard, SILVERTONE amp, the one that allows you to store the head in the back of the cabinet.
Drummer Bill Pietch had an 'incredibly green' GRETCH kit, sparkle finish. Saxophone player, LARS, had a SELMA tenor sax. And bassist SUSAN APRILL played a black and white DANELECTRO bass, through a small AMPEG bass amp.
These guys are different than your average band. Their music is sparse, but rhythmic and enjoyable. They play obscure R+B type tunes 'tongue in cheek' style. They played well, heads were a bobbin'.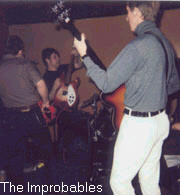 The stuff that goes on between sets, is something that most club goers don't pay much attention to. Musicians in bands are very much concerned with this one aspect. There is a certain order, a certain etiquette, that must be observed . It's mostly common sense, really.
For instance, a Drummer A wouldn't start bringing up his kit onto the stage before Drummer B has taken his stuff off the stage. You wouldn't set up your key board center stage, before the backline amps were positioned. It's like an ebb and flow. Instruments have to be tuned, sound levels checked. Normally it all has to done in 15 minutes.
Check it out sometime. I have actually seen fights over breach of 'set up etiquette'. One night at THE MIDDLE EAST, THE SHODS were playing an extra long set, seriously cutting into The Lyres set time, to make matters worse, it was getting damn close to closing time.
When they finally ended their set, our drummer PAUL MURPHY, got a little antsy, and decided he would 'help' The Shods drummer move his kit off the stage. In a heartbeat these guy were rolling around on the stage, fists flying and feet kicking. It was like a pre-Lyres warm up act.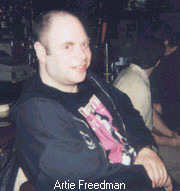 The Last Ones set up was going smoothly until Bruce discovered he couldn't operate the bass amp he borrowed from The Real Kids bassist FACE. It was a rack mount job with a dozen inputs and outputs, all labeled in cryptic hieroglyphics. We both scratched our heads over it for ten minutes, plugging in every jack, flipping every switch, turning every knob to no avail. Finally we gave up, and reluctantly dragged Bruce's huge Ampeg SVT into position. I thought we played OK because people were dancing. This is always a plus.
Have you noticed that dancing is rare these days? In the 70's and 80's there was always a ~dance floor. Every club had one. They HAD to, because many people actually got up and formally danced with a partner. I was one of them!!! I would take my girlfriends out dancing!! We would actually dance to the music of bands like; THE REAL KIDS, REDDY TEDDY, WILLY LOCO and the BOOM BOOM BAND, DMZ, MICKEY CLEAN & the MEZZ, THIRD RAIL, MARK THOR, and yes, even THUNDERTRAIN.
A guy could approach a girl, and ask her if she would like to dance, or if she was already dancing with someone, you could ask to 'cut in'. And the gentleman would usually allow you to dance with his date. All very civilized. This stuff really happened kids! Back when dinosaurs roamed the Earth.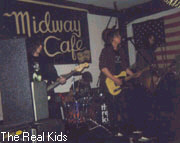 The Real Kids played their usual kick ass set. I swear Jimmy plays his drums while sitting on the floor. It was weird, that many people left during their set. Prompting guitarist BILLY COLE to say something about it over the PA system. "Hey, eight people just left."
You have to play THE MIDWAY CAFE for the love of playing. It's very small and out of the way, and not easily accessible by the "T". They have their own clientele of regulars. All the reasons why I love playing there.
2:15 am Sat
Arrived home, crashed in bed.
6:10 am Sat. 4/5/03, 32 degrees, snowing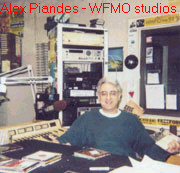 I opened one eye and peeked at the clock. I promised Alex Piandes I would be on his WMFO radio show. His show is from 6:00 to 9:00am. I gotta get up, RIGHT NOW. I dragged my sorry butt out of bed, started the coffee and got dressed. I grabbed a CDR of two of The Last Ones new songs, 99 and Everybody's Lookin' At You, and forced myself out into the frigid New England Spring weather, steaming mug of coffee in hand.
I was following directions given to me by Mike Quirk. No actual street names were given, only stuff like "take a left at the wrought iron fence" and "second or third right", or "two or three lights". Miraculously, I was led right to the place.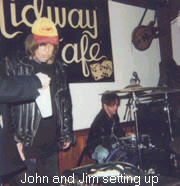 Alex was a gracious host. I felt right at home. "Have you got the CDR?" he asked not wasting any time. He immediately put Everyboby's Lookin'" over the airwaves. I have to admit, it sounded pretty good to me with all the mega compression that all radio stations use.
I had no problem talking with Alex. We did 4 or maybe 5 'talk breaks' as he called them. He asked all the pertinent questions. About my bands, the Boston music scene, Boston Groupie News, Boston rock history, etc. I had a lot to say about all those subjects, and the words came out of my mouth surprisingly easy for a guy with only a few hours sleep. I am pleased to say that Alex got pretty excited about my new song 99; "This is wicked good." I have sent him plenty of Last Ones stuff but can't seem to get anything on a regular rotation, not on the level of THE DOWNBEAT 5. Maybe this will change.I was encouraged when WHRB deejay DINO MEKIOS called and inquired about a copy.
Alex is a real pro, multitasking big time. Cueing up records, answering email, chasing after his next few tunes, sometimes running into another room to grab a disc, all the while, keeping up a running conversation with me. He started deejaying in college, after a family member suggested he join a club. I love his show. He spins a diverse selection of music that is always interesting, and he never forgets about our numerous local bands. 91.5 comes in over the airwaves just fine at my Charlestown apartment, but he also broadcasts to the World over the internet. I tune him in while I do my housework, and always make it a point to call him. WMFO 91.5 617-627-3800
5:01pm Sat, 4/5/03
Leaving Charlestown for Brooklyn, New York. I made 4 stops, 3 to pee and one for gas. It was an uneventful trip until I got to the BQE, (rt.278) in New York, the main road to Brooklyn. Major construction gave a million cars, one bumpy lane, for 5 miles. I used up an hour and fifty minutes, and $3.50 (toll), for the pleasure of driving that 5 miles.
10:50 pm Sat. night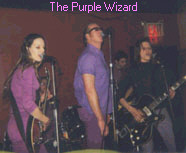 I arrived at the venue on the corner of Kent and south 5th, and snagged a most excellent parking spot, about five inches from the front door. I unconsciously expected to see Dan McCormack's black Toyota parked there. (snap out of it Rick, the guy is like, 200 miles away .) As soon as I entered the club, my 'pretty girl proximity alert alarm system' began clanging away loudly from deep within my medulla oblongata.
Initially, I had thought that the wicked babely LORI LINDSAY, guitarist for PURPLE WIZARD, was obviously responsible. But NO! she was way out sensor range! I took a quick look around. GOOD LORD! There were beautiful woman EVERYWHERE! I really must remember to 'reset the parameters' when I travel to New York. Even the bartender was gorgeous. All I saw was pretty blue eyes, as she confessed she didn't know how to make a Black Russian. "Oh it's so easy." I said "Grab a LARGE glass, fill it halfway with vodka, add a few ice cubes, and fill it the rest of the way with Kalua."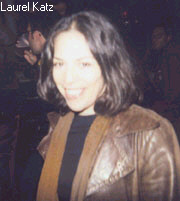 I moved my Fender Studio Bass amp into the club and waited by the door for transplanted Bostonian LAUREL KATZ to show up. Through the streaky front window, I could see her deftly hopping out of a cab, looking very much like the adorable, 18 year old Emerson student I met one night at THE RAT in the 70's. Still beautiful. Her soft dark hair, worn in the same style, as the picture I have of her in my memory. I was attracted to her then, and I find myself attracted to her now. (note to myself; Rick, you romantic IDIOT! Your getting all poetic and mushy. Knock it off, will ya!)
I signaled the doorman, LARS, to let her in as my guest, and she greeted me with a perfume scented hug. About six months ago, out of the blue, she surprised me with an email. We have been firing short emails back and forth ever since..
11:10 ish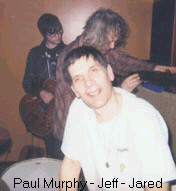 While PURPLE WIZARD rocked the house, I actually had a coherent conversation with my Peruvian friend EDGAR. Anyone who know Edgar, knows that this is unusual. He's actually quite intelligent. Three people who I have seen at virtually every New York Lyres gig for the past 15 years, maybe longer: BLAIR BUSCARUNO, filmmaker DAN ROSE, and the oh so incredibly sweet and vivacious woman known to me only as 'JACKIE', with whom I have had a crush on, ever since the first time I saw her at MAXWELLS. (note to myself; Rick, dude, another crush? ya think it would be easier to name the girls you DON'T have a crush on? Well yeah, considering you have a crush on, like, EVERY girl!) My eyes are immediately drawn to her, just look at that face, can you blame me. I mentioned that very fact, to my friend, and devout Catholic PAUL MURPHY, and braced myself for the 'womanizing sinner' sermon, but he surprised me by saying "Rick, it's okay to ADMIRE Gods creations." (check out Paul's picture, I took it just as he was saying that) WHEW!!! I'm VINDICATED!
1:00 am Sunday
Laurel offered to buy me a drink. I told her about my experience with the blue eyed bartender. Sure enough, 5 minutes later she handed me a huge tumbler full of Black Russian .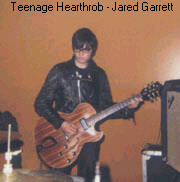 "I am now ready to perform a Lyres set.", I announced to JEFF CONOLLY, who in turn, announced loudly over the P.A., that "RICK CORACCIO is now ready to play.", and immediately launched into a rave up set of all my favorite songs. How Do You Know, Don't Give It Up Now, I'm Leaving, Enough Of What I Need, Lovin' Cup, I'm Your Guy, Help You Ann, Just a KILLER set. Everybody was screaming.
Jeff even LOOKED good! Hell, He's almost SVELT. JARRED had his patented sullen and misunderstood young rocker face on. I was standing so close to the Ladies Room, that I had to lift my guitar neck like a toll booth every time a girl walked by.
We even pulled off a new song that we practiced only a few times called, Jolly Green Giant by the KINGSMEN. I thought the set was rough, but in a GOOD way. Sweaty, vibrant and peppered with an ample amount of that Conolly induced DRAMA, which is, as we all know, one of the main reasons why everybody loves THE LYRES.
1:55 am Sunday
Load my stuff into my pick-up with the help of Dan Rose and I'm gone. I drove home without even stopping once. A remarkable achievement. 5:50 am Sunday 4/6/03, home in Charlestown. Trip odometer reads 420 miles. RC
---
Home | Interviews | Photos | Features |BGN Issue List | Reviews
Links | Contact us
Copyright © 2003 Rick Corracio. All rights reserved.