Lyres and DMZ play the L.A. Shakedown
Critic Melody Lee explains the situation behind the LA Shakedown.

The L.A. Shakedown took place in downtown L.A. on Feb. 15 & 16 for what was supposed to be a great weekend for music. Many garage and punk bands were chosen from the U.S. & other countries.
Lots of people, both bands and fans, flew in from out of town only to find that the venue had been changed at the last minute. The new club was much smaller and could not even contain all the people who'd bought tickets. Due to vague terrorist threats and muddled organization by Ralph Carerra Productions, the whole thing was on the verge of falling apart as ticket holders were turned away, others boarded shuttle buses to a third venue far away and the police & fire depts showed up to put a damper on an already confused situation.
People were shaken down by overzealous security guards and made to throw away items like gum, pens and vitamins. By Sunday. The 16th the situation had improved as a third stage upstairs was opened and no one was turned away. Inspired performances by Boston bands the Lyres, DMZ, Mr. Airplane Man, Upper Crust and Kings of Nuthin' helped save the weekend from total disaster.
Excerpts from Rick Coraccio's personal Journal

L.A. and Back Again.
All photos by Melody Lee
For a printer friendly version...CLICK HERE
Friday
Past episodes ...Click Here
Friday 2/14/03 3:00 pm E.S.T. Temp.+2 degrees, sunny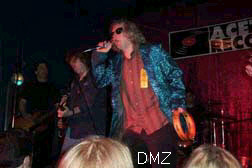 Just a final check before I call a cab to Logan. I feel like traveling light.
One pair of black shoes, already on my feet..
Two pairs of black jeans.
Two pairs of black socks.
Three black tee's.
One black long sleeve shirt.
Shaving kit
Book("Youth in Revolt" by C.D. Payne), Magazine(Boating)
Passport, wallet, cell phone.
1963 Epiphone Rivoli in a gig bag, tuner , cords, extra strings, cheat notes.
Put it all in my smallest shoulder bag, throw on my lightest denim jacket, a final sweep of my apartment and I'm ready.

3:30pm Leaving Charlestown, traffic is heavy but my talkative cabbie knows his job and finds a very creative back way into the airport. A 20 minute trip, not too bad for this time of day. I gave him a good tip.

4:20pm It's a holiday weekend, so needless to say , the airport was busy. I had arranged to meet my traveling companion, Jeff Conolly, sometime between 4:00 and 5:00. He's not here yet so I found a good spot for optimum people watching.

4:50pm Jeff appears out of the crowd. He's lost a lot of weight, which is good, but it looks like he hasn't bathed or shaved in a couple of weeks. In his own words, "A two week guy". He was wearing a grimey , grey, M.I.T. tee shirt with a million holes in it. I was skeptical when he told me he managed to find a clean shirt.
We got our boarding passes and moved on to the security gate. Jeff put his bag on the conveyor and got through with no problem. I got pulled aside and was asked to remove everything from my bag and guitar case, and to place everything on a folding table which was right between the two security gates.

All my stuff was layed out, on display for hundreds of people to look at as they walked by on either side. It's a good thing I didn't have anything embarrassing! A couple of condoms in my shaving kit entertained a small gaggle of teenage girls, giggling and whispering amongst themselves as they moved by.
Something kept setting the metal detector off even though I had no shoes on, no belt, nothing in my pockets. I was really getting tired of standing there with my legs spread and my arms out. Finally, they called over a short, young, State Police dude with a jarhead haircut, to pat me down manually. He soon deemed me safe to enter. I joined Jeff at the bar. He got a kick out of the whole ordeal. We had a couple of drafts and boarded the plane.

6:15pmWe found our seats and were settling in, Jeff was munching on Sun chips and Tabasco when a stewardess came up to him, "Sir, is this yours"? Apparently he had left a bunch of stuff at the bar in the terminal. You have got to wonder how this stuff found its way back to him. The aircraft was full, the terminal was packed as well. I can only imagine the bartender handing it over to a flight attendant and describing it's owner, "long graying blond hair, holes all over his shirt".

11:15pm Landing in Chicago, we are staying on the plane. I'm getting pretty hungry, I didn't realize that they don't feed you any more. They tossed me a bag of pretzels. The only alcohol was little bottles of red or white wine at $5 a pop. I had four.
2:30am EST Landing at L.A.X.. Jeff and I got off the plane and headed for the ground transportation area to catch the shuttle to get our rental car. We were out of the terminal when Jeff realized he had left his Tabasco and medication on the plane. Once you leave the aircraft and go through the security gate, it is very difficult, if not impossible, to get back in.
Undeterred, Jeff went scurrying back. I admire the guy's spunk, but not wanting to witness the madness, I decided to wait outside in the warm L.A. air and have a smoke. I knew it was a wise decision when I overheard the pilots talking to each other as they passed by me. "I'm telling you for the last time, you are NOT getting back on this aircraft, I don't care WHO you are".
An hour later, I hear my name. 'Rick, over here". It was Jeff running for the shuttle, I grabbed my stuff and ran after him. He had his medication and his hot sauce.
We made it to Budget and got in a Taurus, after 15 minutes of meticulously adjusting the seat, mirrors, interior temperature, CD player , and everything that could possible be adjusted, Jeff pulled the car over to the security gate and handed the attendant his receipt, oops, wrong car. We switched to a Mustang and 15 minutes later we were on our way.
1:30am PST 65 degrees We made it to the Inntown Hotel on Figuroa, Jeff handled the room arrangements while I said hello to Jack Hickey and Nat Frieberg who were hanging out near the office. The venue for the gig was originally directly across the street, but now there was a sign that simply read, "L.A. Shakedown?¦.NOT HERE" , No other explanation was offered.
All of us were desperate for a drink by this time, but it was damn near 2:00. I suggested we hit the lounge at the Holiday Inn one block away. By the time we got there they were closing up, but Jack talked the friendly barkeeper into letting us stay if we bought all our drinks beforehand. We each bought 4 and hung out for another hour before heading back to our rooms. It was about 3:30 and I was ready to retire. Jeff hooked up with our guitarist Jared and stayed out for a couple of more hours.
Saturday.
Sat. 2/15/03 8:00 am 65 degrees, partly cloudy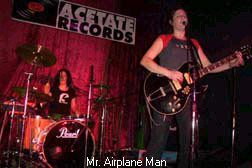 I didn't expect to see anybody at this hour, but there in front of the hotel, chatting loudly, were Jim Janota, Nat Frieberg, and Jack Hickey. Jim and Nat wanted to take a walk down town, Jack and I went for breakfast at the Figuroa hotel next door.J.J. Rassler walked in and joined us.
After Breakfast, J.J. and I decided to visit the "Museum of Neon Signs", just down the street, and then after take a cab into Hollywood for some shopping. Our first stop was Amoeba Records on Sunset Blvd. A massive record store. Two floors of everything. We spent almost two hours there. J.J. filled a shopping cart with stuff. I found three copies of "Lyres Lyres" on cassette for $2.95 each.
We then hopped a bus to a store called WAKO on Hollywood Blvd.. This store is filled with all kinds of weird books and strange stuff, I bought a bunch of stuff for my kids. Right next door, we found a store called "Ozzie Dots", vintage, used clothing. J.J. bought a cool Ford mechanics jacket and a bowling shirt, He also bought a black tee shirt at the motorcycle shop next door.

3:15 pm 72 deg. Sunny J.J. and I had lunch at Fatburger and commiserated about our problems. After lunch we decided to grab a cab back to downtown to catch Mr. Airplane Man at the venue, which had apparently been changed to a smallish club three block away from our hotel. I stopped at my room and Jeff was in bed, with the covers up to his nose, watching skiing on TV. Like Brian Wilson.
I freshened up a bit and J.J. and I walked next door to the Figuroa lounge for a drink. We hooked up with Jim Janota, Nat, and the rest of the "Upper Crust" crew, as well as Jack Hickey, who were apparently there for some time , judging by all the empty beer bottles

4:30pm J.J and I walked to the club and were surprised to see a line to get in that was at least a quarter of a mile long. It was like 700 people waiting!! It took us twenty minutes to get in because we had to convince some idiot that we were in the band. One wrist band, two stamps, and a "pat down" from this huge black guy, and we got in in time to see Mr. Airplane Man.
They were having a great set. Every time I have ever seen these guys, Margret has worn a mini skirt. I mean she has such great legs and I was definitely disappointed that she was wearing jeans. The music was wonderful and everybody was moving with the beat. Tara looked cute as a button( as usual) and for the first time, I noticed she plays her drums barefoot.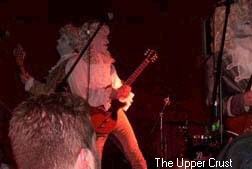 I went to the bar for a beer, and as I was walking back, right there in front of me, stood Miss Melody Lee , a statuesque, dark haired beauty, she was gently swaying to the music and wearing a brown cordaroy jacket with a fur collar,( that matched her pretty brown eyes), a maroon skirt with black stockings and black Mary Janes. She just seemed miles apart from all the punk rock chicks, like she had this aura around her, Aura of Laura, (check her out much , Rick? - ed.)
I caught my breath and went over to say hi. She told me she had been waiting in line for three hours. And she had a ticket! It was at that moment that I realized that something was wrong, the venue was so small that everyone who had a ticket couldn't possible fit into this small club. Paying customers with wristbands and tickets were being denied reentry. Cash customers were being let in while pre paid ticket holders were being told they had to wait.
Jack Hickey's prophetic statement" We're not gonna get paid", started to haunt me. Laura said she was hungry and I suggested she accompany J.J. and I to the Figuroa Lounge. When we got there, the Upper Crust guys and Hickey were still there. We joined them, Laura found some food, and Jim Janota kept us all laughing.
2/16/03 8:30pm
DMZ rehearsal in J.J. and Jack's hotel room. Unamplified and without Jeff. It went well. We can usually run through all the songs in about 20 minutes. After, I checked in with Jeff . He had showered and shaved, and was on the phone to somebody, bragging about it. I noticed he had managed to spill a substantial amount of talcum powder on my guitar case. Jack and I headed over to the Figuroa lounge for a few pre gig cocktails.
11:15pm
Jack and I headed over to the venue, this time I got patted down by an attractive female door person. The Fire Marshall was standing right at the doorway, arms folded across his chest, probably alarmed by the huge line snaking its way into this small club, and by the recent news story of the tragic stampede deaths in a Chicago nightclub.
Murphy barely made it. He had outdated information and was waiting at some club across town. J.J. and I were setting up stage right, opposite of what we usually do. Why? I don't know! We just did! DMZ broke into "You're Gonna Miss Me" and it FELT pretty good. I was getting this weird bass feedback from a monitor that was hiding in the corner a little too close to me. Three songs went by before I figured out I could kick it towards Murphy, it stopped howling.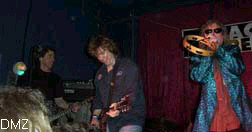 Jeff was performing "damn good" and he had his blue sparkle tux and Italian wrap arounds on. He masterfully "disarmed" a heckler in the audience by somehow making him part of the show and asking him, loudly, if that song was "more to his liking". The guy was totally cool in no time.
Jack was doing his flying guitarist maneuvers and treating his ultra rare Gretch "green monster" with total disregard, wringing every last screaming decibel out of the poor thing. J.J's Gibson was knifing through my eardrums. Mr. Murphy had a pile of sweat drenched wood chips tinted with blood. Margret had this look of awe on her face, mouth open.
Laura was doing this really cute dance thing that she only does when the music really moves her. It DID feel good to me.
After the gig, the Inntown hotel was one big party, everyone milling around the pool area. I heard a rumor that the guys in the Upper Crust had a bunch of beer in their room. I guess Jack had heard the same rumor.
We drank their beer and laughed at Janota's animated stories until the beer was gone. Jack and I wandered down to the pool and pretty much everybody was still there. Jeff was going around drinking all the almost empty beers and drinks he could find on the tables or on the ground, still clad in blue sparkle.
4:30 am
I was sound asleep in bed when Jeff came crashing in the room with about five people. I threatened to kill them if they didn't leave. ( Later, J.J. told me they tried to get into his room as well). Respectfully, Jeff grabbed the car keys and they all left. He came back at 8:00 and disappeared into the bathroom for a solid hour. I didn't hear one sound, I thought he was dead.
The Lyres play. A red plaid mini skirt. Rich Gilbert ? All in ....
PART TWO
home | interviews | photos | features |BGN issue list | reviews
links | contact us