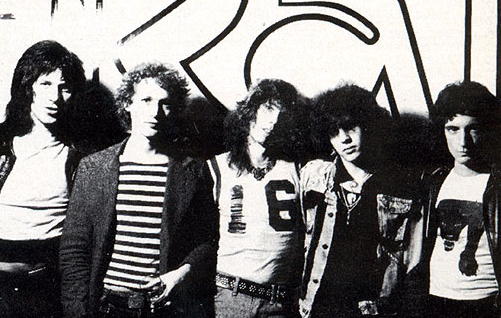 Boys From Nowhere
DMZ comes roaring back with "Live At the Rat"

by Chris Parcellin
Jeff "Monoman" Conolly is mostly known as the frontman of the Boston's garage rock perennials the Lyres. Over the years Conolly, armed with a vintage Vox organ, has probably penned as many--or more--classic tunes as the people he emulates. Of course, the one that's gotten the most attention is his early-'80s classic "Help You Ann." <>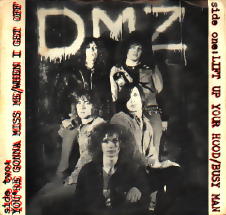 But Conolly's connection to the Boston rock scene actually began in the mid-'70s when he signed on as vocalist and songwriter for a bunch of proto-punks called DMZ. Conolly's love of obscure '60s indie garage singles, as well as the Stooges and the New York Dolls--coupled with the blazing twin-guitar attack of Peter Greenberg and JJ Rassler--formed the basis for the explosive sound that made the band an underground sensation in Boston and NYC--and eventually netted them a deal with Seymour Stein's Sire Records.

Prior to signing with Sire, the band released a four-song single on Bomp in 1977, whose most notable tunes were Conolly's ode to sexual gratification "When I Get Off" and a faithful cover of the 13th Floor Elevators stomper "You're Gonna Miss Me". The songs from this single, plus some other 4-track demos were released as "Relics" in the '80s by Bomp--and later re-released with additional tracks recorded with (then future Cars member) David Robinson on drums as "When I Get Off: The Classic Originals" . Truly a CD no punk fan should be without.

The self-titled Sire album suffered from a lack of promotion and some production flubs, but still featured amazing songs like their cover of the Sonics "Cinderella", plus the originals "Bad Attitude", "Don't Jump Me Mother" and the "hit", "Mighty Idy." All in all, it's another overlooked milestone in punk.

Band relations were apparently at an all-time low when, according to a story in the Boston Phoenix, Conolly says that Greenberg "pushed my head into an exposed nail..." And, on a separate occasion, Rassler drunkenly pushed Conolly down a flight of stairs, though both Rassler and Conolly told the Phoenix that the incident has been overblown through the years.
The new "Live At the Rat" (also on Bomp) recorded in 1976--and at a 1993 reunion gig (further research has tipped me off that Conolly has a problem with referring to the band's regroupings as "reunions"). The Rat, of course, was the nickname given to the legendary Rathskeller which was located in the heart of Kenmore Square until greedhog developers knocked it down recently. Two of the tracks "Boy From Nowhere" and "Ball Me Out" were originally included on the long-deleted Rat Records release--also titled "Live At the Rat." The tracks from '76 show that DMZ had a snarling sound that easily proceeded the arrival of the Sex Pistols on these shores, as well as the the rise of the Ramones from Bowery-bound obscurity.
The band's playing shows again, without (as you might have guessed) Greenberg--but charter members Conolly, Rassler, Rick Coraccio and Paul Murphy --along with Jack Hickey (ex-Turbines) on guitar, are all back for a series of gigs including an appearance at the notorious punk festival "The Vegas Shakedown" which is an annual event in Sin City. But even a gamblin' man would be a fool to bet against this bunch.
---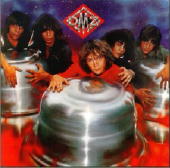 How'd you initially get interested in garage rock?
I grew up in the 60s listening to all those records. I was a huge fan of the Blues Magoos, when I was 10 years old--back in 1966-67. I liked a lot of garage rock, especially "Liar, Liar" by the Castaways.
Was there any sort of scene at the Rat when you initially started playing there?
There had always been bands at the Rat from the early 60's onward.
What sorts of memories do you have of that whole era playing with other great bands like The Real Kids, the Nervous Eaters, etc?
Some of the bands were fun to play with, but we were always the headliners--except for that gig at the Rat with the original Ramones. Micky Clean and the Mezz were the greatest punk rock band I had ever seen, when I first saw them play in March of 1976.
Why do you think the '70s NYC bands get so much more credit than the Boston guys?
I don't think they get any credit. I mean, you don't hear a lot about Tough Darts. I'm sure people think that something must be really urbane--therefore "cooler"--if it comes from the city that Lou Reed built.
Did you feel like those bands stole ideas from you guys? Anything specific come to mind?
The music that I wrote to "In Motion" got pinched by the guy in Blondie for "One Way or Another". We played that song a lot at CBGB's and I know he ripped it off, 'cause it came out within a year's time of us showcasing that song as one of the last "great" DMZ tunes.
I've seen comments by both you and Cheetah Chrome lately that said your bands were just "tax write-offs" for Sire. Did they really only care about the Ramones?
You'd have to ask Seymour Stein and the whole A&R; department of Sire from the late 70's. My opinion is that we were very poorly handled by the label. They stuck us in a rotten studio in Long Island, and our Sire LP could have easily improved with one "remix". Flo and Eddie weren't the real culprits, in my opinion--but they could've insisted it get remixed. It was my first album ever and I was simply too close to it to really hear it "correctly." The fact that a lot of people still really enjoy that record to this day proves that the original ideas and intent of the album were honest and correct, and I stand by those ideas. Sure, there were a few clunkers, but that's normal for a first album.
Since you were unhappy, what do you think could've been done to make it better?
I was unhappy that it was recorded during the worst storm of the 70's--in a crummy studio where they didn't know how to record our drums the way we asked them to.
Were Flo and Eddie your choice to produce? Didn't they know what they were doing?
Flo and Eddie were basically what was "offered" to us. We didn't think of asking Don Galucci (producer of the Stooges, "Funhouse"), you know? They were fine. They just didn't know how to translate our ideas of how we wanted to "sound" to the crummy studio technicians in Long Island. Nobody did back in those days. It took awhile for studios to catch on to the minimal miking techniques we later adopted.

How'd the release of the new "Live At the Rat" CD come about?
It took almost ten years to find the right "home" for it. Bomp expressed a desire to handle it, and that's where it ended up.

Are you happy with it?
It's a very honest document of the band--so, of course.
Is the current reunion a short-term thing or do you plan to keep playing together?
We don't play "reunions", we will play any time there's a good enough gig, period.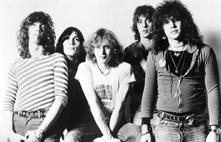 Are you still going to do shows as the Lyres?
The Lyres are still a very solid band. No line-up changes in seven and a half years!

There's a film being made about the Real Kids. Are there any plans to immortalize DMZ on the big screen?
We're already immortal.

What's your message for America's youth?
Eat your Wheaties!
This just in. Here's a 10/2/01 update from Monoman:
JUST GOT BACK FROM VEGAS "SHAKEDOWN" LAST NIGHT. FOUR SEPARATE FLIGHTS OUT AND BACK, A LOT OF "SECURITY CHECKS" AND WE STAYED IN THE MOHAMMED ATTA SUITE AT "THE" ECONOLODGE ON LAS VEGAS BOULEVARD. RM # 122!!!!! WE'VE GOT THE PICTURES TO PROVE IT. THE SHOW WAS A SUCCESS, WE MADE DMZ PEOPLE HAPPY AND PLAYED A FULL 17 SONG SHOW/CONCERT. I MET UP WITH LEE JOSEPHS FROM DIONISYIOUS RECORDS AND HE'S GONNA PUT OUT THE NEW LYRES/THEE HEADKOTEXES 45 IN TIME FOR THE CHRISTMAS MARKET. THAT'S ALL FOR NOW.
© 2001 Chris Parcellin & D-Filed, All rights reserved.