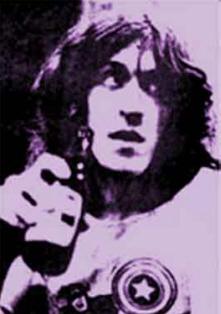 In the Pink
Boston rock'n'roll legend Willie Alexander
by Chris Parcellin
Willie Alexander is one of the key figures in the history of Boston rock. And, as such, you might be wondering. "Why the hell is he talking to Parcellin?!" That's a damn fine question, because--you know--here at D-Filed we rate our journalistic integrity as being at about the same level as Screw magazine.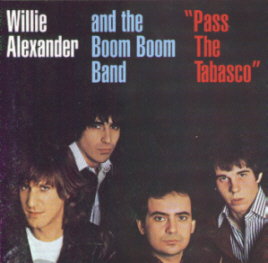 Both Boom Boom Band albums are compiled
on a CD called "Pass The Tabasco" (Demon)

But even Al Goldstein has his good days--and, like Al, we'll take whatever we can get. So, the opportunity to yak-it-up with Willie "Loco" Alexander--who's been rockin' Boston since at least 1965--was a real honor.
Willie's '60s band The Lost were local legends who played the late, lamented Rathskellar in Kenmore Square and other area dives, but never got the big break they deserved.
After a stint in the "no-original members" version of the Velvet Underground, Alexander put together the ass-kicking Boom Boom Band who put out two albums for MCA.
Since then, he's released a string of excellent solo albums, toured the world and elsewhere--and kept his fans captivated with his eccentric brand of hard driving rock tunes and melodic ballads.
We managed only a brief chat with the Loco one, but since we figured he'd never talk to us at all--I think we lucked out...
---
What do you think got you interested in rock'n'roll in the first place?
WILLIE ALEXANDER: Jerry Lee, Fats Domino, Little Richard

Was the Lost your first band? Were you writing songs at that point?
WA: Yes to both questions. "Everybody Knows" was my first song.

Was there much of a rock'n'roll scene in Boston in those days?
WA: Mostly folk music and jazz.
Weren't you a member of the Velvet Underground at one point? How did that come about?
WA: I knew Doug Yule from the Glass Menagerie (I was the drummer in that band.) and they asked me to do two short tours-the midwest and Europe. I said sure if you change the name but they never did.

Other than that, what were you up to during the first half of the Seventies?
WA: Writing songs, played with two bands Radio Hearts and the Rhythm Assholes.




"Boom Boom Ga Ga: 1975-1991" (Northeastern)
includes indie recordings and demos

What was it like to be part of the booming Boston rock'n'roll scene (which included The Real Kids, The Neighborhoods, DMZ, La Peste, etc...) in the mid-to-late '70s? Did it seem like a special era to you?
WA: Ya. One big, drunken, happy family.
The Boom Boom Band was great. How did that group of musicians get together?
WA: I borrowed them from a band called Wild Honey.

You did two excellent albums for MCA with that band. What happened? The label just didn't get behind you guys?
WA: We broke up for the usual reasons. Your long blonde hair.

I'm a brunette, ya daffy bastard...You've gone on and done a lot of fine solo recordings since then. Particularly good was "A Girl Like You" with Matthew Mackenzie on guitar. How did you like working with him?
WA: Matthew was the bomb. I really miss him. Do you remember Reddy Teddy?

Sure (they were a big Boston band in the '70s). What do you think of the local music scene today?
WA: I listen to Mr. Lif, ChelseaonFire, lots of music. But it's hard to keep up.

Are you happy with what you've accomplished musically?
WA: My last album was my best. Just did a soundtrack for a film on Kerouac's Dr. Sax called Lowell Blues. Collaborated with Lee Konitz. That was a thrill.

How would you like to be remembered?
WA: Helped put Boston Rock'n'Roll on the map. Take care. Send money.

© 2001 Chris Parcellin, All rights reserved.