Joanie's Holland/Belgium Vacation
October 2014
For past vacations - Click Here
It had been a while since I'd been to Amsterdam and this visit Rotterdam and Bruges/Brugge got added to the itinerary. (FYI since we were in the Dutch speaking sections, I'll call it Brugge for this report.) Long gone are the days of cheap RT fares to Amsterdam so I decided we should save almost $300 pp by connecting in Dublin rather than flying direct. The flight was fine and my pal Jos from the old Dutch band Frites Moderne was waiting for us at the airport. Which was helpful since it's a busy airport and the train ticket/weekly subway pass machine wouldn't accept our non-chip credit cards, etc. He and his gf Rigo have kept their separate apartments in the same building so Andrew and I had the luxury of having his place to ourselves which was great. We went right out to grab a doner kebab, my favorite European food, then visited the Resistance Museum. After a rest, we took the subway to the tourist part of town, Dam Square. I'd forgotten what a zoo that city can be with everyone and their brother/sister coming for bachelor/ette parties or to smoke weed or to look at the ladies in the Red Light District. It's fun but got annoying after a while. In addition they had a big carnival going on but we didn't hit any rides. Not far from that madness is Spuistraat where two bars on my list were located. It was still early so after a quick dinner (and our first bitterballen, food report here: http://chowhound.chow.com/topics/994595), we hung out at The Minds, a cool spot where whoever was running the ipod was a fan of DC hardcore.
Click on thumbnail pictures to bring up another page of pictures.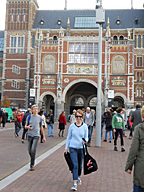 sights
Sat. we got out to the Waterlooplein flea market where we spent a lot of time looking at records, lots of good deals to plow thru. I bought a cheap scarf that can't quite replace the one I bought at that market eons ago, then found iced coffee which isn't a popular thing in Europe. Visited Rembrandt's house and walked down to another major square, Leidseplein where I usually stay, more crowded insanity. We were back on the Spuistraat that nite, got a dinner w/ ups and downs (downs being a hair in the app, shitty service and our credit cards not being accepted again; chip cards are supposed to be available
soon in the US) and ended up at Vrankrijk for some screamy emo bands from Germany. Not the best but that was ok cuz we were off to see Jos dj a soul nite at De Badcuyp which was fun, plus people couldn't smoke in that bar so that was a bonus (they don't pay attention to no smoking rules). Sun. there was too long a line at the Anne Frank House so we took a canal ride then made the obligatory coffee shop stop at Funky Monkey on Marnixstraat, a cozy spot where you could play pool but I didn't partake (even the hash!). Later we took our hosts out for drinks and a semi-fancy 3 course dinner.
| | |
| --- | --- |
| Food and music | More sights around Amsterdam |
Mon. we used their museum passes and hit the classic huge Rijksmuseum and the modern Stedelijk. Also hit a few markets starting at Noordermarkt but the only thing we bought was the famous apple pie at Winkel then later to the Albert Cuypmarkt. That nite we tried food from Suriname and used their cards one last time at the Anne Frank where the wait was only 20 min so at 7:30. Ended up meeting Jos and Rigo at the bar on the top of the Volkshotel in their neighborhood where they had some interesting cocktails and a nice view. It's hard to get well done interesting cocktails over there so I was happy.
Click on thumbnail pictures to bring up another page of pictures.

| | |
| --- | --- |
| Around Brugge | A fairytale city |
Took the 8:30AM bus to Brugge on Tues. and immediately got a waffle on our way to the hotel. What a beautiful city but it's jammed with tourists and gets to be too fairytale like after a while (a different kind of tourist overload from Amsterdam). Our hotel Duc de Bourgogne was very pretty (if showing its age) in a great location. After dropping off the luggage, we went out to climb the 366 stairs in the Belfry then to Den Elder record store on Langestraat then a beer at Bauhaus café/hostel down the street. The weather quieted down later for us to walk to the craft cocktail bar Groot Vlaenderen. Wouldn't you know they're closed Tues. and Wed., the only nites we were in town (lots of odd closing days in that city). I had a note that Cafedraal had a good bar so went hoping for a nice pre-dinner cocktail but my martini was served in a big wine glass, it was amusing. Whatever, we had a great dinner Gruuthuse Hof, amazing Dover sole. On Wed. we walked all over, saw the Picasso and Warhol exhibits at the St. John's museum, Andrew got a custom made knit Brugge cap, then we went for a dinner of traditional moules frites (where they wouldn't serve tap water). Hit the bars on Langestraat after (Charlie Rockets, De Kelk, The Crash) and called it a nite. Before the train the next day, we wandered around, hit the Dali museum and said bye to Brugge/Bruges.
| | |
| --- | --- |
| Brugge food and music | More Brugge sights |
Rotterdam was such a change, super modern because of getting destroyed during WWII. Plus it was nice to be in a non-tourist city and the architecture was fun after all those old buildings. I didn't realize that we'd be in the perfect location when I booked the Hotel Emma on Nieuwe Binnenweg. De Plaatboef records was 2 min down the street so we spent some time there then had a snack of flammkuchen and beers across from our hotel. That nite we spent some time on Witte de Withstraat, a fun street where we saw a tiny bit of a band at Zondebok en Zwarte Schaap, then stopped at dive bar De Oude Binnenweg for a slice of local life. Lots of divey spots on Oude Binnenweg that I wish we could have visited. Ended the nite at Bar 3 across from our hotel where they played good music and had a friendly bartender.




Modern Rotterdam

Fri. was miserable so after hitting the big Markthal with its amazing choices of food (had an awesome apple pastry), we walked by the Erasmus bridge but didn't walk over cuz it was too drizzly and raw out. We visited the Kunsthal where we saw the Bond exhibit and some interesting stuff, then I hit the Architecture museum and the cool 1930's Sonneveld House. Ate Italian food on our street then back to Bar 3 to finish the nite where that friendly bartender played our Sword request and we turned him on to Kvelertak. Sat. morning we hit the big outdoor market where we got some snacks (and I got new pajamas), wandered thru the Markthal again then took the train to Amsterdam for our last day before flying back to Boston.
Click on thumbnail pictures to bring up another page of pictures.

| | |
| --- | --- |
| Museums and sights | Rotterdam music and food |
We checked into the beautiful Hotel Estherea on Singel, figured we could have one splurge, and this hotel was super nice (free snacks, candy, water with basil or strawberries) plus it turned out to be 2 min from the bars we'd frequented on the first part of the trip. They have a cute little lounge where they can actually make a drink so we had one before experiencing our first Indonesian rijsttafel which was a fun experience. It's on a crazy busy street (of course) then we went back to The Minds but it was too crowded and smoky so we ended the nite at Cafe de Koningshut which was a fun neighborhood joint. Sun. morning we walked to the train station seeing them clean up the aftermath of Sat. nite in Amsterdam. After a surprisingly decent Irish breakfast from the pub in the airport, we were on our way home. Where to next? I'm sure wherever it is won't have as nice toilet paper as they do in Holland and Belgium.
---
home | interviews | photos | features |BGN issue list | reviews
links | contact us
Copyright © 2014 Paul Lovell. All rights reserved.