Joanie's Colombia Vacation
June 2018
For past vacations - Click Here
People ask why would you go to Colombia but I'd heard good things and the drugs and shootings and all that fun stuff had settled down for a while, so I figured it was time to get there before everyone else. And if I told you what I paid for the whole trip (and I will if you ask me), you'd go too cuz it was a deal and a half, as well as being an inexpensive place to vacation. After a busy Saturday, I hit the sack at 10:20 in preparation for 2:30AM wakeup travel day but only slept from about 12:30-2:30. Got to the airport at 3:30 and had fine flights to Miami then on to Cartagena, a good sized city with an old walled section for all us tourists. I had talked to the hotel to get a car to pick us up at the airport to make life easier after being up so early but alas, no one was standing there with a sign that said "Joanie". We then went to get cash and not one bank machine worked for me (saw an email from the bank the next day that they'd had a systemwide issue). Mike was able to get cash tho so we took a cab (which was 1/3 the price of the car) to the Alllure Bonbon Hotel and lo and behold, it's locked. WTF? Finally someone sees us and tells us the hotel is under renovation and we'll stay at the sister hotel Chocolat down the street. Why did no one email me about this? I'll never know but I ripped them a new one on Trip Advisor. The folks at Chocolat were very nice and after one room change, things were fine. We left off our stuff and walked into the old city to take a free walking tour which was okay but the guide gave us a little too much trivial history. And it doesn't help when you're tired and sweltering. I'll try to say this only once, but I've never sweat so much in my life. It's that kind of heat that just hits you in the face, not my thing. But that makes you enjoy an ice cold Aguilar (the bud of Cartagena) at the townie bar Donde Fidel all the more. We then did the traditional sunset on the wall with the other tourists and wandered around looking for dinner. Ended up at a pretty place called Azule Jo which advertised itself as "farm to table" but that was the only English we'd experience there. Not that I expect everyone to know English but with 5 people working at a restaurant in the middle of a tourist town and us trying to communicate in Spanish and find out what the heck we'd be eating, you'd think we'd have more luck. We did end up with a tasty grilled octopus appetizer and good pork entree (which took forever) along w/ a glass of wine (it wasn't easy figuring that out either and I ended up charged for a bottle instead of glass) (full food report here: Chowhound.) A free dessert came for some reason, maybe it all balanced out. All I knew was that I was filthy and every day there, I couldn't wait to get back to take a shower and try to catch up on sleep.
| | |
| --- | --- |
| Around Cartagena | More Sights |
Allure Chocolat had an okay breakfast buffet with a lot of choices. The people working there wanted to carry my juice to the table and were over the top, maybe to make up for the not great service everywhere else. We asked the guys at the front desk about going to the Mercado de Bazurto which I had read wasn't touristy. They actually tried to talk us out of going but got us a cab and oh my god, the place was insane with so much fish and meat for sale (and don't forget the eyes!) out in 90+ degrees, yowzer. A million people, a million smells, scooters and trucks squeezing down these little roads and us gringos sweating our asses off just wanting to buy a cold water. We then took a taxi to the San Felipe de Barajas Castle, which in any other city I'd walk to but way too hot. Pretty place and we enjoyed the tunnels and views. One more taxi back to town (this is more taxis than I take in two years) for a traditional lunch and more wandering around getting accosted by the tons of people selling tons of things. Mike got a not great deal cuz he couldn't say no to Willie, they were all relentless. Mike dubbed it the "hassle district" when we'd get inside the old walls. We went back to the hotel to take advantage of the roofdeck pool but that was also an icky 90 degrees (or close to it) so I felt no relief. That evening we sat outside at El Baron for one of their fancy drinks and lamb sliders then wandered back to the wall (where the breeze was great) for the touristy Cafe Del Mar. Strolled some more, got a gelato and that was that.

Cartagena forts, churches and eyeballs
Our last day we visited the Inquisition Museum, Basilica Menor, Juan Valdez café (haha had to do it) and got lunch with more overcooked meat but tried a tasty guanabana juice. That evening hit a bunch of stuff in our hip Getsemani hood outside the wall with drinks at El Arsenal (free hugs!), and a few more stops checking out graffiti and the squares where people are just hanging til late, who cares if it's Mon. or Tues. Since we had to be at the airport at 6:30AM, we called it a night and got ready for part 2 of the vacation in Bogota starting with a free ride to the airport cuz of the hotel's screw up. Then we hung out in a city of >7 million, >8000 feet high and temps WAY less than 90 degrees, YAY!!! We had to kill some time before check-in so we got a weird big breakfast with soup around the corner then had some issues actually getting into the place. The apartment was great and well located but there were a few issues which I did mention in my review and then I got slagged in the host's follow-up review on Air BnB which I think he was a little excessive (esp. compared to the great ones I've gotten in the past). Oh well, I didn't know that was coming yet obviously. We got our act together and walked about 4-5 miles to the La Candaleria section of town, where the old buildings (and tourists) are. We took a free graffiti tour which was pretty interesting, but you can see it all over the city anyway. The place I wanted to eat at was closed so we ended up in the balcony of a touristy place eating more overcooked pork and trout but thankfully a good sauce saved the day and the dude luring people in was a sweetheart. Our actual waitress wasn't great tho and our tres leches cake was unlike any I've ever had. Oh well, live and learn. We then got a drink at the Doors bar and watched some rock videos (a big thing down there) and stopped at the rock bar next door to our building. Place was dead but we met a couple fun gals, that was probably the most crowded I saw it, when the four of us were there.

Around Colombia
We got picked up at 8AM on Thurs. for a tour of the Salt Cathedral and Lake Guatavita with our guide Gustavo, about 45 and 90 min away. I had arranged this in advance and figured I'd rather spend the money and be driven around than try to figure out buses and cabs. (Side note: our attempts on the bus were kind of pathetic but one guy gave us a free pass which I wish we'd gotten to use more.) I think we could have cut the Salt Cathedral a little short (and the after stop at the spa where they tried to push product on us). But it's a cool sight and lunch in Zipaquira was okay, esp. the ajiaco soup. We then visited Laguna de Guatavita, a sacred and ancient spot where the native chiefs were appointed. There was a lot of driving and bouncing around on bad roads and rides on old local busses but it was worth the effort. The day continued tho cuz but my Buenos Aires pal Pirulo had put me in touch with his buddy Facundo who moved to BOG a while ago, so we regrouped and went out with him, his wife and her sister. We hit a local fried chicken joint and as I was pulling up the old BGN Buenos Aires trip report, we discovered that I met Facundo at Pirulo's weekly BBQ 9 years ago which was amusing. He, Mike and I went to Blossom Bar after for mostly bad rock music and local beers and called it a night. Surprisingly, Facundo wouldn't walk home so while things went smoothly for us in Bogota (and I didn't need the extra precautions I bought on Amazon), you still need to watch yourself.
| | |
| --- | --- |
| Bogota rock, and food | Graffiti |
Fri. we went to Monserrate taking the stairs partway up then the cable car. Pretty spot, lots of tourists. Got lunch by Parque de los Periodistas, another "platos tipicos" (I'm done with that for a while). We decided to visit the Botero Museum; not a fan of the guy's art but the museum itself was really pretty. Searched for a record store I had on my list in a mall with tattoo parlors but that guy was kind of a dick. A couple doors down tho was Rolling Disc and those guys couldn't have been nicer trying to find me Colombian punk and rock to buy. That evening I was starting to get sick but the Negroni at Huerta Bar tasted great and the "travel agent dinner" at El Chato was very nice. Then more rock videos at Chapin Rock Bar and their 2 for 1 special that Mike took advantage of while we watched videos by Skid Row and Kraken. Maybe something went wrong with the drinks cuz he felt like shit the next day. We started walking to the nicer area, Zona Rosa, but he had to go back to the apt. I wandered around, sat in a nice café, came across RPM Records and had a good chat with the gal working there, mostly just meandered around. We went out for a burger in the neighborhood and planned to hit local bars (even tho Drab Majesty was at Asilo Bar where Facundo was going), but Mike had to call it a night. I had noticed this cute place while out Thurs. nite and returned to the bar of Mesa Franca for a great cocktail cuz dammit, it's my last nite in a country I'll never visit again and I'm going out. Chatted with the bartender who spoke English and was super nice, and made a great drink. Wandered around to check out other rock joints Treffen and Open Light then was heading to Acido Bar a little further out but was dragging ass and just didn't have it in me to walk more.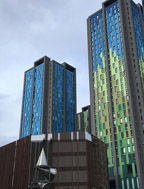 Around Bogota
Sun. our flight didn't leave until 9:30PM which gave us time to check out the big market in Usaquen. Luckily Mike was able to get out and we walked 5 miles there, with many bathroom stops on the way haha. On Sundays they also close off lots of streets for a huge city bike ride, kind of cool. The market was mostly crafty stuff and I was only slightly tempted, Mike went for some souvenirs and the "big ass ants". We took a crazy bus ride back to our area then lunch at Bogota Beer Company which was quite decent (the meat in the steak sandwich wasn't overcooked!). Then a cab to the airport and the long ass trip back to Boston. Eastern Europe next?