Joanie's Florida Vacation
March 2018
For past vacations - Click Here
Florida is not a place I've longed to go back to. But I had wanted to visit the Dali Museum in St. Petersburg for a few years plus a friend recently moved to Naples, so I decided this was the time. My third American vacation in a row, WTF? Even though my sunscreen got tossed at security and my watch died an hour after I left home (who else travels w/ 3 watches?), things went smoothly. Picked up my VW bug at the Ft. Myers airport but actually took the wrong car. They adjusted the paperwork and I headed to Port Charlotte on the way to St. Pete for (part of) a pancake bigger than your head at Diane's. Got into St. Pete mid afternoon and thought about seeing the Dali museum first but I was feeling grungy and tired so after I couldn't get the parking app to work, I said screw the museum. But I discovered that St. Pete is filled with free 2-3 hr parking so yay. Grabbed a quick happy hour daiquiri at the Tap Room, walked around the Locale Market which I'm sorry I never bought anything from then got a drink on the roof at the Birchwood Hotel. Went to fun Central Ave. where I had a tasty Cuban sandwich at Bodega then to meet my Air BnB host Traci. Once we got talking, she invited me to a monthly B&D dinner she attends in Sarasota but "I didn't have a thing to wear". She was a card. Her house is super cool in a mid century modern way and my space was very comfy. Just wish it was closer to Central Ave. where the action is. I returned that evening to wander around and hit the Emerald bar on Evan and Linda Mucks' recommendation (they said it was the Abbey of St. Pete, back when you could smoke, ugh). Sat at the bar w/ a $2 Rolling Rock and chatted to former chef Bret who was also a card. Called it a night after an ice cream at the old school Dairy Inn.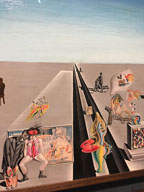 St Petersburg
Sat. I hit the awesome Saturday Morning market which has everything from produce to jewelry to pierogis, and lots of other great food choices. I then hit the Dali Museum which wasn't quite as good as I thought it would be. Only one floor of stuff but still glad I went. I wandered around and even tho St. Pete is laid out like a grid, I managed to get twisted around so when a nice guy who worked at the little airport could tell I was lost, he gave me a ride on his cart cutting through the private airport area to get back on track. I then went further up Central Ave. and checked out the antique places and record stores. I knew Daddy Kool was as cool as its name when I saw a photo of Gaye Advert and Joan Jett as soon as I walked in. I hit the Copper Shaker for a fancy drink and appetizer then after regrouping, I saw some nice stuff during their Second Saturday Artwalk. The Duncan McLellan Glass Gallery had a little party going on and lots of cool glass and sculptures. Also saw good art and clay stuff around the corner and more things downtown. Grabbed a half pasta and wine chatting with a nice cop and his wife then saw "Nirvanna" (yes two N's) playing outdoors at Janus. They were pretty decent actually and it was good hearing 'School' and 'Negative Creep' but that was my only music of the trip. Didn't see much of the Blink 182 opening band haha, but pretty weird and kind of nice to be watching music outdoors on Feb. 10.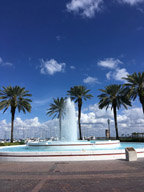 More St Pete
Sun. I checked out the Wagon Wheel flea market where I got a battery for my watch AND a new strap and belts and could have bought a lot more if I lived in the area. I then went to the giant Bananas record store which is definitely worth a visit. Wide ranging records plus cool old radios and stuff around the store. Another stop on Central Ave. then drove to the Pass-a-Grille/St. Pete Beach area of town. The cop had told me that Level 11 on top of the Grand Plaza Hotel would be a good place to see the sun set so I got a good spot and ended up talking to two nice guys from Minneapolis and Madison who I ended up getting dinner with.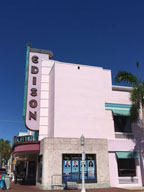 On the Road
Mon. I got coconut cream pie to go at and drove to Florida Southern College in Lakeland which has a lot of Frank Lloyd Wright buildings. I'd made a reservation to take the basic tour at 10AM. It was hard to find parking so I ran in right at 10 and they put me in one group getting ready to go, so we start the tour and the guide is yapping away, not showing us much for buildings and at the 90 min mark, when my tour was supposed to end, I realized they put me with the guy who does the extensive tour. I ended up on the very end of the other tour then wasn't charged cuz they messed up. So I didn't really see everything I should have but got an overview.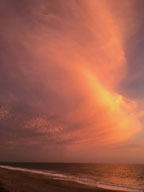 Vero Beach
I then drove to a couple hours to my next destination, Vero Beach on the east coast. After much research and canceling of reservations, I ended up at the Holiday Inn right in the main strip of the beach and it was a good choice. Hopped in the pool then got dinner with my older relative John who's lived in Melbourne a long time. This guy used to visit us driving an MG or Thunderbird back in the day, he was the coolest. The Ocean Grill was a quirky place but provided good baked stuffed shrimp and a surprisingly tasty basil martini. Tues. I got out early for the amazing sunrise on the beach (along with lots of Portuguese man o' war jellyfish), got a donut but actually threw it away (so sad) and wasted time until my airboat tour with Captain Kenny. That was pretty interesting and we saw a few alligators in the water and on the ground including some babies. Had a hard time finding the right spot for lunch and as I was planning my next move in a parking lot, a woman hit me in backing out. Sheesh Dorcus (yes that was her name), how did you not see me? She immediately comes out saying "I can't back up" but it was a small scrape and the rental company didn't seem to care when I returned it. Whatever, I went in the ocean when I returned to the hotel and got my ass kicked by the waves so I didn't stay in long (plus I was afraid of those jellyfish). Made some stops around town checking out a nice brewery (ruby imperial grapefruit IPA), the longstanding Driftwood where I talked to nice Connecticut people, got great shrimp and grits at Southern Social, and a daily frozen pina colada drink special at Cobalt.

More Vero Beach
Wed. I grabbed a mini cinnamon bun then drove to Naples thinking I'd take a random exit after an hour or so and get breakfast. It's literally impossible, there are no exits across the interior of Florida and I only saw one restaurant until I got to this town La Belle which had a few options. Got eggs and hash browns (yay) at the Big V. I was probably the only non-Trump supporter there. Talked to some nice guys who told me not to walk to the new café cuz it was, I don't know, too dangerous? It was about .3 mile away and all I saw was a church and school, not sure what the issue was. I got back to civilization, aka Naples around 2PM, walked around one of the main drags, hit a happy hour at the swanky Continental, bought wine for my hosts then drove to North Naples to hunker down with my friend Linda and her SO Steve. Steve's into cooking now so we had amazing escargots and scallops w/ risotto.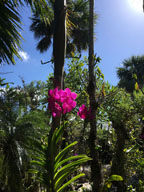 Naples
Thurs. Linda and I visited the beautiful Naples Botanical Gardens then shopped in this area called Tin City; nice sitting outside for lunch with storks hanging out. Piddled around the main drag of 5th Ave. then went to crowded Vanderbilt Beach so I could swim in the Gulf of Mexico. That evening I took them out for cocktails at Lamoraga then Linda bought us an amazing dinner at the USS Nemo. Fri. we started at Trackside Donuts then hit a fun flea mkt in Bonita Springs. I got Linda a pretty bromeliad (a plant I'd never heard of) to put on their lanai (another word I never knew, aka patio) then breakfast at Bob Evans then I did lots of wandering around 5th Ave. to the pier then thru Old Naples. Even stopped in an open house for a $1.7 million home. Got some snacks and drinks then walked to the beach for sunset. The divey (ish) North Naples Country Club was too crowded, so I just grabbed a gelato and went home early. Sat. I packed up my stuff, went to the Third St. South Mkt then drove to Ft. Myers to spend some time before my flight. Got an iced coffee, went to Joe's Record Exchange (nice guy who lived around here a long time ago), then hit the Edison Festival of Light which happened to be going on; some crafts, music and what not. I should have made time to visit the Edison Ford estates but by the time I was done w/ lunch and walked over, I didn't leave myself enough time. Had I known I'd have no problem returning the scraped car, maybe I could have squeezed it in. Oh well, sorry Tom and Henry.

More Naples
Next destination is definitely off the beaten path, Colombia.