Joanie's Vacation - The Villes
June 2022
For past vacations - Click Here
So one of the trips I'd been talking about doing for a while was "The Villes": Asheville NC, Knoxville TN, Greenville SC, then I decided to add Charlottesville VA. The outlier was Roanoke VA, plus we stopped down and back in Baltimore and Philly. What time do we leave? 3PM the Fri. of Memorial Day weekend. That was as bad as you'd think it would be. Actually for a while, it felt like things were going fairly well but what should be a 6+ hour drive turned into almost 9 when you get to the George Washington Bridge, plus add in a couple torrential downpours. And having to wait for a gas attendant in NJ (no self-serve) and tip them! Whatever, we rolled into Baltimore about 11:45, found a place to park close to where Maryland Death Fest was happening, watched the end of the last Carcass song outdoors from behind the fence and just hung out a bit. Ran into Robin aka Portland Distro on Instagram, and got a dinner of packaged crackers w/ peanut butter before checking into the hotel. That didn't go as smoothly as it should have, even worse for the guy in front of us, but the room was comfortable and sleep was needed.

Baltimore/Philly
We had a 4+ hour drive to Roanoke and decided to stop in Harrisonburg VA on the way. Right off the main road was the little trailer Smokin' Q so that was our first BBQ of the trip. We enjoyed a very tasty, vinegary pulled pork sandwich. Stopped at a cool industrial complex where we hit Black Sheep Coffee which has the Minor Threat cover for their t-shirts (Ian Mckay approved), wandered around the farmer's market then on to Roanoke. Super cute little city. Our fairly generic Comfort Inn was great and about a mile from downtown, so we got some good walking in. First stop was Crescent City Bourbon & BBQ where we split a fried baloney sandwich (but way nicer than the ones you make yourself) and Andrew loved the beer. It was happy hour so I had a good old fashioned and the people couldn't have been nicer plus they played good music. We happened to be in town the weekend of a music festival so saw a tiny bit of the bands, walked thru the vendors and caught a classic car show. We regrouped to come back for a speakeasy called 202 Social (disappointing Bee's Knees), got dinner at Sidecar then ended up back at Crescent City so A. could have that beer again.

Roanoke
Got out fairly early on Sun. to hit fresh made treats from Duck Donuts then walk around Mill Mountain where the landmark Roanoke Star is. Stopped into Black Dog Salvage where you'd go crazy if you were an HGTV designer. Then over to Scratch for biscuits, checked out the river walkway, hit the local general store chain Mast, and an art gallery. That evening we had to visit the long standing Texas Tavern for a tiny burger, Well Hung wine bar for charcuterie, the cool dive Jack Brown's (whose burgers looked amazing), played pool down the street then ended up at the Regency bar of the Hotel Roanoke to watch the Celtics playoffs (when we thought they might take it all).
The Biltmore
On Memorial Day we drove to Asheville with a stop in Boone, a cute touristy town, but no signs of Daniel Boone who they're named after. We had an excellent fried chicken/fried green tomato/pimiento cheese sandwich at Ransom Bar, got an iced coffee then on our way via the Blue Ridge Parkway with some scenic stops. Got a good deal at the Beaucatcher motel just outside of downtown Asheville, it bills itself cooler than it is but no complaints (well, the hot water got scorching). As you all probably know, Asheville is known for beer so we started off at Burial in an area with quite a few breweries. Later we stopped at the Vault for a ginger martini (much more my scene), an IPA and sliders. Wandered around town and ended up at an old building housing the restaurant Packs for a grilled pimiento and bacon w/ sweet potato tots (def. became a pimiento cheese fan this trip).
Tues. morning was our reservation for the Biltmore Estate, at a cool $92 a pop. It is pretty impressive and the grounds were massive, but we had a wine tasting to get to further away on the grounds (included in the price) so didn't walk/hike as much as we expected. Then again, it was super hot so just as well. It was interesting, would have felt better paying $30 or so less. Lunch was at Three Little Pigs which came highly recommended, wasn't feeling it. Hit West Asheville to check out Harvest Records and wander around that section of town, plus Wedge Brewing was there. That evening it was back to The Vault for the Tues. martini special (and IPA for A), more walking, saw a woman taking a dump in the plants at a closed patio downtown (sheesh) and after that pleasantness, decided nicer restaurant Isa would be our stop where we had an amazing fried catfish dinner. Then we met "Fast Eddy" at Desoto Lounge in W. Ashe. who KXSF DJ (and former Bostonian) Carolyn hooked me up with. He's friends with Roy, a former LRC DJ, but Roy didn't make it out that evening. (BTW they're both on Sunday nights on ashevillefm.org). Desoto was cool with a nice patio plus a ping pong table, which I did not dominate against Eddy (who has his own table so there you go). We also hit the Odditorium up the street, it lived up to its name, and called it a night.

Ashville
Last day in town we were finally gonna do a real hike at the Lookout Trailhead in Black Mountain about 30 min from Asheville. After delicious croissants from Four Sisters café, we headed up and soon there are really high steps that start to take it out of you, esp. with a left fused ankle and right artificial knee. I would have kept doing the steps, and the snake didn't deter me, but the boulder toward the top did. If I had gotten up it, I'm not sure how I would have come down without killing myself. So the money shot view from the top just didn't happen. Sigh. We then hit the Botanical Garden which wasn't so great. Back to town for Static Age Records where I bought an awesome Bloodstains Across Buffalo comp (they also have shows). That evening we checked out Green Man Brewery, walked by outdoor music, saw some art, caught sunset on the roof of the AC Hotel, dinner at Asheville Proper then ended up at the cool bar Lazy Diamond. You haven't seen low prices like that in a very long time up here.

More Ashville and
Lookout Mountain
Short drive to Knoxville on Thurs. and what better way to waste time before you can check in than grabbing a flaky croissant from Wild Love Bakehouse then going to Peter Choyce's house. His little red house with 9 cats, which had become 13 since we'd last spoken. You know that cat smell? You will after you stop by his place, haha. So it was good catching up, hadn't seen him in a very long time. He offered to be a tour guide and cook us Indian food, but I had my list so we set off for downtown and parked in this lot under the highway for free. It was a little dicey, drug deals, ladies of the evening (afternoon)? Who knows but nothing we couldn't handle. I wanted to hit some happy hours (always searching for HH while traveling) so first was a drink at Stock & Barrel then after getting acclimated more, over to Tupelo Honey (a small very worthwhile chain in the Villes). The daiquiri and fried green tomatoes app (both on HH special) were so tasty as was the entrée of cast iron pork (all split of course). Great bartender who never knew anyone from or who had even gone to Vermont, weird. We checked into the Tru Hilton who had a pool table, regrouped then back to town for a beer for A at Merchants of Beer (in a diner car) and a stop at the super cool, 50's feeling Corner Lounge on the drive home.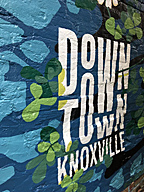 Knoxville

Fri. we had reservations at Lost Sea, billed as "America's largest underground lake". We walked down the caves then you get on a boat for a little tour around the very dark lake where the fish are blind. We drove a weird/wrong way back and stopped in this town Louden where asking for iced coffee at the one café was a bizarre experience. It was more a sit down breakfast/lunch spot and they seemed confused by our request. We waited for the two women to confer and after what seemed like a very long time, we were told that two iced coffees would be $14.50. Not sure if they were making frappucinos or what but we declined (before the finished product appeared) and hit Archers back in town for decent pulled pork and Maple St. Biscuit for a fried chicken sandwich (both split). That night we parked the car a little ways away and walked into town which was busy with First Friday art walk action plus Dolly Parton weekend was going on. Started with HH at the longstanding Downtown Grill then over to the amazing JC Holdway for a great dinner. I had talked to the manager while standing outside the night before and it seemed like a good place to treat ourselves and indeed it was. We then walked over to Crafty Bastard Brewery where we sat outside with Peter Choyce on a nice evening, left just as the drag bingo or whatever was getting going.

Sat. we started at the Botanical Garden (much nicer than Knoxville) then hit a café where I met listener William who I've been texting forever and who actually worked with one of the people in my lab when he was at Harvard years ago. Super fun meeting him in real life. Then it was time for a proper fried chicken meal (split of course) at Gus's. Oh man, that was good stuff served by a sweet waitress. Ended with some chess pie, full on southern experience. We came back to town and walked by the area that had hosted the World's Fair 40 years ago and stopped by the Eastern Tennessee Museum who had an exhibit on that. Went into the old school pharmacy/soda fountain, plus hit Status Dough donuts where Andrew ate his coffee old fashioned donut right then and I saved mine for the drive the next morning. What a yummy flavor combo, figured better to buy then to make it easy to leave town. This info is related to our stop for happy hour. I decided the roofdeck bar of Scruffy's City Hall would be good, so sat up there watching the scene in the market square area below. I put my bag on the counter next to me since the chair didn't allow me to hang it.

Hung out for 30-40 min, grabbed our stuff and walked back to the car (in our favorite funky free parking lot) and while walking down an alley, I had ants on me. Didn't think much about it, get to the car and I was driving so just kept the bag on me for the short ride back to the hotel, and see more ants on me. Then more and more and I start freaking out. We pull over and I open my bag and so many had found their way to my little coffee old fashioned donut. I chucked that thing as far as I could, emptied the bag, shaking my clothes and we started killing as many as we could in the car. It was really gross. When we got back to the room, I took alcohol swabs to clean the bag then we hung it in the white shower to see if more were going to make their way out, plus Andrew gave the car a spray of Off. I can't believe how many got in there after 30 or so min. Weird.
Knoxville Part 2
I managed to get over this trauma so we came back to one part of town to try Hi Wire brewery (Knoxville loves their beer too) then downtown to the Vault (not related to Asheville's) who had a cool downstairs bar in a former bank vault. A snack and a drink there then eventually over to Southern Grit where we had to rush to order our food by 9:30 on a Sat. cuz the kitchen was closing. Things don't stay open too late down that way. Shrimp n grits and brussels slaw were delicious tho. The punk rock club Pilot Light wasn't open at all for us to check out so headed home.

On The Road
It's Sun. morning and I wasn't leaving Knoxville without a coffee old fashioned donut so back to Status Dough then on the road to Greenville. Too early to check into our Urban Boutique hotel, is it really a boutique hotel when our next door neighbors might have been living there? Who knows. We parked downtown then walked out to Rocky's Hot Chicken which was good. Saw an egret on the way back, walked around the pretty downtown park and waterfalls they have, unfortunately there were also people holding MAGA signs in their cute downtown. Regrouped then headed to Vault and Vater (all these Vault places on the trip) for a fancy HH drink then over to Smoke on the Water for dinner with long time listener Michael and his friend Debbie who came up from Alabama to hang out. I confused this Mike with Mike who roadied for the Outlets years ago who also lives in Alabama at one point and it took a long time for it to dawn on me that they were two different guys (and saw the former Boston Mike just two weeks later). In any case, we had a fun dinner and our harried waiter took good care of us. A and I ended up at the Hall of Fame bar across from our hotel to watch the Celtics.

Greenville
Monday we stopped by Methodical Coffee and checked out the nice park there then over to Lake Conestee and the nature preserve. Then we stopped into the Museum of Confederate History, in a little private house, where what I thought would be an objective look back might be a subjective "good ole days" kind of thing. Hit the Greenville location of Tupelo Honey for happy hour then the 70's throwback Zorba where we split their famous steak & cheese. It was delicious but my stomach protested and caused problems for about 36 hrs. Tried to hit the Shoeless Joe Jackson museum but it seemed closed, stopped by Horizon Records, regrouped and back downtown for She Crab soup at Sassafrass and called it a night.
We had a fairly long drive on Tues. to Charlottesville so finally hit one of the hundreds of Waffle Houses on the way. Rolled into town and hit Sedona Taphouse for happy hour. Thankfully they made good HH cocktails there, we split sliders and caught up with long time listener Wes who I've met when he's come to Boston a couple times. Checked into the Holiday Inn Express & Suites which was quite pleasant even if they turned the water off one night (hotel prices ranged from about $80-125, half the price at least of places in Boston). Andrew and I had a snack at Little Star later, stopped at the dive bar Livery then grabbed an ice cream cone in the main square (with many bathroom stops in between haha, things were still off). The next day we checked out the Univ. of Virginia campus, old time burger joint Riverside, the cute Eastwood Winery then got ready for the swanky event that Wes was organizing at a fancy resort. They had some nice food/drink there but I could only have a couple bites cuz it was the travel agent dinner at the wonderful C & O Restaurant. Housed in a cool old building, 3 floors and a patio, pretty great service throughout and absolutely delicious food and drink. Some of the best food I've had in a while, go if you ever find yourself down that way.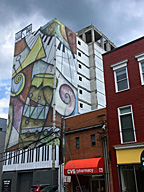 Charlottesville
Thurs. we had a long drive to Philly. I'd gotten a deal with Travelzoo for the Bellevue Hotel but not sure it was worth the hassle. Esp. since I didn't want to pay the $56 per night for parking (WTF???) so that was a pain. The building is gorgeous, built in 1904 and a historic landmark, but the room was just okay, not as great as it should have been, esp. if I'd been paying full price. Philly LOVES their happy hour so we headed out to The Goat Rittenhouse where Mike and Noah working there couldn't have been nicer. Then down the street to the Harp & Crown which was a great space, Andy was a nice bartender (tho I've had better cucumber cocktails) and neighbor Neil at the bar, who's actually moving to Boston soon, gave us half a pizza. We had one more bar experience later at Barbuzzo for gnocchi, wine and tiramisu (where the bartender couldn't believe Boston didn't have happy hour) and out early on Fri. to get our car out of the garage (easier said than done haha), a stop at Frankie's Diner in Bridgeport for a big lunch and back to Boston. A full two week vacation which I haven't done in eons. It was a lot of work, a lot of driving (just shy of 2700 miles) and made me respect touring bands a lot more. But the Villes is checked off the list, now where?
---