Joe Coughlin Benefit
Friday July 30 - The Midway
Joe Coughlin has been on the scene a long time and he's a real character. Lately he's been notable for wielding the flaming sword of criticism in the Noise and adding to the flavor of the Noiseboard. So when he ran into a hill of health problems some people decided to have a night to raise some money for much needed living expenses. This was the night.
I don't know who put the bill together but this was one of the most interesting line ups in a long time. It had quality and variety, a tribute to Joe and his taste in music and friends.
My usual work schedule made me miss the beginning of the night which included John Powhida, Chandler Travis, The Philly Roy All-Stars and Lenny Lashley. I actually can't image seeing all those people because the acts I saw after that could have filled two nights over again.
Classic Ruins were playing upon my arrival. There was a nicely filled Midway to hear them. The Midway is still going through the expansion process and the wall behind the bar is draped in plastic sheeting which makes you feel you are in a decontamination tent or something but faced away from that it's just the familiar Midway.
Frank is still on his Mosrite guitar kick which has all our attention these days. He was playing another knock off tonight. They did a Bo Diddly number that fit them like a glove along with the usual great material. Tommy Long was on drums. Tommy was in the Ruins for a while years ago. He did the Ruins a good turn. He's a tidy drummer with punch. His control helped to package group sound tightly.
I never heard of the Roy Sludge Trio until tonight, my loss. The guitarist for the group (no drummer) is Duke Levine. Now, Duke Levine I know. He's one of the premier guitarists of the city. His credits and accolades are endless. You can Google him to get some idea of his career. Roy has a booming low voice which commands attention that, along with a chatty stage presence, makes for an ultra entertaining set of C+W tinged material. Meanwhile Duke is playing some of the most outlandish Telecaster slinging riffs you would ever want to hear. He did a Les Paul styled instrumental that made my jaw drop to the ground. With this guy it's not just the riffs but the tone that captivates. The steel guitar style pull ons were stunningly perfect during Don't Bogart That Joint (from the Easy Rider soundtrack by The Fraternity of Man).
Then the evening took a twist with an unscheduled group, Men and Volts. I've always had a soft spot for these guys and played them many times on the LRC in the early days. They started as a Captain Beefheart cover band and even their original material holds many of Beefheart's earmarks - jerky rhythms and unconventional song forms. They play once in a blue moon but they must still practice regularly because they were super tight and this music must be tight or it's useless. Their unusual chord voicings and interplay give the group sound a strange beauty you don't get elsewhere.
So we went from C+W to Captain Beefheart type rock where to go from here? Not to worry, call Rick Berlin. Rick gave a fast two song interlude but that was enough for him to inject his personality into the proceedings. Rick has a lot to show, the voice, the songs, the piano playing; all first rate stuff.
Now during all this and this was a lot, many people were dying to see Johnny and the Jumper Cables. Well it was not a letdown. They came out of the gate stomping and ripping.
All night you could see Kenne Highland limping slowly because of gout and bad feet and wondered, what's he gonna be like on stage? Is there any energy there? Well ya, plenty. Kenne doesn't just play rock he is a student of rock. He knows so much about the music and has played so much rock in so many incarnations that parts of it color his singing and playing. When he's up there you are getting a lot of experience coming though his voice in his choice of words and inflections. Despite the bad feet he was moving around and even got off the stage and into the crowd. Whenever he started to sing The Keilbasa in that screechy voice you had to start smiling. The whole thing is joyful play. I can tell you about it but to get it you had to be there. Not to brush aside the group who lead by Johnny Black were spot on. No one cranks it like Johnny Black.
Now it's 1:30am and up comes Richie Parsons to belt out some songs with the Cables. He does Who Will Save Rock and Roll, one of my favorite Dictators songs and then we hear the leading notes into Don't Fear the Reaper. Perfect riffage by the band, a woman banging the cowbell and Richee giving a sweet turn to the singing (rather than belting the lyrics) made for a classic cover. It was so good I didn't care how late it was, it was just satiating.
It's like 10 of 2, are we going home? No. Roy Sludge is prompting Joe Coughlin to sing...to sing? Can this guy sing? I'm thinking he probably can't sing and that's the joke but Roy has prepared a song - The Way of Love by Cher !?!? The final surprise of the night - Joe can sing! Not only does he sing this song which is a singer's song but he's moving around the room like a lounge act and singing to the women face to face. Wow. OK now it's time to go home.
As I go out the door in comes Jay Allen who had a gig across town at the Rosebud and had passed a bucket to get money for Joe. He's bringing the cash for Joe.What a nice guy.
OK, NOW I can go home, and Joe raked in some dough.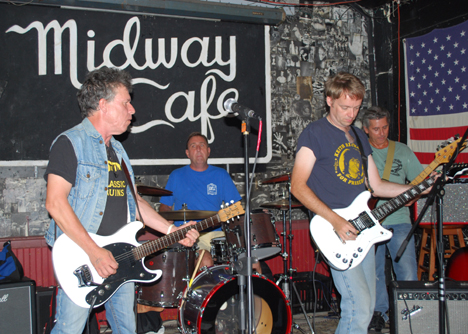 The Classic Ruins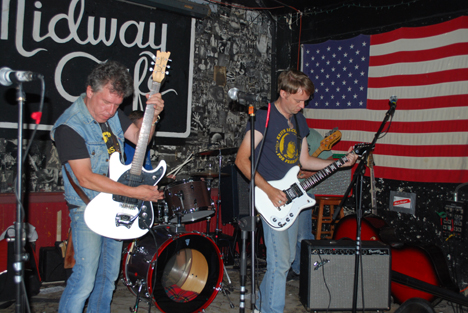 The Classic Ruins

The Classic Ruins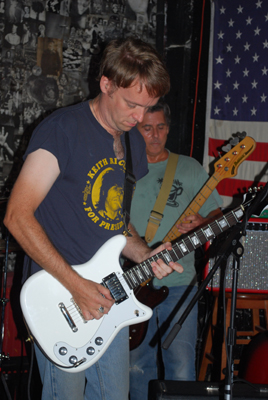 The Classic Ruins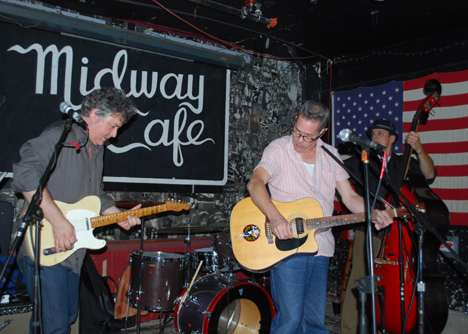 The Roy Sludge Trio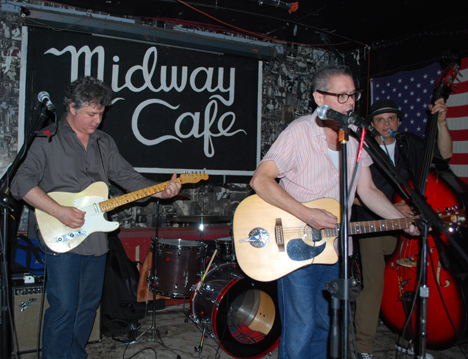 The Roy Sludge Trio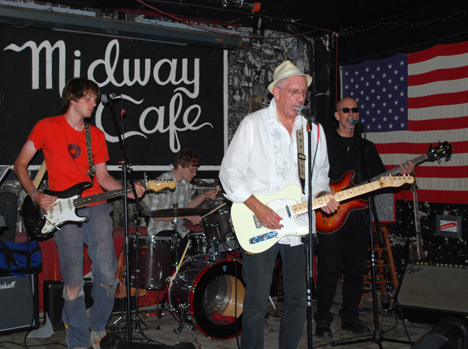 Men and Volts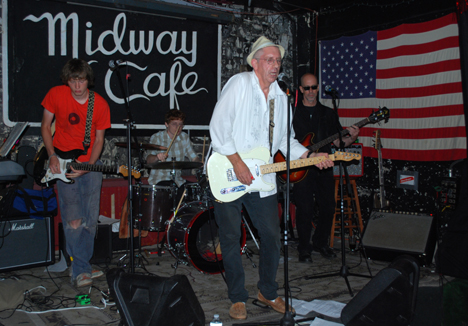 Men and Volts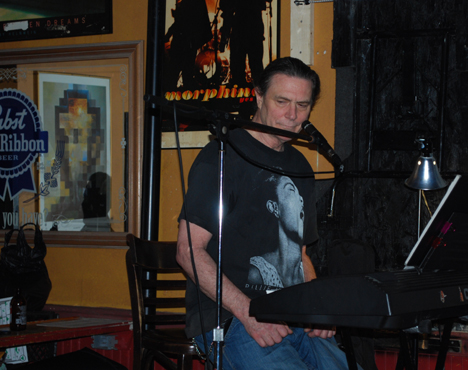 Rick Berlin

Johnny and the Jumper Cables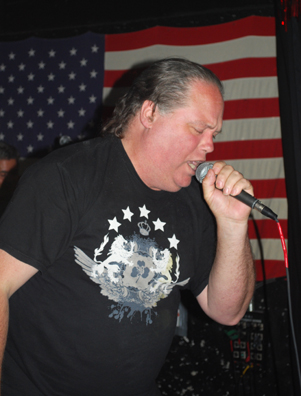 Johnny and the Jumper Cables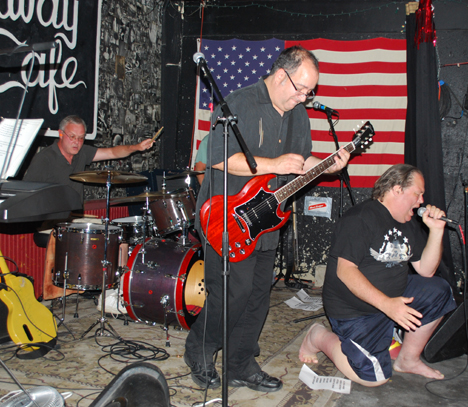 Johnny and the Jumper Cables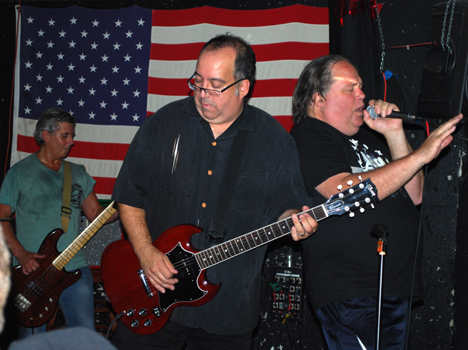 Johnny and the Jumper Cables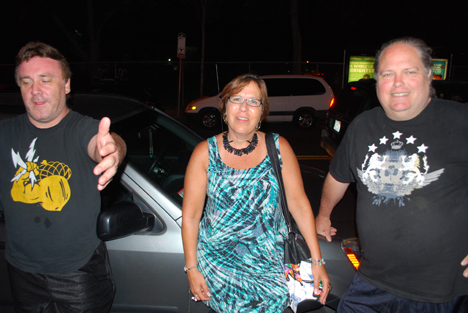 Betsy and Kenny

Richie Parsons with a head of beer.

Richie Parsons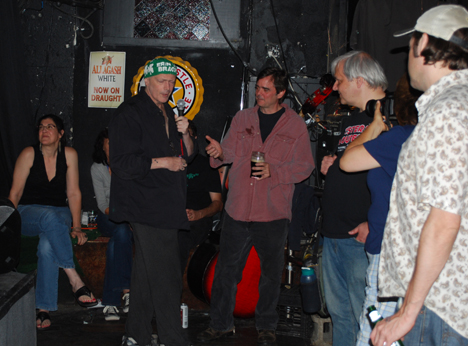 Joe Coughlin singing THE WAY OF LOVE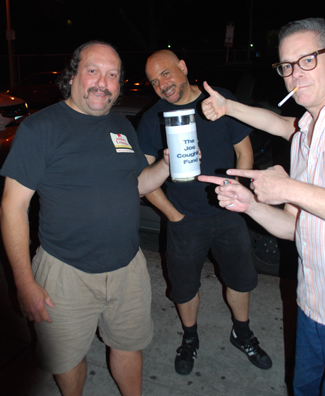 Jay Allen bringing in some donations from his gig at the Rosebud.
---
home | interviews | photos | features |BGN issue list | reviews
links | contact us
Copyright © 2010 Paul Lovell. All rights reserved.