Moose and the Mudbugs, Classic Ruins
The Prime Movers and the Turbines
Johnny D's Reunion at Church and Spit at Bill's Bar 5/1/2010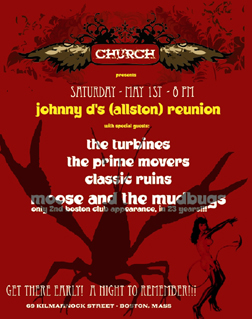 Seems like club reunions are the new thing. We've had a few Rat Reunions along with Father's Two reunions, the Bunratty's Reunion, and there is news of an upcoming Channel reunion. Tonight we get the Johnny D's reunion. The celebration brought out a very happy crowd making a near full club. They came up with a good line up topped with the Turbines who haven't played in a long time and came out of the blue to do this.
Moose and the Mudbugs took absolutely no time at all to plug into the good time feelings in the club. At one point Ed did a monologue about walking around Harvard Ave, Allston mentioning all the land marks as he walked by them in his imagination and we were all with him. I mean the area still looks the same, it's not like recreating the Hanging Gardens of Babylon but it was a genius moment by this unique showman.
The Classic Ruins faced a full club with their time up.There where a lot of people from the Johnny D's era we haven't seen in a while and they lapped up the familiar sounds of the Ruins. I'd love to see a log of the gigs this group has done. What a revealing list that would be. And, you never know when they may pop up but there they were, the Prime Movers. At this time the party was in full swing and this is a great party band and their version of Shake Some Action is the summit of cool.
After a few words by Rick Page and I do mean a few - like 10 - on come the Turbines. They did themselves a big favor with this gig because it showed that the memories were not exaggerated - this band puts on a knock out rockin' show. The songs hold up and the energy was full bore. The playing was top notch. Hovorka has his patented monotone voice that sits on top of the raging rockabilly below. During all this Hickey on guitar is cutting through everything like a sawzall, just a wonderful assault of string action. The mix is great, they have a BIG sound.
They were doing lots of photo shooting and movie action out in front of the club but I don't know where that stuff will end up. Inside the club the drinking and good times where hard to stop and it ended up a very late night.
here's some thoughts about the night fropm some other folks:
Rick Paige: "It just a great night, saw so many folks I hadn't seen in forever....John Havorka is an unlikely rock star, but he certainly is one. The Turbines should have been huge...We were very fortunate to live in that time and place, with so many great bands around, and we made friends that lasted a lifetime. I made a lot of mistakes in my lifetime, but if the devil made me a deal for any level of wealth or success in exchange for those years of my life nothing could make take that deal ...I hope Cam Ackland continues taking very good care of that painting of Dorian Grey in his attic.....I'm really glad so many came and had a good time, I TRIED to keep it as cheap as possible, in order to kep it in the JD tradition...I don't think I've smiled that much in a long time, and it was over too soon."
"I thought it was, funny and somehow appropriate, that the Spit Reunion was on the same night. My original PIP cards were a mockery of the Spit VIP cards. JD's was pretty much the Anti-Spit: gritty & rundown vs. slick & glitzy; neighborhood bar vs. uptown & suburban club; live local music vs. recorded hits; DIY vs. the Lyons Bros. corporation. It was funny when we first organized this, some people were concerned about the Spit reunion, I said "99% of the Spit clientele didn't know JDs existed, and of that 1% crossover, Spit should be concerned w/ us drawing away from them."
Ed 'Moose' Savage: The night was truly FABULOUS!!! Absolutely "a night to remember", as predicted. The bands were all tremendous, and the crowd was a great tribute to what a night was really like, at Johnny D's Allston, from '84 to '86. I, and all the Mudbugs, had such a blast performing. The crowd was a true community back then, and it was a true community of rockers, again on this night. I know I ain't done rockin!!! Rick, Doug, Church, my pal Fran, who did the awesome poster, put together a great night of bands, and people, that rock, and continue to support the scene for the right reasons! I am utterly proud to be part of it! "
Spit Reunion
Meanwhile another roving reporter Judy W went to The Spit Reunion as well and she reports: We were there at 8:30, so caught the last 1/2 of Henry Santoro, then all of Albert O, and half of Oedipus spinning. We missed Liz Borden, Robin Lane and Dini. I imagine Dini was campy/cool but can't confirm. Albert was spot on for punk stuff: Gang of Four, HSR, the Fall, Dillinger, Rude Boys...exactly right for 1979-81 dance. We danced every song. Oedipus played new wave to the crowd, which was largely the Revere post-disco group that populated Spit/Axis into the mid 80s. Big hair and cleavage.
The organizer, Mario Taddeo, invited all to donate to benefit another bouncer, Tommy Nicoletti, who apparently is paralyzed due to an accident; there were props to Lyons and a plaque to the manager John Tasse.
Bob Colby was there for a short while. Honestly no one else that I knew. If people I was expecting showed up, they were late and I believe it sold out. It was totally fun, but not much of a reunion. They did re-mark the doors to read "Spit" and had velvet ropes outside, nice touch. "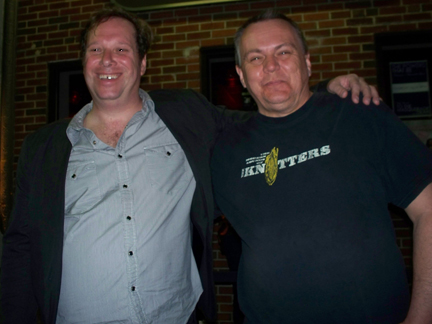 Doug and Rick Page of Johnny D's fame.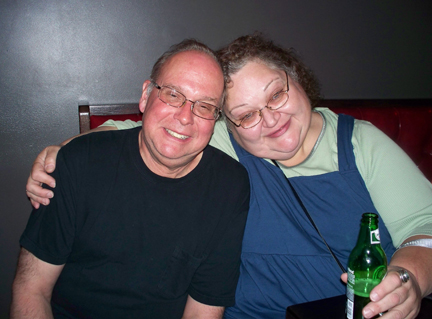 John Hovorka and Tontileo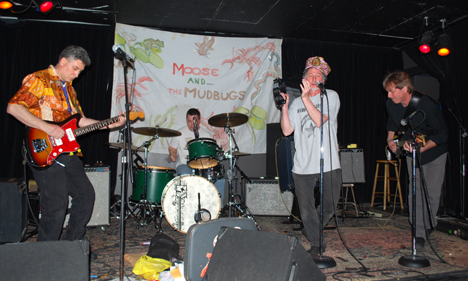 Moose and the Mud Bugs.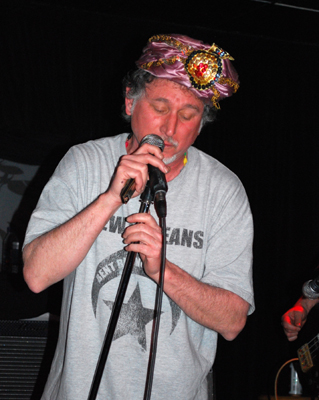 Moose in a romantic mood...that's what he said!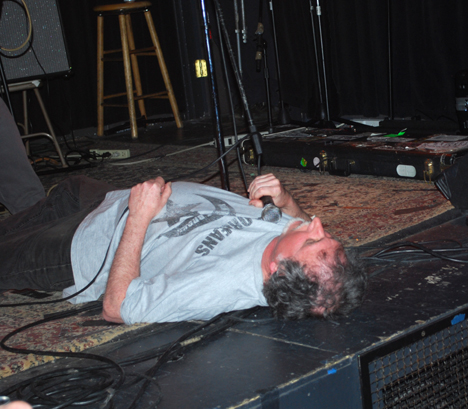 Moose after he gave it all.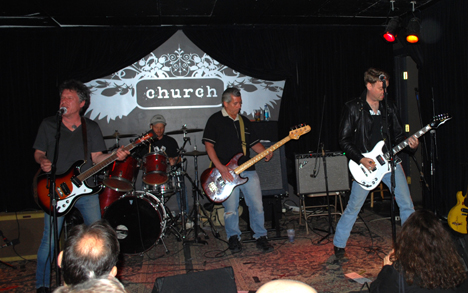 Classic Ruins did one of their classic sets.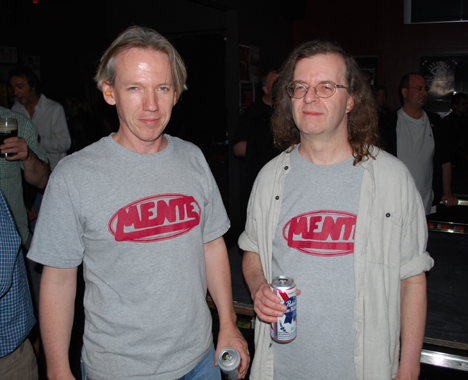 Mitch and Matt and matching Tees.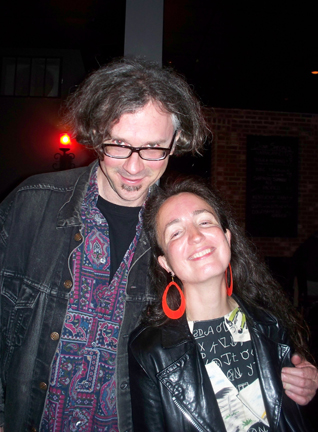 George Hall and Gregg Z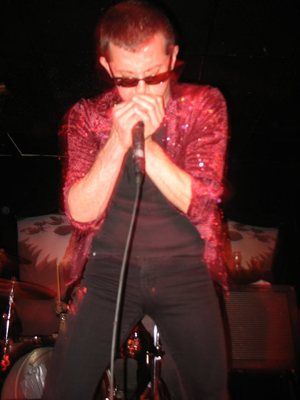 Cam of the Prime Movers
Photo by Monika
Prime Movers
Photo by Monika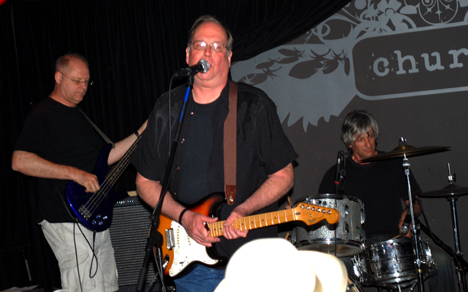 Turbines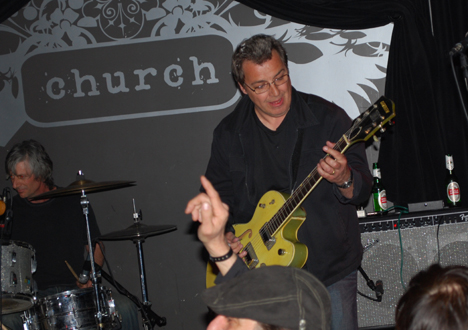 Turbines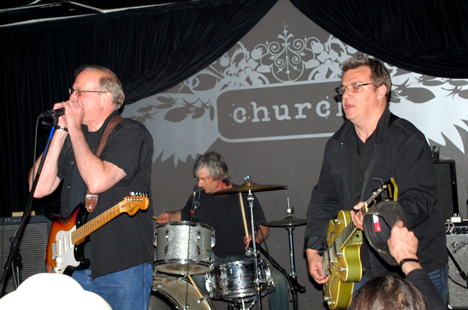 Turbines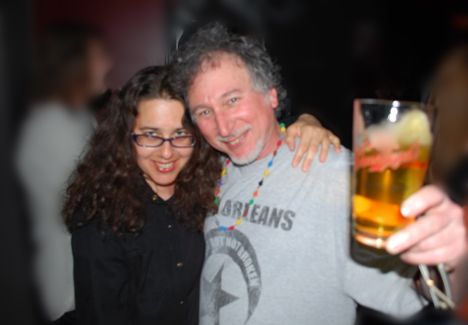 Monika (who came from NYC) and Ed Moose.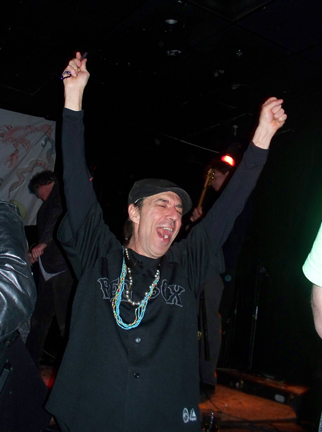 Wayne Viens displays how we all felt after this gig.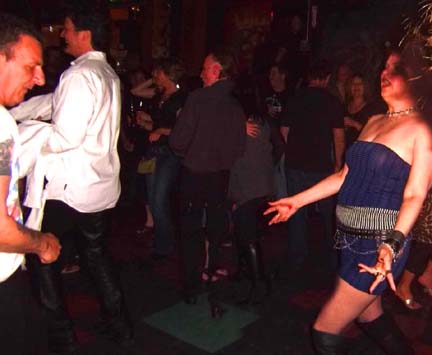 Spit Reunion
---
home | interviews | photos | features |BGN issue list | reviews
links | contact us
Copyright © 2010 Paul Lovell. All rights reserved.