Too Fast to Live, Too Young to Die: Punk Graphics, 1976-1986
and conversation with John Lydon
Museum of Art & Design
Punk Lust: Raw Provocation 1971-1985
Museum of Sex
New York, NY
April 14 & 15, 2019

Too Fast to Live Too Young to Die gallery
Too Fast to Live, Too Young to Die: Punk Graphics, 1976-1986 "explores the visual language of punk through hundreds of its most memorable graphics, from the shocking remixes of expropriated images and texts to the DIY zines and flyers that challenged the commercial slickness of the mainstream media." So says the Museum of Art & Design.
The opening celebration of the show consisted of a two parts; a convo with John Lydon from 2-3PM then a view of the exhibition followed by a members only opening reception with another convo with Lydon from 7-9PM.
We went to the 2-3 convo followed by a walk through of the exhibition. It was a sold out event for press and ticket holders only. We had to attend the conversation with John Lydon first, then see the exhibition after. We snagged a seat right upfront and waited to see him...John Lydon (!!!!) Wow to finally set eyes on Johnny Rotten….so exciting!!!
At 2PM there were opening statements by the director of the museum then out comes John with Gillian McCain, (co-author of Please Kill Me) who was supposed to lead the conversation, but ya know, John's a one man show really, but she did get to throw a few questions his way.
Dapper as usual he wore black baggy harem pants and a black vest over what looked to be a Japanese designer billowy shirt (maybe Issey Mayaki???), along with a red tie. One of the first questions Gillian asked "What are you wearing?" was because the outfit did look like designer wear. John just screamed "Clothes!!!!" with a smile. He carried a black leather tote with red handles that matched his outfit. We wondered what was in the bag since he usually brings along his own booze and cigarettes!!
The convo rolled along at a good pace and John was very convivial. He started out trying to prove the point that he and the Pistols never made any money, and that he still hasn't seen any money. "I don't think Malcolm ever cashed a check."...um, come on John, really? We don't believe that for a minute!
Other points were about how the Pistols were an active band before McLaren got a hold of them. "We were packing places long before Malcom" and ""The Sex pIstols were never a gimmick!! We were not a punk band!! We were a band playing the music we wanted and then punk came along." but he later adamantly pointed out that "You wouldn't have a punk movement if it weren't for Johnny boy!!!" as he poked his thumb into his chest. He shared that he thought the New York punk artists were too self-conscious and too serious about themselves. "You know they were 'ahhhtists' and art has been buggered up by artists!!" And "They all became lemmings and moo moo cows." And what about the Ramones? "They were do do do wop without the wop."
When asked about his influences he said he was allowed to play the DJ at his parents parties so he was influenced by their music and later by the Kinks and Ska and Reggae.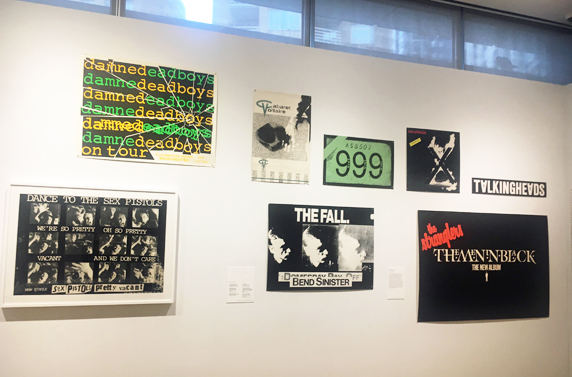 Too Fast to Live Too Young to Die exhibit
If you've read any of his books you know his bout with meningitis as a young boy had a deep and lasting affect on him. He still talks passionately about it and how it scarred him for life and shaped what he became later. He also was adamant that the Sex Pistols were all about the culture around them in England growing up. He mentioned being kicked out of school at a young age because he was labeled disruptive since he asked too many questions. "In the Catholic school you just shut up and listen, you don't ask questions. Don't bother because you have no future! No future!! You see we were all about the culture." Also, as in his books, he mentioned that there was a huge garbage collector strike in the mid-70's and "there were brightly colored trash bags piled high lining the streets. So what did we do? "Well we'll take a garbage bag and cut a hole for the head and two holes for our arms and there you go!!""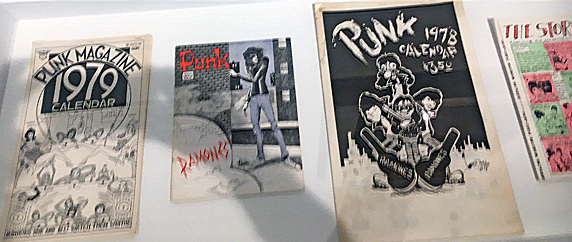 Fanzines in Too Fast
Someone in the audience asked a question about the recent and now infamous run-in with Marky Ramone and Henry Rollins. That brought out some big news!!! He admitted to being obnoxious and over the top...and drunk...at that Punk series panel discussion. He spread his arms wide and proudly announced "I'M OFF THE BOOZE!!!" hinting that he had learned something from that experience: how there's no need to be an asshole to that extent and how alcohol can help him get to that point. He also talked about drugs and how they are just boring and stupid. He really emphasized heroin "It really is a terrible terrible drug!!....But of course we had Sid." and continued with "You know how he got his hair to stick up? He'd hold his head upside down in an oven to dry his hair!!! That's how stupid Sid was." Poor Sid!!!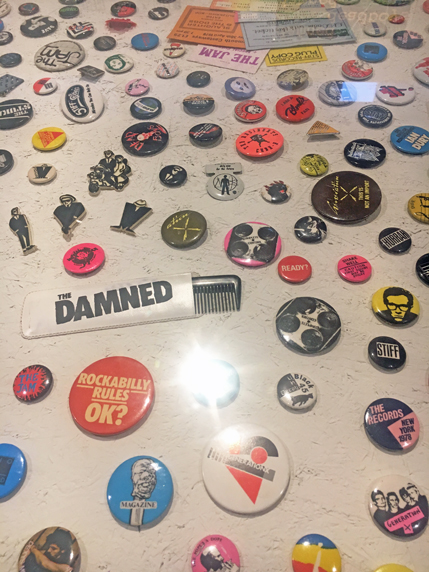 Buttons from Too Fast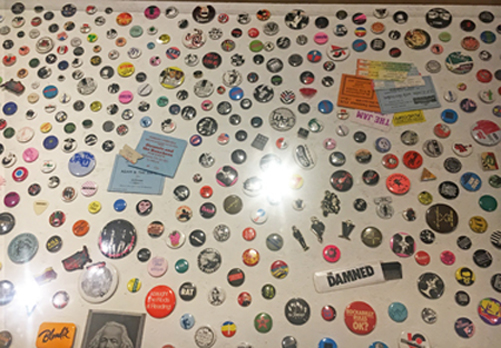 Gillian asked him "What is your secret to a long and successful marriage?" John said "Well you've got to put it out there, be honest really…."
And when asked about whether he is doing music now he explained that his wife is ill and he has two brothers with cancer. So his attention is elsewhere at the moment. But he did add that when things settle down he'll get back to it. He also mentioned he's had problematic illnesses himself and the medication has made him gain weight. So, there ya go... the answer to our questions about his weight.
All in all, like I announced to my row-mates afterwards, and they wholeheartedly agreed, "I think I love him more now that in 77!!" Mr. Lydon was open, honest, funny, entertaining and brilliant...and kinda self-effacing for someone with such an immense ego.
The exhibition was on two floors. It was pretty much sterile and unpunk feeling. There were lots of album covers, record store posters and promo items like buttons. Though there were fanzines and some gig posters exhibited it mostly felt kind of corporate. Most of the imagery was created by the record companies. Not a lot of DIY stuff which to us really represents Punk. One nice touch was an area with two turntables and an array for punk albums to listen to! The typical bands you'd expect were represented Sex Pistols, The Clash, Joy Division, 999, The Damned, Pretenders etc. There are a lot of images out there on the web of this show. We only took a slim few. Too Fast runs through August 18, 2019.

Punk Lust - Raw Provocation
Down in Midtown was Punk Lust: Raw Provocation: 1972-1985 at the Museum of Sex. This show felt a lot more punk!...and a couple Boston people were represented which was pretty awesome.
It's set up a long dark space on the third floor. Against the backdrops of pegboards and chain link fence there is an extensive collection of great stuff...the real punk stuff: Ripped t-shirts, DIY gig posters, fanzines, photos, punk outfits on manequins, videos etc, all with commentary.
| | |
| --- | --- |
| Rita (Daniels) Rat's Dolls t-shirt | Rita text |
As the name implies the focus here is on Punk and Sex...or lack thereof. Huh? The theory put forward in this show was that Punk wasn't about having sex but about using sexual imagery, attire and language to shock and say "fuck you". But YES punk was most definitely about having sex and people saying "Let's fuck" too...the whole thing happenened not too long after the birth control pill became widely used and before anything like AIDS reared its ugly head....and punks were having sex…anywhere…and everywhere they could!! And it was about the freedom to have sex and be open about it and even transgender punks came out and did their thing.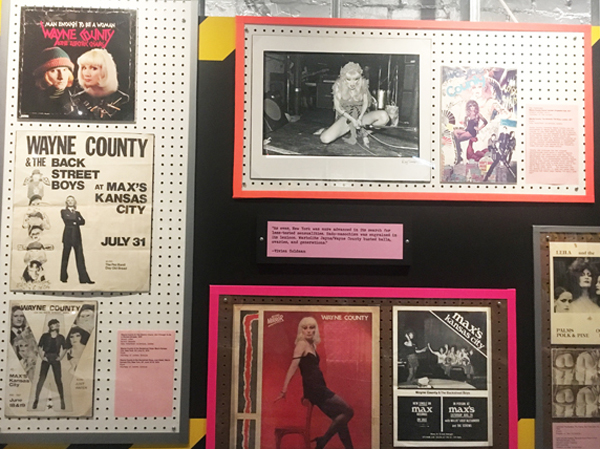 Jayne County
There's a LOT represented in his show: The Plasmatics, Janye County, Cherry Vanilla, Stiv Bators, Rita Rat, Mark Morrisroe, The Dolls, Sex Pistols, Buzzcocks. Ha!! they even have an awesome life-size stand-up cut-out of Iggy holding 'his own".
In this show they also talk about the importance of the DIY aspect of punk; making your own t-shirts (like Rita Rat's New York Dolls t-shirts on display), making your own gig posters, making your own fanzines (among others they had a couple of Dirt magazines but NO BGN!!).
This one is definitely worth a trip to NYC.
Punk Lust is running through November 2019 at The Museum of Sex. You really should go!!!