1/2/2017
Tuesday, December 27, 2016
what a Gizmas weekend! Gizmas eve, listened to a Rochester station as Bills lost to Miami, one more game left. fergit Rex Ryan! Have Bon Jovi buy the fucken team and have new coach be....Rex Reverb! they'd be better off. still wearing my Bills Sherpa as I do Highland S. Thompson sports reports, WEEI Gizmas day 0630 has The Sporting Life. one bit was about a bloke blew his athletic career over addiction to video games. ok. then comedian Lenny Clahk told the legend of the Boston Garden Monkee! google it, a bunch of Monkees got loose, never found one of 'em, but they found a mummified Monkee when they tore down the Gahdin (before the Bobby Orr statute went up near Chet's) and the lil guy was a mascot for local demo fucken 13 or something, buried now in a yahd in Quincy. After had BBC radio Scootland and it was Up The Dancing. all about Glasgow's disco/dance scene! Fire Island, first gay disco in Scootland: gentlemen MUST wear kilts! AND bleedin' Kelly Marie is GOOD! Paisley scootland's own disco born Jacquelin McKinnon 16 oct 57 (I met the Ramones on her 19th birthdie!); april '76 'ad a hit with "who's that lady with my man" which OUTSOLD Gizmos AND Ramones! STILL performing! must need the mooney...."
went to an old folks home with Gee Julie to visit her and Sabbath Drums cuzzin; he's blind and in a wheelchair but loves country! lotsa requests for Hank and Elvis toons, we DID need spoons, some carols, Gee Julie WHEELING out my audience, photo by Gee Julie all-sa, and since Papou was there, for the Gricks: "misirlou" and "never on sunday". then onto a party at Fable Grazer's drummer's house, Tracy Stark that did Mass Ave and beyond on WZBC was there; we started composing "small towns, small minds" (what the fuck is an S chord?) .an addition to Up the Disco, in Glaswegian "oi'd go to the cloob and it'd get uhl 'ot, oi'd go oot -n-, me 'air luked like Noddy Holder".....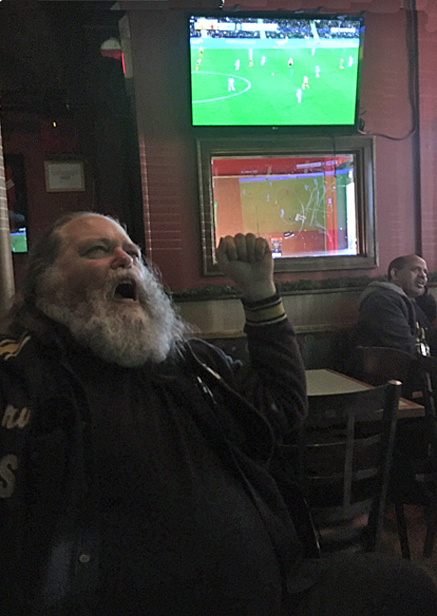 Kenne watchimg the Gooners lose at Phoenix Landing
"Bluidy fucken Boxing Day! watched the Gooners lose at Phoenix Landing and then Hull (Mick Ronson!) was nil, Man. city three. and luverly Gee Julie/Miss Lyn gifts. Brattle double feature of Chin Douglas; that's Kirk Douglas for y'all from Double Chin Douglas. (Gee Julie joke). the detective story and ace in the hole. lotsa double features at brattle, oi could go after footie! took a fucken Dudley, got to Flann O'Brien's, a dozen blokes, playin' pool, 'ad me bangers and chips and beans and fucken "EMI" by the Pistols comes out blastin'! followed by clash "police on my back"; it COULD have been Pandora radio. but fucken, eatin' me bangers and beans and chips, lissenin' to "God Save the Queen"....if my ancestors hadn't made their Brexit, oi wouldn't 'ave bluidy Trump in chahge! Let's MAKE America Great Britain Again; hankies coming out of EVERY sleeve!" ....
Thursday, December 29, 2016
so oi were lissenin' to the BBC and heard a Sporting Life broadcast on the New York Cosmos soccer team. to reiterate me and Alan Baase (RIP, Brockport high '74) wuz in the woods south of Brockport NY shootin' bb guns and he told me he wanted to so a zine called Heavyweight Rock, mixing rock with being a jock. Saunders/Meltzer always toss sports writing in their fanzine ravings and they ARE my influences as much as Chuck Berry or James Brown, so....what caught my ear was how much PARTYIN' this team did in NYC plus one guy had actually been to Woodstock. SO, wikipedia sports facts: The Ertegun Brothers, whom started atlantic records, started this team in 1970, so between that and Ray Charles; i mean what the FUCK?!?!? BUT they didn't come into their own til they signed Pele 10 June 75. By then, Larry Bird had exited the IU campus six months before I moved there and Eddie Flowers and I were too busy lissenin' to Dictators Go Gurl Krazee to follow soccer. The years of Pele follow me inventing proto-punk almost; maybe I shoulda called micelf Kenne and went ONLY by one name like Elvis or Madonna.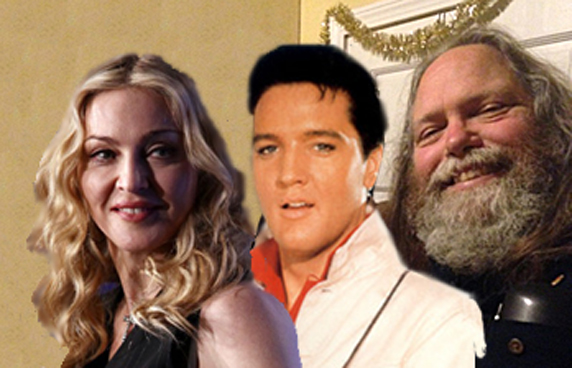 Known by one name
More facts on the Cosmos: Giants stadium opened up near Kaiser Stadium in Teaneck NY 10 Oct 76; the following Friday I met the Ramones at Childe Harolde in Washington DC AND also Kim Kane of slickee boys, so I wager Saturday 17 oct 76 I was on the phone hustling him for funds about first afrika korps album signing HIM to THAT franchise. lastly Pele's final performance with NY Cosmos was 1 October 77; was it coz Elvis died or Afrika Korps played Cantones? after that the franchise went to shit and folded in 1985 equaling the demise of the Hopelessly Obscure and the rise of the Beachmasters and maybe even Kleenkut Records folded then....with all this Space in Time "there are no coincidences" maybe I should ring up coast to coast AM ALWAYS like them on facebook!".....
Friday, December 30, 2016
"I know I should write something about George Michael passing on Christmas Day; 'e never got 'is presents on Boxing Day nor got to see the Gooners and Hull lose in footie! So, just because Metal Mike Saunders is my good friend and "not someone like Ken", Back in '72, Fusion magazine (Beacon street Boston!) he wrote: "In Defense of Grand Funk", so I present you with In Defense of Wham (remember I DID pan Patti Smith's Horses back in '75 in WIUS Tipsheet)...a lot of my source is Wikipedia, so..Wham ran from 1981-1986, coinciding with the Hopelessly Obscure, Ronald Reagan and Margaret Thatcher: all great front people! I have through google learnt of George Michael being a big fan of David Cassidy; I think I actually gave tribute to that 1972 Rock Me Baby album in some fanzine; David Cassidy goes HEAVY! He also covered "39" by Queen, which the Korps NEVER covered (only stole the intro of "Good King Rat" for "Nobody's Girl" outro);"39" was the flipside of "youre my best friend" and recorded a couple months after first Gizmos and first Ramones. Queen DID sell more copies and it and "Magic Man" were hits when I got out of Parris Island; didnt hear the Ramones til I went to infantry training school, camp pendelton, Cali, same as Lee Harvey Oswald, who woulda been a better person if he listened to the Ramones than Commies. Linda Garreau Highland had picked up the Make it Big album at a yard sale amongst other '80s classic which I lissened to post-grunge '90s and "wake me up before you go-go" is GREAT ersatz Motown like Culture Club or Spice Gurls. released 14 May 84 and the Throbbing Lobster album came out the next month and "Best Bette" sold LESS copies than Wham! ($10 royalty check too!). "careless whisper" released 24 July 84 and the previous month I read the Dealing with the Dead poem for Plan Nine (it's a live at the Rat album on Midnight).You should read the musicians credited on this song! Some born same year as me and quite notable Brits but that sax solo by Steve Gregory: he played on "honky tonk wimmen" plus with alan price set AND Ginger Baker's Air Force! does Carl Biancucci know that? Before you think I'm completely over the bluidy top, Wham was managed by Simon Napier-Bell! his twitter account says rock manager, author, film maker, grumpy old sod. hmmm....is 'e a man of Kent? so born 1939 ealing common, west London but nuthin' common aboot him! for one and Wikipedia lists his credits, he co-produced the Yardbirds Roger the Engineer album, a big early '73 Ken Highland import favourite...ok, so they nicked "Nazz are blue" from elmore james, I bluidy micked it for "Max headroom must die"! guess there'll never be a Wham reunion, George Michael, RIP, we still got your music to remind us".....
Saturday, December 31, 2016
how to end out a year; well 1973 ended with me watching the Stooges and some band named Kiss opened; I have done numerous New Year's gigs but nothing tops THAT! Best part of my year, besides two Gizmos reunions and a great Midway birthday, was my I-phone five which I listen to as much as I did the MC5. so found an app for old tyme radio and the other night tuned into "the best of the third week of September 1938"...hmmm...dad was four, Ma was seven; i think she was still in a one room schoolhouse. this dj was GREAT did the countdown played a bunch of scratchy 78s ("this was new THEN despite the scratches now") BUT, in the week that Neville chamberlain declared "there will be peace in our time" (yea right...one year later "Blitzkrieg Bop"!) #2 song was Fats Waller doing an organ instrumental! and #1 despite the Jim Crow laws: Ella Fitzgerald's "a tisket a-tasket" and (no shit) damn could she sing! but as my year DOES wind down, on my lil battery operated AM radio, some conservative raver DID kinda give tribute to mother/daughter RIP Debbie Reynolds/carrie fisher. the basic synopsis was "Debbie was 19 when she did singing in the rain/carrie was 19 when she did star wars" "they will most be remembered for something that they did when they were 19"...ok, sure: I was 19 when I recorded fucken "muff divin'" with the Gizmos and 19 when I WAS "refrigerator rappin""; tonight I COULD be jammin' with Steely Dan guys whom play with John Keegan...why not a punk version of "what the fuck 19?!?!?!??!?!?!?!?!?!? happy 2017, 40 years since the bluidy Sex Pistols/Afrika Korps, A&M, EMI..Iron Cross...".....