1/9/2022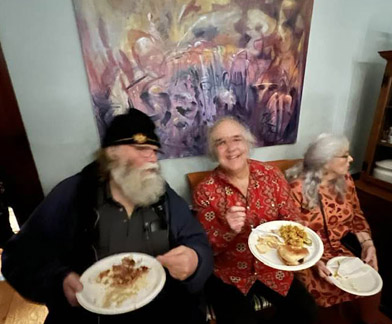 Kenne and Larry - New Year's Eve
(photo by Captain Easychord)

Tuesday, Dec. 27, 2022

"Freitag 30 dec 2022 0730. bevis frond WMBR. Today's Hopelesly Obscure 45 is 1967's Apostolic Intervention featuring future Humble Pie drummer Jerry Shirley! The a-side was a cover of Small faces "Tell me have you ever seen me" with Steve Marriot on bass! pre-Humble playing! BUT what they played was the b-side "Madam garcia"; it's a Booker T-ish instrumental that slightly favours mad Painter when Alex Gitlin channels ian macLagan and I'm Kenne "Plonk" lane....always great heavy-psych on that show 0700-0800 on fridays!"....

Wednesday, Dec. 28, 2022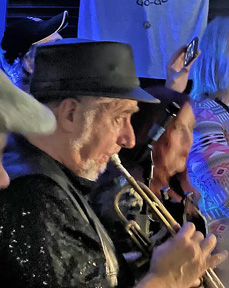 Tim Sprague on trumpet (photo Captain Easychord)

"New Year's eve 2022. ridin' with captain easychord to pick up schmel herbie hind and WMFO was playing "I feel much better", Small faces b-side of "Tin Soldier"!.

otherwise, a "real cool tyme" at a private sax-player hosted party, "every picture tells a story" as does videos of Kenne Highland Air Force channeling the Warlocks at a Ken kesey "LSD for brekfast" party! New addition was Junta D'Amour's Tim Sprague channeling hugh maskela on trumpet on my mono Byrds album (Somerville grooves purchase!). Johnny Plankton was excellent with New wave oldies, Girl with a hawk played unplugged in the living....lastly, Anlin Dave talkin' 'bout a "Throughway Tour" meaning Troy NY (Miss Lyn HAS been there in '78), all the way to Buffalo with 145 and a couple red on red bands! As Anklin DOES keep saying "I'm from Syracuse" so the only bull scheiss out that way was from my grandfather/cuzzin's prize bull, Jolly Count! (put down for having a bad temper; Grandpa Blodgett was TWICE relation to COUNT Rumford of Woburn, mass!"....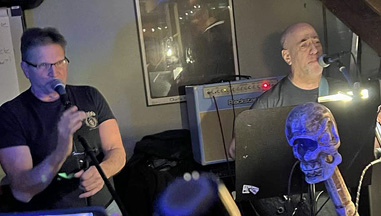 Johnny Plankton - New Year's Eve
(photo by Captain Easychord)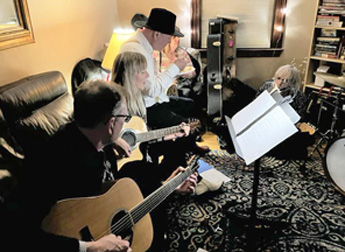 Girl With a Hawk - New Year's Eve
(photo by Captain Easychord)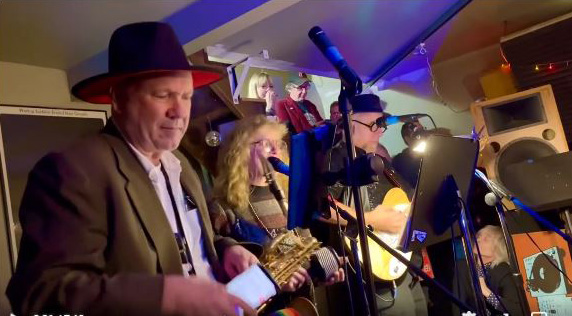 Crow Follow NYE
(photo by Captain Easychord)

Thursday, Dec. 29, 2022

"Monday 2 january 2022. george harrison's excellent "what is life" (I had the 45!) in mono on Coast to Coast Am (wrko 680 AM!) AND george Noory says "we only have a minutes left", so 0458-0459 (?), guest was talking about gibbon Monkees and george says "the only Gibbon i know about is Billy F Gibbon of ZZ Top, an avid Coast to Coast listener!" (put picture of the ape gibbon next to Mr ZZ Top). Hey, george, stealin' mah jokes,son!"........


Friday, Dec. 30, 2022

"Freitag 6 jan 2023. Kenne's kalendar filling up! let's just do january; KH air force in studio saturday 14 jan 2023; saturday 21 jan Johnny and jumper cables practice and friday 27 jan 2023 mad painter practice! lastly, dont forget 5 march 2023 Asa tribute at Burren, KH Air force does "im in love" off Asa volume two! And there IS more gigs et al coming".....