1/10/2021
Monday, January 3, 2022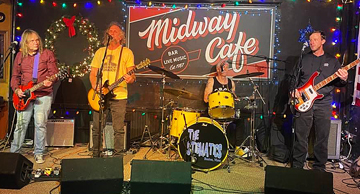 Stigmatics at The Midway 1-2-22

Sonntag 2 Jan 22. Midway Café. Kenne Highland's Air Force did the usual great set that Classic Ruins drummer raves about and Pete Loaf of Stigmatics LOVED my John Lee Hooker take on Stooges "Down on the Street" . Stigmatics all GREAT lads, lending us backline, got a cd , Bob Roos did a video. They did their album AND cool covers: Kinks "I'm not like everybody else" and Heartbreakers "Born to Lose".

Six pm headliner was Sour Punch and we all became instant fans! (fuck; Miss Lyn and Blowfish were right: they ARE great!). Illegible scrawled notes; "Ramones-y rockabilly/ X-Ray Spex sax/ Kim Kane klone on bass wearing Kiss World Tour '77 t-shirt. The Joan Jett version of "Crimson and clover" covered BOTH versions great 45s! DO like Sour Punch on facebook.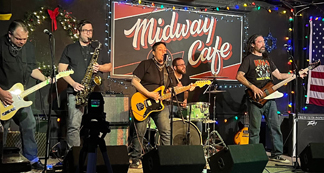 Sourpunch at The Midway 1-2-22

Another song had a "Heroin" two-chord rave-up, another had the chords and drums of "Lust for life" BUT "Stumbelina" was played on Lil Stephen: it's "Jailbait Janet" on steroids, the Tina Peel version with the sax! (opening in NYC for Splitz Enz as I passed out drunk on the table with Joann the Shiksa!) (1980). Sour Punch Jen said Rum bar is wanting to do a 45 and "Blowfish always writes such good things"; if 45 was like this gig, he'll NEVER have to Venture outside through the matrix AGAIN! last news: Triple Thick Mitch in audience as a "civilian' BUT 'we're called Shiny Beasts now; Matt Burns on drums, he's great! A real time-keeper, that's what I want!" From the records I done with Matt, Charlie watts never died! Hey you get Off-a My Cloud! (played between songs, nervous eaters cassette, 1977 live, by Jeff Wilkinson (RIP))"....


Tuesday, January 4, 2022

"Montag 3 Jan 22. Second cut on Asa Brebner cd is Jon paley doing ALL the instruments on "Jack's on drugs", a dawgs toon written by Phil Haynen (RIP). My favourite part is the guitars (of course!) and a solo somewhere between Saint Stephen (Jon WAS in the Nervous Eaters!) and Johnny Black (Jon having produced a Jumper cables 45 on Stanton Park; read kenne #2 in Ugly Things for PAGE full of discography!). Also, best use of French horn on a rock record since John Entwhistle on "Whiskey Man", which I think I had as a b-side. Order this cd! ($16 each, 2 for $25 Venmo: Larry-Newman-14, Paypal: deltaljn@netscape.net or send check or money order to: Larry Newman, 10 Whippoorwill Lane Kittery, ME 03904.) Money goes to Asa's kids".....


Wednesday, January 5, 2022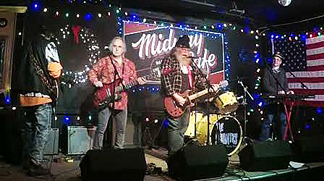 KH Airforce at The Midway 1-2-22

"Dienstag 4 jan 22. Schmel Herbie Hind alerted me that Bob Roos (born 2 April!) OF Stigmatics had posted youtube of Kenne Highland Air Force live at Midway from the Sunday and I am VERY pleased with sound/ camera angles and Bob Roos guitar WITHOUT effects sounding almost Byrds-ian by me! Bob has a channel also and Schmel tells me he HAD seen my bass debut with Mad Painter and Stigmatics from November 2018! Phil Hundley of Gizmos Mach II with Daryl of clan Fraser (RIP) is currently REALLY diggin' the performance; I mean Gizmos played Cantones in '78 with THE COUNT so, as the Good rats said: "Good taste is timeless!""....

Thursday, January 6, 2022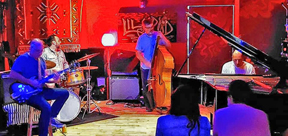 GAT at The Lilypad

"day of Wodin 5 Jan 22. Gill Aharon Trio, ten dollar cover Lilypad inman 815-10 pm. Gil plays piano kinda like Miles David Sketches of Spain and/or Mick Garson on Bowie's "Aladdin Sane". Guitarist did a lot of Wes Montgomery thumb action or some Mahavishnu John Mclaughlin bursts; VERY spacey in a Grateful Dead kind of way. Gee Julie quote, kinda: "The music took me to another level'; dream-like and you DO get caught in! A quartet with only five masked people in audience but, as a lover of ALL things Hopelessly Obscure, SO glad I FINALLY went! Lotsa good bookings at Lilypad: the Willow jazz Club comes to the area of the Abbey Lounge in the old Zeitgeist building!"....

Friday, January 7, 2022

"day of Thor 6 jan 22. been hearing from Micky Bliss and Club Bohemia a lot lately; a lot of fill-in gigs. Elvis's birthday, Saturday 8 jan 22, Kenne and Andy Pratt at club Boho, BOTH descendants of two early Watertown Mass. settlers; good to see Andy since 1635! Doesn't look bad, barnabas Collins. Friday 14 jan 22, Club Boho, KHAF, LAMF with Johnny Plankton and Richard Mirksy of the WAYOUTS! (He played guitar with RON SCARLETT at JACK'S opening for Plan Nine! Ronald Reagan and synth-pop ruled America and John Boucher had a Flock of Haircuts!). lastly, for now, as is, Captain Easychord has a night at Club Boho Saturday 22 Jan 22! My Fighter Squadron splits in half doing Sopwith Camel air shows as half the band play with captain easychord and other half is in Mad painter! (whom just got airplay in Australia for the THIRD tyme! Sales of the cd: The geico Gecko/the Tazmanian Devil and Crocodile Dundee! See y'all at "the Can,Tab...down on Mass. Ave......mass. Ave!".

"Alta kaka rocka! sunday 16 Jan 22. Plough and Mess Around! Hound Dawg Highland and his houserockers do "down on the street" John Lee Hooker style; "God don' want me in hebbin and de debbil don' want me in hell" (gospel-cartoon-Delta Blues variant) and: Son House "John the Revelator": STILL heavy after all these years, with it's Book of Revelations gospel/blues lyrics sung by me in deep-ass boomin' bass voice...Miss Lyn been hearin' it for years but for the novice; "the price of one admission is your mind""......

Saturday, January 8, 2022

"Freitag 7 jan 22. Third day in a ROWE phone call from Micky Bliss, but to be quite FRANK, "I got no reason to complain!" He's offering either a Wednesday or a Thursday WEEKLY residency at Club Bohemia and YES! I get to pick the bands..."you know my name look up my number" and in this NOT "Dead Boston Club Club" (riisin' like the Phoenix!) "even Nancy Neon had a night that she called Toast" (now comedy at Vera's where was Precinct (RIP); "Dead...Clubs' like medusa! Cut off one head, another grows"....