1/13/2019
Monday, January 6, 2020

Sonntag 5 January 20. Yet another mad painter practice. Alex Gitlin shows up some nice Procol Harum-style ballads which I enjoyed. Natalia Musatova and Gee Julie harmonised like "the sirens sweetly singing" in "Tales of Brave Ulyseses" so "your naked ears WONT be tortured" by me singing backup on "Heart Full of Soul" Afrika Korps Live at cantones (Gulcher). Schmel Herbie Hind and i worked on some Kenne Jungle tunes, so we COULD be ending the set with "To Love Somebody" (Vanilla Fudge style!) and "You Keep Me hangin' On" (more Vanilla Fudge!) Gee Julie on backup for it. We also worked on a toon about the Armenian Stonehenge. It goes from a I to a II kinda like "White Rabbit" or other Mediterranean music I've listened to. All in all, quite fruitful!".....

Let's list Mad Painter gigs:
Jungle Sunday 8 march 20.
Cantab 10 pm THOR'S day 2 april 20 ten pm.

Tuesday, January 7, 2020

"Montag 6 jan 20. First off I listened to my $8 copy of first Small Faces lp on cd that I got at weirdo records when Eddie Flowers in town 2014 (Gizmos). Marriot's vocals AND Happy the Clown/feedback guitar outshine the LIVING Who members and imagine, in rockíníroll heaven, actually, he plays "E to D" with the Ox and Moon?!??! "Let me die in my footsteps"! Kenny Lynch wrote some of their toons and let's give tribute to British West Indians! He covered Beatles "Misery"; can you IMAGINE! My Facebook friend Linda Lewis was saddened by his recent death; the BGN had her 1972 album LARK (Reprise) PLUS, amongst others she sang on A Lad Insane! (my next solo album?). Turned on WMBR and Bats in Belfry was talking about early music, Blue heron, Gregorian chants...all on my next record! 0600 reveille and If 6 was 9 (WMBR), morning coffee, NO sunshine, chair in living room in the dark, and SAVOY BROWN Looking In lp title track! lastly, I was to Armageddon records Sunday before Mad Painter practice and for $2.99 picked up the 1957 (smells like it too!) Sultan of Bagdad: Music of the Middle East, volume two on Audio Fidelity. It's also on youtube! Cheesey '50s cover of Mohammed in turban and belly dancers. He "was a Lebanese tenor, oud player, and conductor". "died of cerebral hemorrhage 8 sept 59 after collapsing while PERFORMING at Lebanese festival in Lincoln RI." It also says died in Pawtucket. Either way, to quote Suzi Quatro and Pleasure Seekers: "what a way to die"!!!!!......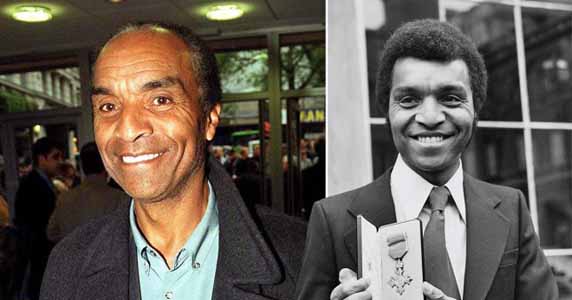 Kenny Lynch
Wednesday, January 8, 2020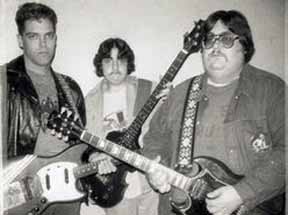 O. Rex!!

"Til Tuesday 7 jan 20. Ken and Gee Julie rehearsed Mad Painter backing vocals off WMFO live cd with my "Heart Full of Soul" Afrika Korps live at Cantones off-key harmonies. So if Groupie Towers II heard Mad painter blasting about 1900 hours from a "Vehicle, bay-bay"....Besides cafe prive and French Toast (WMBR 0600!) I also blasted two 45s from Grooves Somerville (plug!); Keith Barbour "Echo Park' ( a 1969 hit AFTER "Macarthur Park", same vein, I didnt hear in Rochester NY but saw the album on Epic EVERYWHERE cutout bins; my 2019 45 was 99 cents and i used to buy 45s in Brockport NY 89 cents plus nickle tax! SO if I HAD bought this 45 then....Gizmonics says....inflation equals "another fucken nickle!" (Philip Berg, kaballist to Madonna, older brother Oscar Gruberger would yell that at his "fat bum" son Solomon who still wanted to release O. Rex "Feel My Love" with me on drums April '74 as a 45 pre-dating the Gizmos AND ramones AND Dictators! Instead all that happened is we'd get cursed in Yiddish for the out of tune noise of O. Rex! "y'all sounds like the Godz on ESP" - Stenson Eddie Flowers, same month). Ok, "My Head's in '74' BUT flip over Spinners "workin my way back to you" 1979 hit AND.....this December '79 release (I got off USMC guard duty to see a Christmas tree in my trailer in Charleston SC!) flip side is "Disco Ride"! Six minutes worth....wikipedia says "instrumentation by various Philadelphia area musicians"....bass playing VERY inspiring....MFSB? (mutha-fuggin' soul band!!!!)"......

Thursday, January 9, 2020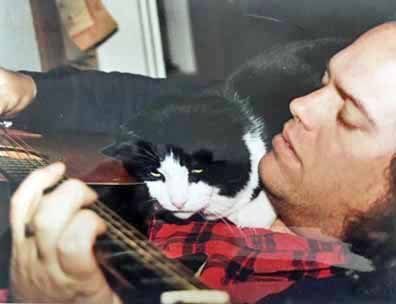 Snoopy the Cat & Kenne

day of THOR, Elvis birthday 8 jan 20. ran into Andy Excuse and Johnny Odd over at SCAT so plug for Heavy Leather Topless show. Jimmy Boticelli spinning Hopelessly Obscure soul 45s (I didnt know ONE song!) Primitive Sounds at Brass union in Somerville. Brother Cleeve spins there too! NO cover and great music! Ken and gee Julie worked out an Ike and Tina harmony part on Gizmo's 'that's cool' since she has Tina Turner birthday. WMBR and Pontoon palace 0600 sittin' in Groupie Towers II "Lights Out" (Angry Samoans!) cafe prive and they played Nico's "Winter Song" off the fantastic October '67 release of Chelsea Girls; Sgt Pepper? what?!?!?!? first Vanilla Fudge i might rate above ole Pepper....And WHY did i feel the presence of my now deceased cuzzin Linda Garreau Highland? Coz "Winter Song" written by John Cale and a LOT of John Cale played on that floor in '90s when Snoopy the Cat died under Gizmas tree....lastly, my Fiddy cent cassette of Dionne Warwick- The Love machine. A cheesy soundtrack to a Jacqueline Suzanne movie; that's beacoup formage and mucho cholesterol! Discovering more things about it...I like the arrangements (schlocky strings) by Artie Butler (who has a noteworthy discography of records I never heard) but THE toon on sides one and two is "House Party" (parts one and two!). youtube this movie! The "party" music is Hollywierd's idea of 'swinging"; I expect to see the laugh-In party scene with everyone dressed like Once Upon a Tyme in Hollywierd. ONLY a band like Sex Bomba cover this or perhaps Kenne Highland's Air Force".......

Friday, January 10, 2020

also on day of thor, BOWIE'S birthday, Ken and Gee Julie shopped for mad painter '70s clothes at Davis Square Goodwill and then ate Davis Square Mike's Diner, playing MUSICAL BINGO! BUT let me mention next week Harvard Film Archives is showing German films directed by Angela Schanelec. Info on HFA website and I DO think Thursday-Sunday for couple-three weeks i MIGHT be there!"....

Saturday, January 4, 2020

freitag 10 Jan 20. cantab. The N Connection opened. acoustic duo Anna (damn good singer!) and valerio (damn good guitar!) acoustic duo "originally from naples, Italy; Bonjorno and Ti Amo avec facebook!). A plug for a Flynn Young band All Out of Lives (on facebook as is all these kids!) whose singer loved Evanescence which The N connection covered. My highlight of these '90s-era acoustic duo tunes to a packed house (Viva Italia!) was a lady gaga cover! I merda you not! Next up Rollo Tomassi Quintet (also on facebook! shit I'll plagarise my whole fucken review from it). "Jazz straight up, funk chaser". Guitarist influence by grant Green. But bass player is my main man: "influences include jazz greats from the Blue Note years"....Micky Bliss went NUTS when they did Horace Silver's 1965 "Song for my Father". Once I played guitar in Micky Bliss organ combo, Micky on Hammond B-3 and HOWIE FERGUSON, Real Kids, doing some Mitch Mitchell drumming on same song. An honour to play with Howie, Micky and I discovered his eight album John Coltrane cd he plays between sets and John Keegan, jazzhead that he is would surely love Rollo Tomassi...."Hey beat mon! Him like kerouac"....mad painter followed with the debut of Gee Julie, whom was a cross between Grace Slick 1960s jefferson Airplane and "the sirens sweetly singing"; I wore a semi-toga evoking demi Roussous of Aphrodite's Child. Scheml herbie Hind wore all black and evokes Ritchie blackmore. Flynn Young wore as much purple as Prince and Alex Gitlin slammed that hammond like a man possessed. Lotsa cheering, Micky Bliss loved it and standing back there playing bass I felt like gary thain on 1973's Uriah Heep Live or Roger Glover on same year Deep Purple made In japan (and "At 17" you wondered why i "could not get a girl" quote from "Pumpin to playboy"!). I got a big-ass list of radio stations that played mad painter which is: WMFO (Joel Simches and Brian Young!); Firebrand radio, London; Rawk Dawg; Stefano at WCCA worcester, mass; MPG radio; Only Rock Radio; Cator Web; Lonely oak Radio; radio Tfsc; Wigwam; Cox; Limbocast and Pluto radio. next gig: the Jungle, sunday 8 march 20 and there are plans to record. BUT let's give it up for Soaked in Strange! They supplied the drum set and talking with them after, they loved the "proggy" sounds of Mad Painter! But wait; facebook page: "experimental, rock, prog, alternative, punk, stoner metal"; influences: "King Crimson"...."My head's in '71!" They didnt know Spooky tooth, though (too young) BUT they'd opened for Grex last year! So we'd met! "I didnt know you two were in a band!" Take that rock bitches! Gee Julie in BAND! Stephen O, the kenne Highland of the band, grew up with Springa's gurlfriend and DOES want to do more shows. So anyone talkin' shit about the cantab and kiss my fuckin sphincter! More gigs from Micky Bliss to come and Soaked in Strange Sunday 1 march 20 830 pm at Jungle! Now off to Lyres middle east before WWIII breaks out in Middle east"....