1/16/2022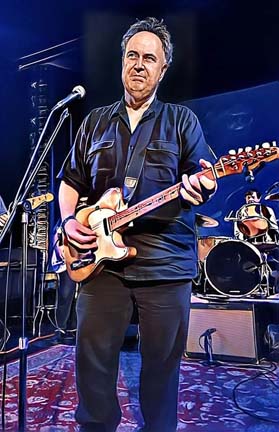 Trick Wallace
(photo by Wayne Viens)

Monday, Jan. 9, 2022

"freitag 6 jan 2023 0730 or so (I LOVE doing Dragnet dates and tyme!). Bevis Frond played "My sunday feeling" off Jethro Tull's This Was, their first and my favourite album that I bought "Early 1970". ALWAYS wondered how to play this I-IV-V and it's in G! Now that computers been invented, it's about a Sunday morn hangover! (27 years, Jim/janis lifetymes of them)...who knows? Kenne Highland Air Force COULD cover it, that's our sound crossed with the Stooges. last but not least, above cantone;s '78, Michael "Bix" Beiderbeck apartment, J. Angell and i WERE discussing the merits of Mick Abrahams (SO un-punk in that day of Johnny ramone)....and THAT was the highlight of mein freitag!"...

RIP Trick wallace. met him in salem at Vic (Morrow) Stock when he was with the Swallows 1998 (BETTER than 1698; we'd be hangin' from the "gallow's Pole"!). A great guy; irish wit re being in Robin lane's Chartbusters "I have the radcliffe chair'. Two sober jamming memories; tavern at the end of your career we did "the man upstairs" (was that him or Asa?) and Natalie Flanagan and he were busking in copley square the once, so we jammed on velvets "Here she comes now"....SO, givin' the irishman with the Scottish clan name a proper wake (like "Rocco") he is currently jamming with sixty per cent of the Velvet Underground whilst the rest of us are in Purgatory! to quote Ozzy "Bog blast all of you!

Tuesday, Jan. 107, 2022

"saturnalia 7 jan 2023, 1100 or so. blastin' Hillbilly at harvard at work, "workin in a coal mine" and caught JR Cash doin "it aint me babe". ok, GIZstory of song. Shirley, Lydia Lunch and i heard the Turtles version on WBBF-AM fall '65 but original release was on Another Side of Bob Dylan, an album i have not YET owned! This came out between Hard day's night and Beatles '65 BUT, same 1964 release off JR Cash Orange Blossom Special album (havent YET bought that neither!) is the 45 of JR Cash covering "it aint me babe". "Thoughts" (Vanilla Fudge b-side): Cash WINS for his griity pre-Nick Cave Amerikana, First vocal as THE best version (sorry Zimmerman, Volman and kaplan....)...AND who COULDNT love a man in Black? covering depeche Mode "personal jesus" and/or "Hurt".....why didnt JR Cash wear black and do Cure covers in his Nick Cave voice? (reincarnation happens every 200 years, Coasties, so maybe, "In the year 2525....if "Deke Leonard and man are still alive"......

Wednesday, Jan. 11, 2022

"Monntag 9 jan 2022. 0500. channel 2 pbs (i LIKE the "two guy"). Vienna Blood. first Bee Gees album: "turn of the century", that being 1900 in Vienna, love the costumes and they're looking for a jack the Ripper. A female pathologist in Victorian dress! need to research Giz-storic accuracy. there is also a youtube prescence, so.....this is my Monday morning keurig wakeup til it ends i reckon!".....

Thursday, Jan. 12, 2022

"day of Wodin 11 jan 2023. Miss Lyn told me Jeff Beck ist tort! So some memories going back to 1965..."Heart full of soul" on these lil transistor radios my grandmother and seventh cuzzin got us from Detroit; I heard that intro and Ida May: bought the 45 WITH pictures sleeve 15 cent september '72 from some SUNY Brockport kids AND ida Bee: Afrika Korps covered it on Music to Kill By and live at cantone's (both on Gulcher). I was wasted at Pizza pad after the rat in '80s and WBCN played "Goin Down" and Jeff blew my drunken mind with the whammy bar, drving me to incessantly cover it in numerous combos. Lastly, my Facebook friend Carmine Appice (VANILLA FUDGE!) posted a photo of beck (tort) and Bogert (tort und mein fruend von facebook); loved that album, covered "superstition" muchly and Carmine, like Saint mach bell (buy his book!) is Last man standing in beck bogert and appice. wikipedia says Beck surname means "brook" or "stream' from Old Norse bekkr, thus Beck and Keith Relf are currently having a rave-Up in valhalla!"......

Friday, Jan. 13, 2022

"Friday the 13th january 2023. Know ye! Willie Loco is four score! My facebook friend has "96 candles' on his cake (haha!).

Kenne Kalendar:

saturday 21 Jan johnny and jumper cable practice.

friday 27 jan mad painter practice.

Sunday 5 march 2023 7-10 pm is Asa tribute at Burren " See you at the burren, for sure-n!"......