1/18/2016
Sunday January 10, 2016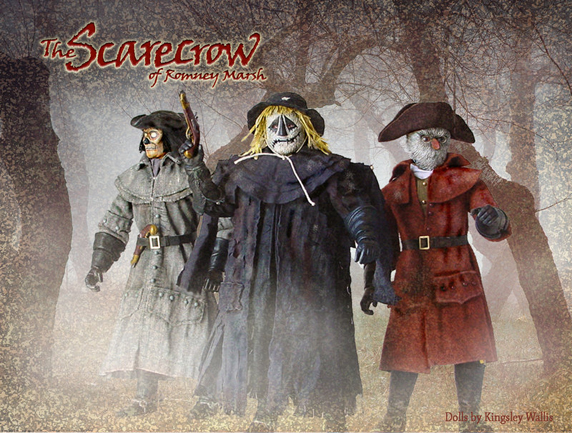 Scarecrow of Romney Marsh
on a rainy Sunday afternoon, one should read the e-book of a saunter through Kent with pen and pencil by Charles Igglesden, ashford, kent, 31 Jan 1925. by then my grandmother was 10 and living in Detroit, but looks like her great-great-grandfather Peter Highland born 1784 kennington and his brother Thomas born 1780, kennington, sons of Thomas and Elizabeth highland....what WAS their world like? Kennington Hall was "old family residence of the Carter family and it is with this home that two ghost stories are associated": "mysterious white lady" and "spectre coasch driving along neighbouring field"; LIKE Kennington Hall on facebook or get married there and decide for yourself! (I believe we were the " 'elp")...also in that town was "an old smuggler's haunt" and a "gallows tree from where highwaymen dangled"...all this Erroll Flynn dashing-ness c/o me being OBSESSED in 1965 with THE SCARECROW OF ROMNEY MARSH (another guy I pretended to be!), full of 1700s smuggling, horseback, torches, marshes and it's all in Kent, mate! Men of Kent, those Jute didn't surrender to the Conqueror, mate!"....
Monday January 11, 2015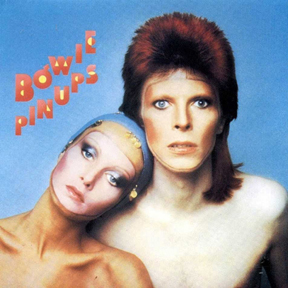 Bowie Pin Ups

0230, coast to coast AM, bumper music is "let's dance" and I hear that david bowie died. later on, on wall street journal this morning 0500, it IS the news and he had cancer for a year and a half! he just celebrated elvis's birthday Friday, i believe...so, a wee bit of Brockport NY nostalgia; heard "ground control to major tom" summer '69, WCMF, rochester NY; find Man of words/man of music for 49-cent cutout WT Grant's Brockport December '71: "ooog; sounds like Bob Dylan". thanks to metal mike saunders, did a mail order for $2 for the much heavier man who sold the world. june '72, subscribing to boston's fusion magazine got Hunky Dory; SEPTEMBER '72 bought Ziggy and lil Julie highland (who has same Neanderthal DNA as me) said, re: "Five years";"oog; sounds like Davy Jones" (Monkees). Alan Baase (RIP) of Rock On, he and I lissened to Alladin Sane a lot summer '73 (when I wrote "kiss of a rat") and fall '73, I bought PINUPS, which, to me, was pinnacle. read beyond our control about my review of Bowie on midnight special; DIAMOND DOGS tour played Rochester 17 june 74 and "annie gizmo" ("talkin' on the telephone") "I touched Bowie's hand!" (teenybopper)...a week later I graduate high school, meet "winner by elimination"; early august see Jobriath in Chicago and meet carl biancucci the next week...too many Bowie memories to count, RIP"....

for more Ashford Kent research, Sir John Furley came up, born Masonic lodge, ashford 1836; my great-great-great-great Peter Highland died near there 1841. Sir John started the British Red Cross; his father Robert Furley was an attorney in ashford and also wrote the 1883 early history of ashford and was a prominent member of the kent archeological society; he and I smoked cigars at Kennington Hall as Jeeves drove the car around, yesss....just to mention "clahss" (class) in the UK, whilst Sir John's father was attorney-ing, Peter Highland, widower, married Mary Heritage in 1818; genforums for Kent say she hahd two bastard children! Highland dies in '41, Mary Hyland is a housekeeper on her son-in-law's farm; 1850 or so married a bloke named Kingsnorth (both signed x on marriage certificate! Young Hyland was the parish clerk!) then later she's widowed again and listed as "almswoman" and in the Ashford work house! her stepson Thomas Highland had sailed from London in 1845, so with both parents dead, I doubt he even helped out his stepmother! (scohn-dul!) so the almswoman woulda lived near Sir John Furley before he was knighted! (he's buried at oxford, yessss....)...and lotsa interesting Freemason records on line too from that era! where's my beaver hat and silk cra-vat?"..

"I was a REAL freak for Disney's the Scarecrow in 1965 (c'mon I was 9!) BUT I have a tie-in: go to the Wikipedia page and Dr. Syn has a chronology and I LOVE tyme-lines, so without getting TOO fanatical...dymchurch, Romney march to ashford is 20 miles...Peter Highland (great-great-great-great) born Kennington 1774; storm blows Dr. Syn ashore 13 November 75; Syn dies 1794.so my great-great-great-great was a young lad (up til 19!) growing up with smuggling off the Kent coast, the Scarecrow, (Patrick Magoon was SO excellent in that!) and THAT, as "thih commin faulk, we were" was the life of a Highland late 1700s Kent...two generations of X's on marriage certificiates DOES say something! can we superimpose my head on the Scarecrow of Romney marsh?"...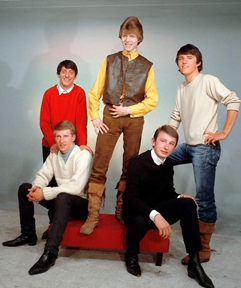 Bowie in the King Bees

"reading up on Kent's smuggling history: George Rausley born ruckinge 1792; 5.5 miles south of ashford and my great-great-great-great Peter Highland born 1784 kennington. two different lifestyles though; the poor, honest widower Peter Highland married, illiterate, two bastard children Mary Heritage in 1816; Rausley commits murder by smuggling and arrested by Bo street runners 1826. gets deportation to...TAZMANIA, but pardoned 1838 (Peter Highland dies 1841, son Thomas sails to America 1845). Raulsley ends up with 500 acres on river plenty, Hobart, TAZMANIA but I decided to make this rocknroll and the BO Street Runners were an English r&b band with Mick Fleetwood on drums and Mike Patto singing! which led into Patto records I had in high school: "singin' the blues on reds"! and Ollie Hallsall on guitar! would sound nice next to Family! I THINK Solomon Gruberger/Jon Tiven (New haven rock press) turnt me onto Patto, who also spent tyme in Spooky Tooth! underground FM UK rock...so the BOW Street Runners were some kind of coppers; lotta English history in band names: New Model Army etc. quite interesting, quite...now let me pull that hankie out of my sleeve"....(photo op?)....

"Bowie, Ken and Kent: alias david bowie, 1987 book by peter and leni gillman: bowie's mum (a Burns, but let's leave Matt Burns out of this!) born 2 October 1913 shorncliff camp, folkestone kent; did she ever go for tea with noel redding's mum and "stand next to her fire"? she also worked as a waitress at ritz cinema, tunbridge wells, which opened 3 December 1934 and is 31 miles from ashford, but from 1934, my father was already born in dee-troit. dad's mother born south lyon (home of Mitch Ryder!) year after Bowie's mum but her great-grandfather Highland sailed from London 1845. so when you lissen to me and James Straight jam on "Jean Genie" (youtube) there is a Ken AND KENT connection with the Thin White Duke and the Morbidly Obese Caucasian Pretender to the Throne!"...

"today is a day to "grok" the magnitude of Bowie's discography, but I say let's begin, like Genesis (the Bible book) "In the Beginning": the King Bees 45 came out same tyme in 1964 as a Hard Day's Night...sorry mate...and 1965 had Manish Boys versus Help! but the REAL winner is: "you've got a habit of leaving"! Shel Talmy produced Bowie AND Lemmy "before they were rock stars" and when I heard the neo-Townshend guitar breaks and the yardbirds rave-up harp in the middle; eight years later I heard that same sound on PINUPS, so let's say THIS is my favourite Bowie and then there's Ronson's THE RATS where he channels Jeff beck's Truth album...all this is on youtube, so grok on and hey! Bowie and Ronson reunited in death...now all we have in This Mortal Coil is me and James Straight on youtube doing a pre-humous tribute on "Jean Genie""......



Bowie in Manish Boys




The Rats
Mick Ronson
"Miguel Torres, a not very proud Rochesterian, posted articles from the Democrat and Chronicle (delivering that paper bought me Beatles albums in '68!) on " the day Rochester arrested david bowie"....and where was I sunday 21 march 76.."Indiana wants me"! patti smith at IU 14 march; first Gizmos recorded 20 march;"eatin' breakfast in the mornin'" was day Bowie got busted, two weeks later, "I'm in love with ken Highland" and I'm on a Gizmos picture sleeve (Muddy Waters birthday!), then Highland/Flowers drive to Brockport and SHOULDA been arrested, though leaving Brockport Eddie got pulled over by NY State cops mostly coz he had 'Bama plates...the synchrocity of this is SO Coast to Coast!"....
Tuesday January 12, 2015
"two gigs: 26 feb, rob kennedy of Da Chumps (Music to Steal (Corn) By!) and mister airplane man in boston, hopefully the Korps; 29/30 april, Atlanta, looks like Gizmos are go for a festival there...with this cold-ass weather, atlanta and a gig with a DC dude sounds REAL good!".....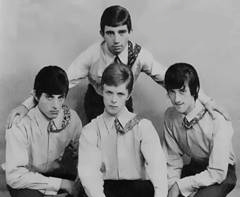 Davie Jones
You Have a Habit of Leaving

"Ken and Gee Julie at the gym, I watch cop shows on ION whilst riding "my white bicycle" so I like Criminal Minds and the blonde nerd who spews out facts; detective work is VERY nerd/fanatical, my mother would be proud...driving through theatre district, an Alladin Sane billboard with Bowie 1947-2016..WZBR 1410 AM Dedham has switched to Portuguese programming, it says, but Music of your life still played in evening and a JOY was Simon and Garfunkel's "fakin' it" (released 7 july 67) which WCMF Rochester NY did play in 1969...otherwise Bowie WAS the news! some conservative guy snidely remarked "I was in college when man who fell to earth came out...what a weird movie"...oh yeah, mofo! you probably wouldn't-a liked the Gizmos either and as a 20 year old marine, I'd-a whupped yer ass! Nightime with Dan Rea, another news channel: "callers, call in about...(who the fuck cares!) or are you affected by David Bowie"...that channel got switched, so the only "RESPECT" for Bowie on the AM was...George Noory and Coast to coast! (0115, yes I'm awake!...): "Young americans" for bumper music and then "david bowie did a LOT of great music and here's one of his toons, died sunday of cancer with his family by his side; at least he made 69, jury's still out on me hittin' 60!".....

here's one JUST for Ken Kaiser! before Yes and Tomorrow, Steve Howe was in a freakbeat r&b band called the Syndicats, produced by Joe Meek and also an appearance on the beat Club 5/10/64. without getting two Hopelessly Obscure, I decided "freakbeat" sounds like the the Kinks "beautiful Delilah" album played at 45, basically...three 45s, pretty standard r&b why DO I give a fuck except my lil sister LOVES Yes (grounds for divorce! oh wait, she's mah cuzzin)...so Steve Howe plays two of MY favourites: on Beat Club, looking QUITE bored playing G to F on Bo's "cant do the Touch by lookin' at the cover" and the 45 of "Maybelline", the guitar solo is BRILLIANT! Chuck Berry played at 78 speed by Steve Howe! next game of chess is "your move"! (though the riff I DO like in "the Wurm" is G-eflat-C and I'm stealin' it, if I haven't stole it before!)""...

Wednesday January 13, 2015

"0400 and I had TOO much to dream this morn coz I was at a jam/party showing Ken Kaiser how to play the MC5's "American ruse"...I did the intro in F (it's in C!), then switched to E, told him finally, "play it in whatever key you want!" dreamin' about playin' MC5 songs WRONG, THEN, from Creskill NJ (think I was there in '72 lissenin' to blue cheer, sonics, zombies, stuff bought cheap in bargain bins!) GARY WRIGHT and "dreamweaver"! (released December 75, Gizmos formed 5 December 75). read Gary Wright's bio, those three albums with Spooky Tooth; wow! a lot of Spooky Two played on WCMF Rochester NY and Lou GRAMMatico and Poor heart even do the spooky tooth version of "society's child"!...so "dreamweaver" (dreamin' about Teaneck NJ natives!) goes into "and here's our call-in line, call if you've had a UFO encounter!" maybe it was the lit joint in the Altoid box".....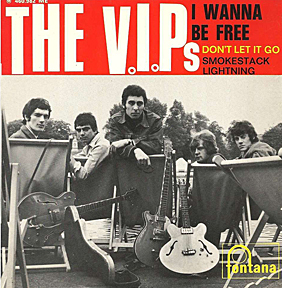 The VIPs

"Before they were rock stars or everybody made an O. Rex record: since I woke up to "dreamweaver" (more like "Hog-taker"; Ken Kaiser and the knickerbockers wrote better songs! How could he go to THAT from Spooky Two?)...so 'ere's some facts on british r&b band The VIPs, back when Ariel Bender was just plain ole Luther...youtube footage of them in Paris and bassist Greg Ridley played on GOOD Spooky Tooth AND also Humble Pie back when Frampton WAS Alive (musically); r&b covers, kinda run-of-the-mill, it's whom they became is of interest. Repetoire records, Hamburg did a VIPs cd plus lots more "limey metal blooze". check out Cumbrian Bands of the '60s! lotsa facts about Carl Biancucci-type UK bands. and 'ere's a mindblower: Mike Kellie who drummed on some damn fine Spooky Two records was OVER 30 when april '78 he recorded "another girl another planet"! I was trying to teach Pete Lost Hello World, he played me the Only Ones and it all goes back to: Gary Wright and Ken Kaiser from New jersey! at least nobody tried to blow their brains out lissenin' to Music to Kill yourself By versus the Judas Priest cover of "better by you, better than me"....

"a Gee Julie joke...me: "I'm gonna do some genealogy"; Gee: "oh, Gene Genie?"...go to ww.geni.com/people/david bowie and on his Jones dad side, I have Thomas Haywood born 5 September 1792, armley, leeds, west Yorkshire. Bowie's Burns mum was Irish catholic, the family from Manchester before she born in kent. www. independent; irish independent: from morrisey to tony blair: how Ireland's children are in the heart of English culture. interesting list of "Hi-Brits" (Hiberno-Brits) and read more in J. Rotten's book how when he was in jail, irish name, english accent, he was kinda "man without a country"! (I think it's Bowie's mum's grandparents came to Manchester from Eire). also Wikipedia, Irish Migration of Great Britain, a list of Britons of Irish ancestry...hey, 3 out of four beatles (NOT Ringo) and Bowie, hey i'll take it! the irish on both my sides only went to Canada during po-tate-to famine, caused by emmet otter mashing too many po-tate-os!"....

"discovered a fifth cousin in Australia after one of my Grant cousins jumped in Victoria; she died 1979 in Mirboo North. Wikipedia says "famous people and animals" (and this is worth it!): SAM THE KOALA!!!!! cant quite claim him as a cousin but seem to be plentiful Oz cuzzins down in Ned Kelley land, so they've surely seen a a few, oi'm sure!"...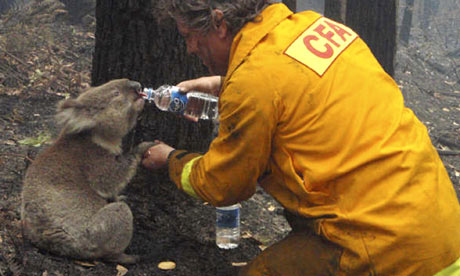 Sam the Koala
"when my Grant cousin jumped ship in Melbourne Australia in 1859 and begat the Victoria branch of the family, look on a map and Melbourne is 308.24 miles due north of TAZMANIA! as George Noory says "there are no coincidences"!"....
Thursday January 14, 2015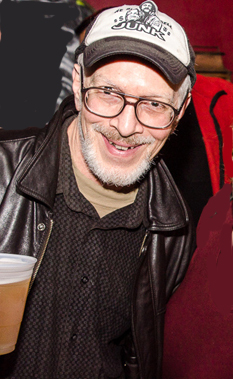 Reed Lapin
In Your Ear Records

"the second of Ken Highland's 115th dream: Gee Julie and I are at in your ear records, boston (y'know, where Pagey of Led Zep shoppes!) and we start singing the chorus of "all the young dudes" with me beatin' tyme on cardboard boxes like when death of Samantha played there in '80s; Reed (Lapin) smiles his Gilligan smile (as Julie Highland, pre-Marines, decided back in '83) and from out behind the counter joining in is a young david minehan with his red Ziggy 1979 haircut singing along! 0548, i wake up "what the fuck?!" and wall street journal this morn said the smiths and talking heads topped some kinda poll but "that's not what people would normally listen to" or some kinda non-mainstream remark; agreed, I wouldn't exactly call the Smiths "mainstream"....AND both Morrisey and Bowie's mum were "Hi-Brits" from Manchester...otherwise "I had too much to dream last night" or maybe I AM "A LAD INSANE"!"....

"go to gizmos world tour page and Gizmos are playing the mess around festival in Atlanta Saturday 30 april 16; real kids play there Friday night and yes i'll be there! craig willis Bell on tour with rocket from tombs, so bass to be played by rich coffee's luverly wife Melanie! with Kelsey simpson, Gizmos have first female rhythm section ever! and "we're not a bunch of chauvinistic pigs, y'dig, but if you wanna feel my sucken lips"...hmm...didn't I co-write a song about that? all my gigs happen after age 60, except for 26 feb with rob kennedy of chumps and mister airplane man and ace of Highlands is hookin' me up with that, yo! thank you david bowie in spirit for these gigs, coz "Kenne played guitar...jammin' good with Rich and eddie...and some cats from Deezen"".....

"more british facts, mate: my grandmother Blodgett's grandparents, Charles Harmer and Martha Talbot are listed in 1860 Clarkson NY census as over 21 and cannot read and write; further research and Ma's family legends have them as from wantage/harwell, near reading in Berkshire (and that's "bok-shure" and they dropped their h's also, like the cockneys)...HOW is this rock related/ aston tirrold is "a half-hour's drive" (on the left hand side of the road!) to the cottage steve winwood had (supposedly haunted but isn't EVERYTHING in Britian?) and where the dear mister fantasy album was wrote (all on Wikipedia)...how can I look for 39 when 39 isn't there? easy! one of my illiterate agriculatural labourer ancestors was haunting Traffic's cottage, making Dave mason write GOOD songs, which even Solomon gruberger liked! I mean dude, "paper sun" written 1/2 hour from my great-greats? vs., dad's side, Hendrix "standin' to noel redding's mum's" fire in kent 100 years after my great-great-great's sailed from London? I SHOULD be giving GIZSTORICAL rock tours! tabers, tabers, I struck it rich!".....

"www. bowie wonder world . com 1958-1969 gigs! (a NICE fanatical listing!) 30 may 64, mannish boys at wye college, ashford kent; 24 sept 66, david bowie and the buzz at 2 B's club, ashford; stompin' grounds of the Highlands before coming to America! "there are no coincidences"-George Noory!"...

Friday , January 15, 2016

"Bowie's death led to Slade coz "My head's in '73"; facebook has from roots to boots; the slade story; like it! www. brumbeat . net coz they're from the black country; born to be wild- the slade cove sladecove . .weebly . com ; AND two books, free google reads: LOOK wot I dun: DON POWELL OF SLADE ; ALSO www. slade in England . co . uk AND who's crazy NOW by noddy holder! THE best tale is, as the N' Betweens in BAHAMA in 1968, they'd be playin' for a buncha rude boys, do their James brown routine and james Brown was GOD down the Islands! also tales of female impersonators, this WAS Slade's hamburg coz look wot it did for the Beatles AND that's where they first heard Steppenwolf and amboy dukes was NASSAU before the UK heard it (check out covers on ambrose slade BALLZY!) dave hill and don powell do Slade II, but who the fuck does Noddy? Mach Bell?!?!? Slade II plays the UK often though; kinda like Gizmos in Atlanta! one last tail: Solomon gruberger and I saw SLade at Madison square garden memorial day '74, some band name aerosmith opened up and we didn't know ken Kaiser! where was Jay Gruberger? well, I wasn't paying for his ticket".....

"Dad's welsh ancestors hailed from Manafon in wales, not much there but mountains and sheep outnumber Cymri; thus my Civil War ancestor of welsh descent is buried in west virginny! still, google-ation = David Sylvian of Japan (looks like he hails from Bowie's area of London) did an album about an obscure Welsh poet from my (one of many) ancestral homelands! Not much rock though but lotsa traditional Welsh music; Cardiff in the south was where it's at! (John Cale, badfinger, mary hopkin etc. and prolly a bluidy site fer it, too!)"...

"Manafon wales is in powys, population 294; when my welsh ancestors came to America, they ended up in Kenton Delaware, population 236! of interest, a british paper talking of rockers who's REALLY left it all behind and moved to Powys: Ian Gomm, brinsley Schwartz and Ronnie lane, small faces DID live there for a while...I guess it's the welsh version of Appalachia, but poetic, pastoral and subject of a glam-rocker's album (?!?!?) such an obscure town to have ancestors from; Hopelessly, Cyrmi!"....

Saturday January 16, 2016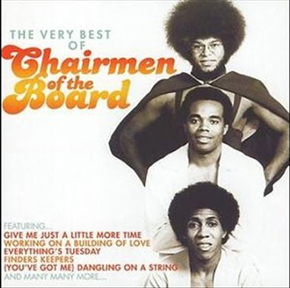 Chairman of the Board

10 pm last night WRCA 1330 AM, country music oldies (like 'em on facebook!) and "and this is the ONLY place you'll hear "CB Savage"...what a flashback! don't ask, dont tell but Wikipedia page for Rod Hart has a 13 Nov 76 Billboard cutting; I'd already met the Slickee Boys and was fastly writing Gizmos/Korps songs on guard duty! (USMC birthday; 10 nov 76; slickee boys played CBGB's Tuesday 18 nov 76 (my brother "Herbie" of "cavewoman" fame birthday,18 he was!) and the Gruberger Brothers were hanging with WAYNE County! (he dj'ed!) "Born this Way" was the year previous..."

"Lazin' on a RAINY afternoon"...tempted to lissen to "rainy day mushroom pillow" by strawberry alarm clock off PSYCHOUT (Ed King on guitar pre-Skynyrd! dude wrote "sweet Home Incense AND Alabama"; TWO top 10 hits! more'n I've had (grumble)...but opted for some Beach Music. I LOVE General Johnson's (RI) voice! "give me just a little more tyme"-chairman of board, WCMF Rochester NY, junior high (let's say 1970; forgot to geek out on date), then the Gizmos had Beserkly chartbusters back in '76 so the "HEY!" on "Muff Divin" I stole from john richman covering the showmen's "it will stand"; vocals by Genral Johnson! Wikipedia entry on "Carolina girls", also by chairman of board, written in 1980 when i moved out of the north hanahan, SC trailer park! (Friday 25 april 80!) Wikipedia also has a "songs written in south Carolina" listing and I WILL be heading that way for Gizmos in Atlanta, friday 29 april 16, seeing real kids THAT night! "califawnia gurls" inspired after a ramones gig in californy august '76; "I been Shot Down"! My luck with gurls improved after that, the more vinyl I put out"....