1/24/2021
Tuesday, January 18, 2022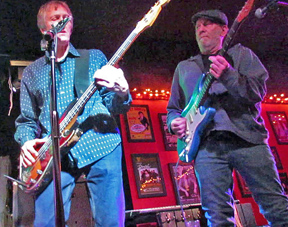 Scott & Asa

"Monntag 17 jan 22. Moving on with Asa Brebner tribute volume two next track is "Trapped Inside a Teardrop' by Scott Baerenwald. He played bass on the $20 copy of Reddy teddy's "Goo Goo Eyes" in 1974 and I shall never forget him singing with Asa Brebner at 11th chapter in union square, Somerville ("Dead Boston Club"!) Them's "1-2- brown Eyes"; he also told me about cranking WILD in some '60s car, thus his James jamerson playing. BUT, on this cut, he "merely" sings, bass done by Kit Dennis of the Infliktors! (I sat "up in MY room" with Miss Lyn coffee googling whom WAS on the Rat album and "Yes He is, it's true/yes he is". I also recognize gary Soprano NOT in Third Rail on rat album, but a alumni and you can COUNT on the fact that we played like Hunter/Wagner Rock and Roll Animal at some Hull/ Rat beach party thang; a PLEASURE to have done double lead with him! (plus he IS good; can tune and everything!) Ok, "Let the Music do the talkin'" and buy mach bell's book for the Biggie Ratt chapter! "Rod Stewart voice before he went Hollywood circa 1976; good country music singing. "rock ballad' (Nicht scheiss! says I to I,mon!) REASONS to buy it: Circa 1974-ish, "Jailbait Janet's" boyfriend played me first song, side two of the Tucky Buzzard album! It has that feel and that tyme (hell! even Rod the Mod was still good!) Buy the cd, money goes to Asa's REAL kids"...…. (($16 each, 2 for $25 Venmo: Larry-Newman-14, Paypal: deltaljn@netscape.net or send check or money order to: Larry Newman, 10 Whippoorwill Lane Kittery, ME 03904.))

Wednesday, January 19, 2022

"Til Tuesday 18 jan 22. Last song side one of my The great Rap Hits on Sugar Hill, five dollars at Somerville Grooves. "Rapping and Rocking The House" by Funky Four Plus One. Who sampled? (or whom did they steal from?): "To be real" by Cheryl Lynn! on this three dollar 1979 hip-hip classic. written by Bobby Robinson; discogs have a youtube of "Uh, Uh baby" on ABC records from 1966, ABC 10784 (10783 is the Kittens "is it our baby" / "undecided you' and 10785 is ray Charles "Together Again" b/w 'you're just about to lose your clown"; I had that album as a teen and BOTH sides great! and HERE is some REAL record geekdom: "45 discography for ABC Paramount records-10000 series". http://www.globaldogproductions.info>... . BUT WAIT! I'm not done! In April 1978, Cheryl Lynn was recording :Got to be real" as the Korps was recording hello World; the previous month, Kim kane, Slickee Boys in tow, was X-Ray Spex at CBGBs and Kim kane it was a hit the August; possibly that was the end of the Mersey Mersey Me-era Slickee boys. lastly the "got to be real' album released 13 Friday 78; who was at cantone's? Nervous eaters? LaPeste? Unatural Axe? WAY too drunk, car in garden WITH gum and Dick Tracey and/or Flash Gordon on Five All Night black and white tv in the 85 Turner Road Holliston mass (andy Pratt's ancestor settled Framingham!) maison de Lisotte! (drunken FOOLS!); even with disco et al., it WAS the good ole daze/"dancin' Days"!"....


Thursday, January 20, 2022

day of Wodin 19 jan 22. First song side two of the Great rap Hits on Sugar Hill! (I'm meshugah for Sugah Hill!). 1979's "Funk You Up" by The Sequence; female trio from Columbia South Carolina! I was busy jammin' on the Stones' "Miss You" with my barracks with an all-black audience and LOVIN' it! They started out on gospel, but did a early hip-hop record; hey 'it's all meat from the same bone" as Eric will Burdon you with that thought (IS your thoughtbloch glitched?). And who DID these gospel ladies sample? "Rapper's Delight" (AGAIN!) which is Chic's "Good Times", good riff! (TRYING to play like that in Mad painter). "Funk You Up" recorded November 1979, released December 1979 when I was in South Carolina's Low Country in a trailer in North Hanrahan "Crying the Chapel" (TRAILER!) over Emmett otter. Gizmos mach II sang "Cry Real tears"; the band "Tears of Rage"; like the Young rascals "I'm so happy now" coz I made another Hopelessly Obscure discovery! (on who sampled for "Rapper's Delight" which begat "Funk you up"). "here comes the sound again" by love Deluxe, a British release, 16 mar 79 (around then "Winner by elimination' was played ONCE on a Charleston SC station; BIGGER than Elvis pound wise but not musical). the tune is on youtube and british producer Alan hawkshaw (impressive discography!) played piano on the Hollies "Put yourself in my place" off Hear1 Hear! (Paul McCartney was in a band before Wings, so between ALTAMONT AND Kent State I was buying all Nash albums, pre-Crosby and/or Stills; Imperial records CHEAP cutouts!). Vicki Brown (ALSO impressive discography) sang on,amng others, the kinks Muswell Hillbillies! In the end, why is there so much superb british r&b/funk/soul etc we yanks don't 'ear? other question (of tempature!) Come March is Fiddy years of me fanzine writin'! (locked away in room/ records/ANTI-social distancing!) and Miss Lyn wonders what I do up there in the Haunted Room".....("ARGUIN' WITH GHOSTS"! :Kenne, who ARE you talking to?""....

Saturday, January 22, 2022

"Saturday 22 Jan 22; mad painter at Cantab downstairs but when you read will be history. Monday 24 jan 22: Howlin Wolf orgy WHRB 95.3! Freitag 28 jan 22, cantab downstairs. Johnny Plankton 8 pm, KH Air Force at nine and at ten is Tiberius. Micky Bliss says "sounds like the Byrds before they went country and the beatles before they went psychedelic"; sounds 1965 to me! Saturday 29 jan 22, Plough and Stars Mess around 4-6 pm. Hey! I'm 65! aint I 'spose to be retired? Nyet! Friday 4 feb 22, Kingston NY LIKE Tangle Festival on facebook (it' on mad painter page) and the promoter likens painter to "Mott the Hoople/faces/Uriah Heep"; and he's right! Playing a Russian music festival in front of a buncha mad Russians....well, in the '80s was me and Angry Samoans...Pissed-off Parisians? (non! whom le fouche you think interviewed me for Ugly Things!? (link)...Hoory for Bollywood!".....