1/25/2020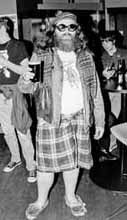 vintage Kenne 2000
Tuesday, January 19, 2020
Saturday 16 jan 20. mad painter practices for studio Sunday 24 jan 20. ken attempts to do Tim Bogert licks on bass (Dead People facts: he seems to be descended from old Dutch New jersey stock as are my Jacobus ancestors AND born in Ridgefield NJ, Bergen county, which is Ken Kaiser's county (Teaneck); ALWAYS good to find a tie-in with the Korps and the Fudge!). Alex Gitlin has been writing like a maniac and they're all great poppy many-chord songs! lastly, last jam of Alex-keyboard/vocals, Schmel Herbie Hind- guitar; me-bass and Al Hendry-drums was Deep Purple's "Child in Time". Two states and two countries but we all "lock in' on Deep Purple and Uriah Heep; I am pushing for these to go on my youtube channel (17 subscribers! 17 Kenne fans cant be all wrong can they?)
Wednesday, January 20, 2020 Sunday 17 jan 20. more Stigmatics producing. Pete macCormack laid down seven out of eight vocal tracks, tho facebook notified me of death of Phil Spector. Bob Roos laid down some fiery nervous eaters-type leads and then facebook told of death of Modern Lover/Chartbuster Leroy Radcliffe. All in one session?!?!?! No other job to keep on rockin'; did I say Bob Roos wanted to do a cd? And more Little Steven on the ole Sirius radio in car ride up....awaiting on opinions/results etc but trust me this WILL rock! day of Wodin 20 jan 20 ran into Dogmatic Tom Long whom near Charles Street and he told he'd be talkin' to Stigmatics drummer Bob Whitelock (whom WAS in the Lines!) about me producin' SO, like Chrissie Highland, I'm the "Talk of the Town"!
| | |
| --- | --- |
| Stigs in Studio -Pete, Bob Roos with Tom H. | Stigs in Studio - Matt and Bob W |
Thursday, January 22, 2021

Monday Monday 18 jan 20. "Holiday", not "in the Sun" but I tuned into WNTN 1550 AM at noon and took my nap listening to Grecian Echoes 0700-noon. woke up to noon-two pm Itali-Echo with Vivana Dragani, whom played "Piani Con me' by the Rokes (on AM radio!) This WAS a million seller and Wikipedia has all the info on how it became the grass Roots "Let's live for today'. Wikipedia DOES mention the Slickee Boys covering the Italian "let's Live for Today' by my distant cuzzin Martha Hull on Slickee boys Mersey Mersey Me e.p. Wikipedia Slickee Boys entry ALSO mentions how FOUR Slickee Boys played on Afrika korps's Music to kill By! In studio doing kenne music and mad painter, out of office Til Tuesday!