1/31/2021
Monday, January 24, 2022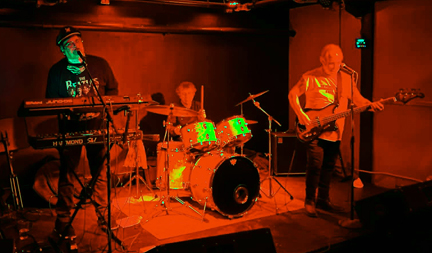 Captain Easychord at The Cantab

"Saturday 22 jan 22, cantab downstairs. Frank Rowe,solo, opened, really enjoy his finger-picking acoustic. here's a new reference: "Punky's Dilema" off Gizmo and Garfunkel's Bookends and if I REALLY trace it back, paul simon learnt finger-picking from davy Graham. hey! Let's do guitar geek! acousticguitar.com "The Story Behind Davey Graham's 1960s-era fingerstyle classic "Anji:; which I used my paper route money in 1969 to buy Sounds of Silence from Columbia Record club. next up was Larry Newman, doin' some country/blues/rock with drummer Tom Symancyk whom had played with him in L.J. Delta and the Lonesome Wolves. i thought Tom kept tyme like levon helm meets Charlie Watts and Larry did a lot of drop D tuning; kinda country/Stones. Exiled on Mass. Ave.? Next up was Captain easychord with an Elton John 11/17/70 lineup with a KILLER rhythm section of larry and Tom (I been reading the facebook; 25 years together! Hello World!). After one Bowie-esque number (Hunky Dory/Ziggy piano ballad era) Alex Gitlin of Mad painter DID say "Ziggy played guitar". lastly, Mad Painter as a trio (Blowfish was right! Emerson lake and Gitlin!) Alex hittin' these jazzy Jimmy Smith/Brian Auger/graham "winnin' side" Auger Hammond B-3 sounds and Al hedry doin' his jazz licks on drums; I was the WORST musician in the band trying to do jay gruberger listening to Ron Carter as we recording O. rex or some such BUT Micky Bliss RAVING about it saying some quote about Milestones; I can barely play Spencer Davis, forget Miles Davis! Again mad Painter headline tangle festival (like on facebook) Friday 4 feb 22 sounding like "Mott the Hoople/faces/Uriah heep' which means "all the way to Kingston"/ ian maclaghlan (I try channeling "Plonk" lane doing Motown) and KEN H(ensley, Uriah heap (of shit): Solomon Gruberger, O. rextasy '73). back from the club JUST in tyme for Coast to Coast AM! (hmm....'such a perfect day'....)"...

Tuesday, January 25, 2022

"Monntag 24 Jan 22. Another cut from Asa brebner volume two and that is; "Break my own heart' by The Darlings. I've been a fan since the 1990s when they had Rik Rolski of Figures on a beach doing Keith-country Let it Bleed Stones era licks; now Billy Loosigian, whom channeled jeff Beck on the two Willie Loco MCA albums does some Don Rich/Buck Owens and Bucakroos/Bakersfield licks. Simon Ritt sings the funny "I'm gonna break my own heart' lyrics in a wry/Doug Sardonic/Doug Saldana way reminiscent of Buck Owens (Darlings once did a Ringo tribute set with Robert E. bear (RIP) drumming and "Act naturally" was the chickens coming home to roost after back to the egg got scrambled' (sic). Kelly knapp sings high Dolly Parton-esque harmonies; my 1969 flashback (AND roots of Highland/Moore) is Johnny Cash show/hee-haw and Porter Wagonner and Dolly for the male/female duet thing both Ritt/Knapp and Highland/ Moore (or less) do so well. Every verse has a modulation so Ken Kaiser is happy (that means they stole from "Gotta Be Pretty" off the Korps hello World!) And that Floyd Kramer honky-tonk piano? Phil Aiken! Hearing this I miss seeing the darlngs in my zip code"....

Thursday, January 27, 2022

"Til Dienstag 25 Jan 22. gee Julie and I Punjabi Dhaba then Lilypad Inman. Opening: Emily Mitchell, I was impressed by "bridge over trouble water", "take me to the river", that Nora Jones hit AND "I don't know where I stand" off Joni Mitchell's 1969 CLOUDS album. Music student, jazz chords, Mitchell voice; stellar performance and RARE Mitchell toon (and hey! Mitchell, man....if she like Joni's granddaughter,man…..)...Pritesh Walia told me to come see his trio PSA (it's all their names): Notes: opening with some 1969 santana tone with Ginger baker on drums (drummer was very good and these kids YOUNG!). Into some John Mclaughlin/Billy Cobham guitar/drums with keyboards sounding like santana's greg Rolie before he made Journey records. Also some Monk piano on acoustic piano and Jimmy Smith on organ (keyboardist also stellar). gee Julie and I enjoyed the original "Journey to Nowhere" (Return to Forever, never?) and I even DID write "sounds like return to Forever" with traces of Mike Stern on guitar (my distant cuzzin actually but guitar was THAT jazz-rock distortion good!) and some Joe Zawinul keys. Ten dollar cover? A true bargain, having the Willow jazz Club in Inman Square!".....


Friday, January 28, 2022

"day of Thor 27 jan 22. Sadly ending the column with an RIP. Facebook from Johnny Angel that Randall Lee Gibson IV had passed away to be on that Vietnam Wall called In memorium-BGN (meaning, like my father who died in 'nam, we can be "Heroes/ just for one day"). The Alpha: Randall and I on Nobody Gets on the Guest List, Throbbing Lobster, and before he passed, I DID check him out on discogs. Quality bands, quality records. The Omega; He drummed in the Stigmatics for Frank Rowe's 65th birthday at Midway and turnt me onto a damn fine band and folks. He told them "Kenne Highland knows a lot about music" records yes, music...hey I like the Shaggs and O. Rex! 'whyn't you have him produce Stigs cd'; now a dedication ala Drano on first real Kids album truly in order (Eddie Flowers in town, Gizmos World Tour, real kids at Midway and I sez: "Randall's a damn fine drummer")...lastly, he and I on facebook have talked about being to Al green's church in Memphis. reverend Al grits said "God Bless Randall Gibson'; he is, AT THIS MODDAFOCKIN MOMENT doing same; as for me: "God don't want me in heabbin (an' the debbil don' want me in hell)"...….