2/01/2016
Sunday January 24, 2016

"lissenin' to WRCA 1330 AM, which DOES stream online, so if you heathens ARENT in church, 1100 til noon has sounds of indian with all kindsa indian movie music and Indian goings on (eastern Indian to differentiate!) and noon had commonwealth journal with a UMASS professor discussing Abe Lincoln; I think I'm distant cuzzins to Douglas, so THAT is interesting tymes, of course and I've always loved Auntie Bellum! 1-2 pm Farrakhan SPeaks! I usedta lissen to his jive hung-over on sunday mornings on WILD when I was living at 12 Oswald street, mission hill....sometimes he makes sense, other tymes you KNOW it's slanted...but THE phrase, when he speaks of the Devil or us white devils is "the mischief makers"....code for troublemakers? whatever...remember, it IS a free country and people DO pay for all this to go on the air! I need a sponsor! after Farrakhan, followed by the Spanish oldies dj playing "will you still love me tomorrow"?!?!? yes, a full moon weekend!"...

"12 feb chetstock; Tontileo writes me that Gang Green had to cancel, so guess who's in charge of the end-of-the night jam? with all the Keith Beauniece talk on my wall recently, all I can hear is "can I ...get...up...and just do...one...song.?" and she wants me, Kenne, to play chetstock 12 feb 16, so that'll be the Highland/Kaiser show still partyin' like it's 1983! real kids and classic ruins also on bill! see y'all there!"...

"Roxbury Mass. facts: from rootsweb, Ma's STOWE (as in harriet beecher) ancestor sailed from Kent UK, was 8th largest landowner in colonial tyme, lived near Cedar and Highland; ironically in 2006 I lived on Kensington 3/4 of a mile away! Pynchon's ancestor was the preacher, so toss in Gravity's Rainbow (and why not?!) The Jim Condon segment is Mel Lyman had his cult in Fort Hill, the Eliot church is an uncle of Ma (he begat the "praying Indians") and I remember reading about Mel Lyman in an 1971 Fusion in Brockport NY, THAT 'zine came otta Beacon street boston! altogether, reckon I DO belong in Boston as an 11th generation "improper Bostonian"!"...

Monday January 25, 2015

"Tontileo admitted to "losing it"; Hopelessly Obscure is 21 May, PLUS I've been asked to be "ringmaster" and talk about Chet etc.; never met a microphone I didnt like! still, everybody go 12 feb also! Moose und der Kaiser!"...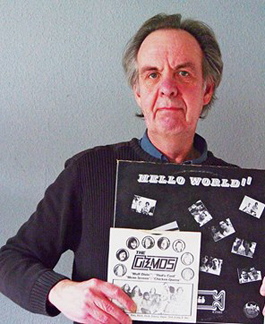 Pierre Le Coutre

"youtube has History channel's THE BARBARIANS; I watched the Saxons since my y-DNA RU-198 is Saxon. it begins 580 AD, NW Germany, which is schwesleig-Holstein, where is Flensburg where Pierre le Coutre ist von (he told me Billy Bragg went back to same area looking for his roots also!) 436 AD Saxons land in Kent, 40 miles from ashford and 1845 Thomas Highland sails to America, First. otherwise, a lot of barbarity and such which ONLY explains me PLUS Hello World, Johnny and Jumper Cables and Gizmos ended up BACK in the land of the SAxons! (Pierre le Coutre holding Hello World!) family tree DNA says my Dad's DNA is so rare, it's only found in southern England (Kent) and lowland Scotland/northern Ireland (McBee line)..but that lowland Scot thang...notice location north of Penrith..."Penrith?" and SAxons in Northumberland..."'ow'ed we end up in Penrith?" I like this documentary coz the Saxons are speaking some grunting language (me when drunk) and since "rocknroll's a loser's game", why the hell aint I starrin' in any of these Pagan Epics!"...

"let's mention a lil AM radio on: some station in the 1100 range sunday was playing old radio shows! forgot the name but the episode I heard was of a private eye with a camera from 1947 (dad was 13!) and solving a case of a 300 pound gambler who died on TOP of his dice...I DO love them ole radio shows! Football: Tom "Herbie" Highland, who moved to Colorado from Bills country in 1980 whupped ass on the Patriots (wife, daughters, spouses all cheerin' for DENVER; home of the Astronauts! I'd cheer too! a surf band from rocky mountains!)...lissened to the wining Carolina game and "Herbie" of "cavewoman" fame was born when Dad stationed Camp Lejeune NC (me and Julie Highland= northern Va.= "Gimme Back My Redskins"!)...Ken Kaiser wants SPORTS AND WJIB, well here it is, mofo! a muzak version of "hello mudda hello fadda"; since Kaiser DID have this record as a youth= the Grubergers borscht belt humour, also apparent in Hello World AND playing with Moose and the Mudbugs so long! lastly, Coast to Coast played Beatles "come together" and the Canadian record collector host said THIS was most downloaded Beatles toon (?!)... I DID buy the 45 with my Rochester Times Union (defunct evening paper) route money, but Ma bought me Abbey Road, XMAS '69, we lived near SUNY Brockport where Bob Richert was a senior; Bob Bittner was a junior at RIT, so that's TWO mentions of WJIB, today"......


Tuesday January 26, 2015

"here's a 0330 coast to coast AM fact; and people in Flensburg, Deutschland, my Saxon origins!, are becoming Coasties! LIKE the facebook page...smoke a Doobie, Brother, put it away still lit in an Altoids can and DIG this: Jason Martell was the guest and according to ancient Sumerian texts, there is a Planet X...not Mr. X...or the band Static X...or Xene's X...but Planet X...we are "Third Stone From the Sun" but if you count backwards we're the ninth planet from the other direction (?!) (I stayed awake to hear this!) ...another fact that's "out of this world" (Sci-Fi festival at Somerville theatre 14 Feb 16!): the pyramid at Giza was not a tomb but a large reactor for world energy grid..."and the grable had a beard""......

Wednesday January 27, 2015

"More Kent UK history from a hyland perspective; on youtube, THE BALD EXPLORER! (looks like mad Max of sonic daze!). Richard Vobes is the bloke and I watched The Smugglers of the Romney marshes. He was in a 1411 house with heavy timber that maybe belonged to a yeoman, which SOME of my English ancestors were (gentlemen farmers). see same heavy oak at MFA now that John Powhida has been reinstated! Vobes says they lifted a tariff in the 1840s and smuggling wasn't necessary but by 1845 the Highlands were sailin' to America, First. www. kent resources . co uk / owl. htm is about Smuggling in Kent; mentions the North Kent gang (where my grants and Highlands lived); the gang ended when 14 of the gang were transported to......TAZMANIA!!!!!!!".....
| | |
| --- | --- |
| Tom Jones | Tom Jones |
"Radio On: BC basketball on a losin' streak, losin' to Florida state last night, WEEI...Go Hoosiers! at midnight, WRKO, Jim Bohannon had as interview....TOM JONES!!! (for a conservative vet, he DOES play good baby boomer music! first, the Billy Boy Arnold cover "I wish you would" is SO fucken gud, Tom still sounds like 1968! other questions were about the underwear being thrown "bock in wales, i had BOTTLES thrown at me' (jealous boyfriends). another lady got a WONDERFUL "happy birthday' sung to her by TOM JONES and Jim Bo said once he had the lettermen sing "happy birthday" to his wife (planned) but TOM JONES was in the top! (Marilyn Monroe= 3rd?). another caller was in charge of the Kansas city welsh-American club, their St. David's dinner is 6 march; Tom DID remind her St. David's day is 1 march, but the Kansans have theirs on the Sunday... and Tom DID ask her if she made Welshcakes! "eye loov welshcakes"..last fact: "in liverpul, everyone added O on the end of your name, so eh wuz Tom-mo"...so Kenno's great-great granddaddy Em Darling, Civil War, one welsh grandmother, had black hair, black eyes...must be that welsh/Basque DNA
"0400 or thereabouts, Coast to Coast AM played Beatles "strawberry fields forever" in MONO, man..thought, whilst putting out a lit joint in an altoids tin; Bob Bittner woulda played the happier "Penny Lane" a-side on WJIB, but the darker, spookier George Noory plays the darker, more somber "strawberry fields"...such a GREAT song, STILL!!!! as opposed to wall street journal this morning, NC Panthers sing CREED songs to each other in the locker room....well, if it helps 'em win the Super Bowl"...
Thursday January 28, 2015
"by the sword divided-great rebellion and civil war; 1983 costume drama shown on masterpiece theatre in 1986 ( I preferred cookie monster eating a cookie going "monsterpiece theatre"..)....filmed in Northamptonshire (east Midlands, south of "Penrith?!") at fermyn woods hall, rockingham castle and lilford hall. one family was Roundhead for my uncle Cromwell, t'other was Royalist AND two Hylands brothers in Kent were same! (haven't quite connected to them YET, but...)....one brother settled Sciuate, mass. with GG Allin's ancestors (Puritans!), but facts for the other brother: a Royalist Hyland died during 1642 (cue up Charlie cant surf covering "English civil war") and son (Colonel Hyland) emigrated to Maryland. Hyland estate is south of piney creek, elk neck, maryland called Harmony hall. find a grave has Hyland family cemetery. So if you ever DO visit this Hyland estate/cemetery "big house" in Maryland PLEASE drive gently and watch out for CROSSWINDS! (meaning I musta passed it a whole mess o' tymes back in '77 goin' from the NSA to cantone's with that alpha-bet agency on mah tail!")"....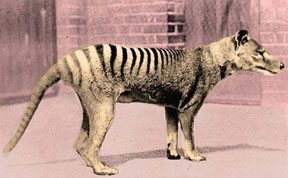 Taz Tiger
"I could bore you with all Kindsa Tazmanian Hyland facts in my BBC voice, so LET'S! Choondoonga: a journey around Australia(2011) by PETER GRAHAM HYLAND; like it on facebook, read the google book! I mean we got Appalachia, wild west, Alaska, but between the Outback and TAZMANIA; Oz is all reet, mate! you CAN see a picture of a THYLACINE, carnivorous marsupial thought to be extinct; it's closest living RELATIVE being...the TAZMANIAN DEVIL!!!! RRRRRRRRRRRRBIZBIZBIZBZIBIZ!!!!!"....
Saturday , January 30, 2016
watched a youtube of History of convict Australia; a documentary costume drama period peace, then out of nowhere comes the narator dressed like now! so i learnt some new Oz facts about John MacArthur (wool farmer) (wikipedia: father was in jacobite rebelion!), plus Elizabeth Farm, sheeps, being a woo pioneer AND the rum rebellion. I DID not know Capt. Bligh (after the MUTINY) became guv'nor o' Oz BUT they marched on his "palace" and deposed his ass 26 January 1808! (seems like he was a Cornish sumbitch no matter whom he was o'er!). Thomas Highland was born 3 March 1808 Great Chart, Kent (died michigan) and other Kent UK Hylands seem to have ended up in Oz or TAZ....but not that early...still, watch this drama, been gittin' lotsa comments on my wall from Gizmos fans in OZ!".....
a lotta Hylands went to Tasmania! ok, i'll only bore Blowfish with one...Catherine Hyland born 1755 england, criminal record: 2 april ("there are no coincidences"-George Noory!) 1788 ye olde bailey, london 'as 'er for counterfittin' coin, sentenced to death by burning at steak ("oh? well-done! nyuk-nyuk-nyuk" Curley Q. Link; Larry Fine married some kin of Brian Hyland), later commuted to transportation for LIFE. 1790, Lady Juliana, which were Second Fleet (that's like bein' on the Anne if yer mayflower), marries another criminal John Folley, two children, 1808 arrives at Hobart, Taz-ville aboard the Porpoise, buried 23 october 1824, st. david's cemetery, Hobart, Taz, so i could go to Taz and see a hyland grave...have Frank Lima cue up my remake of the Kinks "australia" as "TAZ..MAN..IA!"".....
11 pm Thursday, WRCA, Danny Stiles played a song from 1933; "the height of the depression"; Dad born year later, Ma was two years old. though dead, glad he's syndicated on a CENTURY of American music, first, that I missed out the first half on (being anything pre- 1956 I LOVE!). so at midnight Ken and Gee Julie lissen to Crystal's Tyme machine (like it on facebook and sponsored by teddy Shoes on Mass. Ave., central square!). Lotsa GREAT Motown and '60s oldies comin' through my mono speaker and at 1230, i heard shadows of knight "Gloria" (and Jim Sohns/Jerry Mcgeorge are my facebook friends!).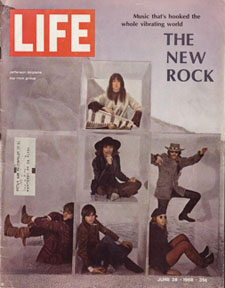 Jefferson Airplane on Life cover

Friday night 9 pm, Boston country oldies WRCA (like it on facebook!), sponsored by No Name restaurant and Ken and Gee Julie heard a retrospective and interview with....RAY STEVENS! "mister businessman", YES! WCMF, rochester NY 1968, my cuzzin had "Guitar-zan", Gee Julie singin' along with "everything is beautiful" BUT..."THE STREAK"!!!!!!!!! (I LOVE country novelties!) "Ray, do you or did you ever streak?" Ray : "no, ah havint; mah birthday suit is kahnda wrinkled"....Hi Ho and Hee Haw!!!!"...

lastly, Miss Lyn and I ate at some posh eye-tie restaurant, finest wine known to humanity and she mentions some hipster hotel (The Vern Hotel) but I shall quote from....DUCK DYNASTY!!!! Uncle Si sez "he caint be famous...if ah aint heard o' him, he aint famous"...ditto for some hipster hotel in Fenway! I do surely love my rural block-out-the-worldness I grew up with"...

"actually, my exact quote re: hipster hotel was "Has Bigfoot been spotted there? well, mah Big Foot aint been there!" nuthin' like a lil Coast to Coast humour...me and Bigfoot; separated at birth?"..

"speaking of Coast to Coast or wall street journal, WRKO (Gee Julie: "it was better when they had Dale Dorman!"); kenneway, Paul Kanter, Jefferson airplane died somewhere in here...Life magazine June '68, Airplane on cover, a life-changing moment coz I read about then bought airplane/Janis/cream/Hendrix etc. (WCMF Rochester played them); junior high paper route money bought every lp from Takes Off to volunteers...didn't buy anything on Grunt or Starship, but Paul Kanter was a "heavy" in the '60s, a dude you would respect more, musically, yea, yea, yea...solid rhythm guitar player too! RIP, dude...."...
| | |
| --- | --- |
| Paul Kantner | Paul Kantner |
Sunday January 31, 2016
"since the dictators was sold out, I saved 15 sheckels PLUS electricity coz I got back 'ome from work 9 pm, usin' my lil battery AM radio ("the wireless", ole chap!) and WRKO has "oldies" 8-11 pm! (versus WMEX "oldies" 6-9 pm!) "valleri" by monkees in MONO, man! or Paul Revere and the Raiders doin' "Good thing" with that Greg Prevost vocal and Beach Boy harmonies, IN FUCKEN MONO!!?!?!?!?? "oldies' you don't hear on commercial oldies stations! or borin'-ass classic rock shit ("do the Transplant Blitz"!) speaking of Jordan Kratz and the Transplants, Coast to Coast AM was SUPERB at 0330 or so: nelson and wanda Thail with tribal talkers!tribaltalkers.com. they're in cahoots with family tree DNA with whom I've spent all my drinkin' money ($5 for a case of Blanchard's beer in 1982?), so the Queen Mother is some 144th (?) generation descendant of House of David, as are all the Royals AND the Brits! Joseph ("coast of many colours"-quicksilver!) got a DOUBLE inheritance and split it between Ephraim and manaseh, the "lost tribes";everyone in England/Scotland/Ireland has R1B1 DNA, like my dad and the McBees, so we ARE "the lost tribes"! (and "I'm being followed by a Gruberger..Gruberger...Gruberger...)...tribaltalkers.com has an excellent map displaying whom is kin to whom and then Northern Ireland has a DNA shows up in lowland Scotland and southern England and that IS dad's McBee DNA...presents quite a logical, scientific argument, so put that doobie in your altoids tin, brother, and smoke it an take "another hit....of sweet California sunshine"...."...
"Before I take up Trainspotting, I DO have gigs next week SO...Thursday 11 feb 16, MJ quirk's FIFTIETH at club bohemia with club linehan-a-go-go (me on lead giz-tar!) 9 pm set, there's a facebook invite. and don't forget chetstock on abe Lincoln's birthday! or the all female QUEEN cover band at Bella Luna OR, take your valentine (bribing mine!) to the 24 hour sci-fi marathon! paranormal dating.com on coast to coast is takin' off, but today's dunkin' donuts joke: conspiracy dating. com; they're too PARANOID to actually go out on a date coz somebody's watchin'!!!! hahahahahahahha! lit joint in altoids tin! ouch! wahhhhhh!!!!! Good God! (produced by BOB BOTH!)".....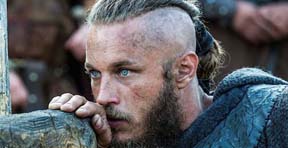 Ragnor Lothbrook of the Vikings

"goin' on family tree DNA, my granddaddy McBee has a close link to county Durham, UK...not TOO far from Penrith ("Penrith?!") but south of Northumberland which borders the Scottish lowlands, which according to my Saxon DNA= the McBees, 50 miles north of Glasgow. so a few we facts on Nortumberland; Eric Burdon hails from that county, bluidy guid, that Geordie, e's the guv'nor and also RAGNOR! I only say this coz Miss Lyn is ENTHRALLED by the VIKINGS, but this mofo REALLY existed! whether the show's historically accurate, whatever, bollocks to you, go have a wank and lissen to "immigrant song" backwards ("Valhalla...I am come....ing!")"....

"just got back from church of the advent (eatin' cheese with Simon Katz!) and Signe Anderson, Jefferson Airplane Takes Off, pre Grace Slick, died same day as Paul kanter! you COULD have facebook friended her, but yep, "It's no secret", I dug that RCA album with lil nipper on label and her singing; more folk-rock, Grace added that psychedelic "white rabbit" feel to it all...well, if I AM livin' next week; club linehan-a-go-go, cantab 9 pm 11 feb 16, 39 (3 times 13!) years since I first met Ken Kaiser (our "anniversary")"....