02/04/2019
Monday, January 27, 2019

sunday 20 jan 19. jay allen still had his messaround and everyone was great, but, to me highlights were Tony Kacynski (Figures on a Beach) covering "I am waiting" off the UK pressing of Stones Aftermath AND the Baabes doin' Donovan's "hey Gyp" eric burdon style. Baabes singer reminded me of a 1982 Ken Highland singing with Hopelessly Obscure at Streets or Cantones; he not only "moves like Jagger", he has james Brown fancy footwork like I did at that age! (probbly before I broke my foot). A great shouter too; electric guitar and raw vocal also sounded like me thursday 18 march 76, bloomington indiana doing the Rockabilly Yobs record. Great stuff! thank you Tony Kacynski for ride to tavern at end of world; about ten folks watching Patriots game, Natalie Flanagan did a couple songs but I passed on being half-time entertainement since I DO thrive on PEOPLE! (so did Jim Jones! read his bio in true crime section third floor harvard Coop!). Natalie and I reminisced how long we known each other and she talked about allston in the '80s, like MOLLY'S which became the Kells; they had wet t-shirt contests back then! I told her the Cage (?) was the downstairs club; had a gig with Dave Bass and the Grovellors but it got cancelled (though we did a Stanton Park 45, so studio project?) I damn sure DID miss out on this wet t-shirt contest!

Tuesday, January 28, 2019

Martin luther king holiday; 2 pm research and development, charlie kohlhaise, i been diggin those whatevers where you can listen to old broadcasts, see what you missed....Boston Groupie jazz calendar! brattle theater movie pass; Hale County This Morning. documentary on rural life in alabama. tuesday 8-10 pm, dinos mekios with our little rendezvous,WHRB. He DID play a foreign language British invasion "hit" that i liked, but again, I AM sleeping on a surrealistic pillow as i write this.....lastly day of Wodin 22 jan 19, WMBR 0500! til 0700. morning coffee and If Six was Nine, where EVERYTHING relates to Hendrix....dudes, unrelased versions of "love or confusion" over morning coffee....yeah! hey let's look at ancestry, we're related app....."Jimi Hendrix is possibly your sixth cuzzin, two tymes removed"....common ancestor Elizabeth Holcomb 1670-1762 (New Haven colony)...what WOULD my Detroit City grandmother say about THAT?.

Wednesday, January 30, 2019

day of Wodin 23 Jan 19. club linehan-ago-go practice! it was a week ago, i know "new" toons are a roxy music toon, "serves John Lee Hooker right to suffer" and fucken Lady Caroline singing "I got the music in me"! MJ Quirk liked the Tele tone on John Keegan's Strat and Joe Quinn and Kevin Linehan always a solid rhythm section. let's list the gigs since i saw my facebook invites.....saturday 9 Feb Midway cafe matinee show is MJ Quirk's birthday! a month later is Crunchtime's cd release (thank you Crunchtime for gig offer!). friday 5 april Butterscott offered us a club bohemia show (thank you Joel Simches, best guy evah!) so THAT is ONE of official Kenne birthday tributes (fucken 63, feel 93....)....frank rowe and i doing a tavern at end of world matinee sunday 7 april 19 (hope all this makes BGN concert calendar).....THEN when Cal Cali returns i shall be Gliding with Glider (High and ready to LAND!) but that's may, goddam world could fucken end by then.

Thursday, January 31, 2019

Freitag 25 jan 19. desecrated hollows. studio 234 cambridge mass. eric zinman and eliot cardinaux cdr release. They trade off on piano, poetry and drums. when i played lily pad with Grex and FABLE GRAZER, Eric was the drummer, though he is equally adept at piano and recites poetry in a fiery Ferlinghetti kinda way. Cardinaux is also awesome, impressing me with his Monk-style playing; after a jam after the two sets, Rob chalfen, club 186, DID inform me he WAS playing Monk's "Round Midnight" and then we discussed rare jazz records like two guys on the outskirts of town reciting burned books in Farenheit 451. A good "neo-beat" "Hey Beat Mon" evening augmented by supper at Mu Queca! (viva Brasil!

Friday, February 1, 2019

saturday 26 Jan 19. Mad Painter practice, we COULD be playing Hull soon and recording, new guitarist fitting in well. brought up in discussion was Japanese punk band Tokyo Anal Dynamite!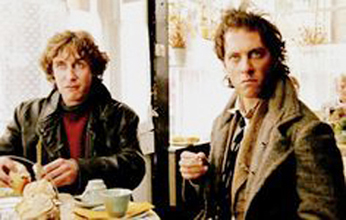 Withnail & I in the Penrith Tea Room

(side note: Yukiko, Tokyo Tramps, translated a Be More Flamboyant cd in japanese found by Glider's guitarist....Yukiko asks 'what is "Vatican Sex Kitten" and "Punjabi Dhaba"? cd sleeve....love it!)....My night ended with supper at the Border (used to be 88 Room) and An Ameican Werewolf in London at brattle (Brattle pass)....the scene in the Yorkshire bar was equal to whitnail and i in Penrith! ("Penrith")?