2/5/2018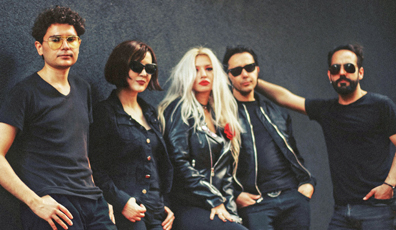 Reptilians from Andromeda

Monday, January 29, 2018

"Kenne Highland At Large turning into the Adverts! meaning i WILL mention whatever in that masonic league of musicians, that's what the brotherhood/sisterhood/CISGENDER (hey! i'm fucken politcally correct!) of musicians is aboot. So: Miguel D'Amour hopelessly obscure STILL looking for roommate: 617-470-7422, "dontcha wanna live with me" (I coulda met Jimmy Miller at Rat balcony '86 but was trippin' on mushrooms, mannnnnnnn.......)....TURKISH GROUPIE NEWS: Jay Dobis allegedly turnt Jon Richman onto the Velvet Underground. Thus, he is rocknroll hall of Fame GOOD TASTE personified! He writes from Turkey to THIS Turkey (hey! address the fucken gobbler!!!) a friend's band Reptilians From Adromeda (youtube!) looking for European/US gigs; playing Greece/Belgium already so I KNOW I'm Bad, I'm Worldwide and I WILL Brian Epstein this band! ("it was the trousers"). or maybe they can stage a Junta D'Amour in Hellas; Kendrew Loog MacLaren needs publicity! and Jay does comps of Turkish psych called Turkish Delights so check them out, no i dont know the bluidy website, google it yer fookin' self! (too much radio Belfast for me! blokes callin' up grousin' sound like Dad's stepfather or Van Morrison, same thing!) So help out this band with gigs, I'm 284 pounds of heavenly joy so unless I get on a JUMBO jet, no tours for me!"

Tuesday, January 30, 2018

"in less than 24 hours, I have "discovered" the istanbul turkey punk scene which is kinda like Columbus discovering the Taino; with Miguel D'Amour as my portegei navigator, i shall claim them for Johanna the insane of Spain! (if i remember right, ferdinand and isabella wuz cuzzins, so....)....but let Kenne the H be Murray the K for REPTILIANS FROM ANDROMEDA. (facebook, already LIKED by Blowfish!). lotsa press and records if you google; name from a 1966 Plan Nine-ish movie i gotta research (my favourite words; 'must research further"). Tolga Ozbey i have friended via jay Dobis, who, has now turnt Kennethen Highland onto the Istanbul punk scene! It would figger, all them European countries dig the Boston sound but this is Asia Minor! but no minor chords on their album: Dialogue for Monkeys, profsny records (facebook) czech republic. Rock and roll music to the world! (ten years after lp i got for subscribing to creem in '72!). so before i do a more in depth Vulcher write up, here's a quick album review. though vocally admitting to Nico/Nina Hagen/and my cuzzin courtney love, which i DO hear, i also hear the Waitresses vocally and Human Switchboard keyboards; even some Destroy all Monsters and if james williamson and james recca LIKE your band; fuck, Jesus loves the Stooges and Reptilians! They want to tour America, first, will be in belgium valentine's day til 19th (Belgian scene looks cool too....drink a stella artois as you write the belgian groupie News! ok enuff foolishness; in '70s everybody went to france; fuck that! as my mother's ames brother record said "Istanbul was Constantinople".....let's see a cross-ocean trade-off in band tours dudes! and stop in bari, italia also!".

Wednesday, February 1, 2018

"saturday 27 jan 18 me and Patti Smith's cuzzin Miss Lyn used some movie passes kendall thee-ate-er saw the shape of water. maybe we can do the ole siskel-ebert two view thang, so here's my nutshell: human gurl/alien dude. mork and mindy/beauty and beast/king kong etc. still this creature from the south american lagoon has a new twist on a familiar tale/tail. bad guys are ALWAYS "war pigs of the power";cf. Gort, day earth stood still etc. "come with me' says the "merman i shall turn to be" (not 1983, but 1962 bald-a-more; GREAT 1962 clothes/cars et!) so that was stolen from mermaid SPLASH. if solomon gruberger were alive he'd be saying "I know who they're ripping off!" and "I have a lawyer too!" ok since my view is jabberwoky, here's Miss Lyn, in WonderMENT as opposed to wonderland"..... I loved the Shape of Water cause it was shot in very noir like color. And there was a lot of dark humor in there too. The main charachter is mute and uses sign language and signs "Fuck You" very slowly to the mean guy who's fingers were bitten off by the creature. The creature also bites off a cat's head. But he's not bad really, he's sweet. The 2018 part different from all the old previous stories is that she has sex with the creature...his pitou is under a flap "down there"- ed




Thursday, February 2, 2018

day of Wodin 31 jan 18, and my 2% scandinavian DNA got together for Ken/Mike and Matt to jam for the sally obriens 11 pm friday 16 feb 18 gig with jittery jack and stop calling me frank. as a trio, Grand Funk Railroad and Blue Cheer covers were jammed on, but since "My head's in '73", Dolls/Stooges/Kiss kovers were jammed on and it may as well have been O. rex minus the Gruberger brothers! Since Ken Kaiser KOULDNT do this gig, he missed me and MJ Quirk tearing apart 50 years of vincebus eruptum for riffs on "summertime blues" and "rock me baby". "rock and roll soul" GFR done PROPERLY, I must say Mike sang the Brewer parts and i sang the higher farner parts coz he IS my distant cuzzin. MJ Quirk and i split vocals on Kiss's "cold gin" and "strutter" i've been doing since (return to) forever. check the Club Linehan-a-go-go facebook page, MJ Quirk bookin' up a storm;gigs with THREE different drummers! (hey if matt Burns wants to see ian Hunter do i BLAME him?) so MJ Quirk birthday gig is 8 pm saturday 10 feb 18 cantab, drummer is, from Geezer's garage and Quincy Mass.: Al Hendry! that's the henderson tartan lads, I think the only Irish lads are Quirk/Quinn and my Mcbee self. Celtic rockers letting out the precursor of the Rebel yell! (larn yer fookin' 'is-tree, ya idjit!)....and i will (Jerry) shirley keep you posted on more gigs! Music DOES soothe the savage beast"....


Friday, January 26, 2018

"Thor's Day, 1 feb 18, besides saying "lapin, lapin, lapin" in the morn, I decided 'twas tyme to renew my senior citizen (actually not a SENOR citizen, more of a MONSIEUR citizen) membership to french cultural center ($40!). website and facebook has some interesting events coming up, so if i'm not rockin' and rollin' or playing Grand Funk covers, let me tell you Pierre le Coutre, our Flensburg Groupie News correspondent says "wish i was there". coz he was! kinda, in europa at least. May '68 revisited....did I heard "itchykoo park" on Rochester NY AM and "pictures of matchstick men"? "3 may 68, parisian students took to the street in protests acrost France"....I was still waitin' for LBJ to build a wall to keep the Quebecois out of Brockport ny! (MERELY jesting since Ma's grandmere was a Veilleux, though she downplayed it all the tyme)....MARC RIBOUD, as mort as Marc Giroux, took some photos of the "time" and Harvard and Northeastern folks gave an interesting talk as I sat in a leather chair with Johnny Halliday on cover of a magazine (he also mort). Place was wicked crowded so i didnt stay til end but looking forward to more events de la Franoise! (Hardy! how 'bout them ye ye girls?!?!)...."......